ALBUQUERQUE — Sitting within plain sight of a desk inside the Lobo football equipment room is a row of industrial-sized turbine washing machines that seem to spin nonstop, no matter the time of day.
It appears as though Chris Schieder is never all that far from those monstrous things, feeding them with gallons of detergent to scrub clean an endless supply of socks, jerseys, practice pants, T-shirts and a veritable mountain range of towels, whose end is nonexistent.
"Let's not talk about the laundry today," Schieder says, casually propping an elbow on top of a piano-sized wardrobe container while reaching for a 24-ounce paper tumbler that doubles as his spit cup.
"There are other things to worry about right now," he says.
That's because this is a travel day, one where Schieder's job is to orchestrate the University of New Mexico football team's transport from the friendly confines of home to a place far, far away. As the equipment operations specialist, he must get the cargo for the team — players, coaches, trainers and support staff — from Point A to Point B without so much as a hiccup, making sure every pair of cleats is packed, every box of athletic tape is secure, every headset is sanitized and in its proper place and all uniforms and pads arrive ahead of time. He takes special pride in making sure the coaching staff's pleated khaki slacks are hung just right so they won't get wrinkled in transit.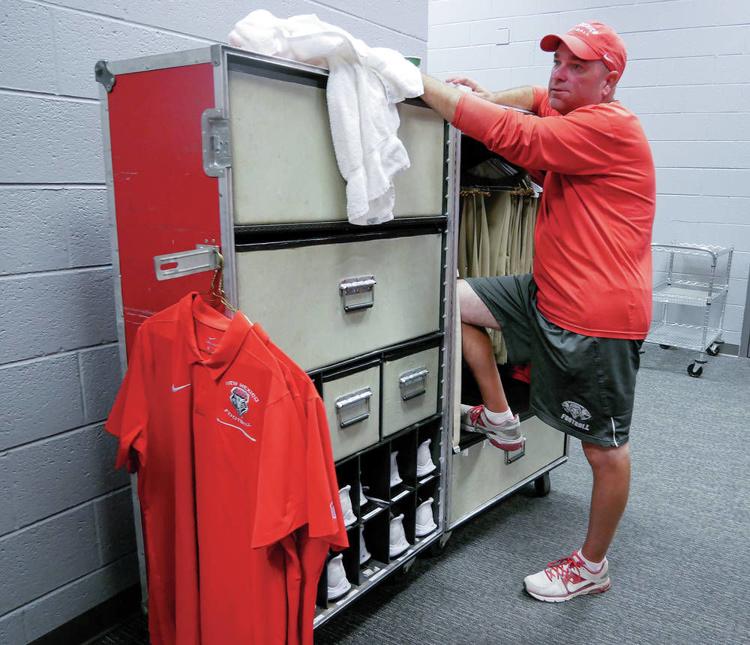 "It's amazing what goes on with those guys in there," says UNM associate athletic director Ed Manzanares. "People don't realize how much work goes into getting that team on the road. It's not just a bunch of guys hopping on an airplane, I tell you that."
The players, coaches and support staff do indeed fly to nearly every game, but the equipment? That always stays on the ground, and it's Schieder's job to get it there.
The Lobos' locker room is hidden within the Tow Diehm Facility. It's in there that the magic truly starts.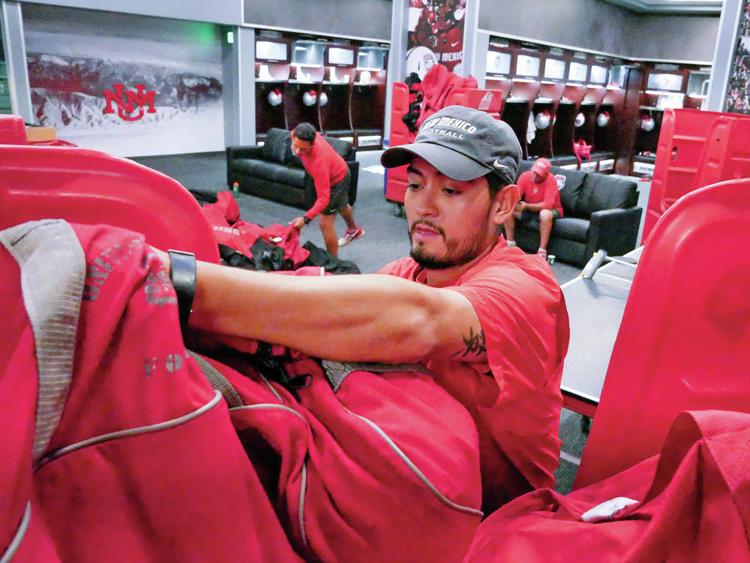 On travel days, the players are told to pack their game helmet (they have silver headgear for practice and separate white and anthracite lids for game days), shoulder pads, cleats and any other essentials in a giant duffel bag and leave them by their locker.
The contents of those bags are double-checked by Schieder's staff — "Trust me, there's always one guy who packs two left shoes," he says — before they're wheeled outside in giant red bins and stored on a truck.
It's the centerpiece of this entire operation. Parked just a few yards beyond the south end zone of Dreamstyle Stadium is an 18-wheeler whose very design screams UNM football. The sides and doors are wrapped in what amounts to a giant sticker brandishing the university's name and team colors.
A parade of workers, most of whom are minimum-wage students or unpaid interns, tug bulk items from the innards of the facility to store in their proper place. The training staff, led by Bob Waller, hauls everything from medical gear to aspirin and sunscreen, tucking it into huge travel bins that are strapped to the side walls alongside rows of orange Gatorade coolers and dozens of cases of bottled water and enough sports drinks to drown a rhino.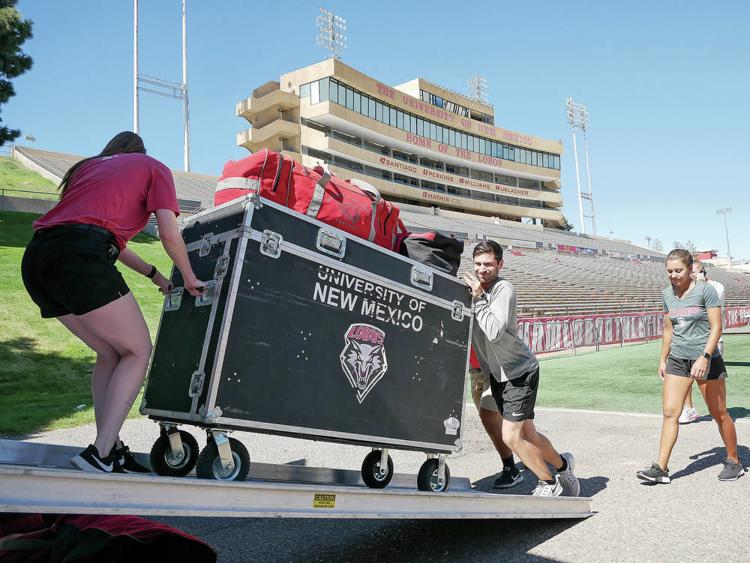 So much is going on that it feels as though it's a mobile military operation bugging out for a mission on a distant shore. In a sense, that's exactly what this is — a means to fit as much stuff into the back of semitrailer just so the Lobos can play a road game with the same creature comforts of home.
Three weeks ago, it was a trip to South Bend, Ind., for a visit to Notre Dame. Last week, it was a trek to Virginia for a game against Liberty. This time, the team was off to the Bay Area to play San Jose State.
In previous seasons, there were trips to familiar haunts like Las Cruces; Laramie, Wyo.; and Boise, Idaho. Then there's extended trips like Madison, Wis.; College Station, Texas; and the memorable 34-hour drive each way to New Brunswick, N.J., for a game against Rutgers.
"You name the weather, we've seen it," says Danny Manzanares, one of four drivers UNM employs to haul the football team's gear.
Driving hazards, long hours
The brother of UNM's associate AD, he was with Ed Manzanares at a football game at the University of Oklahoma about 15 years ago when the pair noticed a semitrailer parked outside the Sooners' stadium. Danny Manzanares asked what it was for. When Ed Manzanares explained how teams moved around, Danny Manzanares knew it was something he'd like to do. When Ed Manzanares landed at UNM in 2013, one of the first things he did to save the school some money was go to his roots and bring in a team of drivers he could trust.
All four — Danny Manzanares, Pat Trujillo, Mark Montaño and Johnny Madrid — attended Escalante High School in Tierra Amarilla and each initially agreed to make the trips for free, all while scheduling them on their days off from their full-time jobs. Danny Manzanares works at Intel while others, like Trujillo, drive for UPS. UNM has since started paying the men for their services, while significantly upgrading their working conditions.
"I'd do this for free, and I have done it for free," Danny Manzanares says. "We're all Lobos. We love the team, and us all being from the same place, it's just a great way to get out and spend time together on the road doing something fun."
The school recently secured a lease through its corporate sponsorship with Rush Truck Center in Albuquerque for a new Peterbilt rig with a sleeper cabin. The lease, Ed Manzanares says, dramatically cuts the school's operational costs for football transports while making life easier for the two- and three-man teams required to drive nonstop from Dreamstyle Stadium to whatever the destination is.
The demands to make the trips in as short a time as possible are real and sometimes risky. In 2012, a Boise State truck hit a cow on Interstate 40 about an hour outside Albuquerque. The trailer emerged unscathed and made it to its destination in Mississippi on time. The same cannot be said of the cow or the truck.
"We've hit armadillos and raccoons, ran over a deer and seen some big animals on the side of the road, for sure," Danny Manzanares says. "You put on the miles we do, especially at night, and those things are going to happen. You almost expect it."
One of the drivers' perks is getting sideline passes to see some of the most historic college venues in the country, like being on the field when the Fighting Irish ran out of the tunnel or the night before the Texas A&M game when 30,000 fans filed into Kyle Field to practice their chants while the Lobos were doing a walk-through.
"That was amazing," Danny Manzanares says. "We've been in blizzards in the mountains, monsoons in the east, down 50 toll roads in Chicago and through small towns that wouldn't let us drive across certain bridges. Then to be in some of those stadiums and be a part of it; yeah, who wouldn't love it? I mean, four guys from the same high school in Northern New Mexico doing this? Amazing."
The recent trip to Virginia took about 26 hours of continuous driving, while the haul to San Jose was slightly less taxing. The quick turnaround between the two meant that the truck arrived in Albuquerque from Virginia late last Sunday night and rolled out for California on Wednesday. Schieder said some of the cargo was never even taken off the truck.
The logistics of the operation are what makes it all so impressive. The idea is to send the gear on its way the day before the team flies out of town. The truck's only stops are for gas. The goal is to park the rig at the opponent's stadium, dump the trailer and have everything secure for the moment Schieder's crew arrives to unload it.
The equipment crew gets to the stadium first, unloads the trailer and set up the locker room the day before the game. The day of the game, the equipment crew arrives at the stadium six hours before kickoff — and four hours before the team shows up — to ensure headsets are working properly and all the gear, ranging from practice balls and kicking nets, fans and (of course) towels are all in place on the sidelines long before the first player emerges from the locker room.
"If it goes like we plan it, the way we practice it, they won't even notice we're there," Schieder says. "That's not to say things don't go wrong or won't go wrong, but that's why I've got nine of my guys there. If it's a broken buckle on a helmet or communications go down, we have to be there."
And that, in a sense, is why the people who wrestle with the laundry and load the truck are the unsung MVPs of the Lobo football team, despite the fact that they've never made a tackle or scored a single touchdown.
Standing beside a life-size portrait of a Lobo game on display in the team's locker room, Schieder pats his hand on it and says everyone on his staff feels a sense of pride when they see the players in full uniform representing the university they all love. True to form, everyone in the photo is dressed to the nines in cherry and silver, not a thing out of place.
"Best job in the world," Schieder says. "I mean that."