ALBUQUERQUE — With Thursday's temperatures creeping into the high 90s and humidity levels hovering at 4 percent by midafternoon, New Mexico Activities Association administrator Scott Owen pulled out his smartphone, punched in a few numbers and said, "Eighty-eight degrees."
According to a metric used by the National Weather Service to calculate the heat index for any particular ZIP code, the conditions that radiated unfiltered sunshine and inescapable heat onto the red-and-green courts at Albuquerque Academy's sprawling tennis complex came in well below the 104-degree threshold the NMAA mandates for pulling athletes inside and putting a stop to play.
"That's good, 88 degrees — I don't think so," said Evan Bloodworth, a junior at St. Michael's and one of nearly 200 high school players on hand for Thursday's opening rounds of the 2021 state tennis championships. "Whatever thermometer they're using, it's at least 100 on the courts."
"At least that, probably more," said Bloodworth's doubles partner, fellow St. Michael's junior Wade McDermott.
If Thursday's sweltering heat during the tournament proved anything, it's that it really didn't have much of an impact on the kids. Not a single player defaulted on a match; not a single entrant collapsed from dehydration; not a single one spent time on a padded massage table in the shade overlooking Academy's 16 courts.
It was, some adults said, a testimony to the resilience of the kids and to the NMAA for taking every precautionary step possible to see this year's tournament through. Delayed a month from its usual mid-May time slot thanks to the lingering impact of the coronavirus pandemic, the four extra weeks pushed the statewide event back into the dangerous heat of mid-June — a time made worse this year by a pair of wildfires in southeast Arizona and another in New Mexico's Gila National Forest. Those fires have cast a layer of smoke over much of New Mexico the past few days.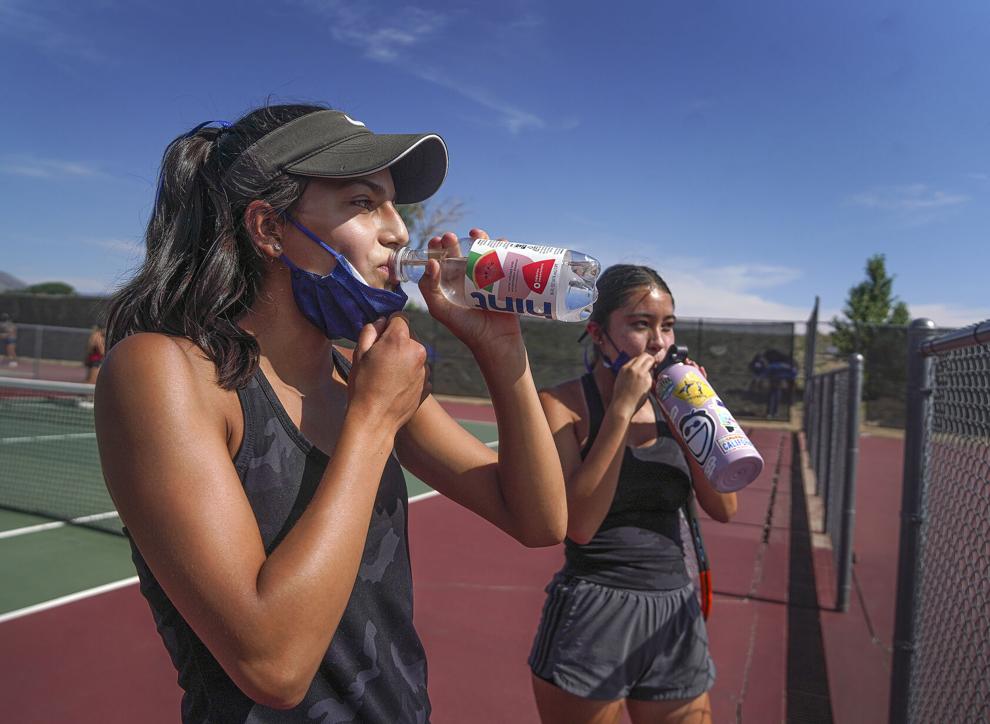 As the thermometer heads toward triple digits, the unprecedented challenges faced by tennis players are similar to those of athletes in other sports: baseball, softball, and track and field. Thursday's lesson? Neither heat nor smoke nor a gloomy mask — more on that in a second — can stop a teenager in a uniform.
"Anyone who has asthma, I feel bad for them," said St. Michael's junior Hannah Garcia. "It's honestly not as hot as we expected it to be. It's just nice to get a break from masks between sets."
According to Public Education Department spokeswoman Judy Gibbs Robinson, an agreement between the NMAA and the Governor's Office says anyone affiliated with youth sports must adhere to COVID-19-safe guidelines that no longer apply to the general public. Student-athletes in all sports have been required to wear face coverings at practice and in competition, as are any fans who attend NMAA events.
Those guidelines will remain in place through the end of the spring sports season on June 26.
McDermott said the biggest challenge to wearing a mask is the simple act of keeping it over the nose and mouth.
"This heat makes it even harder to breathe, yeah, but it's something we're all used to by now," he said. "We've been wearing them for so long that you don't really notice them that much anymore."
Albuquerque Academy's tennis complex is flanked by a few dozen trees, each of them casting just enough shade to provide refuge from the sun for scores of players, support staff and spectators. The NMAA made it clear it would enforce the governor's policy on masks, but it was equally clear it was willing to look the other way for anyone needing to catch their breath.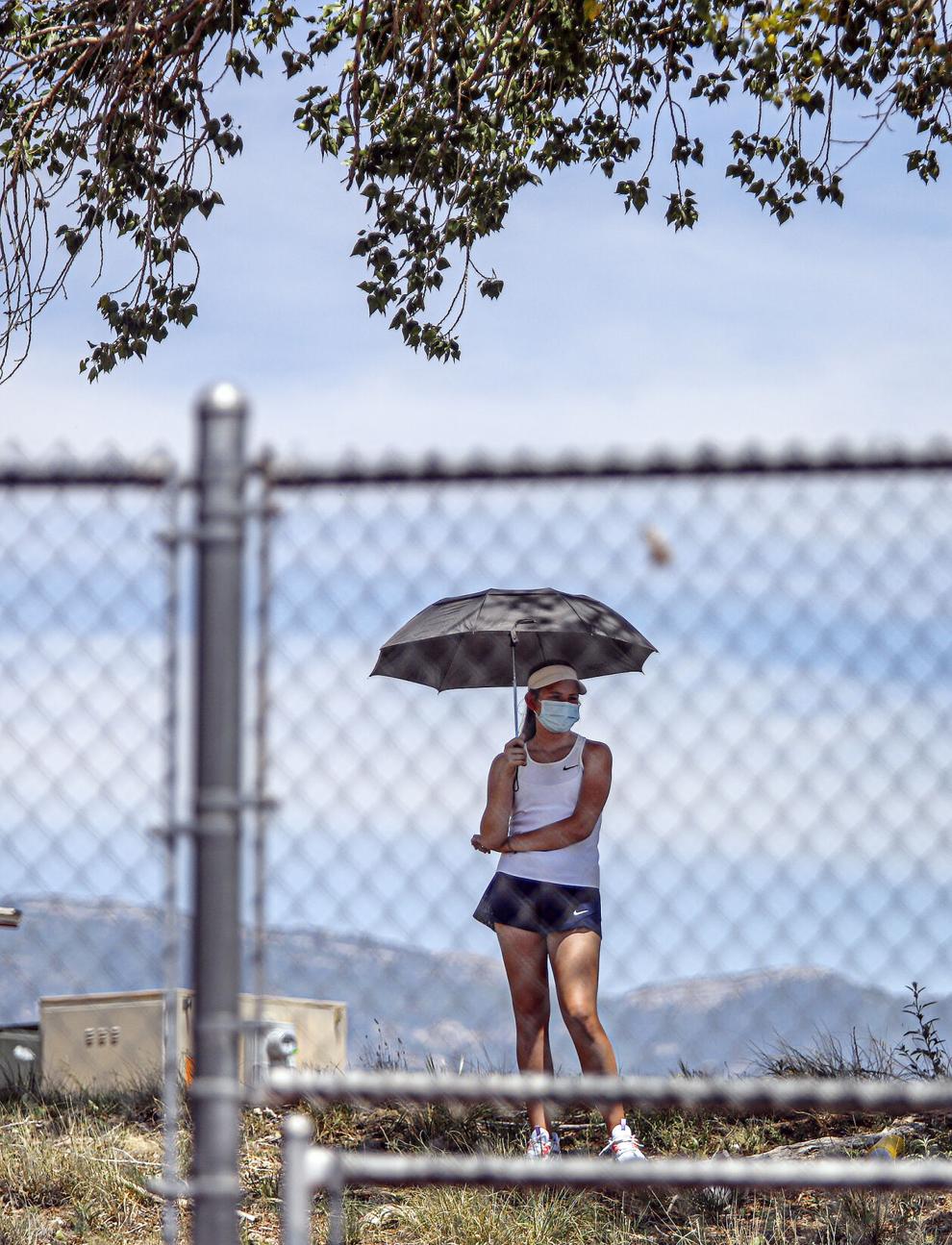 "The NMAA, they're taking steps to make it better," said St. Michael's girls coach Jeremy Garcia. "They're pretty lax about taking masks off at points during play, allowing little bit longer breaks to allow kids to get water. They understand as much as we do that this isn't easy.
"It hasn't been so challenging that we're not all used to it. We play a lot of tennis in the middle of the summer, and this is nothing unusual for us. Yeah, it's hot, but it's not so unbearable that kids aren't able to play."
Los Alamos singles player Kate McDonald said the key for anyone attending Saturday's championship matches in what is forecast to be another sweltering, cloudless day, is simple: Eat and drink as much as possible.
"The thing is, I know that it's going to be over sooner or later, so I just want to make it worth my time," she said after playing twice in the span of four hours Thursday. "You have to protect yourself. Me, I want to play my best, but one thing I won't do is give up just because it's hot. I think some of the kids out here, the thought is about how hot it is and they don't want to deal with it. You have to keep those negative thoughts back and just know that even though you're pushing yourself, it's all worth it."