ALBUQUERQUE — For 15 minutes after the final buzzer, the only thing breaking total silence inside the visiting team's locker room of Sandia Prep's Field House was the muffled sounds of players trying to come to grips with their emotions.
Outside stood the St. Michael's coaching staff, each standing on either side of the hallway in their own moment of reflection.
"Forget basketball for a second," said Horsemen coach David Rodriguez. "You can't say enough about the kids. This whole season has been about fighting and fighting and scraping and persevering. Just the simple thing of playing with masks every day, and busting your butt every day to be in shape, people outside that locker room don't realize how hard that is. It's a lot to put on the players and, like that, it's over. It's a lot to handle."
The Horsemen were just minutes removed from a heartbreaking 43-42 overtime loss to Sandia Prep in Monday's opening round of the Class 3A state basketball tournament. The fourth-seeded Sundevils advance to Wednesday's semifinals in Las Vegas, N.M., against top-seeded Robertson while St. Michael's heads home with a life lesson no one wanted.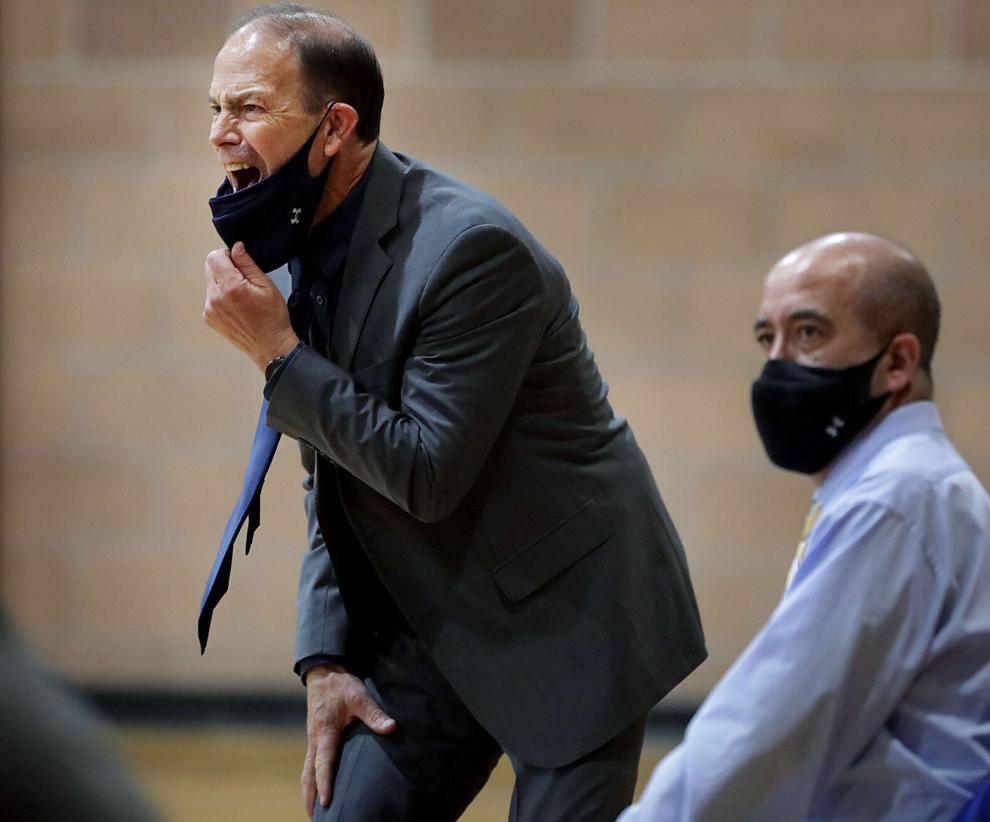 After giving his players the room to themselves in the moments after the game, Rodriguez spoke in private with his team for another 10 minutes. Sitting in a chair at the front of the room he thanked them for their dedication and hard work in a season that lasted just five weeks.
He also left them with two key pieces of advice: Stay together as friends and teammates, and take the pain of Monday's loss and put it behind them by showing up in class Tuesday morning.
"That's what men do," Rodriguez said. "It takes a man to show up after something like this. It takes a man to maintain those brotherhood relationships. Don't scatter, don't go your separate ways. Stay together, face this and learn from it."
One by one, the players left the Field House and headed back to the team bus. By then, the only people left were a handful of family members and a few Sandia Prep staff members. Among them, Prep coach Marcos Rivera.
"They're one of the few teams we knew could match up with us," he said as a handful of Horsemen players walked past in silence. "Give it up to them; they played hard. They're a physical team."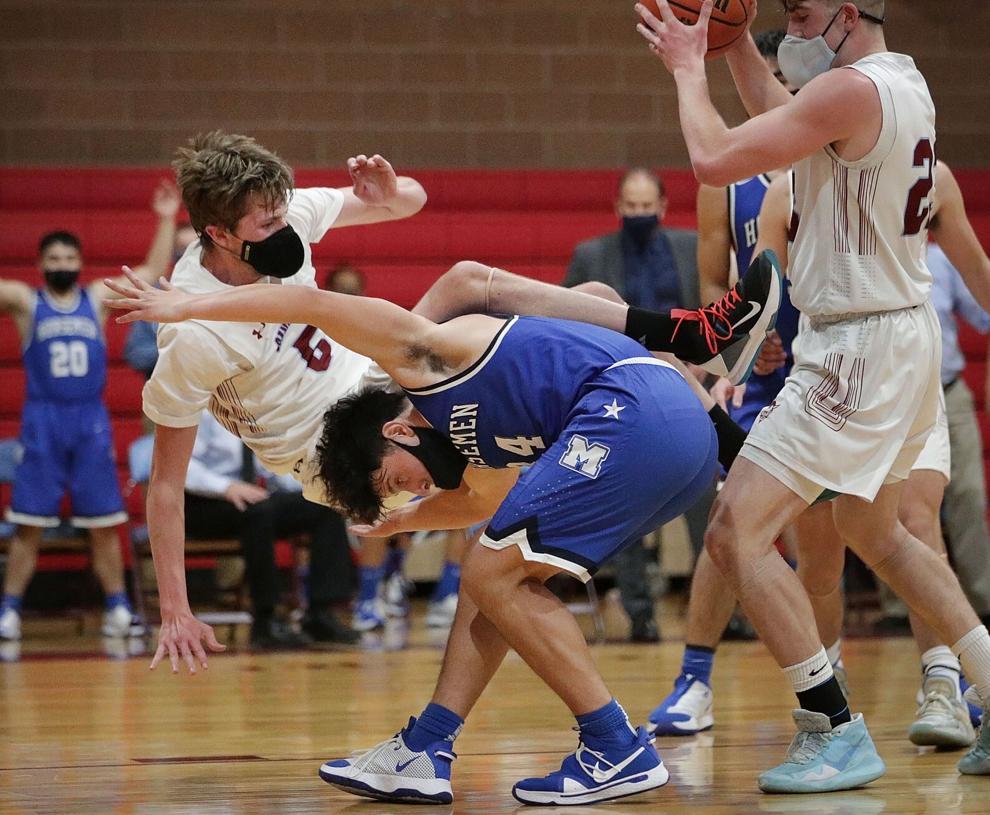 That physicality produced one of the best halves of defense St. Michael's has played in years. The Horsemen forced 13 turnovers in the first two quarters and harassed the Sundevils into a miserable 2-for-13 shooting effort in the first half. The halftime score: 15-9, Horsemen.
Sandia Prep had eight straight empty possessions to start the game and didn't score its first point until 6-foot-7 senior forward Sam Henderson made a behind-the-back move with the ball before laying it in with 2:21 remaining in the first quarter.
"To hold a team like that to nine points in a half says a lot about the intensity of the defense you're playing," Rodriguez said. "Their length gives a lot of teams trouble but we did a good job early on."
Mounting fouls loosened things up in the second half. Sandia Prep was in the bonus midway through the third quarter as Horseman center Lucas Coriz was plagued by fouls much of the way. He got his third midway through the period, as did guard Adam Montoya.
Prep took its first lead of the night with 14 seconds left in the quarter when Henderson hit a low-post shot over Devin Flores to give the Sundevils a 25-23 advantage. The lead grew to six points two times in the fourth quarter as Sandia Prep held the Horsemen without a made field goal for nearly 10 minutes.
Down 34-28 in the final three minutes of regulation, the Horsemen rallied as buckets by Coriz, Lucas Montoya and a hoop and harm by Adam Montoya accounted for a 7-0 run that put the Horsemen in the lead in the closing seconds. After Prep tied it, a last-second shot drawn up for Flores turned into a desperation 30-foot heave by Adam Montoya. It bounced high off the backboard and never drew iron, forcing overtime.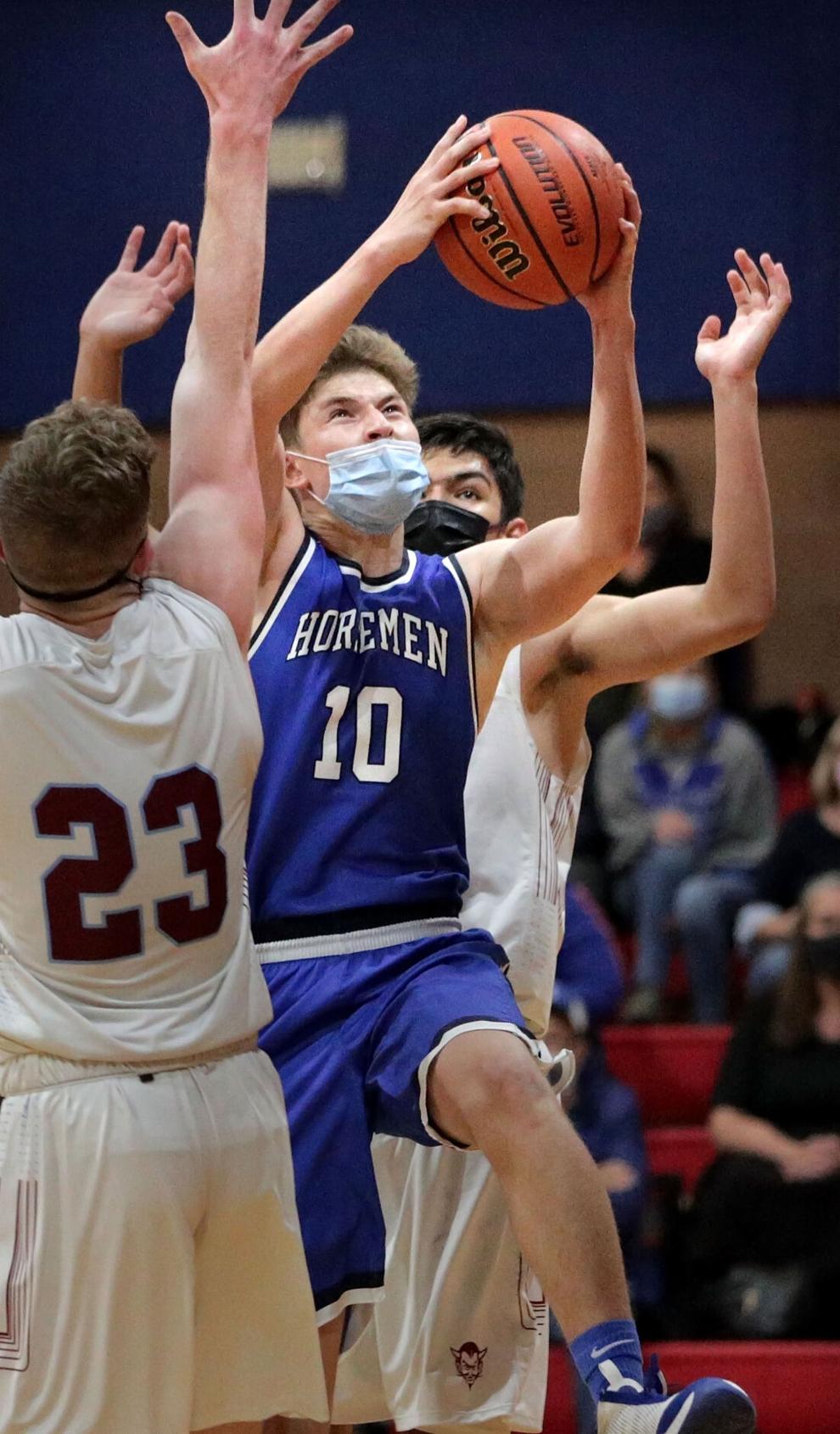 Like so many things about the 2020 season, the overtime period was a series of ups and downs for the Horsemen. They scored four quick points to take an early lead, had their momentum stolen when Henderson drained a dagger of a 3-ball to tie it at 41 with 75 seconds left, then had their hearts ripped out after a reverse layup by Henderson with 33 seconds to go was followed by a missed Flores jumper with two seconds left to end it.
Flores, Derek Martinez and Adam Montoya all dropped to the floor as Prep's players ran to midcourt to celebrate.
"You know, in a year with so many stops and starts, I'll say this about the players: Every time we were allowed to open the gym and have them in for workouts, they showed up," Rodriguez said. "Every single time. They came to work, they busted their butts and they dedicated themselves even though there were times when it looked like we'd never get to play, times when guys came in hurt, times when guys didn't have the time to adjust they way they needed to going from one sport to the other. To have it end like this, it's tough."
NOTES
Coriz had a team-high 13 points for the Horsemen despite sitting out extended periods in both halves due to foul trouble. ... Adam Montoya had 11 points and Fores nine. Lucas Montoya came up big in OT with two points and three rebounds, all of them at the offensive end. He had a team-high eight rebounds, half of them on the offensive glass. ... Henderson had 19 points for Sandia Prep, including the Sundevils' final five points in OT. ... Prep scored 15 of its 43 points from the free throw line. The Horsemen attempted just 11 free throws the entire game. ... St. Michael's finished its season with a 7-3 record. ... A Pojoaque Valley graduate, Prep coach Marcos Rivera noted that his team's path to the state finals must go through the District 2-3A rivals he played so many times when he was in high school. "Don't really have many memories of my games at Robertson, but there are a lot against St. Mike's," he said. "I like that we have to go through the District 2 teams to get where we want to be."