ALBUQUERQUE — There was a time when milestone numbers like 300 wins and 500 home runs were automatic tickets to the National Baseball Hall of Fame.
With the surge in sabermetrics, spin rates, pitch counts and scientific advancements in managing one's body, the benchmarks for greatness are moving in opposite directions.
One player who'll never need to worry about them is former pitcher Greg Maddux, a 355-game winner during one of the most amazing baseball careers of all time. He won 18 Gold Gloves, was named Cy Young Award winner four straight years, was an eight-time All-Star and had at least 15 wins in 17 straight seasons, all while logging over 5,000 innings with fewer than 1,000 walks.
His win total alone makes him legendary, but it was his amazing control and tenacious competitiveness that made him one of the greats.
On Wednesday, he took a stroll around Isotopes Park as part of a promotional tour for the new book, Grassroots Baseball: Route 66. It's the second book in a series started by Grassroots Baseball co-founders Jane Fruth and Jeff Idelson. Their first was in 2019. The most recent is tied to the teams and places along historic Route 66 from Illinois to California. It includes a segment on New Mexico and its rich history with the sport.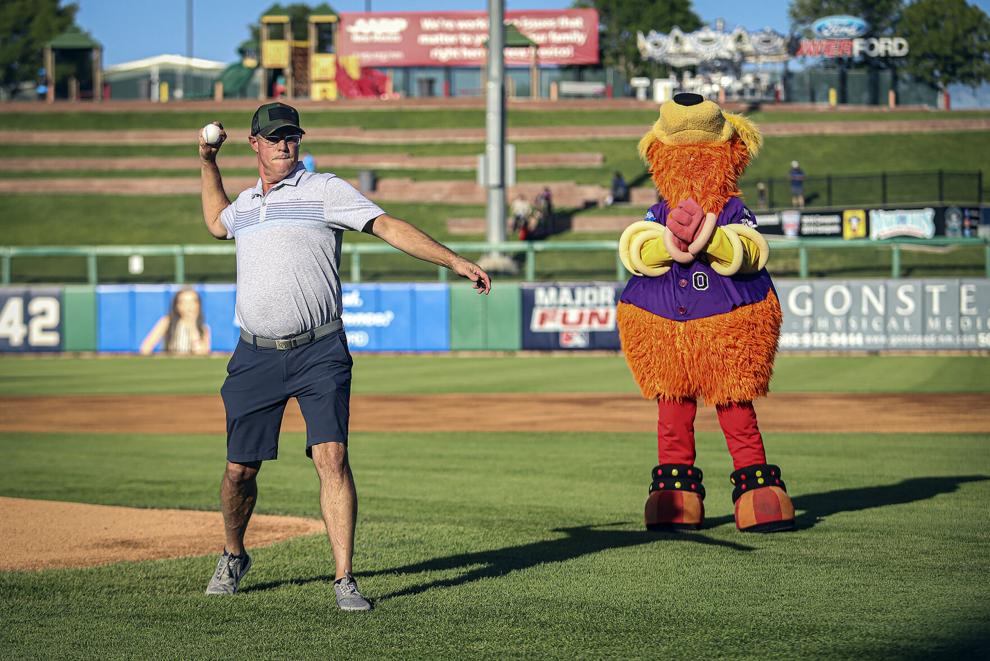 When asked about what qualifies as an automatic ticket to the Hall these days, Maddux joked that the highest spin rate seems to stand out more now than wins did when he was on the mound.
"My thoughts are, obviously the game's changed," he said. "Look at how much it changed from when we looked at pitchers when I was coming up that were throwing over 300 innings and we thought that was absurd. We tried to get to 250 and now it seems the bar keeps getting a little bit lower as far as innings go, but I'm sure the top 1 percent is going to show up and everybody is going to know who those players are when the time comes."
Known affectionately as "Mad Dog" and "The Professor" during his playing days, Maddux logged at least 200 innings in all but one season between 1988 and 2006. Since retiring in 2008 he has seen the game steadily shift in the direction of limiting a pitcher's time on the mound and the dramatic uptick in strikeouts, since everyone seems to be swinging for the fences in search of the greatest OPS, or whatever other acronym defines the success of a player in this day and age.
Of pitchers, he said the physical differences are obvious. At 6 feet and 170 pounds in his playing days, Maddux doesn't much resemble some of the specimens who take the mound in today's game.
"You know they're obviously bigger, stronger, faster than we were," he said. "They throw harder, but I think the same rule applies today that it did a few decades ago."
And that's control. Hitting spots and changing speeds is far more dangerous than hitting triple digits on a radar gun.
"You look even today, you look at the top pitchers in the game today and they're the ones executing the most pitches, not necessarily throwing the fastest or having the big slider and curveballs," he said.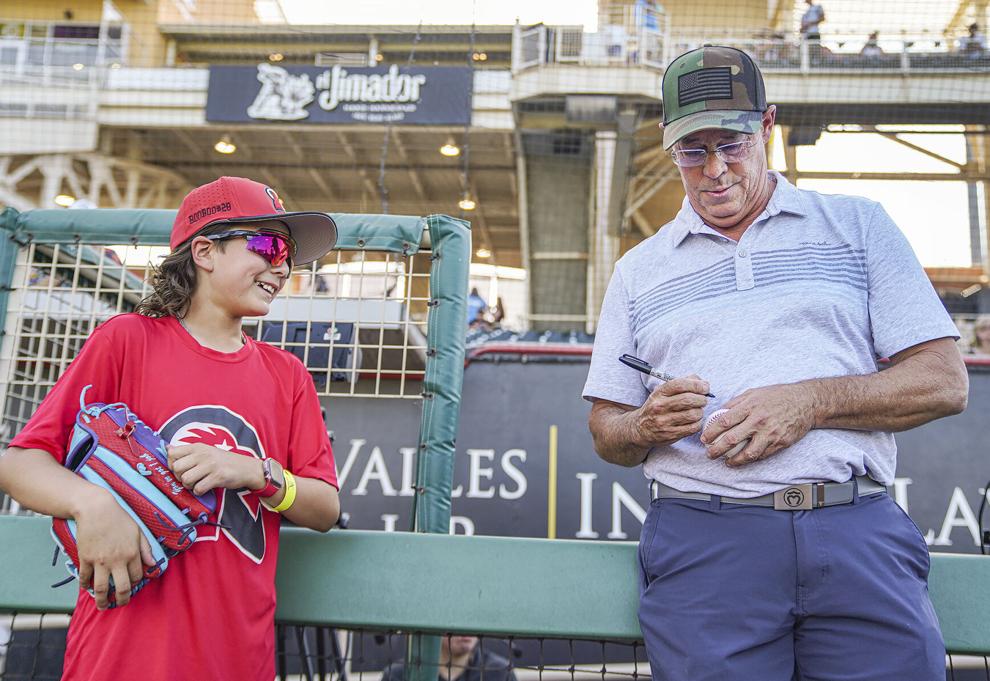 Maddux admits he's not crazy about the idea of automated strike zones creeping their way into games. The Isotopes' Triple-A Pacific Coast League is experimenting with it this season and, it seems, it's just a matter of time before it shows up in the big leagues.
"Now you see the high strike being called," he said. "The two or three inches we got off the plate away, now it seems there's another foot and a half up top that we didn't get that the players today get."
Maddux has ties to New Mexico, which makes him a good fit for Fruth and Idelson's book tour. Maddux's brother, Mike, pitched briefly for the old Albuquerque Dukes in 1990, and Maddux himself made a few stops here when he was coaching UNLV's baseball team not long ago.
He even had time to visit with former University of New Mexico baseball coach Ray Birmingham before Wednesday's promotional stop. The two shared stories of their time in the Mountain West, and how much the game has evolved over time.
Behind it all is Grassroots Baseball: Route 66.
"The hardest thing with New Mexico was editing it down," Fruth said.
A famed baseball photographer, Fruth said she and Idelson — the former president of the Baseball Hall of Fame — will eventually release a third installment celebrating the contributions women have made to baseball.
As for this book, the pair turned to Houston Astros third baseman and Albuquerque native Alex Bregman to write an introductory essay that leads into the portion chronicling New Mexico. He shared memories of his time growing up here, of the Balloon Fiesta, childhood trips to the Rattlesnake Museum and, of course, playing the game that has defined his celebrity status in his hometown.
"I was wondering if Alex was even going to know what Route 66 is because he's so young," Fruth said. "Route 66 is so dated in that way."
The chapter includes a tribute to Tesuque Pueblo and its influence on the sport. At one point, Route 66 meandered through Santa Fe, giving the City Different its own journey through time, one that continues with the Santa Fe Fuego in the independent Pecos League.
Idelson's perspective on baseball is a rich and powerful one. He presided over the Hall of Fame for more than a dozen years. That's on top of another 14 years as the director of public relations and as the organization's vice president. He said he spent countless hours wandering around 60,000-square-foot Hall, often marveling at displays and mementos he'd forgotten about or simply wasn't aware of.
When asked about what it takes for enshrinement, he said history continues to alter the way we define what it means to be great. To that end, there were very few who ever came close to what Maddux did during his 23 years in the bigs.
"Dominance is a different animal nowadays than it was prior like when Greg pitched," Idelson said. "It's hard to know what the crystal ball will give us, but it's certainly not going to be 300 wins anymore. You're probably going to see shorter careers and lesser win totals. We'll find out 10 years from now, 15 years from now what that standard is."