LOS LUNAS — One-trick ponies generally don't have a long shelf life in basketball.
For much of the first two-plus months of the season, the Capital Jaguars were trying to show they were more than an undersized team (only two players are taller than 6-foot) that could shoot 3-pointers but little else.
Wednesday night was a big step in the right direction. In a nondistrict matchup at Valencia in a battle of Jaguars, Capital did something that wasn't imaginable back in November — winning a game despite making only one 3-pointer.
In an example of quality over quantity, Izaya Valencia-Sanchez hit the triple that mattered most. His 22-footer at the 1:52 mark of overtime broke a 36-all tie and paved the way to a hard-earned 45-40 win.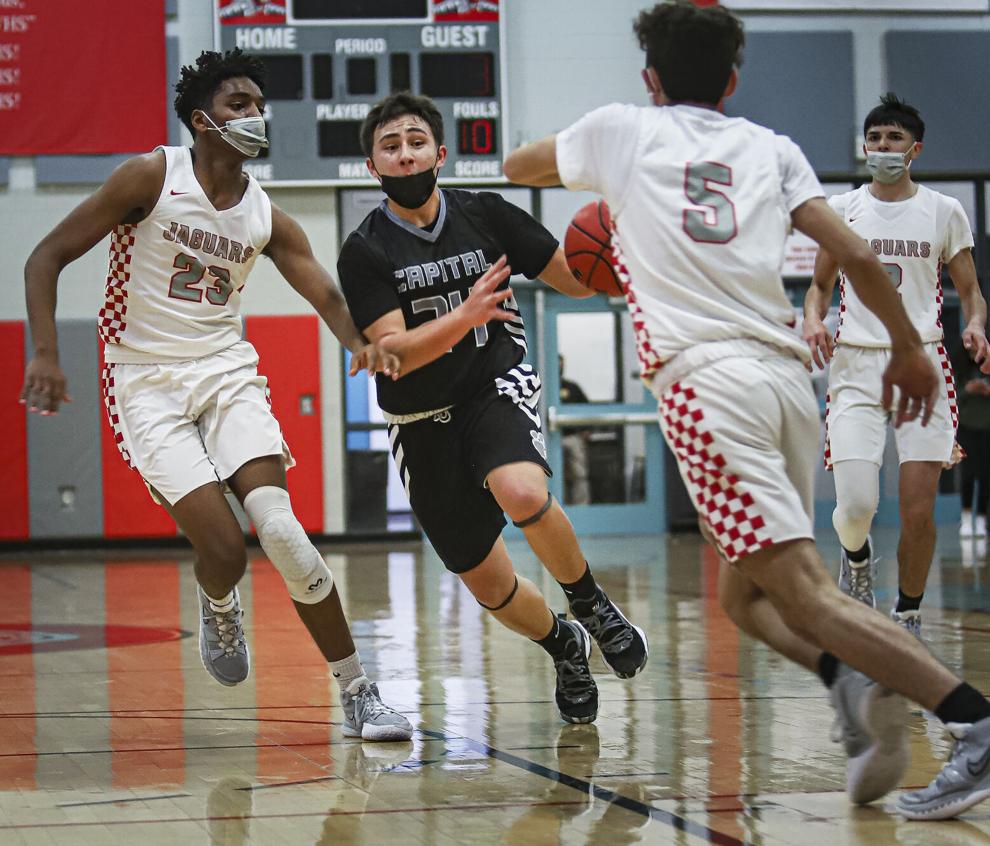 Afterward, there was hope in the locker room that the way in which Capital (9-6) won — by attacking the basket and relying on an active defense that forced 20 Valencia turnovers — was a sign of maturation for a young team.
Valencia-Sanchez couldn't believe Capital won without relying on the 3-ball, but he admitted that one trick hasn't been effective lately.
"Lately, we've haven't been making the 3, so we've had to living inside-out," Valencia-Sanchez said. "So we've had to take advantage of making free throws and layups a lot. It kinda sucks because of our size. At the same time, if we could hit our shots, we'd be scoring a lot more points."
Capital averaged 8 3s per game through its first seven games to produce a 5-2 record. Since then, it has made more than seven triples just twice, and both times lost the game.
The reinvention of the Jaguars started during the Stu Clark Tournament in Las Vegas, N.M. They took third place and beat Las Vegas Robertson and Bernalillo in the process despite making just 10 combined 3-pointers.
How much lower could Capital go? Well, it made a season-low three from deep (until Wednesday) against Los Alamos. However, the Jaguars chucked up 19 shots, which highlighted a 15-for-55 performance from the field that led to a 49-40 loss.
The performance underscored what Capital head coach Ben Gomez had emphasized since the start of the season — his team had to be more than just jump shooters.
"The game of basketball will not reward you if you keep shucking up 35-footers," Gomez said. "You may hit one, but what about the other 10 that the opposing team gets and now they're scoring layups and they're scoring free throws?
"Now, we don't want to play defense and you don't want to go after loose balls because you're not hitting shots."
Those are qualities Gomez value. Capital showed it could do that against Valencia, especially with a shortened roster. Three players, including point guard Santiago Bencomo, were absent from the lineup, with some of them missing the game because of a COVID-19 diagnosis.
Gomez brought up Elijah Rodriguez-Montaño and Eli Dominguez from the junior varsity to provide depth, and their presence on the court was needed when starters Anthony Alvez and Francisco Diaz collected two fouls in the opening quarter.
While neither of them scored a point, their ability to help Capital nurse its way through a four-point opening quarter and only allow Valencia to take an 8-4 lead was significant.
"They've been showing it in practice that they know what their job is and what they need to take care of," Alvez said. "They go in and do it and don't complain. They give us the good minutes we need."
Alvez returned the favor by putting Capital on his back for stretches. He scored 13 of his team-high 17 points in the second half, including 10 in the third quarter that allowed Capital to take a 27-20 lead into the fourth.
Alvez scored 12 of his team's first 16 points after the half, and his baseline drive with 6:26 left in regulation gave Capital a 31-20 lead.
As soon as that happened, Valencia began its comeback. It coincided with Alvez's fourth foul — a technical foul for taking his mask off of his face — when Valencia scored 10 straight points to get within 31-30 on Damian Estrada's steal and layup with 3:06 left.
Estrada gave Valencia its first lead in the second half with a sideline 3 with 43 seconds left to make it 36-35, but Alvez hit a free throw with 8.1 seconds left to tie the score at 36-all and force the extra period.
After Sanchez-Valencia's 3, Capital showed another skill — making pressure-packed free throws. It went 6-for-8 over the last 23 seconds to seal the win.
Gomez said there were good signs against Valencia, and he hopes it's a sign his team is learning it can lean on more than just being a perimeter threat.
"You have to be able to offer something else," Gomez said.
How about being the little team that can play big? For one night, Capital showed it can be just that.