Martín Rios didn't intend to become a chef when he grew up, let alone own an award-winning fine-dining restaurant in Santa Fe. His family ran a tiny eatery in an open-air market in Guadalajara, Mexico, but Rios dreamed of being an architect. His family moved to Santa Fe in 1976, when he was still a teenager, and his first restaurant job was as a dishwasher in a hotel kitchen. He cried the first time he had to mop the entire place by himself, but he started to appreciate the chef's life.
"I was fortunate to work with some really great chefs. They saw potential in me," he says. "They said that maybe this person would be good to train."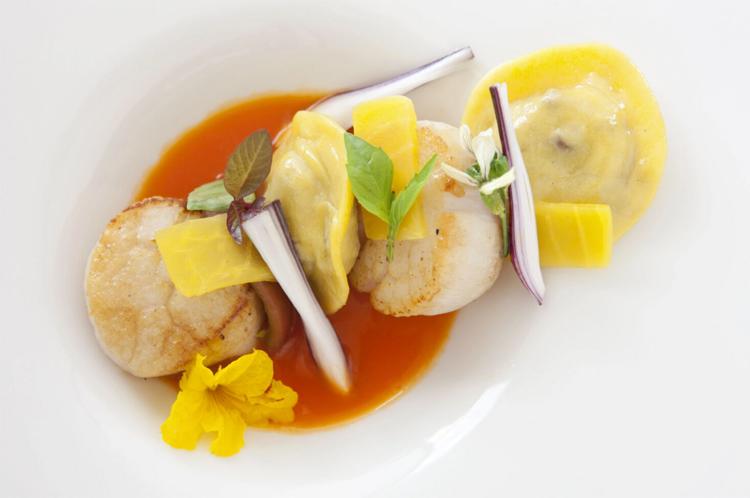 Rios, 55, rose through the ranks of the Santa Fe hospitality scene to executive chef at the Eldorado Hotel. In the mid-1990s, he moved to New York to study at the Culinary Institute of America, and then to France, where he learned about the farm-to-table practices. He worked in Manhattan before returning to Santa Fe, where he was chef at the Old House, Inn of the Anasazi, and then, Geronimo. He and his wife and business partner, Jennifer Rios, opened Restaurant Martín in 2009. They renovated an abandoned house on the corner of Paseo de Peralta and Galisteo Street.
With its quiet dining rooms (that are closed for the moment) and popular patio spaces (that are now properly socially distanced), Restaurant Martín offers elegance with just a hint of Southwestern charm. Rios favors symmetrical, sculptural presentations and takes a painterly approach to plating. Order the Chilled English Pea Soup ($15), for instance, and your server will bring you a bowl studded with colorful ingredients — compressed melon, fermented carrot, Enoki mushrooms, and chamomile oil — so that you can appreciate the dish's parts before it becomes a whole. Only then does the server fill the bowl with delicate liquid and leave you to explore the complex range of flavors.
"We like our customers to have that same experience that we have in the kitchen, as a show," Rios says.
Rios is also the author of The Restaurant Martín Cookbook: Sophisticated Home Cooking from the Celebrated Santa Fe Restaurant (2015), and he's a three-time finalist for the James Beard Best Chef of the Southwest award. Pasatiempo caught up with Rios to talk about his culinary aesthetics.
Pasatiempo: How did you develop your approach to food and presentation?
Martín Rios: It all comes back to building things. If I'm walking around on the street, I see structures that are interesting to me, [like,] "This mountain looks great with this little tree coming out of it." I wonder if I can do something like that with food. How can I build a tiny tree or a leaf? I like to transform that into something that is edible. I look at magazines about art, or I go to museums and look at colors. I walk around Canyon Road and see all the structures and all the sculptures that are outside, and I want to make it edible.
Pasa: You use lots of foams and soils in your food, which were really popular in top-tier restaurants a few years ago but have since been replaced by other trends. What is your attachment to the molecular style of cooking?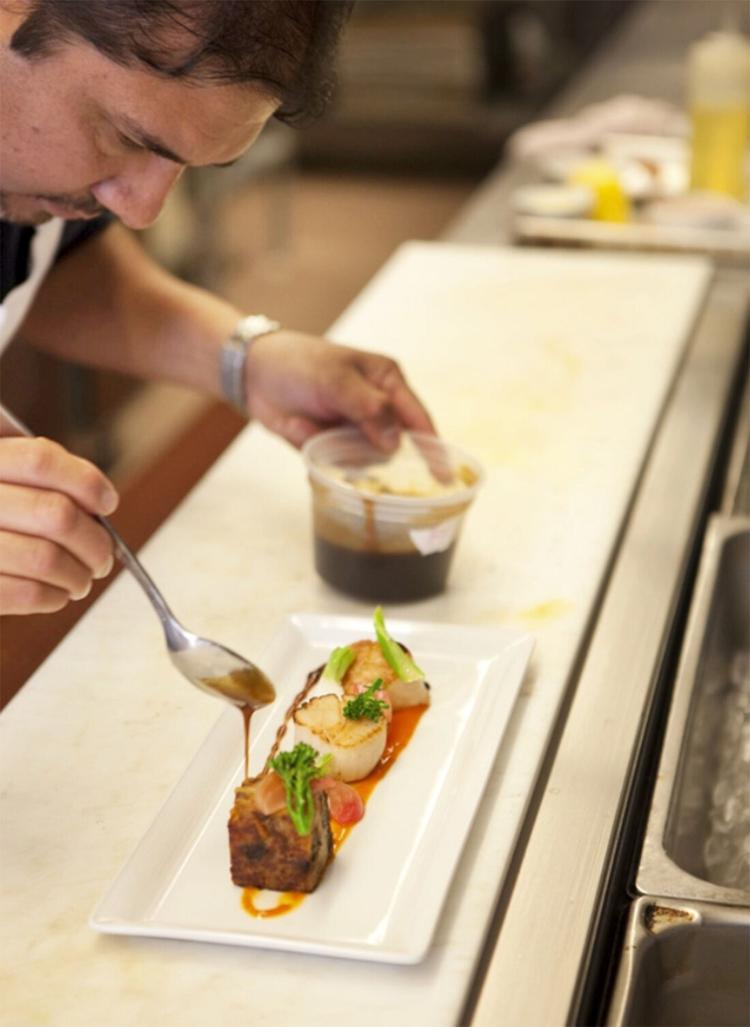 Rios: Maybe five or six years ago, molecular cuisine was exploding. Everybody was doing molecular cuisine. It started to fade out because there was a point where it really wasn't food anymore. It was mostly edible papers and things that you've never heard of. It started to go away from the real taste of food. That intrigued me. I thought I could utilize some of those things in my food without having to become a molecular restaurant. That gives me a little bit of space to be able to keep practicing my art. We do certain foams, puddings, soils. I look first at what's fresh and in season, and then I work from there.
Pasa: Can you expand on that? What's your creative process?
Rios: For example, right now, I'm looking at a plum. Plums are in season. Right now, we're fermenting plums, we're pickling plums, we're juicing the plums, we are preserving the plums. Those techniques give me a different texture and a different flavor. I look at one ingredient and see how many things I can do with it.
Pasa: What is the role of service at Restaurant Martín?
Rios: Our motto is that there's nothing we can't do. If a customer comes in and says my back is hurting, I can't sit in this chair, we do anything we can to accommodate that customer. Any kind of dietary restrictions. I say give me a list of what you can't eat and give me few minutes. I'll figure something out. We build a meal for them. We want you to come into our place and feel like you're at home, where you know what you can eat. That's how we approach our service to every customer that comes in.
Pasa: You're currently open for patio dining, and you're also packaging your food for takeout. What special measures do you take to preserve your presentation?
Rios: One dish has a main box and six little containers. All the garnishes and sides are not mixed together, and the sauce isn't running all over the place. When it comes to you, it's fresh. We ask what time you'll be able to pick up your food, then you call when you are three minutes away, and we start putting it together. Jennifer has worked so hard in really looking at all those details. It's giving us challenges, but we enjoy that.
Pasa: Desserts at Martín tend to be quite complex. Sweetness takes a backseat to depth of flavor, but they are still very decadent. How do you build these dishes?
Rios: Our desserts have lots of structure. We have a molten chocolate cake that's [heated] to the right temperature, so that if you cut it, the liquid comes out and it stays nice and warm. Then we add some crunchiness to it. It needs a little bit of salt, a little citrus. We balance all these things. And whether it's chocolate or one of our fruit desserts, we look at layers. Like, what are we going to do with this lemon? We're going to make a lemon curd. That lemon curd is going to need a little bit of herbs. That's how we get extra flavor into our desserts, by utilizing herbs that grow in the restaurant. Lemon verbena, lemon balm, basil.
Pasa: What does owning a restaurant in Santa Fe's competitive fine-dining environment mean to you?
Rios: This is definitely a dream come true. It's been rough to get to this point. You have to be patient. I didn't have much of an education, but I had a drive. In my years of doing apprenticeships, internships, I worked with very classically trained chefs that would throw spatulas, throw sauté pans, would humiliate you. But at the end of the day, I learned something, and if I learned something then I don't care. I knew that, someday, I would be up there. I never imagined it would be this kind of restaurant. We are fortunate. Our local customers have allowed us to continue to grow because of how much they enjoy coming to us. Hopefully, we'll continue for another 10 years. I can continue learning and bringing that to my staff and my customers. ◀
Restaurant Martín (526 Galisteo St.) is open 5 p.m. to close Wednesday to Sunday, for patio dining and takeout. 505-820-0919, restaurantmartin.com.