Walking into The Chocolate Maven Bakery & Café looks and smells like what it must be like to pass through heaven's gate — if heaven is a wonderland of buttery croissants, fudgy brownies, and decadently frosted cupcakes. Glass cases are stocked with a plethora of classic cakes, from chocolate buttercream to tres leches. Tables and counters are covered in grab-and-go options. Need a scone? How about a pumpkin pie?
On a visit with Pasatiempo to talk about holiday desserts a few days before Thanksgiving, Chocolate Maven owner Dharm (pronounced Dad-uhm) Andrew Segal offers strong coffee and a sample of his triple-chocolate Bundt cake. We sit in a dining area with a view through a glass wall into an industrial-looking production room, where a baker rolls a 12-foot-long sleeve of dough into cinnamon rolls.
"This is a chocolate cake with chocolate chunks in it and dark chocolate ganache on top, which is our signature," says Segal, 62, before taking a bite of cake. "Chocolate is always a hit. People love chocolate whether it's Hanukkah, Christmas, or other traditions. It's winter; it's solstice. You want that cozy thing."
The Bundt is thick and moist, almost brownie-like. The ganache has a consistency sort of like frosting and sort of like fudge. It adds both moisture and depth of flavor, but it's the soft chocolate chunks studded throughout the cake that make this a dessert you might request for your deathbed meal. A different kind of restaurant might even call it Death by Chocolate, an observation that prompts a broad grin from Segal.
"I call it Life by Chocolate," he says.
When it comes to treats for the holidays, Segal believes the simplicity of the triple chocolate Bundt cake is all that's needed to impress guests. For something a little bit unusual, however, he suggests their green chile apple pie. "It's a classic that's got a little heat," he says. Chocolate Maven also sells butter cookies for Hanukkah shaped like menorahs and Stars of David. In the coming weeks, they'll have their regular menu of cakes decorated with holly berries and candy canes, but their most traditional seasonal offering is a Bûche de Noël, also known as a Yule log, which is popular in many European countries.
"It looks like a log you put in your fireplace, but it's made of chocolate," Segal says. "It's whipped cream rolled in a sponge cake and covered in our same signature ganache."
Segal says if he had to recommend one exceptional Chocolate Maven item to take to a Christmas Eve gathering, it would be the chocolate raspberry torte. "Belgian chocolate cake, ganache, and a crushed raspberry filling made with fresh raspberries. I think that's our best cake."
At Revolution Bakery there's nothing so fancy going on. "I don't have time to decorate cakes," says owner Dionne Christian. "Unless it's a sloppy layer cake. I'd make you a sloppy layer cake. I'm a production baker. I want to make 500 cakes, not stand around making one cake look perfect."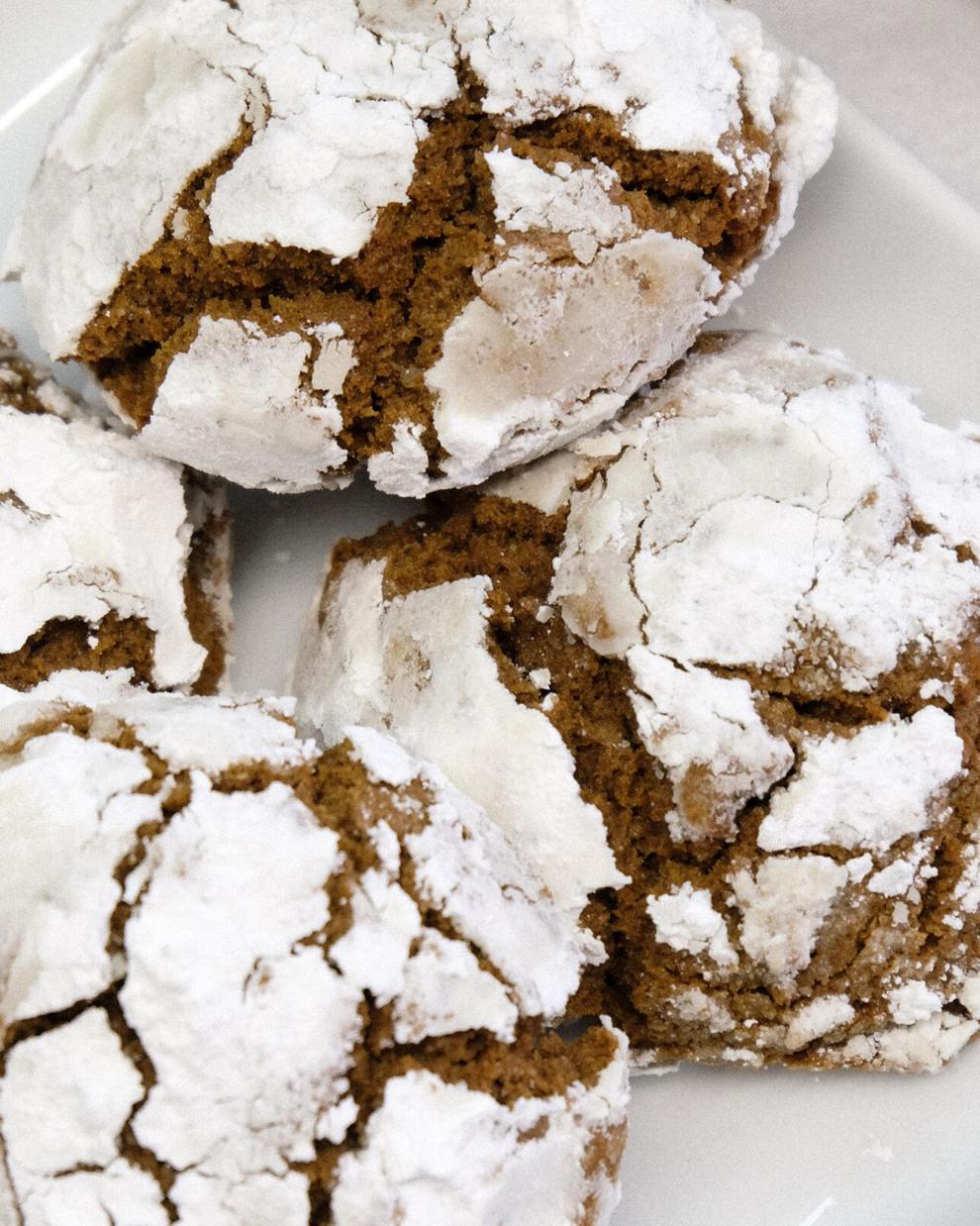 Christian, 49, runs her tiny, gluten-free bakery as a walk-up business in the Design Center. She makes what she knows she can sell each day, and on a recent visit near her 2 p.m. closing-time, the rolling pastry carts were empty. In the mornings, they're full of breads and other baked goods. "Savory and sweet," she says. "Quiche. Spanakopita. Oreo-cookie brownies. Sandwiches to go."
It's two days before Thanksgiving, and like every other baker in town, Christian is exhausted from fulfilling hundreds of custom orders. But she livens at the prospect of the Christmas rush. "I love making holiday-specific items. I love making stollen. I do an orange panettone and one that has candied fruits, like a fruit cake. I do gingersnap cookies, which are round. I could easily turn them into gingerbread men, but I don't have time for that. I don't decorate my cookies. My talents are in taste and texture."
Gluten-free cookies can be disappointingly mushy, but Christian says that she has achieved crispiness at Revolution. "I don't want to sell you anything that is not like the thing I'm imitating, she says. "I want you to be deceived." She uses white and brown rice flours, as well as sorghum, quinoa, coconut, millet, and a few others. "I make my own blends for everything. I don't use an all-purpose flour or everything would have the same taste and texture."
Christian's holiday offerings also include sweet potato pie, pumpkin pie, and apple crumble with cranberry. But savory delights are another option, especially for breakfasts with out-of-town guests. "My holiday idea is to make savory herb twists with lemon, reminiscent of European laminated pastries. Really good for family brunches."
Dulce Capital owners Armando and Molly Martinez use Armando's family recipes to prepare some of Santa Fe's most traditional Christmas fare. Despite being known for cupcakes and other sweet treats, Dulce's Christmas-specific recipes veer savory. For breakfast, they offer 6-inch and 10-inch quiches made with potatoes, bacon, green chile, green onion, and cheddar and jack cheeses. Armando, 32, grew up on the dish and has been perfecting it on his own for a number of years. They also make tamales — red chile with pork and vegetarian green chile with zucchini.
"They are traditional New Mexican tamales, like the ones you'd make at home on a weekend with your mom and your grandma, when you sit at the table and gossip," says Molly, 27. "We're not mass-producing with giant machinery. We're the ones back there rolling them, tying them together on both ends. They're made with love."
The only non-traditional aspect of Dulce's tamales is that they're made with vegetable shortening rather than lard. "I was very reluctant to change it. I didn't want to," Armando says. "But we didn't want to cook with lard in the facility, and when I tasted the tamales with vegetable shortening, they tasted exactly the same as they do with lard."
Their biscochito recipe comes from Armando's grandmother, though the lard has been swapped for butter in the anise-flavored sugar cookies.
"They have a crunchy outside and nice chewy inside," Molly says through a yawn. The bakery is extra warm from so many days of Thanksgiving baking, and Molly's eyelids droop.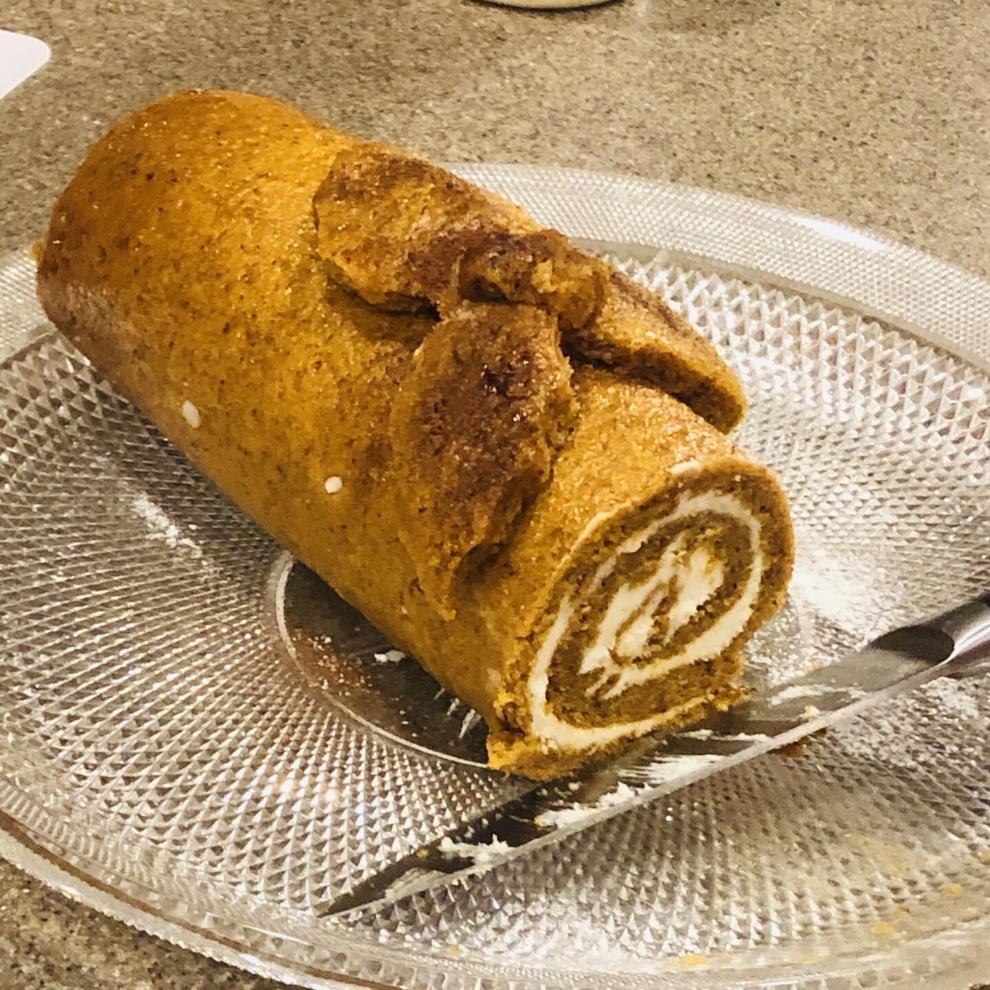 Although they are closed for the day, people are still knocking on the door to pick up their custom orders — the same traditional pies that the Martinezes will make for Christmas, including pecan, apple, and pumpkin. Their regular cakes and cupcakes will be themed with holiday colors and designs. Asked for their most Christmassy dessert to take to a holiday gathering, Armando and Molly agree on the pumpkin roll, which is a pumpkin spice cake rolled with cream cheese frosting and dusted with powdered sugar.
"It's my family recipe," Armando says.
Chocolate Maven, Revolution Bakery, and Dulce Capital all offer counter service, but holiday orders should be placed through their websites. Chocolate Maven offers robust gluten-free and vegan options, and most items at Revolution are or can be made vegan. Dulce has some gluten-free options, as well as a vegetarian version of their quiche.
"No one wants to cook on Christmas morning," Armando says about the appeal of quiche. "They just want to warm something up."
In that case, there are always cinnamon rolls. All three bakeries make them — and sell hundreds every week, no matter what holiday is on the horizon.