Many paths lead down the boozy rabbit hole of brewing "really local" beer in New Mexico — that is, using as many locally and regionally grown ingredients as possible — and hops is one of them. One name comes up over and over again when you ask nearly any brewer about  Humulus lupulus var. neomexicanus — the wild hops that grows in our state and is one of the only native North American hops suitable for brewing.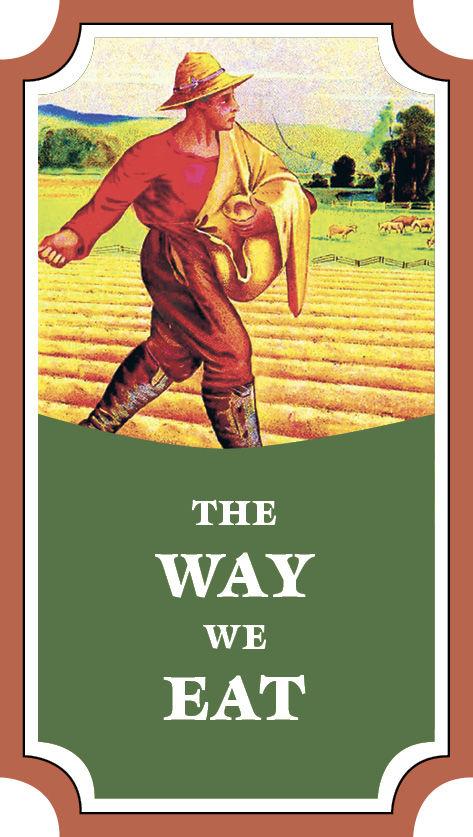 That name is John Bates. He picked his Neomexicanus hops up in Rinconada, worked to isolate the variety, and began cultivating and hybridizing it. Breweries outside the state — namely, Sierra Nevada and the Vail-area brewery Crazy Mountain — released Neomexicanus-based beers in 2014. But these days the discussion of local beer extends beyond hops, to ingredients from malted barley and wheat to fruit, coffee, and yeast.
The array of options for consumers seeking non-factory-farmed, organic, grass-fed, free-range, non-GMO meat comes thanks to a revolution that originated in the 1990s with a few ethically minded producers around the country, including in New Mexico. 
Barley isn't a solid New Mexico crop yet. However, given that the number of breweries statewide continues to edge upward, toward three digits, New Mexico State's Agricultural Science Center at Farmington planted 20 acres of malting barley to test its viability as a crop to supply local brewers. As a friend of mine likes to say, "Beer doesn't know borders," so brewers can source their malted barley regionally, from providers in Colorado's San Luis River Valley such as Proximity Malt, which has a facility near Alamosa; and Colorado Malting Company, which has been farming in the area since the 1930s. Several local breweries source barley from Proximity, including Santa Fe Brewing Company, which recently signed a contract with the company to make it their primary supplier starting in March of next year. "We worked with them on their processes for close to two years," Santa Fe Brewing president Brian Lock said.
Since 2013, Lock has owned a hops farm just down the road from the property where Bates' adventure with Neomexicanus began. "He's kind of the grandfather of the hops movement. … He guided me through the Neomexicanus varieties," said Lock, whose plantings have expanded to include other strains — among them amalia and medusa (a much more poetic name than its former "multihead" moniker) — with the goal of having up to 2.5 acres flourishing by the end of next summer. Santa Fe Brewing also works directly with Ohori's to obtain coffee for its Java Stout. "They negotiate how many pounds they think we're going to go through in a year and buy that green bean for us. We buy all the lot, and then they roast it for us to our specs." Lock is dedicated and ambitious. While Santa Fe Brewing served a nut brown ale made with his farm's amalia hops in September 2016, he said, "My ultimate goal is to be able to brew a beer that's exclusively made with our hops and locally sourced grain."
At the fledgling Beer Creek Brewery, co-owner Rich Headley shows a youthful delight when talking about beer, hops, and grains. Once co-founder and C-level executive of an energy company, he opened Beer Creek with his team earlier this year, and he's also the proprietor of the four-acre Crossed Sabers hops farm in Cerrillos. A shiny red hops harvester is parked just outside the back gate at Beer Creek, waiting to be put through its paces.
Intentionally or not, Headley paints a vivid picture of a local brewing community that's strong and supportive, with brewers, enthusiasts, and investors that are encouraging and happy to see each other thrive. In the same half-hour that he outlined the story of his own endeavors, he mentioned and praised other local hops farms, including Red Hat in Los Ranchos, White Crow in Ancones, Stone Lizard in Belen, and La Capilla in La Cienega.
In the coming months, Rowley Farmhouse Ales will embark on a wild-hops collaboration with Shed, also known as The Shed Project, whose private ticketed dinners at Owl Peak Farm in La Madera aim to be "an expression of our place through endemic plants and natural materials all brought together to a table." Of the Neomexicanus hops, Shed creator Johnny Ortiz said, "I have been picking these for a few years now, using them in food, soda, and making beer with other brewers. … Because Shed aims to focus on the beauties of the ephemeral side of nature, we love using these plants that have unique characters and stories." Ultimately, the beer that RFA brews with the foraged hops will be served as part of Ortiz's dinners.
Brewer John Rowley and his team use large amounts of regionally grown organic heirloom Sonoran white wheat, purchased from BKW Farms in Arizona. That's on prominent display in beers like the Sonora Weiss, which also features prickly pear fruits picked in that neighboring state. Fruit and other area ingredients come into play often at Rowley, as in their bottled Mixed Dubbels Curling (a Belgian dubbel made with local plums) and in the Kaffeeklatch, a collaboration with Ikonic Coffee Roasters using Lake Toba Sumatra beans. The process of making RFA's If You Must Berliner weisse involves lees of grüner veltliner grapes from Vivác Winery in Dixon, and Rowley uses barrels from Santa Fe Spirits for the Notorious BdG, an apple brandy bière de garde. "That's a local 'ingredient,' if you will," Rowley said in the brewery's dining room on a chilly early November night, adding that the barrel "actually becomes an ingredient in the beer."
Get Rowley talking about mixed fermentation and wild saisons and his eyes light up. "If you're doing spontaneous fermentation … where you capture the wild yeast from the air and it settles in your wort and it spontaneously ferments the beer — that's the essence of local beer. Especially if you have all local ingredients, you can't get any more local than that." ◀