In The Essential Cocktail: The Art of Mixing Drinks (2008), renowned bartender and author Dale DeGroff writes that originally, a "dry martini" indicated a cocktail made with gin and dry vermouth, as opposed to sweet vermouth. He says that only later in the 20th century did the order come to mean a martini with little to no vermouth, and advocates for a return to a "wetter" martini.
"DeGroff is opinionated," says Weston Simons, manager of Santa Fe Spirits Downtown Tasting Room (308 Read St., 505-780-5906, santafespirits.com). But so is Simons, who claims to have been bartending for family parties since he was 8 years old. "A lot of times, people order extra-dry martinis because they've had a martini with spoiled vermouth, which tastes terrible, and they never want a martini with vermouth again. I get that. I respect that."
Simons and DeGroff agree that vermouth, a fortified wine, must be refrigerated. They also agree that while personal preference is key to every martini, not every cocktail served in a martini glass is really a martini.
"That started in the 1990s, with chocolate martinis, espresso martinis," Simons says. DeGroff agrees, reserving special ire for the pineapple-and-Chambord flavored French martini (which is, in this writer's view, delicious). Simons, 28, has strong opinions, too, but shrugs off the need for animosity. People should drink what they like, he says. He just wants to help people deepen their cocktail knowledge and explore, so they can stop ordering out of desperation.
For instance, "An extra-dirty martini usually starts as a panic order," he says. "You're at the bar, there's a line of people behind you. You're 21 and you don't really know what you like, but in old movies, people order an extra-dirty martini. And then you get used to it. If you don't progress further into cocktails and learn more about them, you'll stay in your comfort zone. There's nothing wrong with that, and you might like briny, crisp, cold drinks."
Asked what a "James Bond martini" is, and he launches into a Sean Connery voice. "It's called a Vesper. One measure of Gordon's Gin, an ounce of French vodka, and Lillet Blanc. Shaken, not stirred, with a lemon twist."
Simons talked with Pasatiempo about the history of martinis, classic recipes, what vodka is supposed to taste like, as well as other martini-related topics.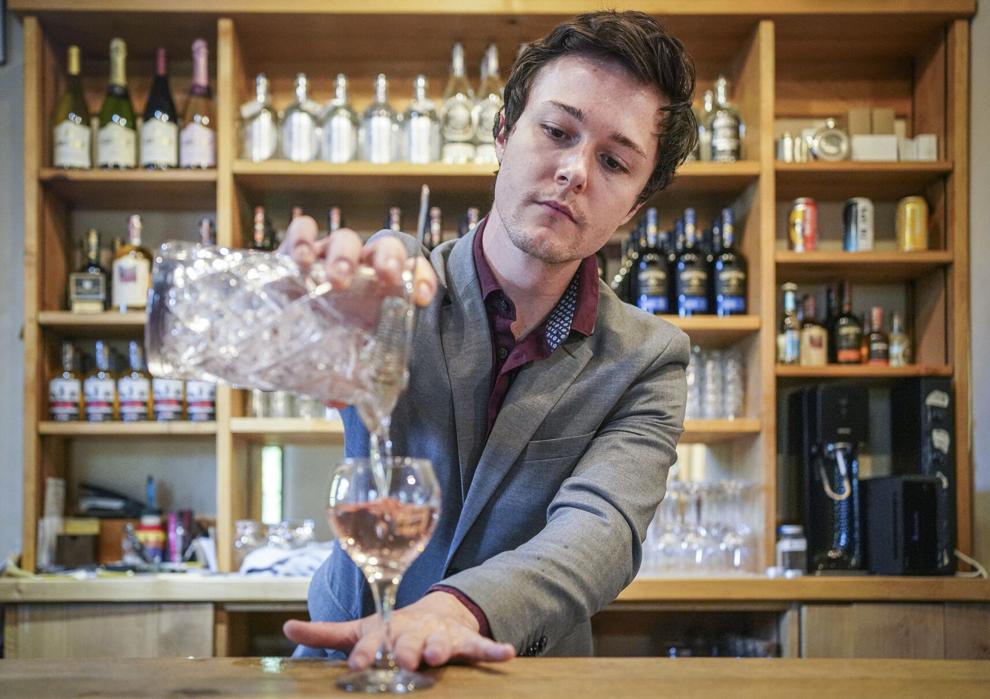 Pasatiempo: When was the martini invented?
Weston Simons: Whenever history and alcohol mix, things get a little fuzzy. But as far as we can tell, the martini was invented in the early 1800s, most likely near London, because that was the biggest shipping port. They would've been the first to get French vermouth. The original recipe is two-and-a-half ounces of gin, half-an-ounce of dry vermouth, two dashes of orange bitters, stirred, served up, with a lemon twist. Vodka martinis didn't really become popular until the 1970s in the U.S.
Pasa: When did olives enter the picture?
W.S.: I don't know. I could do more research on this, but my assumption is that it comes from traditional vodka drinking in Poland and Russia. You drink cold vodka, and you have it with a bunch of snacks — caviar, olives, almonds. Usually something with a little bit of salinity, which offsets the crispness of a nice cold vodka.
Pasa: There are so many options when it comes to martinis. It's like bespoke juice.
W.S.: That's a good name for all alcohol — bespoke juice! The cool thing about a martini is that it's the ultimate form of self-expression in a cocktail. No one orders "a martini." They order an extra-dirty gin martini, shaken, with extra olives. Or a classic gin martini, stirred with a lemon twist. Or an extra-dry gin martini. Everyone's palate is different, and nobody is wrong.
Pasa: What happens when you shake vs. stir?
W.S.: Shaking will dilute it more and get it colder, below 28 degrees. The colder something is, the less sensitive your tastebuds are to it, with the exception of bitterness and salinity, or saltiness. Those are the two flavors that aren't affected by temperature. When something is really cold, you'll taste saltiness more, and less alcohol burn. A stirred cocktail is typically between 32 and 35 degrees Fahrenheit. So, you'll pull up more flavor, more botanicals from the gin. It's a much fuller flavor profile.
Pasa: Do you shake in metal or glass?
W.S.: Always shake in metal. Glass has a higher thermal mass, so it will absorb more heat ... and overdilute your drink. They're also really dangerous. I almost lost my thumb shaking in glass. I was shaking two at a time and I accidentally bumped them together, and it shattered in my hand while I was holding it.
Pasa: Santa Fe Spirits' vodka tastes earthier than many vodkas. It's very different from, say, Grey Goose.
W.S.: Most people distill their vodka 10 times or more, for purity, and then they'll filter it a bunch of times, which kind of flies in the face of more traditional Polish and Russian vodkas, where you distill it less and don't filter it that much. The popular trend in vodka is to be "clean" and "neutral," but by distilling less, you leave behind more flavor and more character. Vodka is supposed to have flavor! Our Expedition Vodka is corn-based, and we distill our vodka a lot less than other producers. It has a kind of silky quality across the palate, a little floral and a little bit of a kettle corn sweetness. Most vodkas — Absolut, Grey Goose, Ketel One,— are made with French winter wheat. It's soft and mellow, with mild fruit notes. Very gentle. Chopin is made with [Polish wheat]. Ciroc is made with grapes. Belvedere makes a rye vodka that has a little bit of spice to it. If you can ferment it, you can turn it into vodka. You could make vodka out of carrots if you wanted to. And it would taste a little like carrots, depending on how many times you distilled it.
Pasa: Is Santa Fe Spirits' gin different from other gins?
W.S.: Our Wheeler's Gin is in its own category. It's a Western dry gin, also a corn-based spirit, and we use only five botanicals, all locally sourced in Santa Fe. White desert sage, juniper, osha root, cascade hops, and hand-harvested cholla cactus blossoms, which have a nice dusty, floral quality that keeps the sage from getting soapy or perfumey. We do a process called fractional distilling, where we infuse each botanical individually and then blend them together. What I like about our spirits is they all have a terroir to them. That's a wine-making term that means the ground that it's grown in affects the flavor profile. All of our spirits are representative of New Mexico.
Pasa: Does the quality of your liquor matter when you're making a martini?
W.S.: Absolutely. It's five parts gin to one part vermouth, so your gin better be damn good, or you're going to notice it. The original recipe is 2.5 ounces of gin and half-an-ounce of vermouth. That's a little strong for my taste, so I typically go 4:1, but it can be great all the way up to a 50/50 ratio.
Pasa: Many people keep their vodka in the freezer. Is that beneficial for a martini?
W.S.: Again, it's all personal preference. ... If you're drinking your vodka extra cold, you get a little less ethanol burn. But a lot of people who keep their vodka in the freezer aren't making martinis. They're drinking straight vodka. ◀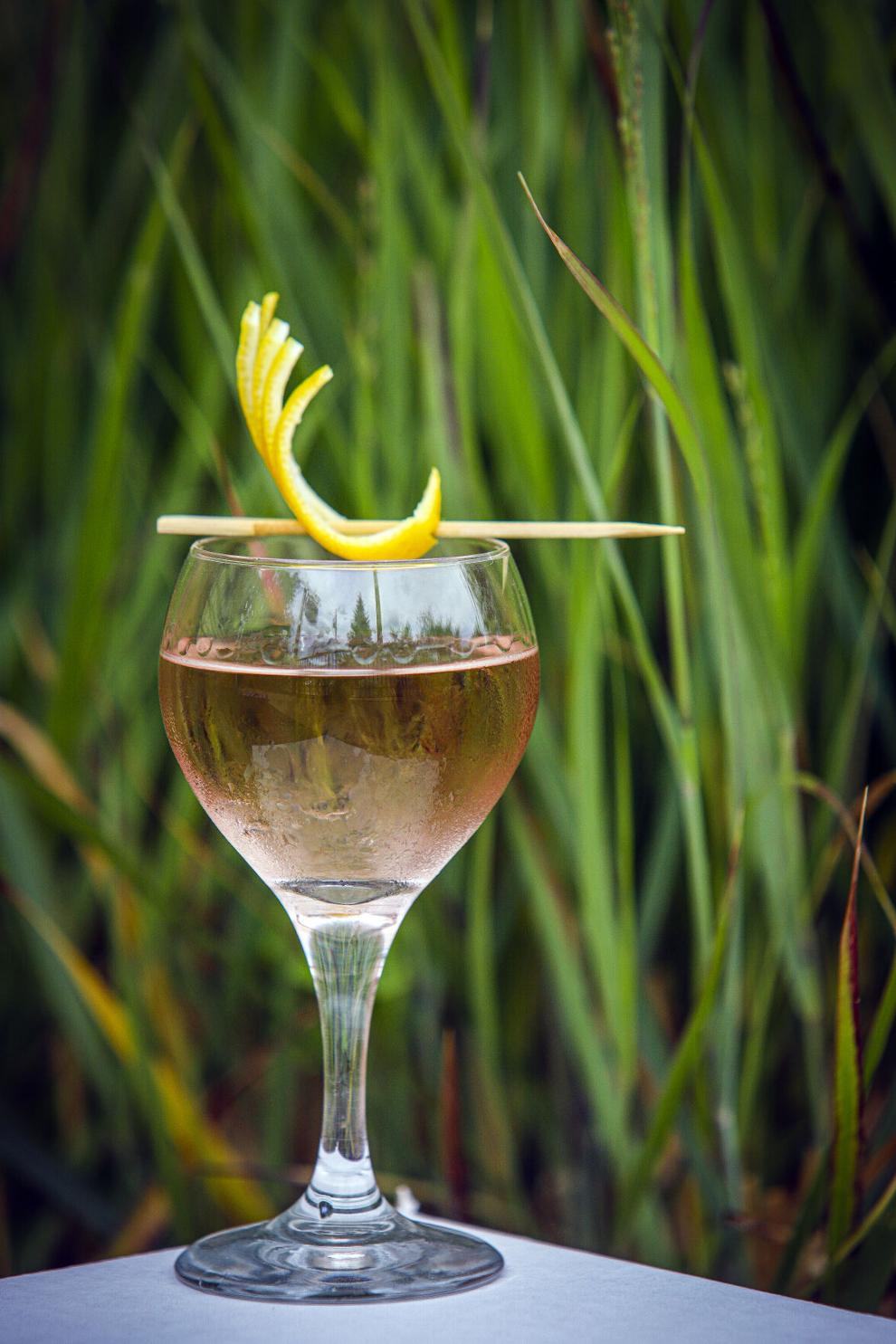 I love cocktails that take a classic formula and add a new dimension without becoming overly complicated or muddy. To me, a classic cocktail variation is a good one if it has its own unique identity, and the Summer Blush certainly does that by becoming a delicate floral version of the original. In one sense, the Summer Blush isn't a true martini because there is only one original recipe for the martini. But, like so many other classic cocktails, the martini has transcended being one specific recipe and has evolved over time into its own category of drinks, much like the daiquiri or margarita. I would consider it a "true" martini in that it sticks to the core spirit, balanced with a fortified wine, and accentuated by a small amount of another ingredient. — Weston Simons
1 bar spoon of homemade grenadine
Stir all ingredients over ice, serve up, in a chilled Nick & Nora glass, and garnish with a lemon twist.
(For a classic gin martini, remove the rose water and grenadine, and include 2-3 dashes orange bitters.)
1 tablespoon pomegranate molasses
1/4 teaspoon orange flower water
Combine all ingredients and stir until fully dissolved. Store in a bottle or airtight container and refrigerate. Keeps 1-2 weeks.