Consider the humble latke: just a pancake made of shredded potato, onion, egg, maybe some flour that's fried to a golden-brown, crispy texture in plenty of oil. Symbolizing the miracle of Hanukkah, latkes (pronounced LOT-kehs) are gobbled up with glee by celebrating Jewish people and their loved ones every December, as menorah candles flicker brightly in the background. But they aren't without controversy, because the exact recipe, cooking method, and consistency of latkes differs from home to home and family to family. Should they be small or large? Puffy or flat? Crispy all the way through or mushy inside? Such debates have raged for generations.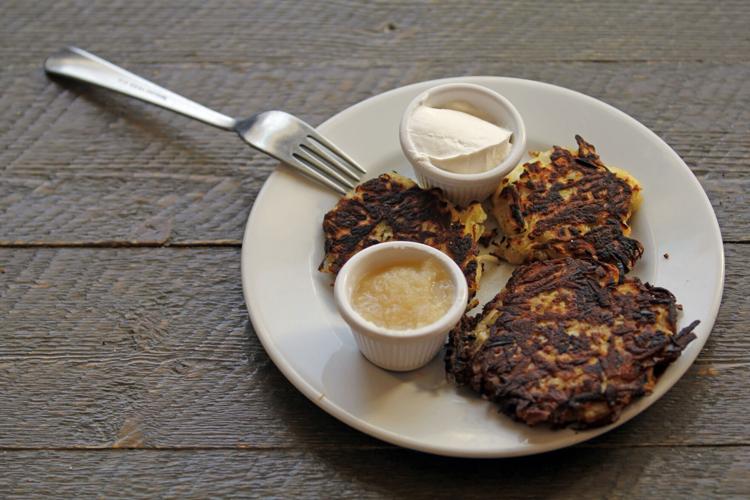 And what of alternative ingredients, like (God forbid) sweet potatoes or zucchini? Did you know that Sephardic Jews in Algeria, for instance, add green onions and leeks to the mix? To a Chicago-born Ashkenazi Jew such as myself, this sounds like it would taste good, but also like it could be a recipe for chaos. How in the world do you shred leeks on a box grater?
"You don't. You use a blender or a food processor," said Alex Hadidi, chef-owner of Marquez Deli (513C Camino de los Marquez, 505-365-2112, marquezdeli.com). "When we cook latkes, they are a little bit puffy. We don't add flour. You want the inside to be nice and moist. They're not like Ashkenazi latkes, which are more like hash browns."
Hadidi, 58, grew up on the coast of northern Algeria, in Tigzirt Sur-Mer. His English is accented by French, Croatian, Serbian, and Berber, and his Hanukkah recipes are influenced by Sephardic and Mediterranean Jewish traditions. He went to college in the former Yugoslavia, and he was a biomedical engineer in Minnesota before training as a chef at the French Culinary Institute and working in New York for 25 years. He moved to Santa Fe in 2012.
"I love the respect the people of the state have for food," he said. "It's almost like you're closer to God …" He gestured to indicate the City Different's high altitude. "So, you have to respect freshness. In New York City, you have the trends, the stress, the buildings. But here, your whole heart, your mind, is all around food."
Until mid-October, Marquez Deli was still a French-leaning brunch place called Mimosa. But the pandemic shutdown inspired Hadidi to pursue his lifelong dream of opening a neighborhood deli. I happened to call him the week he closed for renovations. Because Mimosa had latkes on the menu, I figured the owner might be Jewish, and I was hoping to talk about Hanukkah food. (Hanukkah runs from Thursday, Dec. 11 to 18 this year.) After some friendly banter about whether or not Ashkenazi Jews even know how to cook, Hadidi invited me over to sample a multicourse holiday tasting.
During my late-October visit, Marquez Deli was still in the process of becoming itself, with deli counters yet to be installed. There was folksy artwork on the walls, and what Yiddish speakers call chotchkes (pronounced CHOCH-kees, aka knickknacks) scattered on high shelves, brightening the lightly industrial environment of cement floors and gray walls. Hadidi and his business partner, Crae Kaplan, 58, began our conversation (and nibbles) with a vegetarian mezza plate, which consisted of ajvar (pronounced EYE-var), a creamy dip made of roasted eggplant and red bell peppers; shakshuka, made from tomatoes and green chile poached in olive oil and garlic; and a dollop of lemony hummus, served with kalamata olives, feta cheese, and pita bread.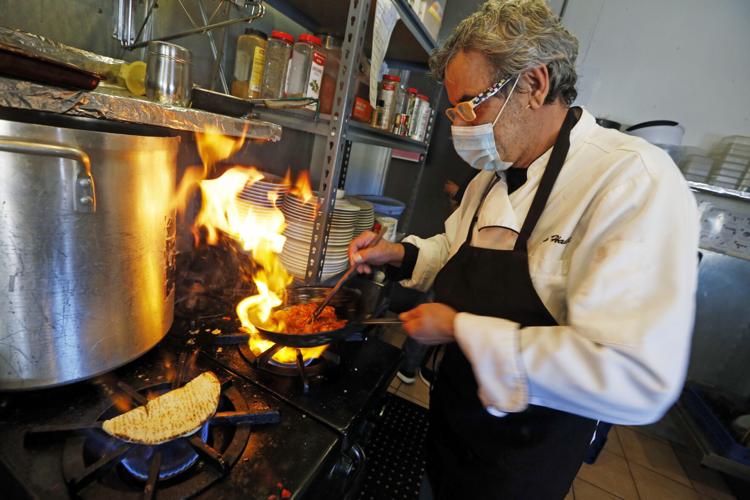 The shakshuka had impressive heat, and Hadidi said green chile is a natural complement to many Jewish foods. (See: bagels and cream cheese.) The ajvar was sweet, smoky, and creamy, and rather substantial in structure. Kaplan recommended adding a few crumbles of feta cheese as she mused about opening for socially distanced dining a few nights a week. (Check the Marquez Deli website for current hours of operation.) "A mezza platter and a glass of wine," she said dreamily, obviously eager to fully engage in the business of hospitality at the eventual end of the pandemic. They plan to offer a slightly lower price point than some Santa Fe eateries.
"I'm tired of paying $60 to go out to dinner. That's fine for places that cater to tourists, but we're here for locals."
A woman came into the restaurant and announced that she was starving. Marquez Deli, though still in slight disarray from construction, was up for the challenge. She ordered a sandwich and a cup of soup, declaring her meal's deliciousness every few bites.
Then came the falafel, which Hadidi makes with a mixture of garbanzo and fava beans. They're fried crispy on the outside but are still light and soft on the inside, served with yogurt tzatziki sauce. As I munched, Hadidi told me about ras el-hanout (ras el-haNOOT), a Moroccan spice mixture that's used for special-occasion food.
Translated from Arabic, "It literally means 'head of the spice store,' " Hadidi explained. He said a spice store might just be a hole in the wall, selling spices in bulk. "When you say, 'the master of the house,' the reason why is they don't measure. They just take the ladle of about 16 spices, and this is ras el-hanout. It goes into stews, soups."
It's in the Roman shorba, a chicken soup in a light tomato broth with chickpeas that's finished with fresh mint, cilantro, and lemon juice. The shorba was slightly oily and incredibly savory. As exotic as it tasted to me, the next soup took me home with one slurp. Billed as "NYC matzo ball soup," it was the same stuff I grew up on, only better. Hadidi's matzo ball cut easily with a spoon, but it didn't fall apart in the broth that was studded with delicate carrot slices and bits of diced chicken. He'd skimmed the broth of fat and saved it for schmaltz, the rendered chicken fat that's the secret ingredient in his matzo balls.
"Schmaltz is revered around here," Kaplan said.
The main course was Algerian lamb tagine. "Here, you have lamb shank," Hadidi said as he placed the dish on the table. "It has butternut squash, carrots, and potatoes, and a side of couscous salad. The lamb has the ras el-hanout. It's cooked in the oven for about seven hours, at a very low temperature."
It was unlike anything I've eaten in a Santa Fe restaurant, slightly sweet but largely savory, with a slow revelation of flavors that grew more complex with each bite. The lamb was fall-off-the-bone, melt-in-your-mouth tender.
The tagine was followed, finally, by a single latke, served on a saucer and topped with sour cream and applesauce. The pancake was the same shade of dark gold as the falafel, with no visible shredded potatoes at its edges, as if the batter were entirely smooth. It tasted like a latke, though, with a slightly earthier, more pungent flavor due to the green onions and leeks. It struck me as a more refined version of the latkes I make at home, which definitely have a hash-brown quality.
In between courses, Hadidi, Kaplan, and I talked about the differences and similarities among Jewish people around the world. A topic of import: How to spell "Hanukkah." Should it have two n's or one k? And does it begin with an "H" or a "Ch"? (Hadidi and Kaplan grew up in "H" families, whereas I come from a "Ch" culture.) We came to no firm conclusions. We agreed that Hanukkah is the most festive, family-oriented of the Jewish holidays. I joked about how, when I was a kid, the best gifts came at the beginning, at the big family party, followed by a week of socks and underwear. Hadidi said that in Algeria, Hanukkah is a slow build, with the big party held on the last night.
"The whole idea of Hanukkah is the lamp that burned for eight days instead of just one night. On the eighth day, when all the candles are lit, that's usually when people from different towns go to the main family's house. People bring pastries, and the person throwing the party does the main food," he said. "Everyone wants to taste the other person's fingers, which means the pastries that they made with their hands."
Dessert was a jelly-filled svenj, or Moroccan doughnuts. Svenj are similar to the Israeli doughnuts served at Hanukkah, called sufganiyah (sof-yin-YOD) in Hebrew, but they're less dense. The jelly symbolizes a sweet life. Mine was raspberry, although Hadidi said that in Algeria, they would use fig. "Because we have a lot of fig trees. We dry the figs and eat some in the winter, and then others are poached and jarred.
"It's all about what's available," he said. "Hanukkah dishes are the same everywhere, but the ingredients are different because you use what's available. In Algeria, we don't even use matzo meal in our matzo balls. We use semolina because that's what we have. Matzo balls are like dumplings. That's kind of German. We learn from everyone." ◀
---
An incomplete guide to Jewish ethnicities
Ashkenazim: Originally, the Jews of Germany and Northern France. The term now refers more generally to Jews from Central and Eastern Europe.
Ethiopian: A Jewish community in Ethiopia, the Beta Israel, has existed for at least 15 centuries. In the late 1980s and early 1990s, many Ethiopian Jews emigrated to Israel.
Kaifeng: Kaifeng Jews are an ethno-minority in the Henan province of China, descended from Jewish settlers that arrived through the Silk Road during the Northern Song Dynasty (960-1127).
Mizrahi: Mizrahi Jews have Middle Eastern ancestry. The earliest, largest communities date from Late Antiquity in modern Iraq, Iran, and Yemen.
Sephardim: The Jews of Iberia and the Spanish diaspora. When Jews were expelled from Spain in the 15th century, some went to Turkey, some went to Europe, and many went to North Africa.
---
The story of Hanukkah, abridged
Around 200 BCE, Judea (the Land of Israel) was controlled by Antiochus III, the Seleucid king of Syria. He allowed Jews to practice their religion, but his son, Antiochus IV Epiphanes, outlawed Judaism. In 168 BCE, he massacred tens of thousands of Jews in Jerusalem and erected an altar to Zeus in the city's holy Second Temple.
An elderly Jewish priest, Mattathias, and his five sons resisted Antiochus and the Seleucid monarchy. Mattathias' son, Judah Maccabee, took charge when his father died in 166 BCE and drove the Syrians out of Jerusalem. He and his followers rebuilt the altar in the Second Temple and lit the menorah, the seven-branched candelabrum representing knowledge and creation that was supposed to be kept burning every night.
This is when what is known as the miracle of Hanukkah happened, according to the Talmud, one of Judaism's central texts. Even though there appeared to be only enough untainted oil to keep the menorah's candles burning for a single day, the flames stayed lit for eight nights. The annual eight-day holiday of Hanukkah is celebrated by Jews around the world with food, gifts, and family parties. Many of the foods are fried in oil to symbolize the miracle.
---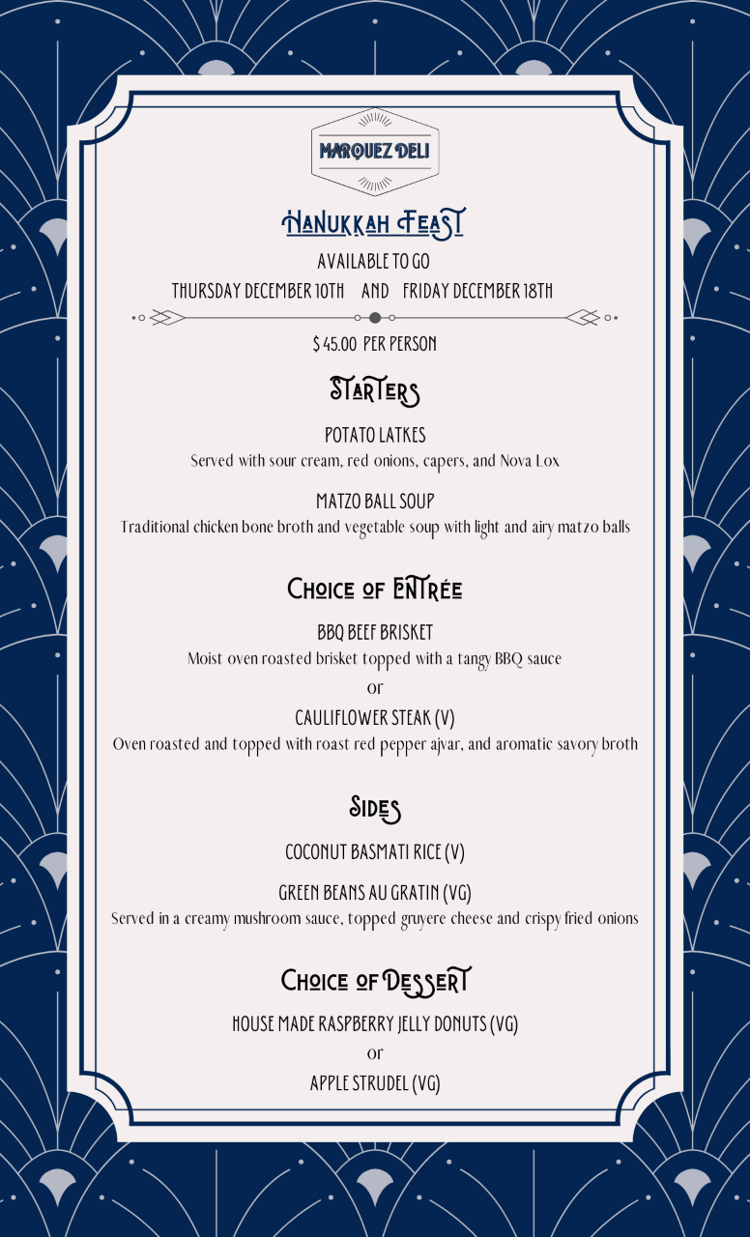 1/2 cup finely chopped leeks
1/4 cup matzo meal (optional)
Shred the medium onion and the potatoes on box grater. Season with salt and pepper, let sit for two minutes, and then squeeze most of the water from the onion-potato mixture. Drain using a colander over a salad bowl. Discard the water from the bowl, but keep the pasty starch in the bottom of the salad bowl. In a food processor, pulse together leeks, two scallions, eggs, matzo meal, baking powder, and soft butter. Fold in the potato-onion mixture using a rubber spatula.
In a frying pan, heat the seed oil to medium-hot. Spoon latke mix into the medium hot oil and flatten with a metal spatula or spoon. Cook each side three to four minutes, or until golden outside and soft inside.
Serve hot, with apple sauce and sour cream. Garnish with the third scallion.
3 medium red bell peppers
1/4 cup apple cider vinegar
Oil a baking pan and place the eggplant skin-side up. Coat the red bell peppers lightly with oil. Roast until the peppers turn golden; place peppers in a zip-lock bag to facilitate peeling.
Scrape the eggplant from skin and pulse until finely chopped. Heat oil in frying pan to medium-hot and add the sugar. Once it starts caramelizing, add the garlic. When the garlic starts roasting, add the finely chopped eggplant. Peel the peppers, and chop them coarsely using a food processor or knife. Cook eggplant for 10 minutes and add the peppers. Cook for five minutes and then add the vinegar and smoked paprika. Cook at low heat for 25 minutes, mixing occasionally. Cool, and then add 2 tbsp. of extra virgin olive oil.
Serve cold, with pita chips.
— Recipes courtesy of the Marquez Deli