"A skinless, boneless chicken breast carved from a hothouse factory chicken is the moral equivalent of internet sex," Roger Welsch wrote more than 20 years ago. That brash statement came long before Michael Pollan more gently informed us in 2006 that "You are what what you eat eats" and documentaries like Food Inc., Cowspiracy, and Eating Animals woke many consumers to the awful living conditions of chickens, turkeys, cows, and pigs on factory farms.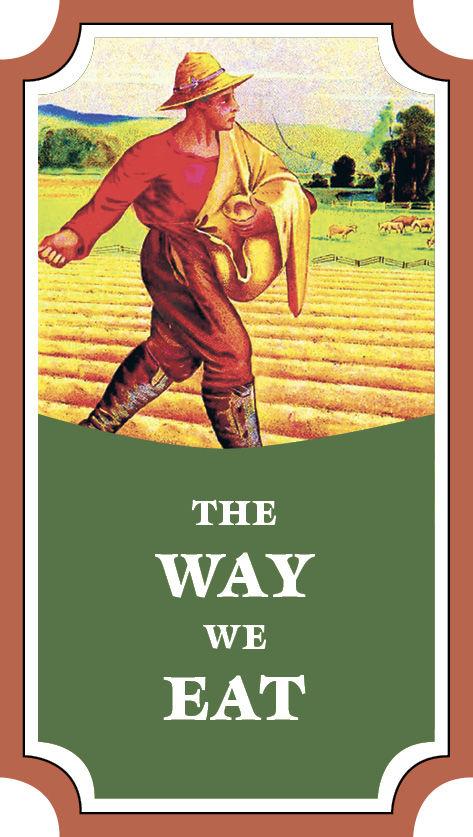 The act of buying meat in 2018 is fraught with anxiety: Where did the turkey live? What did the lamb eat? What does "free-range" mean to the producer who put that description on the label? If it's not certified organic, will it be riddled with hormones and antibiotics? If the beef is grass-fed but grain-finished, does that mean it's riddled with potentially toxic genetically modified organisms (GMOs)? Just how much methane did the cattle produce? Did the pig draped over your feast table have a happy life — and as peaceful a death as possible?
The array of options for consumers seeking non-factory-farmed, organic, grass-fed, free-range, non-GMO meat comes thanks to a revolution that originated in the 1990s with a few ethically minded producers around the country, including in New Mexico. No small part of that revolution began in Rinconada, where John McMullin and David Rigsby of Embudo Valley Organics raised the first certified-organic turkeys in the nation back in 1994. Today, they raise 1,000 turkeys a year in batches from April to November, selling them to local grocers like Cid's in Taos and La Montañita in Santa Fe, where they annually sell out. All the certified-non-GMO feed for the turkeys is made on-site from roasted soybeans, corn, vitamins, minerals, molasses, and flaxseed.
" 'Free-range' is just a marketing term," McMullin said. "They can put 'free-range' on a bird that they have locked up in a giant 30,000-bird facility as long as they have a little tiny yard. So we call them 'field-grazed,' because we run them as only a couple hundred birds on an acre at a time. We have a number of different batches that we circle around a 12-acre area. They're out there eating bugs and scratching things up and acting like a normal turkey."
McMullin said that unlike factory-farmed birds, his turkeys are not declawed, debeaked, or desnooded, common practices in giant confinement barns that prevent delicate bird flesh from being destroyed by feathered frenemies in the pecking order. "We raise them in small enough batches that we don't need to do any of that. They actually do establish a pecking order, and so there's Turkey Number 1 and there's Turkey Number 200. But we have enough feeders and watering stations so that even Bird 200 can go and eat and drink what he wants."
Mary Pitman of Mary's Free-Range Chicken, a poultry company based in California's San Joaquin Valley that's available in Santa Fe's natural groceries, said her birds came from her personal desire for a clean product. Pitman suffered ill health and shortness of breath for 30 years. Her crusade for products without preservatives or additives led her husband, a second-generation turkey farmer, to raise his turkeys a different way. "My husband finally decided in 1998 he was going to go out on his own, go back and raise turkeys the way his father did — make them free-range, pull the antibiotics out of the feed," Pitman said.
She described the practices of factory farming that led to this decision. "Over the years, the large producers had us close up buildings and keep putting antibiotics in the feed. So meanwhile, I'm getting really sick, and I see that these turkeys are getting sick," she said. "I'm very, very anti-drug. I've seen it with family members and also poultry. And I saw how the drug companies owned the poultry producers just as much as they do humans."
Pitman's family consulted with European farmers and animal-rights activist Temple Grandin to implement the farm's humane CAS (controlled atmospheric stunning) system for processing the birds, in which chickens are put to sleep using carbon dioxide — a common European practice. The birds are fed with organic vegetarian feed with no antibiotics or growth hormones from the Pitmans' own on-site mills. After slaughter, the birds are never soaked in water, as is the custom on factory farms, and are instead subject to an air-drying process, which preserves the natural flavor of the chickens.
The crusade against GMOs was also adopted early on by the Pitmans. Their son Ben worked with the USDA's Non-GMO Project to produce the first non-GMO-verified organic and non-organic chicken. Foods that contain GMOs have possible links to toxic effects on bodily organs, though an April 2018 New York Times article reported that 90 percent of scientists believe GMOs are safe, while only a little more than a third of consumers agree with them.
"We make all of our non-GMO feed," Pitman said, describing a long process of convincing the company's Midwestern farmer liaisons to produce enough GMO-free feed for the string of Pitman farms in the San Joaquin Valley. "It took us five years to get the farmers to convert to non-GMO." But it takes careful examination to find the Non-GMO Project Verified label on meat for sale in stores. For instance, the branding of company's chickens may be Mary's Free-Range, Mary's Non-GMO, Mary's Organic, or Mary's Pasture Raised. Some are fed a combination of 70-percent non-GMO corn, 25-percent non-GMO soybean, and 5-percent vitamins and minerals, and thus get the Non-GMO label. Others get a similar combination of organic feed that nonetheless may contain GMOs. Consumers concerned about GMOs should look for the non-GMO label, and in this case, try to trust the government.
While responsible farmers have reconfigured animals' quality of life, local operations are providing more ways for consumers to purchase clean meat. At Dr. Field Goods Butcher Shop in Santa Fe, butcher Gabe Archuleta returned to his hometown after years spent working at New York restaurants, in which chefs engaged in the practice of using whole animals, with all their byproducts, as much as possible. That's the anti-waste ethos of sustainability at Dr. Field Goods Kitchen and its adjacent Butcher Shop retail outlet, where chef Josh Gerwin hired Archuleta to process whole animals from local producers.
Five days a week, the shop's case is filled with everything from pork spareribs to ribeyes to bratwurst to lamb chops. Bone broth and tallow candles are also for sale, along with house-baked bread. The retailer supplies meat to restaurants that include Radish & Rye, Back Road Pizza, and Fire & Hops Gastropub. The pork comes solely from Kyzer Farms, a longtime heritage hog farm in the South Valley of Albuquerque where Robert Kyzer feeds his pigs a diet of hormone- and antibiotic-free grain and vegetables for slow, natural growth. To find other responsible animal farmers, well, it takes a village. "Since Kyzer's a good hog farmer, he knows other good beef farmers," Archuleta said. "The last animal we bought was from Robert's neighbor, and that animal was just beautiful. Big Black Angus steer, super spoiled. It's probably the nicest animal we've seen come through here."
"It's pretty simple," Archuleta said of the ancient philosophy behind whole-animal butchery. "You get a whole animal and everything is usable. At the restaurant, we use everything, we render all the fat. There's always something to be done with it." He explained that part of sustainable meat-eating practices means that consumers should be willing to embrace cuts other than ribeyes and T-bones. "There's basically only two cuts per animal. I don't get five different tenderloins off a cow, I only get two." He highlighted a couple of lesser-known cuts. "There's one that comes from the heel of the hindquarter. It's called a merlot because it's really red in color, and its muscle fibers are really fine. It's almost like a filet but it's really lean. ... It's an extremely tasty cut and it's really economical. Teres major, too — that's a chuck cut, chuck tender, that's also another good one. Bavette steak — it's like sirloin flap, you can think of it as a really large skirt steak. That's a really tasty cut, and really cheap, too."
The livelihood of a specialty butcher shop like Dr. Field Goods is supported by the size and demographics of a city like Santa Fe. But while some food deserts surround Santa Fe, rural communities are also reinventing how to buy meat. In the Mora Valley, the lack of a grocery store resulted in the formation of Los de Mora Local Growers' Co-op, which offers a year-round indoor farmers' market featuring grass-fed beef and lamb, local eggs, and produce.
Los de Mora secretary and newly elected county commissioner Veronica Serna explained the situation of residents who must otherwise drive to Taos or Santa Fe for organic meat and produce. "If you have to really rush to the store in a pinch, we've got Allsup's and we've got Family Dollar — whatever they have on the shelf. So that's why we've had more and more customers coming to tell us they appreciate having clean food." The beef and lamb available from Los de Mora comes from regional farmers who meet animal welfare standards and graze their beasts on organic-certified fields that contain no grains, GMO seeds, or Roundup Ready alfalfa.
With the participation of around 30 farmers, vice president Darleen Ortiz said the co-op's goal is to help locals get back to accessing good food. "Mora used to be the food basket of the West," Ortiz said. "But since then, a lot of people have moved away. I mean, these lands are really meant to be farmed, because they're fertile and we have a lot of water. We're trying to bring that back to the community, so that we can have healthy food in this part of the state."
Archuleta expressed the same nostalgia for traditional small-farming practices. "That's how people had to do it then. Now people go to the grocery store and get some cheap feed-lot beef or whatever, versus raising your own animals. But even if they're not raising them anymore, there are still better ways to eat meat." ◀
Dr. Field Goods Butcher Shop is open Tuesdays-Saturdays, 8 a.m.-5 p.m., at 2860 Cerrillos Road, 505-474-6081.
The Los de Mora Local Growers' Cooperative, Inc., is at 3268 NM 518 (milepost 32.68) in Cleveland, NM, 575-770-4822.