The Santa Fe architecture that the Historic Preservation Board defends so diligently was adopted in 1912, although the city itself was founded in 1610. Similarly, the pre-Hispanic Mexico that Ballet Folklórico de México is presenting all over the world is not actual Aztec, Mayan, and Olmec dance. Amalia Hernández created it in 1952. What we think of as authentic often isn't, but what we enjoy doesn't always need to be authentic. Sometimes it's just entertainment.
Ballet Folklórico de México, which started with eight dancers, has grown over its 70-year life into a company of 600 dancers and musicians performing for 45 million people. Hernández studied ballet and modern dance as a child in Mexico City and began dreaming of a way to bring the various dances of her country into a theatrical space. She choreographed her own folklóricos, which borrowed from traditional dances of Indigenous groups, regional folk dances, and styles from post-Colonial traditions — all made larger-than-life with huge casts of dancers and brilliant costumes, sets and lighting.
No one ever pointed their feet dancing in the villages of Mexico, but this was ballet folklórico. One difference often noted between traditional Mexican "danza" and what Hernández developed is that if the female dancer raises her hands about her head (thus showing her legs), it is folklórico. The Mexican government, especially the tourism department, got behind her early on. At the beginning of her career, Hernández was also hired by the television show Función de Gala to present new dances every week. In a short period of time, she choreographed dozens.
Hernández' grandson Salvador López is the general director of the company today. He danced in the group as a youth and traveled all over the world with his grandmother. "She was an amazing woman," he said. "In the days of Mexican artists like Diego Rivera and Octavio Paz, she was one of the few women who stepped forward and said, 'I will change Mexico.'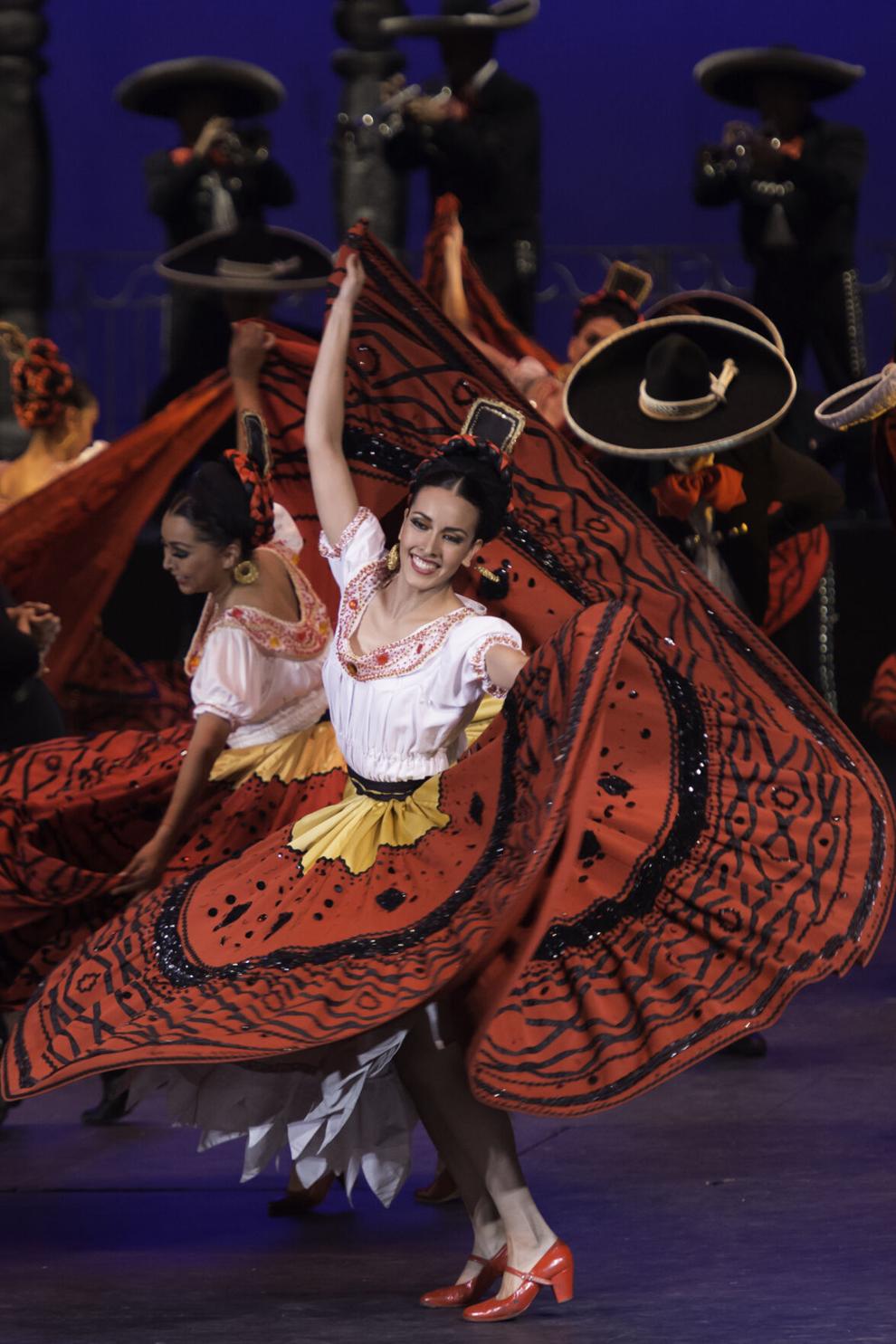 "She was a genius," he went on. "I watched her dealing with a traveling company of 60. It was a huge experience under difficult conditions. She worked with impresarios and politicians. There were no tools for promotion like we have now, but she brought the company to all the biggest theaters in the world — Paris, Moscow, New York."
The group was awarded best dance group at the Festival of Nations in Paris in 1961 and was asked to open the 1968 Olympic Games in Mexico City. Since 1959, the company has performed every Sunday at the Palace of Fine Arts Theatre in the capital city.
According to López, his grandmother researched regional music and dance by traveling extensively, consulting historians and musicologists, and meeting with anthropologists who showed her hieroglyphic images found on ruins, all of which helped her piece together movement suggesting pre-Hispanic culture. "She created a new style, one that wasn't just a big fiesta. She included religious themes, love, war, romance, history — the company offers a real mosaic of our culture."
The show coming to Santa Fe will include the very first folkloric dance she ever created, "Sones Antiguos de Michoacán" (1952).
"She used to say, "Yo sí soy profeta en mi tierra (I am a prophet in my land)," López said. "Another saying she had was that her creative process moved dances from 'encanto a la perfeccíon' (enchantment to perfection)."
The 40 dancers and musicians at the Lensic will also present the Deer Dance, from the Mayo and Yaquí people of Sonora and Sinaloa; an Aztec dance; a piece from Guerrero, in Southwestern Mexico, featuring dances from the towns of Zirándoro and Altamirano; a ballet commemoration of the women who fought as warriors in the 1910 Revolution in Mexico; a ballet from Veracruz, "Party in Tlacotalpan," featuring the striking white costumes worn there along with music and dance influenced by Spanish and African immigrants; a charrería, from the inland ranches; a parody of Mexican archetypes offered in "Life Is a Game;" and a mariachi celebration featuring the music and dance from Jalisco. Other dances in the repertoire feature the marimba and African-influence of the Caribbean-adjacent province of Chiapas, a pre-Colonial religious dance of the Matachines, and the feather dance from the Zapotec Indians of Oaxaca.
While versions of ballet folklórico can now be found in almost any tourist destination in Mexico, the Hernandez version strives to continue being the biggest and best. There is a school where 300 young dancers train to prepare for careers in the company . "We have a three-year training program even for professionals," Lopez said. "The average age of the dancers is, I'd say, 24, and they perform, often, into their 30s."
Although many of the dances being performed were originally created by Hernandez in the 50s and 60s, Lopez said that there is always a move to update and improve things in small ways. "Some of the dances were very long, so we shorten and refine things to meet the attention span of today's audience," he said. "Also, there are better-trained musicians and dancers than ever before, and we have begun to use theatrical projections and amazing sound and lighting technology which never existed before."
Although the company travels all over the world, Lopez said they perform extensively in the United States every two years. Their visit to Santa Fe is part of a 40-city tour. "It's important that we visit the United States," he said. "After all, a lot of the country used to be a part of Mexico, and the Mexican people are everywhere."