A girl needs her mother. She needs her father, too. But when she's in the throes of adolescence — getting teased at school and feeling utterly alone — crying to Mom should be a human right. Who else automatically hugs you and tells you everything is going to be OK?
For Olivia, such emotional support has always been a fantasy. Her parents divorced when she was little, and she hasn't seen her mother in years. Her father is a good guy, but he doesn't really have time for her these days. In 26 Miles, a play by Quiara Alegria Hudes, the 15-year-old protagonist relies on her writing to guide her through life. She's a quirky, nerdy kid who spends most of her time alone, says Valli Marie Rivera, who directs 26 Miles at Teatro Paraguas, opening Friday, Oct. 15.
The play is set in 1986, before the internet turned teenage isolation into a virtually connected subculture. When school and home pressures reach a boiling point, the lonely Olivia (Amelie Piburn) calls her estranged mother, Beatriz (Cristina Vigil), and the two set off on a cross-country road trip.
"Neither of them was prepared for this," Rivera says. "How do they reclaim their relationship?"
The play is packed with deep questions about familial and cultural ties. When she was 6 years old, Olivia chose her father in a heated custody battle, during which Beatriz's undocumented status as a Cuban immigrant was used against her. Eventually, Olivia learns the full story of the divorce. And Beatriz discovers that she can't let her feelings about her ex-husband — or a child's long-ago, inadvertent cruelty — stand in the way of her maternal instinct.
"How do they untangle the consequences of their actions? There's all this conflict of 'Why don't you take care of me?' It all goes back to the custody battle," Rivera says. "I'd love for the audience to debate why the daughter chose the dad. It's not a black-and-white answer, yes or no. When [Hudes] wrote this, she wanted you to have to figure things out. I think the big conflict [in the play] is figuring out what are your missing pieces and getting the courage to go get them."
Rivera, 72, lives in San Juan, Puerto Rico. She moved back to her hometown in 2019, after living in New Mexico since the mid-1990s. She returned briefly later that year to direct Hudes' Pulitzer Prize-winning Water by the Spoonful for Ironweed Productions, part of the Elliot Trilogy that was put on jointly by three Santa Fe theater companies. Rivera previously directed 26 Miles in 2014, at the National Hispanic Cultural Center in Albuquerque, before bringing that production to Teatro Paraguas.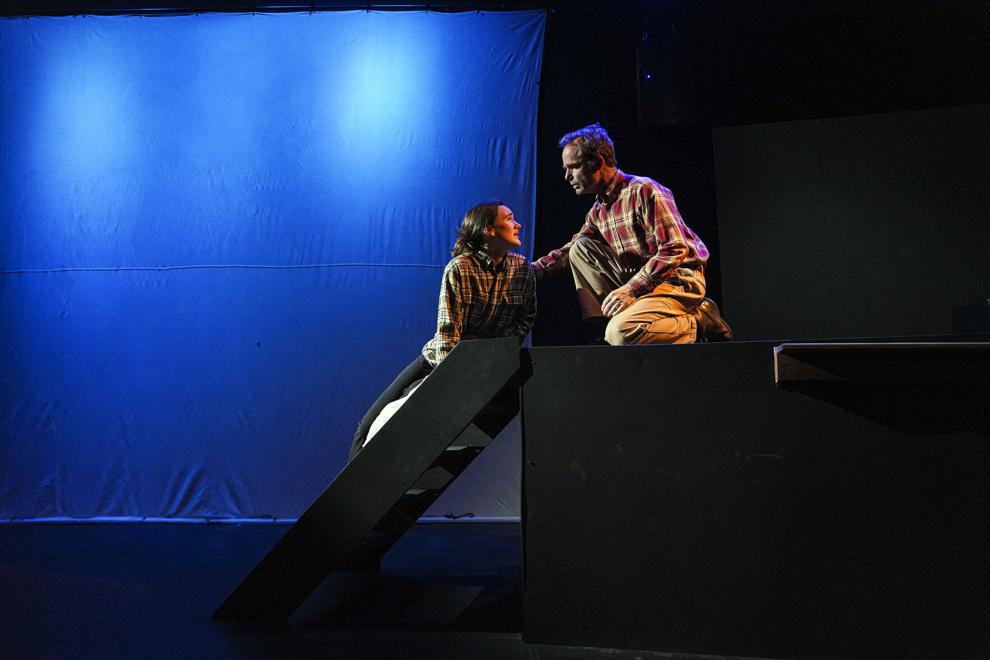 "I usually don't repeat, [but] this is totally different from the first time," she says. "We have a wonderful teenage actor in the role of Olivia. She's really into it."
The 16-year-old Piburn is a junior at Santa Fe High School. She acted in musicals for Pandemonium Productions when she was in middle school, starring as Fiona in a 2019 production of Shrek the Musical. But playing a serious part in an adult cast is a new experience. "This is like no theater I've been in. I feel very grateful to play Olivia," she says. Describing her character's relationship with her parents, she says that Olivia isn't sure where she belongs in her family. "Her dad isn't good at taking care of her. He's in a difficult place, and he can't give her the attention and affection she needs. Her mother has no custody or visitation rights. It's hard for her to know how to love them both and still respect the other."
Vigil, 31, characterizes Beatriz as invasive. "It's all from a good place, but she doesn't quite know when to stop. She's trying to make up for lost time. ... She'll be trying to comfort, and two lines later she's trying to [emotionally] punch you."
Scott Harrison, 56, plays the father, Aaron, a carpenter who has never had much financial success. His unseen wife, Deborah, is unhappy, and she tends to take out her problems on those around her. She's not interested in being a stepmother, and Aaron seems to take his parenting cues from her.
"Olivia is growing up, and he's not necessarily prepared for that," Harrison says. "In some ways, he wants things to be the way they were when she was younger, when there were easier solutions. He misses who he used to be and doesn't have a sense of who he is now, which is scary for him. He loves Olivia very much, but he doesn't know the right thing to do."
In a 2009 American Theatre interview, Hudes said that she was interested in Olivia and Beatriz truly leaving their lives behind, which was a big reason she set 26 Miles in the 1980s, before cell phones. She wrote the play at the same time she wrote In the Heights, a sprawling, high-energy production for which she earned a 2008 Tony Award nomination for Best Book of a Musical.
Her musical-theater background led her to construct the rhythm of the scenes in 26 Miles to match the speed at which Beatriz is driving. "I had to create different momentums through language. Also, Olivia's journal entries are like songs — each one has to have a slightly different tempo for the piece to work as a whole," she said in the article. "I love coming-of-age stories. A big influence on this play is the movie Y Tu Mama Tambien [2001] which is a road trip with two young men. I could so quickly list five road-trip stories about adolescent boys that totally pull my heartstrings. It's much less common with young women and much less common with a mother-daughter pair."
The buffalo is a symbol that runs throughout the play. Olivia has seen their impressive stampedes in the pages of National Geographic, and she dreams of seeing them run at top speed. Rivera says that the buffalo has powerful spiritual meaning for Native Americans cultures, which she thinks is relevant because Olivia is searching for her identity. Although buffaloes represent positive elements such as strength, prosperity, and community, she says they can also suggest a sense of loss and straying from life's goals. Rivera writes in her director's notes that they "may symbolize unenlightened or depressing earthiness, or denial of the spirit. … You hope things will work out, but your spirit is being beaten down."
Olivia wanted to see the buffalo with her father, but, instead, she learns about him while getting to know her mother during the intimacy of the road trip. "In the dynamic of the trip, they go through the painful [conflict], and then they resolve it. They have to fight it out. They have to nurture each other. They have to be women together," Rivera says.
Olivia and Beatriz are strangers when they set out, but they find their connection. Piburn says this develops slowly. "It's kind of subtle, but something I'm doing in the play is that there's the bench seat in the car. In the beginning, I'm far away from her, and by the end, I'm closer and closer. This is Olivia's mother. She's missed her a lot. They slip into this physical trust of each other."