Premiere Sept. 30, 1863, at the Théâtre Lyrique in Paris
Santa Fe Opera production directed by Shawna Lucey, conducted by Timothy Myers
In ancient Ceylon, Zurga (Anthony Clark Evans) is declared leader of the pearl fishers. He soon reunites with Nadir (Ilker Arcayürek), a long-absent close friend. The pair was nearly driven apart by a woman who came between them, and they vowed never to let such a thing happen again. Soon, a ship arrives with a priest, Nourabad (Robert Pomakov), and a vestal virgin named Leïla (Corinne Winters), who communicates with the gods on behalf of the pearl fishers. She is the same woman who almost drove Zurga and Nadir apart. Her face is obscured by a veil, but Nadir recognizes her. Soon, he betrays his friend with Leïla, who, in turn, betrays her spiritual calling by taking a lover. Nourabad finds out and threatens her with death. When Zurga learns of it, he wants to kill Nadir and Leïla — as do the pearl fishers and villagers. Zurga has a change of heart when he realizes that Leïla once helped him in a moment of need, and he pleads with the villagers to have mercy.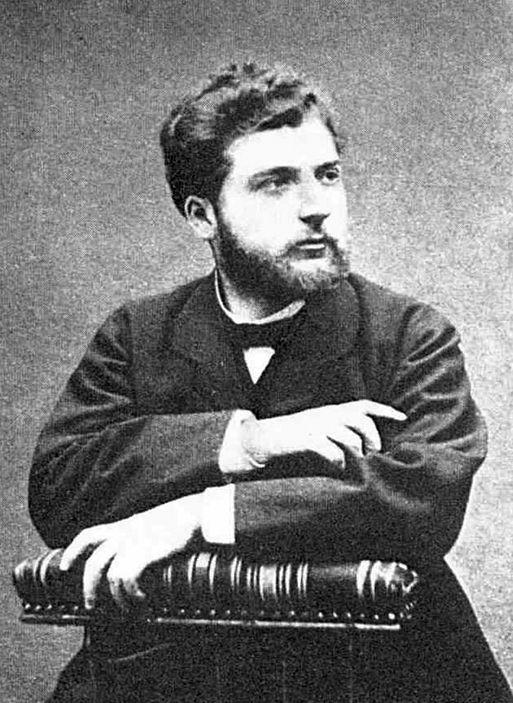 Georges Bizet (Oct. 25, 1838-June 3, 1875) was a French Romantic-era composer whose given name was Alexandre César Léopold. Baptized as "Georges" in 1840, he was known by this moniker forever after. His father, Adolphe, was a singing teacher, and his mother, Aimée, played the piano. Georges' precocious musical talent led his parents to enroll him at the Conservatoire de Paris when he was 9 years old. There, he learned to play piano and began writing increasingly sophisticated songs. In 1857, he received the Prix de Rome for his cantata Clovis et Clotilde, which came with a grant that allowed him to study in Rome. There he wrote an Italian-text opera, Don Procopio. In 1860, he returned to Paris, and in 1863 wrote The Pearl Fishers (Les pêcheurs de perles), followed by The Fair Maid of Perth (La jolie fille de Perth) in 1867.
Bizet married Geneviève Halévy on June 3, 1869, and their son was born in 1872. Bizet continued to write music and, during the time leading up to his marriage, he began refining his musical aesthetic. Life wasn't all art for Bizet, however. During the Franco-Prussian War in 1870 to 1871, he served in the National Guard. He wrote his masterpiece, Carmen, in 1875, the year he died. Bizet was a heavy smoker and had a history of throat problems. He was 36 years old when he developed a high fever, followed by two heart attacks in a matter of days — the second of which felled him for good on his wedding anniversary.
Bizet was 25 years old when he composed The Pearl Fishers. At that time, French forces were involved in the Second Intervention in Mexico, launched in late 1861 by Napoleon III. The Pearl Fishers' librettists, Eugène Cormon and Michel Carré, initially wanted to set the story in pre-Christian Mexico but changed the setting due to the politics of the day. At the time, European artists were consumed by the exotic — a trend known as Orientalism. Santa Fe Opera conductor Timothy Myers said that the fascination concerned regions and cultures to which artists did not have access, including Asia and Spain, where Carmen is set. Bizet never traveled to Spain or Ceylon, so the setting of The Pearl Fishers is not based in fact but in the composer and his librettists' imagination. While there are hints of Orientalism, the composition is very European and does not pander or veer into cultural appropriation. "Musically, I think Bizet had a real gift for coloring something without being obvious or pejorative," Myers said.
The opening night audience at the Théâtre Lyrique was enthusiastic and called for Bizet to come to the stage to receive their accolades. At the time, such an honor was usually reserved for composers of more significant standing, and some critics were appalled by what they saw as the inflated ego of young Bizet. As for the opera itself, in Le Figaro, Benjamin Jouvin disparaged the libretto and the music as having "neither fishermen nor pearls" and said that the work showed too much Wagnerian influence — implying that the piece was excessively grand in scope and fanciful in setting. Other critics lauded the composition and Bizet's talent, with Hector Berlioz writing in the Journal des Débats that the score possessed both originality and subtlety.
Director Shawna Lucey on the work's exoticism
"The Pearl Fishers is part of the operatic repertory that we now recognize as problematic. The patronizing nature of Orientalism exists in the score and libretto of this piece. In the production, we address this issue by taking the material — this community — extremely seriously. There are no 'native dances' as called for in the score. There are no 'Eastern' gestures or movements. Instead, by telling the story of two leaders with ethical demands on their vocations, the story of a community of faith struggling to heal their relationship with nature, a friendship shattered by deceit, and by digging deep into the power of Bizet's music, we have a story so desperately needed by our American audience in 2019."
Conductor Timothy Myerson the place of 'The Pearl Fishers' in Bizet's oeuvre
"With The Pearl Fishers, we get a picture of Bizet as a young composer. He wrote The Pearl Fishers 12 years before he wrote Carmen, and you see him really starting to develop his own musical language. His voice is fully intact and developed — and coming from an exciting part of operatic history. The middle of the 19th century is where a lot of what we consider the standard repertory was generated."
Dramaturg Cori Ellison on the societal roles of the characters in The Pearl Fishers
"At least in our corner of the world, most of us don't have to deal with the kinds of strictures [that the characters live under] in The Pearl Fishers. But there are many places in the world, including some in this country, where people live under very restrictive regimes and their personal lives are governed beyond their control. Not to be political here, but we're struggling as a nation with forces that are interested in rescinding the rights that certain minority citizens have. There are people who are interested in controlling reproductive rights, controlling the rights of gay and trans people. The society [that is depicted in] The Pearl Fishers isn't as far away from us as maybe we like to think it is."
Ilker Arcayürek, tenor, on character psychology in The Pearl Fishers:
"I think Zurga is more bonded to the rules than Nadir is. He sacrifices a lot for his principles. He has been staying in the community and environment for his entire life, whereas Nadir left the community a while ago and comes back as an explorer who may have changed his view on life during his journey. Leïla seems to be untouchable to everybody. She is seen as a goddess, but maybe she has been longing for someone like Nadir to see her as the love of his life."
Soprano Corinne Winters on Leïla's allure and spirituality
"Leïla is entrancing because of her personal power and ability to hold space for every facet of herself. She is fragile but strong, courageous but vulnerable, rational but full of faith. In different circumstances, she would choose both religious leadership and love, but unfortunately, that's not possible in her society. I don't think her faith ever waivers, though, despite giving up her position in the community."
Bizet named his dog after the character of Zurga.
Bizet's father worked as a hairdresser and wigmaker before earning a living as a singing teacher. Bizet learned to sing — and to memorize many difficult songs — by listening at his father's classroom door.
After losing the original manuscript, Bizet's publisher issued new editions, some with different endings. In one, Zurga is consumed in a grand conflagration. In another, he's stabbed to death as he sings "I love you" to Leïla as she leaves with Nadir.