If "See an incredibly inventive production by a celebrated Latvian theater troupe" is on your bucket list (and you know it is), get ready to cross it off. You won't even have to leave the state to do so, either, since B – The Underwater Bubble Show is coming to Albuquerque's Kiva Auditorium on Wednesday, March 16.
Think of it as Cirque du Soleil with soap bubbles. Also fog machines, snow blowers, video projections, lasers, smoke rings, flying foam, LED screens, sand painting, original music, puppets of various sizes, mimes, dancers, acrobats, a juggler, a contortionist, and, above all, what seems like billions of bubbles.
In fact, B – The Underwater Bubble Show includes just about every performance element there is except one. "Our main goal was to produce a show that could tour the world without the barrier of language," director and co-creator Enrico Pezzoli says. "Even in parts of the world where the culture may be different from our own, the result is always the same, with everyone cheering and applauding."
The plot centers on the nearly anonymous character B, an office worker whose life is always too busy, filled with stress induced by the need to connect faster and faster via cell phones, tablets, PCs, and other gadgetry. One day when B finally relaxes a bit, a small fishbowl aquarium appears in his or her briefcase, as if by magic. Soon B is transported into the wondrous underwater world of Bubblelandia, which is full of seahorses, dragon fish, starfish, and mermaids, gradually transforming the title character from stressed-out modernity to blissed-out wonder.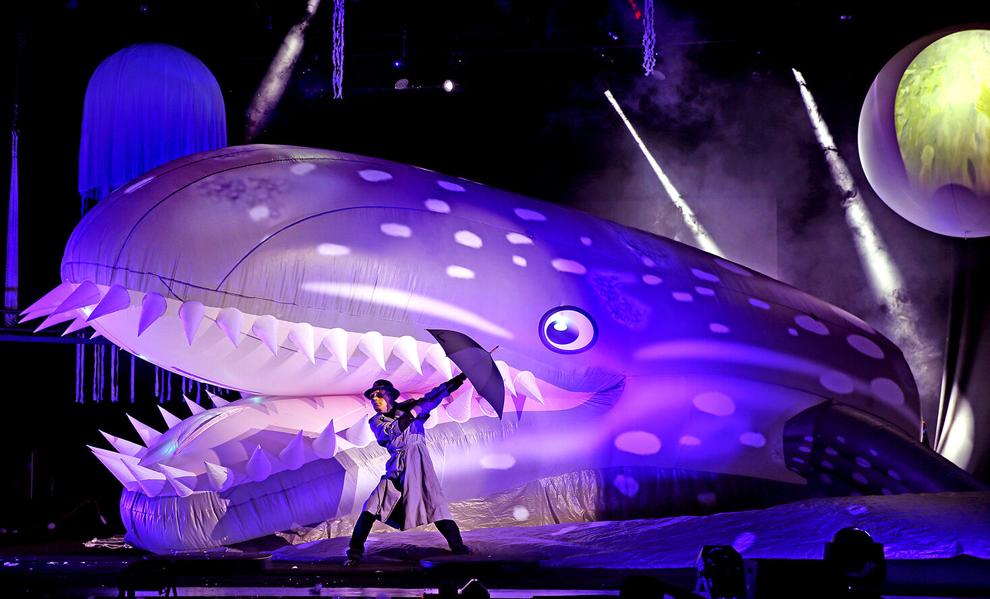 While the show is of the genre usually called children's theater, family entertainment is a more accurate description. (It has a running time of about 100 minutes, including an intermission.) Like the best examples of its type, B – The Underwater Bubble Show works on multiple levels simultaneously, enchanting younger generations while offering an important message for adults.
The story line references classic fairy tales including Pinocchio, The Little Mermaid, Beauty and the Beast, and Peter Pan, but with a twist, according to Pezzoli. "Each of those tales represents the journey of a kid who grows up and learns something," he says. "We wanted a story about an adult character who discovers that he can still go back and enjoy life. We don't always need to grow up. Sometimes we need to step backwards for a bit."
The show comes to Albuquerque as part of the troupe's fourth American tour, a 26-performance journey that stretches from Minnesota to Texas and Connecticut to California. The show premiered in Riga, Latvia, in 2011 and has since been seen in Italy, Switzerland, Russia, England, Turkey, China, Indonesia, Qatar, Kuwait, Bali, Thailand, and Lebanon.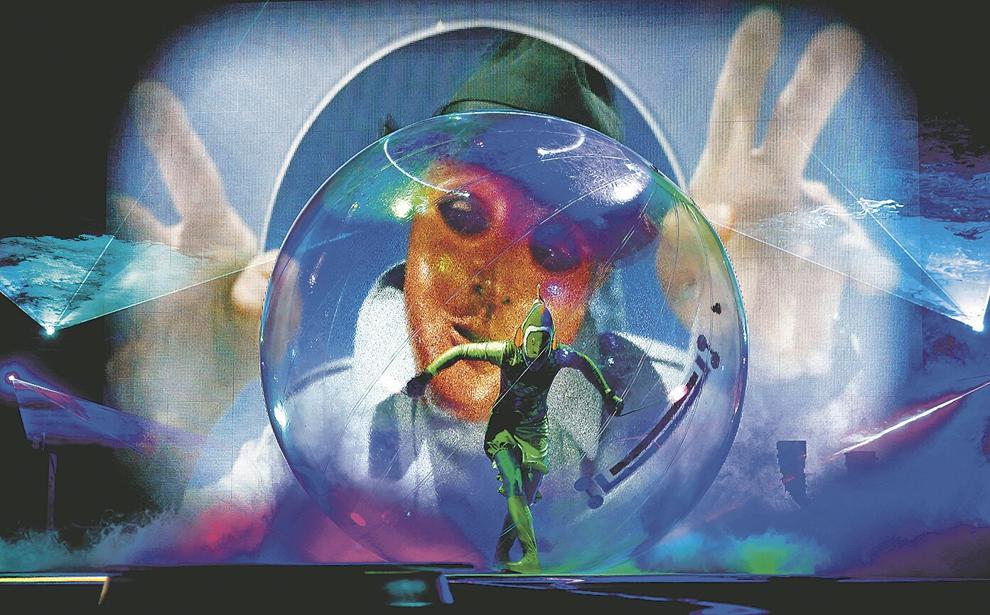 The Italian-born Pezzoli and his performing partner/spouse Dace Pecolli moved to Latvia in 1997. While he was trained in commedia dell'arte, street theater, and clowning, Pezzoli was particularly fascinated by magic, which he started studying at age 8. Eventually he realized there was too much competition in the magician field and, when searching for something unique to add to his act, he saw a clown create a giant bubble.
That led Pezzoli and Pecolli to create a two-person specialty act called Bubble Opera, which was geared toward adult audiences and blended their new interest in bubbles with rock opera, classic opera, and contemporary opera. Its success spawned many European imitators, so the duo challenged themselves to think of something no one else would do with a bubble show. After two years of development, B – The Underwater Bubble Show was born.