Music historians and commentators don't agree on much when the term "greatest" is invoked, but almost all of them concur with the notion that Richard Strauss was one of the two or three greatest orchestrators who ever lived, along with Hector Berlioz and Nikolai Rimsky-Korsakov. In an interview with The Guardian, Sir Mark Elder, longtime music director of the English National Opera, said of Strauss' operas, "His scores are brilliantly conceived. The challenge is getting an orchestra to do exactly what he writes in them, but if they do, his music — no matter how dense or rich or complex — just works."
Music critic Alex Ross wrote in a 2019 New Yorker article that Salome "is at once staggeringly original, more than a little trashy, and unsettling in its sexual and racial politics. When the clarinet slithers up a disjointed scale at the outset of the piece, the curtain effectively goes up on twentieth-century music."
How did he do it? With lots of hard work, an incredible ear for sonic possibilities, and painstakingly notated scores.
Above is part of the first page of the conductor's score for Salome, in Strauss' own handwriting. The conductor's score is also called a full score because it contains every note that each instrumentalist plays and each singer sings. It's always laid out in a standard format, in five sections from top to bottom: woodwinds, brass, percussion, singers, and strings.
He started this manuscript on Nov. 27, 1904. Seven months later, he wrote the finishing date, June 20, 1905, on the final page, 348. What follows is the deconstruction of the first page of the score, which is jam-packed with Strauss' unique voice and his penchant for noting every nuance and a look at how Salome rippled through the pop culture of the day.
---
The teenaged Salome takes revenge on John the Baptist, who has spurned her advances, by negotiating a horrific bargain with Herod, her lustful stepfather. She'll perform a salacious dance for him if he will have the evangelist's severed head brought to her on a silver platter. He does, and she does, and they don't live happily ever after.
---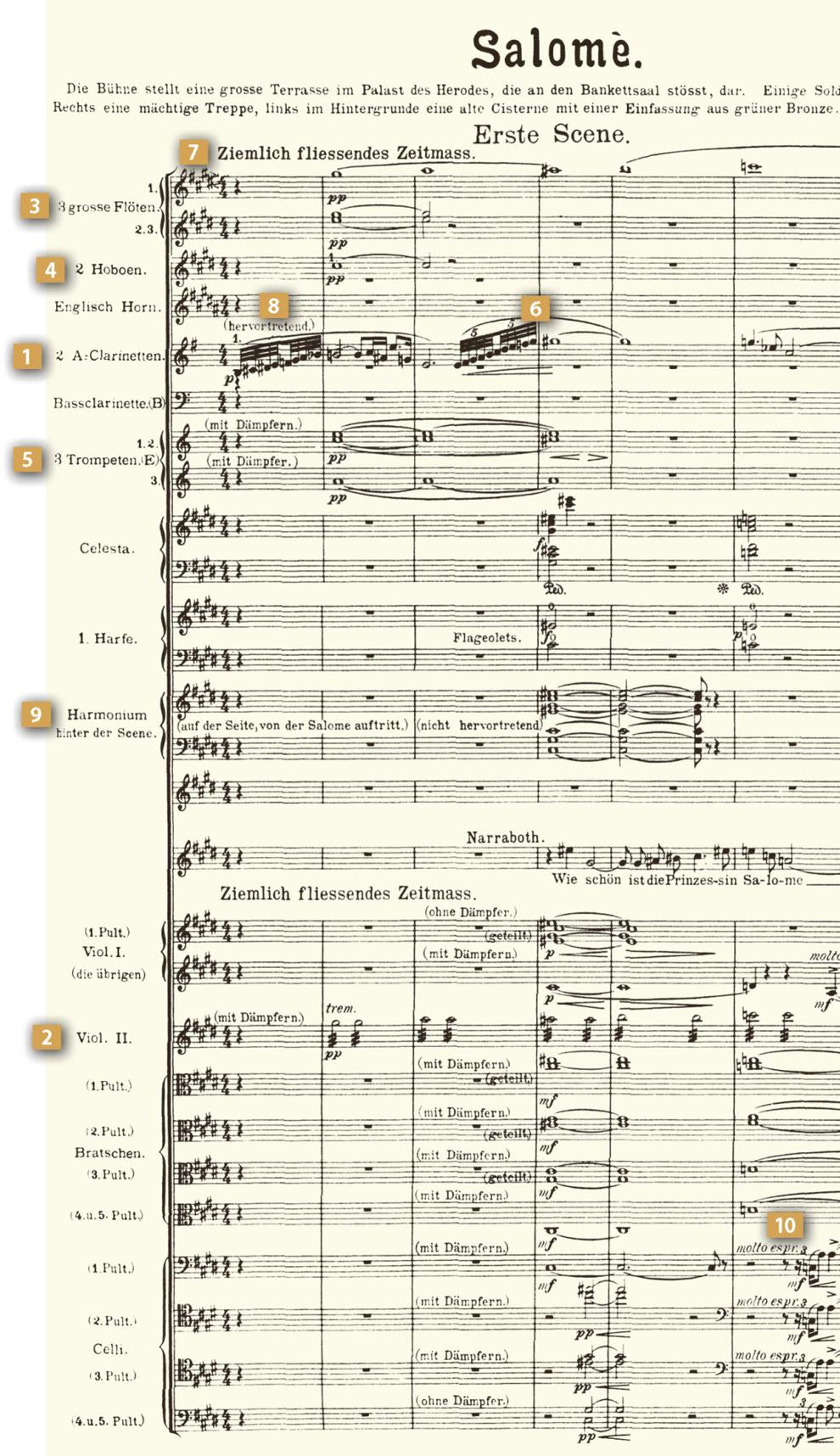 begins with a disjointed conversation between the soldier Narraboth, who is infatuated with Salome, and an unnamed page, who is obsessed with the moon. The orchestra is relatively quiet, so we can hear them talk. Not all the instruments are playing yet and most of those that do are instructed to play softly.
In addition to the disjointed conversation, Strauss uses other techniques to establish an unsettled, foreboding atmosphere. The first clarinet (1) plays two fast upward runs in the first three measures, but they don't establish a key right away, so they're disorienting. They also have a slithery quality, suggesting Salome's serpentine danger. We find out later that we've just heard Salome's first motif — a short recurring musical phrase that denotes a character or emotion.
The second violins (2) are the only strings to play at first, and they use a technique called the tremolo, rapidly repeating the same note, which has a nervous quality. The flutes (3), oboes (4), and trumpets (5) all hold long notes, which reinforces a feeling of suspense.
Strauss takes an especially nuanced approach to the string section. It's typically divided into five groups (first and second violins, violas, cellos, and basses), but here Strauss splits them into 11, with different musical lines and playing techniques for each. This is typical of his level of detail in orchestration, and it's made possible in Salome because he specified a total of 60 string players — a very large number, especially in an orchestra pit.
When we get to measure four (6), there's a long chord that establishes the key of C-sharp major. It's a striking but seldom-used key, and for Strauss, it's Salome's "home key," the one that much of her music will revolve around. One beat after C-sharp major is established, Narraboth begins his first line, "How beautiful is Princess Salome tonight!" to help us cement the relationship between key and character.
Here, Strauss is also setting us up for the confrontations about to begin between Salome and John the Baptist. The composer viewed the evangelist as something of a boob, and his home key is the plain vanilla of C major. When the two keys are heard simultaneously, as they often are during their conflicts, they clash strongly, reflecting their relationship.
Of paramount importance to Strauss was how his music was to be played. His scores abound in detailed instructions that, as Mark Elder said above, provided the orchestra plays "exactly what he writes." To see some of the ways the composer communicates this information, we're going to zoom in on a few sections of a printed score (left), since Strauss' handwriting isn't always very legible in the manuscript.
He starts out with a tempo indication for the conductor for how fast the music should go (7). This could be conveyed by a metronome marking or a standard term such as adagio for slow or allegro for fast, but Strauss prefers a description of the effect it should have — "quite a flowing tempo."
Since the clarinet is heard first, the composer has quite a lot to say about how it should be played (8). "Vortretend" means "prominent"; this is what Strauss wants the audience to hear most clearly. His "1" means that only the first clarinet plays, not both of them. The "p" stands for piano, which means to play quietly. The long, curved lines above the notes means to play it in one breath.  means get louder.
The orchestra includes two very unusual keyboards. The celeste is the tinkly instrument associated with "The Dance of the Sugar-Plum Fairy" in Tchaikovsky's The Nutcracker. The harmonium (9) is a small pump organ that Strauss wants us to associate with the title character. His direction here is that it should be positioned "Backstage, from the side where Salome enters."
In measure six (10), right after Narraboth says "Salome," the cellos have a big, romantic theme that's associated with his infatuation. Up to now, Strauss has divided the 10 cellists into four groups that each play different music. Here, all 10 begin the theme in unison, then six continue while four drop out, to ensure audibility. They're also asked to play "with great expression" ("molto espr.," which stands for molto espressivo) to emphasize the theme's emotional quality.
All of this, and much more, takes place during the first 20 seconds of the opera, which is how long the music on the first page takes to play. ◀
---
Hear a performance of this page of Strauss' Salome.
---