In the third of Pasatiempo's SFO @ Home stories, we focus on Tristan und Isolde, an opera that proves that sex, poverty, and philosophy can combine to create potent results.
---
In 1849, Richard Wagner fled Dresden, having actively supported the losing, progressive side in revolutions against the German Confederation. He spent the next 14 years in exile, mostly in Zürich, where he met a wealthy merchant, Otto Wesendonck, and his charming author-poet wife, Mathilde.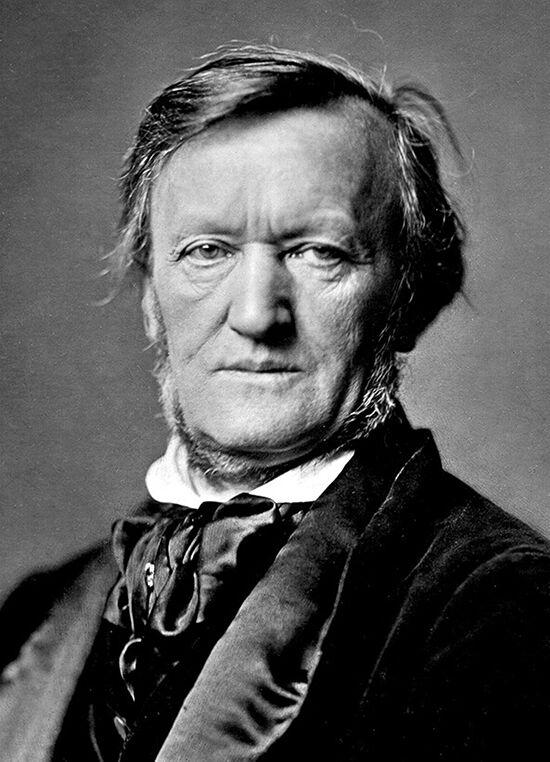 Wagner was perennially broke, and the generous Wesendonck agreed to pay off his enormous debts against the receipt of future royalties. Still, he needed income to support himself, along with his sometimes-estranged wife Minna and her family.
By 1854, Wagner had hit on a surprisingly practical solution — write a small-scale, easy-to-stage opera that would generate royalties and conducting opportunities outside the German states. And with just two leading roles and a few supporting characters, Tristan und Isolde seemed just the right size. By then, he had also developed an intense attraction to Mathilde Wesendonck, which she reciprocated at least in part. The extent of their physical relationship isn't clear, but the composer's passion for her was also a key motivation in deciding to write Tristan und Isolde.
Always his own librettist, Wagner based his text on Gottfried von Strassburg's early 13th-century version of the Tristan legend, one of the greatest masterpieces of the German Middle Ages. Wagner had a methodical, lengthy process for crafting his texts that began with outlines, then progressed to a lengthy prose draft, and finished with the libretto in verse form. While developing Tristan, two new influences on him significantly affected the opera's nature.
The first was his discovery of Buddhism, with its concepts of the suspension of time and the renunciation of temporal attachments. The second was the philosophy of Arthur Schopenhauer, which emphasized a transcending of the material world of phenomena and the possibility of achieving redemption through destruction.
Wagner started composition sketches for Tristan und Isolde in 1856, setting aside work on his Ring Cycle to do so. By then, the opera had grown in length and difficulty, especially the vocal demands on the soprano and tenor in the two leading roles, and was for several years thought to be unperformable. Attempts to stage it in Dresden, Prague, and Weimar all failed; a Vienna production was abandoned after more than 70 rehearsals.
The world premiere finally took place in Munich in 1865, to wildly divided opinion. A few listeners and critics were appreciative; more were puzzled or outraged by it, on moral grounds as much as musical ones. Its Act II depiction of lovemaking was by far the most provocative to have appeared in opera to that point, prompting reviews such as: "Not to mince words, it is the glorification of sensual pleasure, tricked out with every titillating device. ... [Music] has been made to grind the colors for indecent paintings," in the Allgemeine musikalische Zeitung.
---

The score for Tristan encapsulates the era's most forward-looking developments. It has a very large orchestra. Wagner's instructions specify that "The string instruments are to be exquisitely cast in quantity and quality." The orchestral sound palette is greatly expanded, and it increasingly functions as an active character in the drama, rather than an accompaniment.
The vocal lines tend toward declaimed speech instead of traditional melody, and there are few duets or ensembles. The music for the characters who represent traditional values, such as Marke and Kurwenal, is the most conventionally melodic. And the music for Tristan und Isolde is the most radical and chromatic in nature.
The first chord heard in the opera is now famously known as "the Tristan chord." Its notes are F, B, D#, and G#, and it's an unusual chord, containing two dissonances and not pointing toward an expected harmonic resolution. Wagner uses this chord, and many variations on it throughout the opera, to maintain suspense and project the suspension of time, especially in Act II.
The result is a sense of "endless melody," as the composer put it, heard over ever-shifting harmonies that never sound as if they've reached an end point, until the very end of the opera and its radiant B-major chord. Most experts believe that Wagner's harmonic innovations in Tristan had more influence on the direction of classical composition than any other single piece in music history.
---
Act I: Onboard a ship. Tristan is bringing the Irish princess Isolde to Cornwall to become King Marke's bride. Without realizing who he was, Isolde had earlier nursed Tristan back to health after he killed Morold, her fiancé, in battle. Now, death seems her only honorable course, so she orders her maid Brangäne to bring her poison. She convinces Tristan to drink it in atonement for slaying Morold, and she drinks it as well. Believing death to be imminent, they declare their mutual love, but as the ship approaches the Cornish shore, they discover that Brangäne had substituted a love potion for the toxin.
Act II: Outside King Marke's castle. Tristan and Isolde, now married to King Marke, conduct their affair under cover of darkness. One night, their all-consuming sexual passion is interrupted by King Marke, who is dazed by their betrayal. Tristan and Isolde reiterate their eternal love and the courtier Melot attacks Tristan, seriously wounding him.
Act III: Tristan's castle in Brittany. Tristan's servant Kurwenal has taken him home to recover. A shepherd's pipe announced Isolde's arrival, and Tristan struggles to his feet, only to die in her arms. Intending to pardon Tristan, King Marke and Melot arrive. Kurwenal kills Melot and is mortally wounded himself. Isolde sings her famous "Liebestod" (Love-Death), then sinks onto Tristan's body.
---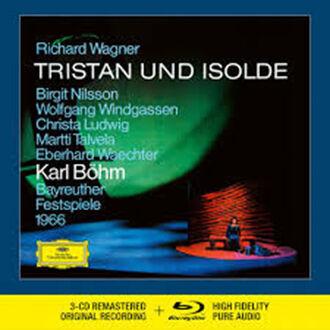 The 1966 CD from the Bayreuth Festival on Deutsche Grammophon is a top choice. It's a live performance with top-notch soloists — Birgit Nilsson, Wolfgang Windgassen, and Martti Talvela — conducted at a blazing pace by Karl Böhm. Other good choices are the recording with Carlos Kleiber leading Margaret Price and René Kollo, also on DG, and the more recent version on Pentatone led by Marek Janowski.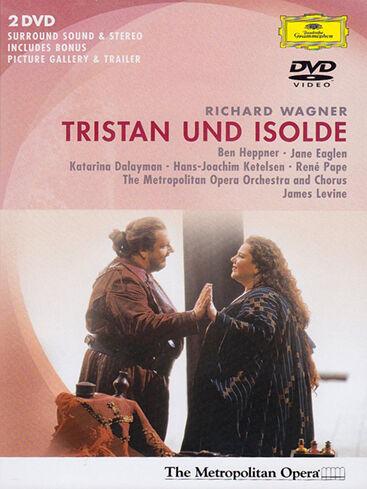 Daniel Barenboim is an esteemed Wagnerian and there are two good DVDs with him on the podium, both from the Bayreuth Festival and both on DG. The 1983 version features Johanna Meier and René Kollo; the 1995 issue stars Waltraud Meier and Siegfried Jerusalem. The Metropolitan Opera DVD led by James Levine has a simple, abstract design that focuses maximum attention on the music. Jane Eaglen and Ben Heppner are the doomed lovers.
---
NOTE: The "Songs from the Santa Fe Opera" episode on Tristan und Isolde is now available on the opera's Facebook page, YouTube channel, and website at santafeopera.org/tristan-und-isolde.