In the fourth of Pasatiempo's SFO @ Home, we focus on Rusalka, Antonín Dvořák's "lyrical fairy tale," which premiered in Prague in 1901.
 The Czech national revival
"Twenty years ago, we Slavs were nothing. Now we feel our national life once more awakening, and hope that the glorious times may come back which five centuries ago were ours, when all Europe looked up to the powerful Czechs, the Slavs, the Bohemians," said Dvořák, as quoted in London's Pall Mall Gazette, in 1886.
For a 19th-century Czech composer, music was a political and cultural statement as much as an artistic one. Opera in particular was expected to help advance a national revival, restoring a proud and sophisticated culture that had been systematically dismantled during centuries of control by the Austro-Hungarian Empire. The revival, which started in the late 18th century, began with resurrecting the Czech language itself, which had nearly vanished, then spread to literature and the performing arts.
Bedřich Smetana established the heritage of Czech national opera with a patriotic epic, The Brandenburgers in Bohemia, and a village comedy, The Bartered Bride, both of which premiered in 1866 at Prague's Provisional Theater. Dvořák was there in the orchestra pit, where he played the viola for 10 years, thus acquiring firsthand knowledge of French, German, and Italian opera, as well as Czech works and operetta.
---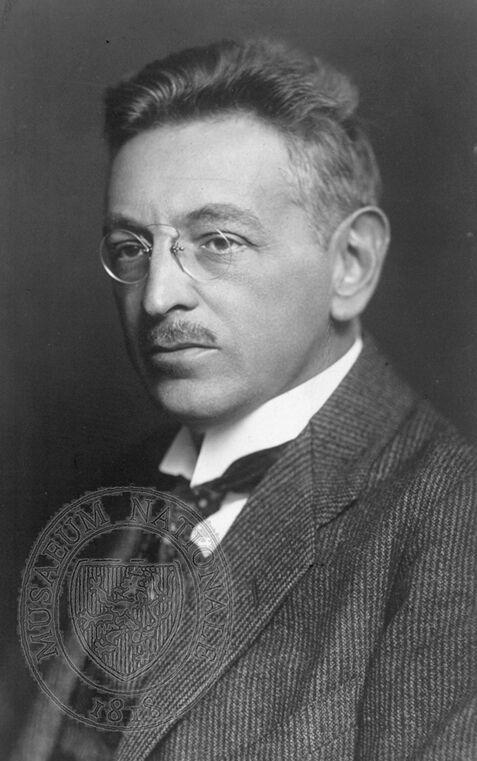 Jaroslav Kvapil was a Czech poet, playwright, and stage director. He wrote the text for Rusalka in 1899 but was too shy to show it to Dvořák himself, instead routing it through some mutual friends. Kvapil's libretto was drawn from a variety of sources, including Hans Christian Andersen's The Little Mermaid, Friedrich de la Motte Fouqué's novella Undine, and the French legend of Melusine. It was by far the best opera libretto Dvořák ever had, especially successful in its evocation of a fairy-tale atmosphere and its depiction of the beauties of nature.
---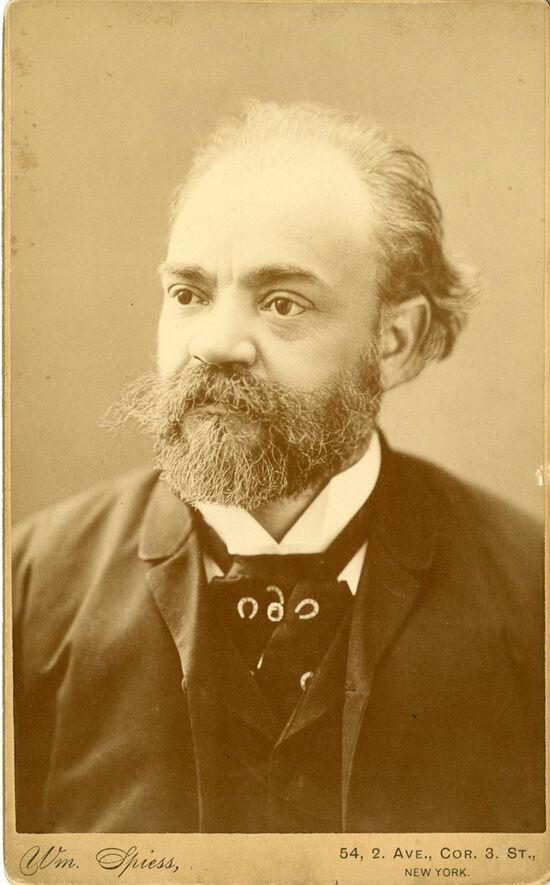 Dvořák was one of the 19th century's most acclaimed Czech composers, along with Smetana, his older, friendly rival. Due in part to the support of Johannes Brahms, Dvořák focused more on forms identified with the German Romantic tradition, such as the symphony and string quartet. Smetana concentrated on tone poems such as Má vlast (My Homeland) and operas, which were seen as more truly Czech in nature, since they portrayed national subjects. Today Dvořák has a bigger international reputation, and his symphonies and chamber music are more often performed outside his homeland, while within the Czech Republic Smetana is the more highly regarded and frequently played composer.
Dvořák's global orientation was manifested in his nine trips to England, where he was enormously popular, and in the almost three-year period he spent as head of New York's National Conservatory of Music. During his American stay, Dvořák made sketches for music that made its way into Rusalka, much of which was composed at his beloved country retreat in Vysoká. The grounds still feature the swampy pond that's much like the setting for the first and third acts of the opera.
Dvořák completed just one work after Rusalka, an opera called Armida, which was based on an old-fashioned story of the First Crusade. He died of unknown causes at age 62 on May 1, 1904, six weeks after its premiere. Fourteen years later, the Czech national awakening reached its ultimate success, when Czechoslovakia declared its independence from the Austro-Hungarian Empire.
---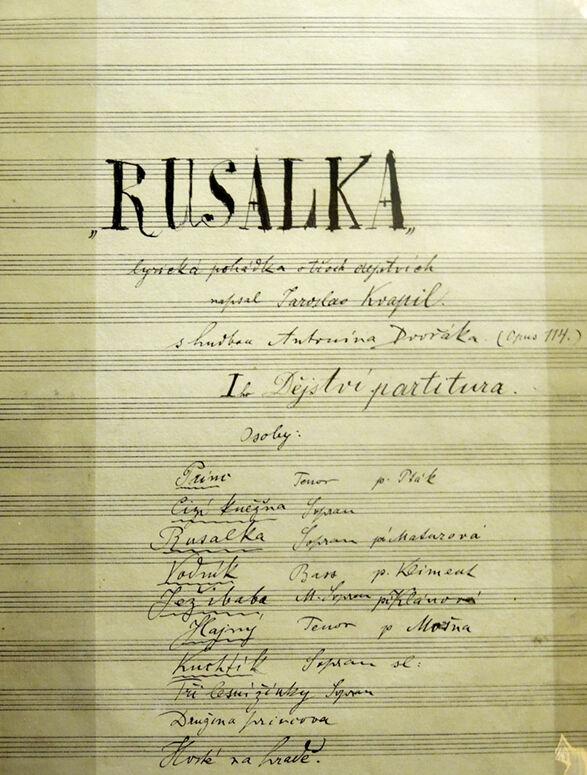 The subtitle of the opera as "a lyrical fairy tale" is extraordinarily apt. The first and third acts feature sensual, impressionistic evocations of the forest, rippling water, and moonlight. The music for the second act reflects the conventionality and artifice of the Prince's human world.
Dance music, of which Dvořák was a master, runs throughout the score, with the freeform frolicking of the wood nymphs in acts I and III, which stands in sharp contrast to Act II's formal dances at the palace. Dvořák greatly admired Richard Wagner, and the score of Rusalka makes extensive use of musical motifs that are masterfully presented and manipulated throughout, in a brilliant orchestration.
Despite its home country success, Rusalka was slow to make its way abroad and overseas. Its first German production was in 1935; the first British one was in 1959. The American premiere was given in 1935 by the "Czechoslovak-American Legionnaires' Society" in Berwyn, Illinois, a Chicago suburb; the American professional premiere was by the San Diego Opera in 1975.
---
Note: Rusalka and Vodník aren't character names; Rusalka is the Czech word for "water nymph" and Vodník means "water gnome."
ACT I: Rusalka is in love with the Prince who swims in her pond. Her father, Vodník, warns her about getting involved with a human, but she ignores him. The witch Ježibaba cooks up a potion that gives her mortal being, but it comes with two important warnings — Rusalka must remain silent around humans, and if the Prince ever spurns her love, both are fated to eternal damnation at the bottom of the pond. The Prince arrives, falls in love with Rusalka, and takes her off to his castle.
ACT II: Rusalka and the Prince are about to wed, but the Prince is already attracted to the Foreign Princess of "fierce human beauty." While the Prince and Foreign Princess are inside the palace dancing, Rusalka pours her heart out to Vodník. The Prince and Foreign Princess return and begin a passionate duet, but it is soon clear that his passion is for her as a lover, while hers is to destroy him. When the Prince rejects Rusalka in favor of the Princess, she exults, "Now you can follow your loved one into the depths of hell!"
ACT III: Back at the pond, Rusalka laments her fate. Ježibaba offers to return her to the aquatic world if she murders the Prince, but Rusalka refuses. The opera ends with a reconciliation duet between Rusalka and the repentant Prince, who begs for her kiss knowing that it will kill him. She complies, asks for mercy on his soul, and sinks gently into the water.
---
Given the high regard in which Rusalka is held nowadays, it's a shame there isn't more to choose from on CD and DVD. Fortunately, the audio version conducted by Charles Mackerras, with Renée Fleming and Ben Heppner, is currently available on Decca. Another good CD choice is on Supraphon, conducted by Václav Neumann with Gabriela Beňačková in the title role.
On DVD, the Metropolitan Opera version sports a traditional, sumptuous, fairy-tale production and an excellent cast, including Fleming. It's only available on Blu-Ray. For something closer to what the Santa Fe Opera would have performed this summer, check out the DVD on Kultur, conducted by Mark Elder. Its director, David Pountney, was slated for the production here, in a highly conceptual interpretation developed from this earlier staging for the English National Opera. (It's sung in English; the other recommendations are all performed in Czech.)
The "Songs from the Santa Fe Opera" Rusalka episode is now available on the opera's Facebook page, YouTube channel, and website at santafeopera.org/rusalka.
On Aug. 14, the final installment of SFO at Home looks at playwright David Henry Hwang and composer Huang Ruo's M. Butterfly, the opera that's based on a Tony Award-winning play ... that's based on an opera ... that's based on a play ... that's based on a short story ... that's based on a novel.