The final installment of Pasatiempo's SFO @ Home looks at the operatic version of M. Butterfly that was slated to have its world premiere here this summer. (While it won't be part of the Santa Fe Opera 2021 season, the company is planning to stage it at some point.)
---
The creation of M. Butterfly began on May 11, 1986, with a report by The New York Times' Paris correspondent.
"A former French diplomat and a Chinese opera singer have been sentenced to six years in jail for spying for China after a two-day trial that traced a story of clandestine love and mistaken sexual identity. … Bernard Boursicot was accused of passing information to China after he fell in love with Shi Pei Pu, whom he believed for 20 years to be a woman. … Mr. Boursicot said their meetings had been hasty affairs that always took place in the dark. 'He was very shy. I thought it was a Chinese custom.' "
David Henry Hwang read the Times story and was convinced it had the potential to become a play. The then-28-year-old Angeleno had attended the Yale School of Drama for a year, dropping out of its graduate program when his plays began to be professionally performed at New York's Public Theater and elsewhere.
Determined not to write a docudrama, Hwang did no further research into the news item. "Frankly, I didn't want the 'truth' to interfere with my own speculations," he wrote in an afterword to M. Butterfly. He even told Stuart Ostrow, who eventually produced the play, that he thought it could be "some great Madame Butterfly-like tragedy," although he hadn't yet made the conceptual connection between the opera and the real-life story.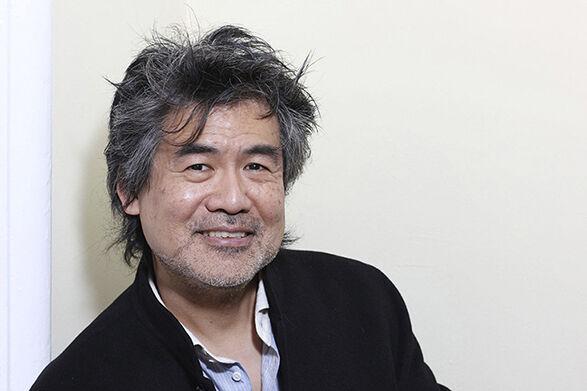 Hwang's typical development process is to find a specific hook for a story that compels him to begin writing. He recalled the exact moment for M. Butterfly in his afterword: "I was driving down Santa Monica Boulevard one afternoon and asked myself, 'What did Boursicot think he was getting in this Chinese actress?' The answer came to me clearly: 'He probably thought he had found his Madame Butterfly.' "
Hwang had originally thought that the subject would work best as a musical. Inspired by his roadway revelation, he wanted to move ahead quickly without having to go through a lengthy collaboration with a composer, so it became a play, written over six weeks in the fall of 1986.
At the time, Hwang knew nothing of Puccini's opera other than the title character as a cultural stereotype: "Speaking of an Asian woman," he wrote, "we would sometimes say, 'She's pulling a Butterfly,' which meant playing the submissive Oriental number." Listening to a recording of the opera confirmed that it contained "a wealth of sexist and racist clichés," making it ripe for a deconstructivist approach.
His play opened on Broadway two years later, winning Tony Awards for Best New Play, Best Director, and Best Supporting Actor and running for almost two years. (Its working title had long been Monsieur Butterfly. Hwang's then-wife Ophelia suggested the more mysterious and evocative M. Butterfly.) For a 2017 Broadway revival, the playwright made revisions based on information that had since come to light about the real-life couple's relationship.
The success of M. Butterfly deepened Hwang's interest in opera and music theater and led to collaborations with Philip Glass (The Voyage and 1000 Airplanes on the Roof ), Osvaldo Golijov (Ainadamar, which was staged here in 2005), Unsuk Chin (Alice in Wonderland), Howard Shore (The Fly), and Huang Ruo (An American Soldier).
Huang Ruo was born in China in 1976, and his father, a well-known Chinese composer, started teaching him piano and composition at age six. His formal studies took place at the Shanghai Conservatory, the Oberlin Conservatory of Music, and the Juilliard School of Music. His training included both traditional Asian and western classical music and his compositional palette reflects those influences, as well as jazz, rock, and heavy metal.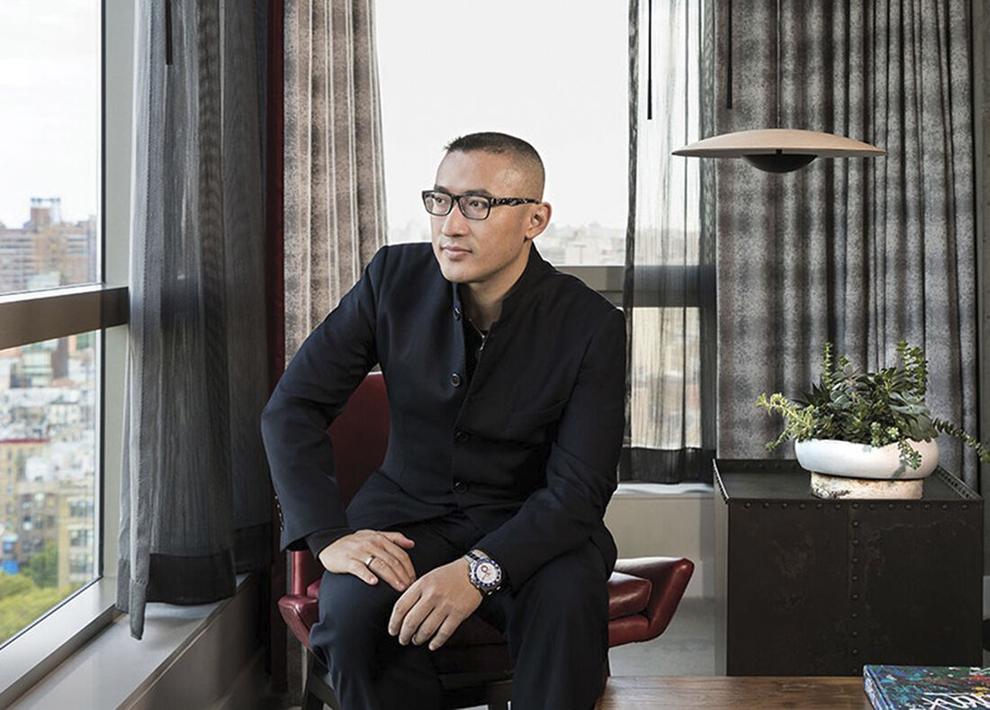 Huang's stage works include Dr. Sun Yat-sen, which premiered at the Santa Fe Opera in 2014, and An American Soldier, which was first presented by the Washington National Opera as a one-act piece in 2014. An expanded version of the latter was produced by Opera Theatre of Saint Louis in 2018 to great audience and critical acclaim.
In a discussion following a workshop performance of M. Butterfly at the Asia Society last fall, Ruo explained how his approach to its composition paralleled Hwang's deconstructivist approach to the text:
"For the overture, I took the Madame Butterfly overture and I inverted it. This tune, for those of you who know the original opera, will be like a shadow in your head. I not only turned it upside down, but I changed a note to make it sound Eastern. It becomes a Chinese opera tune, like a little motive for Song [the Chinese opera performer]. That's one technique I use, not to just directly quote Puccini, but to really grind it down and then regrow it."
During their collaboration on the opera, the composer asked the librettist for a last-minute addition to the text. As Hwang recounted during the same discussion, "The libretto was finished, and Huang Ruo had already written the music for Act I and Act II. He felt like Song really needed a moment that's his alone, after he's been sent [to hard labor] by the Cultural Revolution, and he's about to go to France. So we used the ancient Chinese story about the man who dreamt he was a butterfly for the text. This beautiful aria that wasn't in the original libretto is an example of the composer's dramaturgical skill."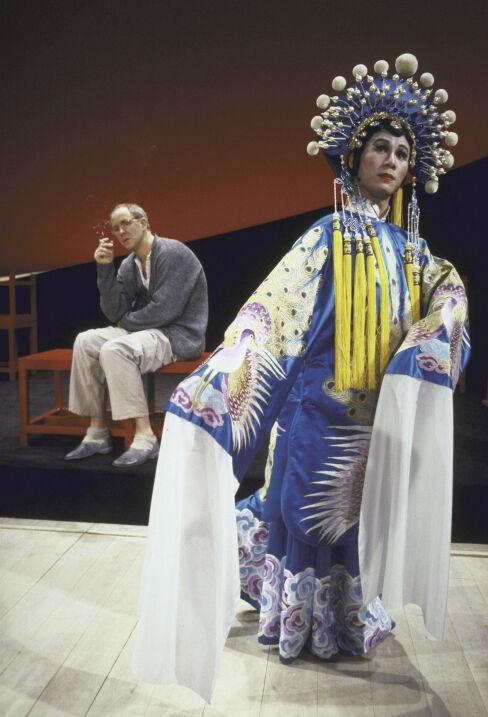 The action takes place in René Gallimard's jail cell in Paris, where he is serving a sentence for treason, and in flashbacks to various dates and places. The civil servant had been posted to Beijing, where he fell in love with Song Liling upon hearing the Chinese opera star sing an aria from Madame Butterfly at a party. Unaware that Song is male, he begins to think of himself as the opera's American sailor Pinkerton and Song as his bride, the geisha Cio-Cio-San.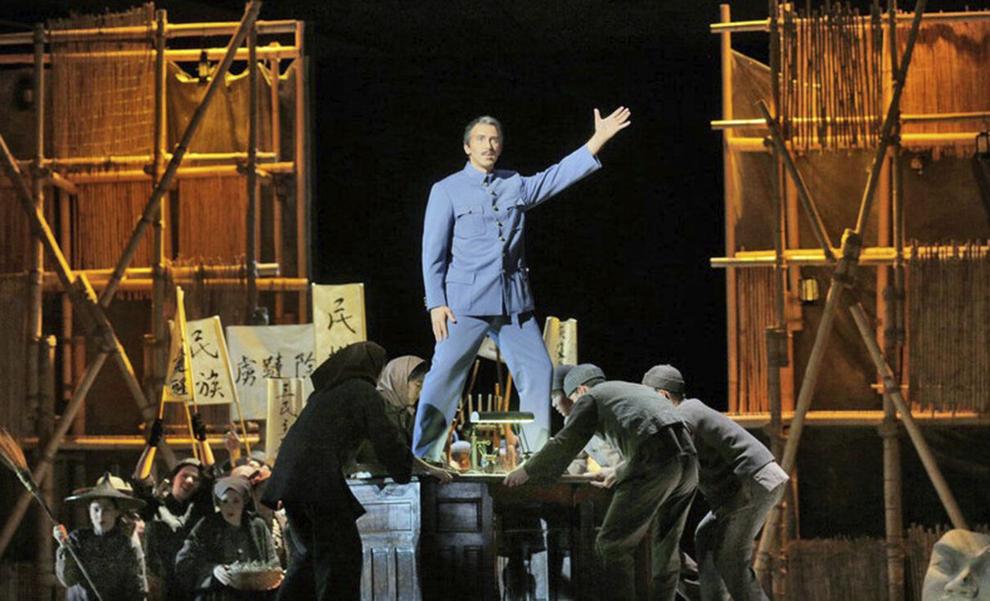 As their relationship intensifies, Gallimard is promoted, leading intelligence operations until his analyses prove to be faulty, and he is sent back to Paris. Song runs afoul of the People's Liberation Army; after several years of field labor, Song is sent to Paris to reunite with Gallimard and to spy for the Chinese government. Eventually, they are both arrested by French counterintelligence agents. Gallimard finally realizes that what he loved was a fantasy and a lie. Now identifying with Butterfly instead of Pinkerton, he commits suicide.
There's no material available that specifically relates to the operatic M. Butterfly. YouTube has several clips from the Opera Theatre of Saint Louis production of An American Soldier. Make sure to add "Huang Ruo" to your search; with just "An American Soldier" you'll get a country and western song by Toby Keith.
The 1993 film version of M. Butterfly is disappointing; it takes a highly fluid and theatrical play, rearranges the events in chronological order, and then flattens it all into a low-voltage domestic drama. Still, it does have most of the material that will appear in opera, so it could be worth a look for those unfamiliar with the play.
NOTE: The "Songs from the Santa Fe Opera" M. Butterfly episode is available on the opera's Facebook page, YouTube channel, and website at santafeopera.org/m-butterfly.