Lyric Opera of Chicago has a long and storied history, but highly innovative isn't a descriptor that could often be applied to it, at least until 2021. It started the year with Twilight: Gods, the acclaimed condensation of Richard Wagner's Ring Cycle set in a parking garage, which was filmed for free viewing after the performances sold out in just three days.
Now the company has released a pioneering adaptation of Ruggero Leoncavallo's Pagliacci, which is currently available online and is also free of charge. It's not a video version of a standard production but rather a brilliantly thought-out rethink of the story line and setting in contemporary terms. It also boasts a top-drawer cast, with sensitive conducting by Enrique Mazzola, Lyric Opera's newly appointed music director.
Pagliacci premiered in 1892; the title means "clowns" and refers to the male characters from the commedia dell'arte tradition. The opera makes use of a show-within-a-show structure, as the explosive real-life relationships between the commedia troupe's actors become entwined with the comedy they're performing and ends with an unscripted double murder.
Here's the plot: Canio leads the acting company in which he performs the role of Pagliaccio. His wife Nedda plays Colombina, Pagliaccio's unfaithful wife. In reality, Nedda is having an affair with a villager named Silvio. When Canio discovers that Nedda and Silvio are planning to run away after the performance, he stabs them both to death before it ends, then turns to the audience to announce, "La commedia è finita!!" ("The comedy is finished!!").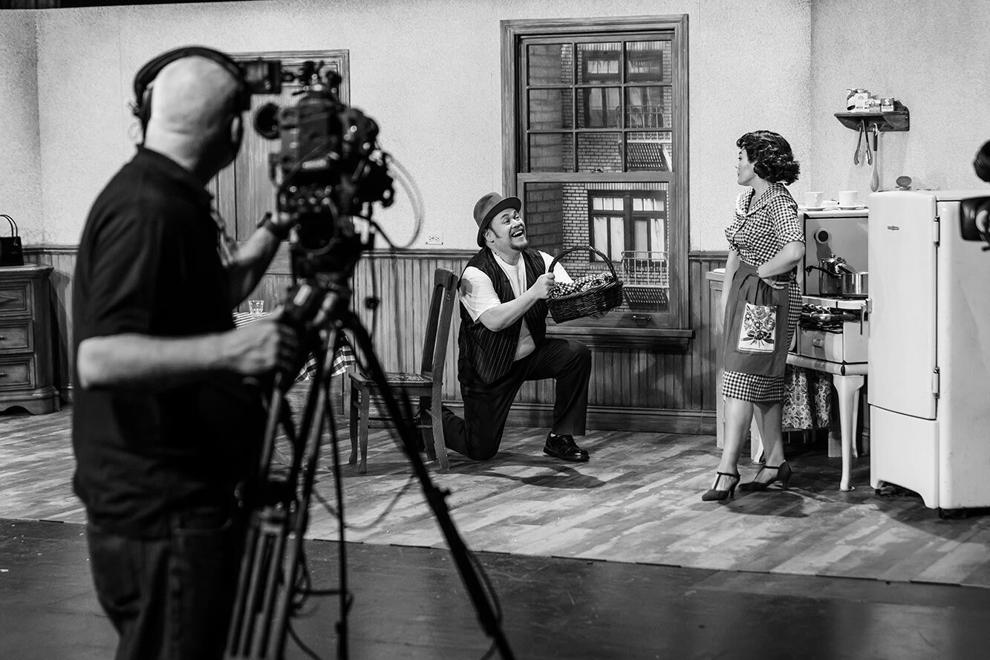 In Lyric Opera's version, the action takes place in current-day Chicago and begins with baritone Quinn Kelsey, clad in hoodie and jeans, leaning against the opera house exterior. (He plays Tonio, another commedia actor who's also in love with Nedda.) Kelsey informs viewers that what they are about to see is true to life and invites them to follow him inside as he enters through the stage door, eventually ending up in the wings where stagehands play cards waiting for their call to start.
The first half of the opera takes place in the semi-darkened theater, as crew member Silvio playfully flirts with Nedda using a spotlight that chases her around the stage. Silvio implores her to leave with him, but Tonio overhears them and tells Canio about his wife's infidelity.
Then comes a true coup de théâtre: the inspired transformation of the commedia performance into the live broadcast of a 1950s situation comedy. We see it in genuine black and white and in an old-time TV aspect ratio, with the opera's choristers as the studio audience, dutifully responding when the "applause" light comes on.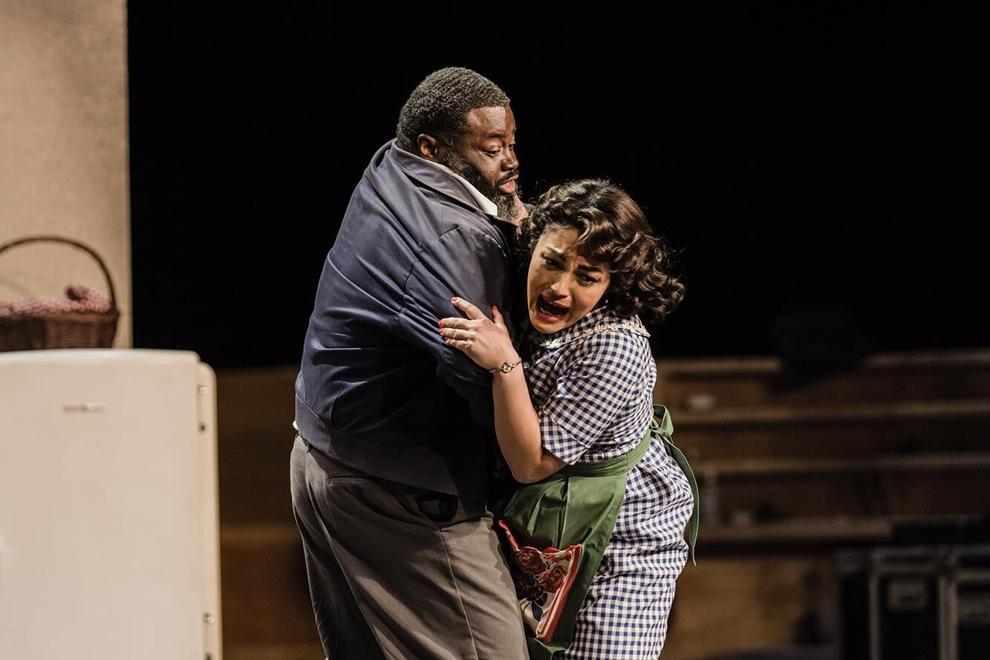 Canio and Nedda perform the sitcom's leading roles, in a set that clearly echoes The Honeymooners and costumes that reference Ralph and Alice Kramden, further heightening the plot's ironies. As Canio/Ralph accuses Nedda/Alice of adultery, per the sitcom story line, Canio's real-life jealousy comes to the fore — and there's a sudden switch from black and white back to full color.
The performers recorded the score first, in excellent digital sound, and lip-synced during the filming, which allowed them to give more realistic performances than are possible with big theater opera singing. Tenor Russell Thomas was a formidable Canio, combining a glowering physicality with a ringing, open sound. Soprano Ailyn Pérez's portrayal of Nedda demonstrated that she has the earthy sensuality and vocal weight for the more intensely dramatic roles she is now performing as her career develops. Her attraction to Lucas Meachem's Silvio was easy to fathom, given his suave singing and youthful good looks.
(Santa Fe Opera-goers have seen three of the film's stars in recent seasons. Kelsey played Rigoletto's title role in 2015, Perez was the female lead in Roméo et Juliette a year later, and Mecham was Eugene Onegin here this summer.)
Lyric Opera of Chicago's Pagliacci is highly recommended. It requires registration to access at lyricopera.org/shows.