One week from now, about 90 seniors will graduate from the last class at Santa Fe University of Art and Design. They leave behind a campus ghost town of tumbleweeds, torched and bulldozed barracks, abandoned dorms and classrooms, and cryptic graffiti referring to their own version of the end-times. The fish pond by the Fogelson Library is dry. The Greer Garson Theatre is empty, save for the ghostly echoes of dramatic productions past. A line from Shakespeare'sA Midsummer Night's Dream comes to mind, evoking the sense of a possibly post-apocalyptic dream: "If we shadows have offended/Think but this, and all is mended,/That you have but slumber'd here,/While these visions did appear."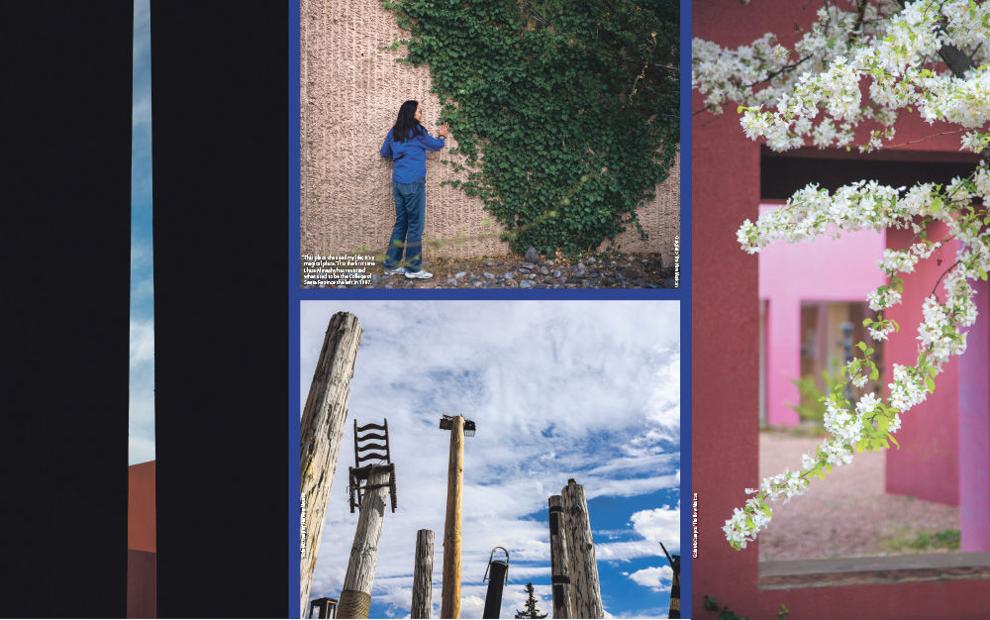 Nine years have passed since the College of Santa Fe closed due to untenable financial difficulty. In 2009, as the country plunged into a vast recession, some faculty members accepted early retirement as others were forced to re-evaluate their careers. The campus on St. Michael's Drive reopened a year later as a for-profit art school, Santa Fe University of Art and Design — and now that institution is closing, too, citing financial challenges. 
The simple explanation for CSF's money woes, which mounted over years and decades, is that expenses increased while revenue did not. The budget was tuition-driven. Although there were some generous donors who contributed to master building plans and even gave cash — when times were really tough — to help the college make payroll, there was no significant endowment to count on. Despite intense local and national marketing efforts in the final years, CSF could not attract enough students to change its fate.
In the waning days of the original college, public comment from the school focused mostly on finances and attempts to keep the place open. But there are more complicated questions that loom over the legacy of the College of Santa Fe — a once-thriving Catholic institution that educated thousands of local young men and women. What led to the financial difficulty? Why was it so hard to attract students? And why did it appear, to many Santa Fe residents, as if the college had fundamentally changed its identity over the years?
If you ask 10 people these questions, you will likely get 10 different answers that will depend largely on the respondent's relationship to CSF. My relationship was first as a creative writing student in the mid-1990s and then as public information officer and editorial director in the communications office from 1998 to 2009. Among other duties, I wrote admissions materials, fundraising pieces, and press releases; I was also editor of the alumni magazine, Vistas. My job, in short, was to tell the story of the College of Santa Fe. Since leaving CSF, I have come to believe that there is a larger story of why the college went under that is directly connected to the narrative of our city and the tension between the old Santa Fe and the city it has become.
St. Michael's College — or, as it was first known, El Colegio de San Miguel — was founded in 1859 by four brothers of the De La Salle Christian order from France. At the behest of Bishop Jean-Baptiste Lamy, they opened a school for boys in Santa Fe in an adobe hut next to the San Miguel Mission on what is now Old Santa Fe Trail. The institution's plan for financial longevity depended heavily on attracting out-of-towners who would pay to board, while tuition for locals was often discounted. In 1874, when the territory granted a charter to the "College of the Christian Brothers of New Mexico," St. Michael's expanded to include a program of higher education, but because of financial issues, the college program was dropped after World War I. (St. Michael's High School has operated continuously, first downtown and, since 1966, on Siringo Road.) One brother, Benildus of Mary, worked for many years to reinstate the college program. In 1947, he purchased a portion of the abandoned Bruns Army Hospital used during World War II. St. Michael's College opened that September with 15 Christian Brothers faculty members and 148 students in 51 converted barracks.
In 1965, under the presidential leadership of Brother Luke Roney, St. Michael's College received accreditation from the North Central Association. It changed its name to the College of Santa Fe and went coeducational the following year. There have been multiple explanations for the name change. Officially, it was supposed to distinguish the college from the high school and better reflect its relationship to the city. Another version is that the high school administration wanted to distance its student body from the party-boy reputation of the college students. Whatever the reason, it is at this point, according to Art Encinias, a retired First District Court judge, radio personality, and alumnus of both St. Michael's High School (1965) and CSF (1970), that local residents saw the college turn from a Catholic to a secular institution.
According to Brother Donald Mouton, who taught at CSF beginning in 1971 and served as president from 1982 through 1986, that never happened. Lay people began to serve on the board of trustees, and as fewer men joined the Christian Brothers order, lay people replaced them on the faculty — but that is not quite the same as declaring a break with the church. "Different kinds of universities call themselves Catholic in terms of their religious orientation, their requirements for religious observance, and so forth," he said. "Some are very liberal and some are right-wing conservative. You have some Catholic colleges with atheists teaching in the religion departments. We have Christian Brothers colleges around the world that have almost no Catholic students whatsoever. They are still Catholic colleges. The College of Santa Fe never really became secular. It was always a Catholic college, under different styles of Catholicism."
"That sounds like a lot of dancing," Encinias said when asked what the upshot was of the name change. "They changed the name," he said flatly. "They went from having a saintly name, St. Michael's, to a secular name, the College of Santa Fe."
Liberal arts college or art school? (An identity crisis develops)
IN the 1960s and '70s, CSF students were majoring in business administration, education, and the social sciences, or entered programs like biology and nursing. The theater department began to grow in the '60s, but there was no film department yet, and visual arts classes were offered through the humanities department. More students began to come from out of state. In the late '60s, there were well over a thousand undergraduate students — the highest enrollment the college ever saw. These numbers began to dip as fewer students took advantage of the post-Vietnam War GI bill and more Santa Feans left town to attend state universities in other cities. College leadership began trying to attract wealthy donors, two of whom were the actress Greer Garson and her husband, Buddy Fogelson, who owned Forked Lightning Ranch in Pecos. When Mouton took the helm after Roney's retirement, he addressed a $400,000 budget shortfall by eliminating competitive athletics. The college had fielded a winning Knights basketball team that attracted fans to campus, so this was not a popular decision among local sports enthusiasts and some alumni.
After Santa Fe Community College opened in 1983, enrollment at CSF dropped once more. Mouton chose to eliminate programs, including nursing, that were no longer attracting students. At the same time, he began emphasizing arts programs, as students who came from afar were asking for more courses in those areas. This occurred at the same time as Santa Fe itself was undergoing profound change. The Plaza was becoming a tourist trap rather than a gathering spot for locals, and art galleries proliferated on Canyon Road. Resident resentments bubbled up: Who was Santa Fe for, anyway? Locals or newcomers? The same questions of class, race, religion, and values affected the bottom line of the College of Santa Fe.
Fast-forward to the 1990s. Many alumni no longer recognized the college they'd attended. According to feedback received when students made fundraising calls, they did not want to send their children to its current incarnation. It was a downward slide, financially, from there. But there were years when undergraduate enrollment would spike, and this prompted the college community to believe the road ahead was bright. The background debt never went away. The profit centers were located in the evening and weekend programs for older learners, in majors like education, business, and counseling, which sustained the college's economy for many years.
The landscape of higher education had changed as well. Colleges and universities had begun treating students as consumers, offering more and more amenities, such as state-of-the-art residence halls. In the 1940s and '50s, CSF boys repaired the barrack dorm roofs themselves, but such cost-saving models were long in the past. Expenses mounted as the college scrambled to compete with bigger, wealthier schools for students. The campus expanded its facilities in fits and starts and attempted to shore up the school's identity for marketing purposes. There were strong arts programs, so it seemed natural to call CSF an art school, or an arts-focused liberal arts college, in order to achieve a true national reputation and presence — but senior administration did not approve of that label. The arts were always supposed to be mitigated. (Even after the Visual Arts Center opened, I was directed to downplay its existence in admissions materials so that students who didn't want to major in art didn't feel excluded.)
The College of Santa Fe was a liberal arts college. That was its story and it (mostly) stuck to it. The institution was stuck between old and new, with no vision to bridge the two, a casualty of fear.
0anta Fe University of Art and Design vacates the premises on St. Michael's Drive on June 30, at which point Santa Fe taxpayers are on the hook for annual bond payments of about $2.3 million — debt the city took on when it purchased the land in 2009. SFUAD and its parent company, Laureate Education, signed and broke a 26-year lease with the city. The arts departments of SFUAD were originally built by talented CSF faculty who worked painstakingly to offer a high-quality education amid a crumbling collegiate infrastructure. In the transition from CSF to SFUAD, their versions of what happened were never told. Their legacy was absorbed into the institution that replaced them. In an effort to add to our collective historical knowledge — and catch up with so many who moved elsewhere, found new jobs, or went on to teach for SFUAD — Pasatiempo contacted 21 former CSF faculty members to find out what they had to say with the benefit of hindsight. We asked them about their approach to arts education, thoughts on the Lasallian tradition and student culture, their understanding of why the college closed, and more. What they say — and what I have said — is not definitive. There is no single story here. Let their ideas inspire conversation. Let their recollections spark your own. ◀