Music is one of the ways in which hip-hop and R&B recording artist Brenda M. Atencio commemorates the family members she loves, such as the grandmother who taught her the Tewa language and the traditional dances and prayers of her Pueblo culture. But it isn't just her grandmother she honors on her fourth full-length studio album, The Forgotten, which combines hip-hop and R&B with rap. It's the hundreds of missing and murdered Indigenous people whose cries have never been heard. In dedicating the album to them, and writing songs about them, she says she gives them back their presence and their voices.
Data on missing and murdered Indigenous women continues to be under-reported, under-investigated, and under-prosecuted. A 2017 study by the Seattle-based Urban Indian Health Institute found that 5,712 cases of missing and murdered Indigenous women were reported in 2016. Of those, only 116 were logged in the Department of Justice database.
The reasons for the staggering numbers are manifold, and they connect with statistics related to other issues, like violence against women, sex trafficking, and homelessness. Atencio, whose stage name is
G Precious, can't forget because, growing up at Ohkay Owingeh, she's seen it. By the time she turned 12, she'd lost family members and friends to alcoholism, drugs, and suicide, and she was determined that she wouldn't become another statistic.
"I started writing at a really young age," says
G Precious, who's in her early 30s. "That was where my outlet began, just being able to release what I was feeling. You see a lot of people just throwing their lives away with drugs and alcohol. This has been my release, my way of dealing with life and not getting stuck in that destructive way. It was engraved into my head: 'You're going to be exactly like your mother' or 'You're going to be like everybody else.' I had to be a different person. I strived for that in everything that I've done. I've become the complete opposite of what they said I was going to be."
Indeed, she recorded her first album, On My Shoulders, in 2011 when she was in her early 20s. The album was nominated for multiple categories at the Native American Music Awards in 2012. Her latest release, which dropped on Nov. 6, is available on iTunes, Amazon Music, ReverbNation, Bandcamp, and other music outlets.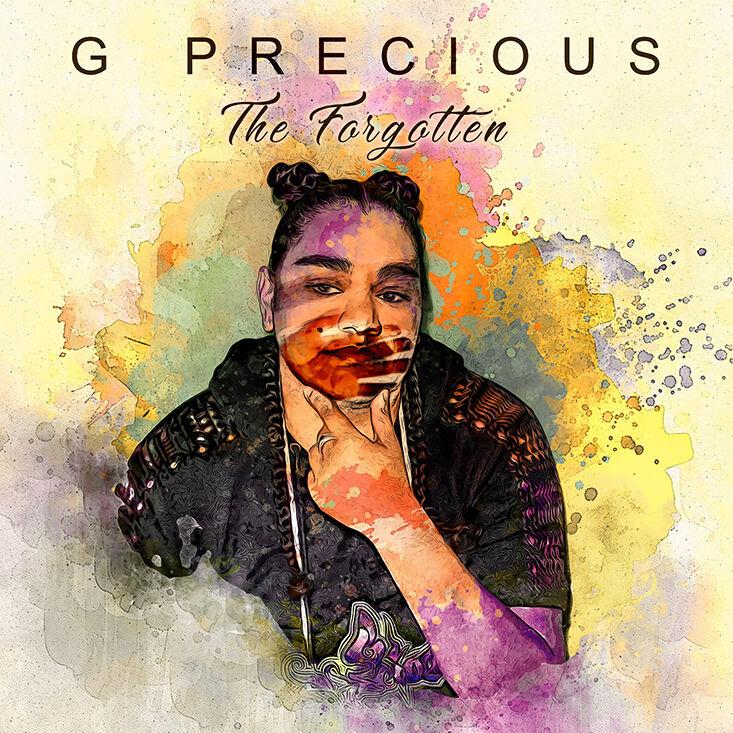 As with G Precious' past albums, The Forgotten is a heartfelt, deeply personal testament about the struggles faced by Native peoples on the reservation. A highlight is the composition "Unforgettable," which features Grammy Award-winning R&B artist Macy Gray.
It's not every day a rural New Mexican from a small, census-designated town of less than 1,500 people like Ohkay Owingeh gets an opportunity to collaborate with a Grammy-winning artist. It's a fact about which G Precious is proud but modest, befitting the personality of someone who sometimes describes herself as "not rich or famous."
"I think I've been fortunate enough to work with different producers, and they've put me in contact with other producers within their realm," she says. And that's how she ended up meeting Grammy Award-winning producer Jared Lee Gosselin. "He used to be one of the main producers for Macy Gray. I got pushed into his space with this album, looking for different sounds, and he was helping me along with the project. He was like, 'You would kill this song with a Macy Gray feature. If she's willing to do the song, we can get you on.' I was just in the right place at the right time."
As much as Gray's soulful vocals hook you on the track (one of the album's most stirring), so do Precious' lyrics, which express a yearning to be heard: to be seen and not ignored.
I've got love bigger than the sea
I'm coming up where I want to be
I'm here now but, baby, when I leave
"I think the music guides my songs," G Precious says. "I usually write from the hook or the chorus out. I came up with the song 'Concrete Angels' because we've just seen so much death on the reservation, and it just built from there."
"Concrete Angels" is a compassionate view of growing up in a climate of adversity, from trouble at home and at school to trouble on the streets. It starts with a spoken word message set to a lilting piano score, "Our kids in the schools being bullied, our homeless on the streets, don't lose hope." Then the beat starts, and she raps about the yearning of a child for love and understanding in a family that's trapped in a cycle of neglect and abuse and faced daily with the cruel taunts and jeers of lunchroom bullies.
I pray today will be a little better
"Every single song has something about my life in it," she says. "I always tell people that my music comes from experience. That's one thing I like to stress. I'll tell them, 'Let me share my life through music, through my art.' "
"She's quite a different rapper," says her longtime collaborator, recording engineer Steve Chavez. "She can sing. It's kind of rare to find a good rapper that can actually sing."
The majority of G Precious' recordings were done at Chavez Recording Studio/Randall Records in Arroyo Seco. She's worked with Chavez for more than 10 years. "In a lot of her music, her culture is reflected: who she is, her family, what she stands for," Chavez says. "But it's being put across so naturally with her. I'm a firm believer that an artist — be it a visual or musical artist — really needs to be transparent with their audience. The audience needs to feel you. They need to know who you are. That's what we get from G Precious."
But getting from the reservation into the recording studio was something G Precious had to do all on her own. She didn't have the backing of her family or her community. "You just don't get that support on the reservation," she says. "Of course, you have your community talent shows and stuff like that, but people don't really take that seriously. I had to do a lot of work, pushing and promoting myself. I think that's why it took so long for my first album to
When she was six, G Precious started writing poetry, and she adopted the name BMA Chill, using the initials of her full legal name. She continued writing throughout her teens and moved to calling herself G Precious at 12. She took creative writing courses in school, participated in poetry slams and rap battles, and performed at open mics. She was freestyling in those days, improvising on the fly without benefit of music or beats. "But that wasn't really my thing," she says. "I wanted to tell a story through music and make an impact and not just be freestyling."
She counts Michael Jackson, MC Lyte, and Queen Latifah among her early inspirations, especially Latifah. "I love everything about Queen Latifah: her flow, her life. Her music is pretty powerful, and there's a lot of messages in it as well."
Contemporary Native American music was less of an influence because, she says, there were few opportunities for her to hear it growing up. "You heard of, maybe, Redbone. They were the stand-alone Native American rock band. But it's rare to see Native American artists breaking into the mainstream. Now you've got Taboo representing with The Black Eyed Peas. But we get stuck on the reservation or in the small cities and states we were growing up in. We just don't have the push to break that barrier. I hope I can make that change." ◀