When Gilbert and Sullivan's Mikado opened at London's Savoy Theatre in 1885, it wasn't just a big hit onstage — although it was, becoming the most often performed of all the duo's operettas. It also became a marketing juggernaut for decades, thanks to its subject matter and the business acumen of its creators.
The Mikado premiered at the height of the Japonisme craze that was sweeping Europe and America. While the operetta is ostensibly set in Japan, its creators viewed it as a satire on Westerners swept up in the all-things-Japanese craze and on British institutions and attitudes, such as the rigid class system and Victorian sexual prudery. (Like many of the creations influenced by Japonisme, it is now recognized as reflecting racist attitudes not clearly perceived in the 19th century.) Gilbert, Sullivan, and their wily producer, Richard D'Oyly Carte, realized that big money could be made through product licensing with the flood of resulting merchandise helping to fuel ticket sales. The Mikado wasn't the first show to offer such licensing, but it was by far the most successful example in the 19th century.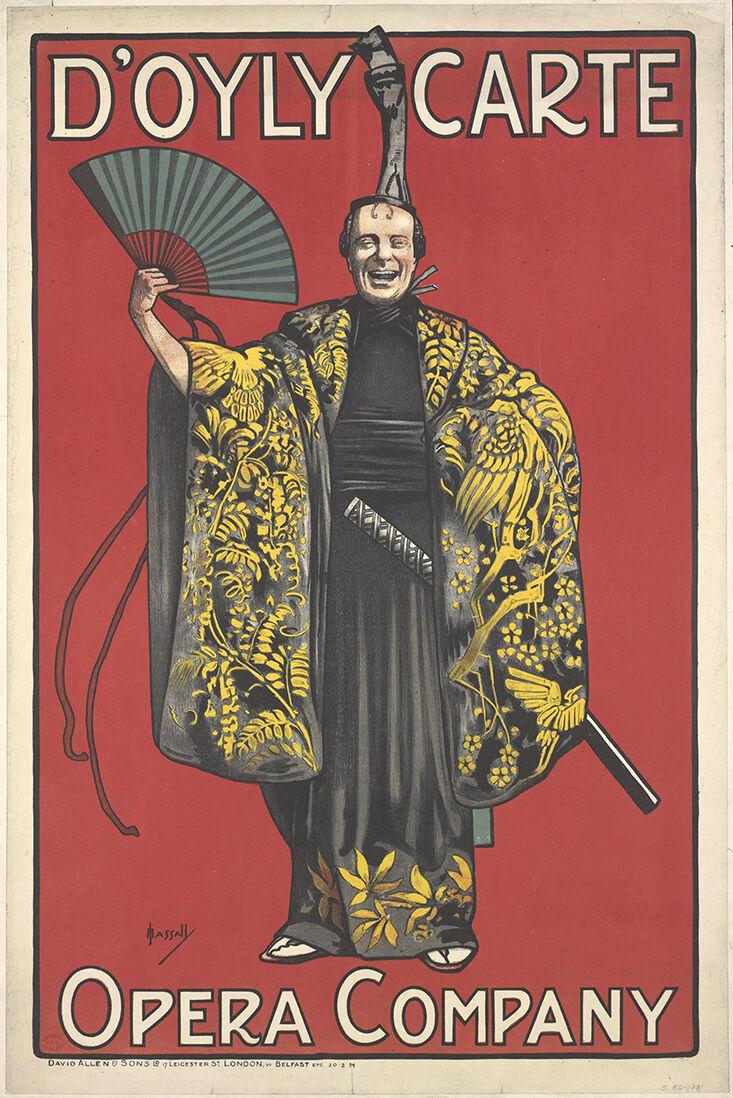 We're not talking about just posters and coffee mugs here. Items range from figurines, fabrics, jewelry, perfumes, puzzles, trading cards, kinds of toothpaste, soaps, and games to wallpaper, chrysanthemums, corsets, and stoves, among others. Some of the licensees were happy simply to use an image and a character name from The Mikado, while others also made use of famous lines and lyrics from the show to hawk their wares.
Here's a sample for a line of sewing machine thread that starts by quoting one of the show's most famous songs ("My Object All Sublime," sung by the title character), then switches to a sales pitch in limerick style:
My object all sublime, I shall achieve in time,
To let the punishment fit the crime, the punishment fit the crime.
All people who have to do sewing,
And don't use Coats' six-cord thread,
Will be punished with cotton
And kinks, till they wish they were dead.
In addition to marketing, Gilbert, Sullivan, and Carte operated as guardians of an artistic franchise, creating plots and roles based on the skills of their star company members, who performed similar roles from one piece to the next. Patrons could count on seeing the little comic baritone with his snappy patter songs and the big stuffy baritone in self-important roles, hearing the soprano and tenor as young lovers warbling music in the English madrigal tradition, and laughing at a fearsome female in the Margaret Dumont line, always a contralto.
The D'Oyly Carte Opera Company could control performance rights and merchandising in England, but doing so elsewhere was much harder because of the lack of international copyright agreements at the time. To acquire American copyright for the show, the official version had to be performed here before any of the imposters that were already in rehearsal in New York. It meant leasing a New York theater on the sly, so as not to tip off any the producers of the pirated versions, and sending over a D'Oyly Carte Mikado company traveling under assumed names to ensure secrecy. They performed it almost unannounced, three days after arrival. After a long run in New York, it toured the country for several months.
The Mikado was extremely popular in America — at one time more than 170 companies were performing it simultaneously — and most of them were unauthorized versions. The D'Oyly Carte Company didn't have the deep pockets or the infinite patience to sue all the American pirates, but at least they had the satisfaction of strong ticket sales and reviews that acknowledged the superiority of their own product.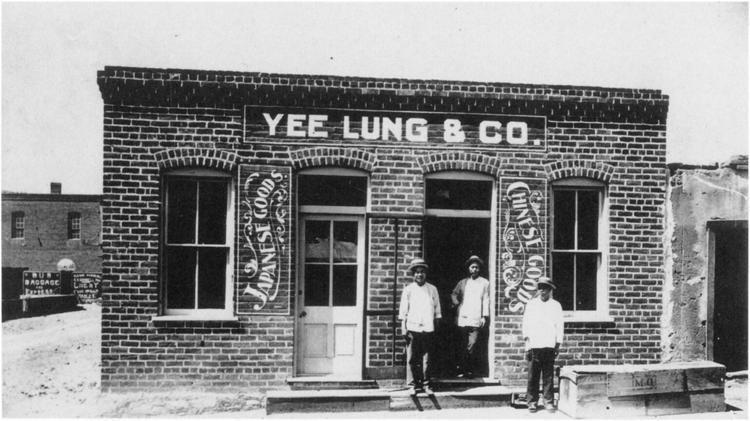 America was soon as Mikado mad as England. Wealthy fans created Mikado rooms in their homes; one New York City iteration was reputed to cost $150,000. Mikado clubs sprang up across the country, and a town in northeastern Michigan changed its name from Bruceville to Mikado in 1886. Japanese souvenir shops also flourished — not just in big cities on either coast. Silver City, New Mexico, with a population 2,735 in 1900, sported not one but two such emporia at the time, Lee Yung & Co. and Fong Sing & Co.
Around the same time, the burgeoning recording and film industries were reaching larger and larger audiences with Mikado-related material. This not only increased its popularity again, but it also set the groundwork for adventurous stage and cinema adaptations of the piece starting in the 1940s.
A three-minute silent film of a scene from The Mikado was made in 1902. Five years later, what amounted to an epic was released — a 12-reeler (one reel for each of 12 songs) using the Cinematophone process, which synchronized the film with acoustic recordings of the songs. (Yes, there were sound films before The Jazz Singer!)
The first full-length version was called Fan Fan. Released in 1918, it was a silent film adapted for a cast of children, with live musical accompaniment provided by theaters where it was shown. (The notion of G&S performed by children originated with G&S themselves. They launched juvenile companies that gave matinees prior to evening performances of a different operetta; today we would call these "spin-offs" in franchise lingo.)
A 1939 Technicolor extravaganza was the first full-length sound film of The Mikado. Intent on matching the success of The Wizard of Oz, a British studio imported Hollywood director Victor Schertzinger and Jack Benny radio show crooner Kenny Baker. The film is very handsome and quite pleasant, but far from the joys of Kansas, much less Oz.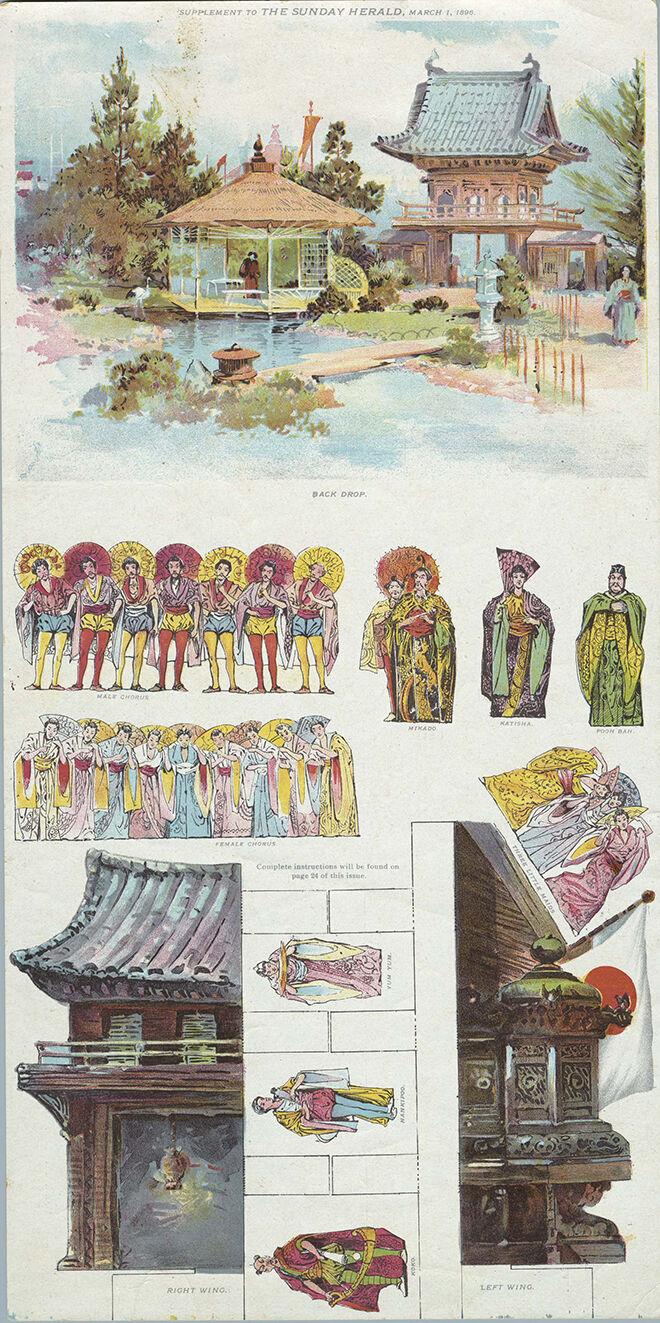 A year earlier, the first major onstage updating of The Mikado took place in Chicago, with the legendary presentation of The Swing Mikado. Staged by The the Federal Theatre Project with a cast numbering 69 Black actors and the setting transferred from Japan to a South Seas island, it was sold out for 22 weeks at a big downtown theater. While there wasn't all that much swing in it — just five songs received a jazz arrangement — it was so persuasively performed that it transferred to Broadway.
Producer Mike Todd (who was later the third of Elizabeth Taylor's seven husbands) had tried to get the Broadway rights to The Swing Mikado without success. Todd decided he could execute the same concept better himself, so he commissioned jazz arranger Charles L. Cooke to adapt the entire score, arranged for over-the-top scenery and costumes, and signed famous tap dancer Bill Robinson to star in the title role. Called The Hot Mikado, his show ran on Broadway at the Broadhurst Theatre (right across the street from where The Swing Mikado was playing), then transferred to the New York World's Fair, where it ran for two summers.
Television got in on the act in 1949, with a much-abridged production by the California Light Opera shown on a local Los Angeles station. Things got considerably more creative (or just weirder) after that. Tennessee Ernie Ford presented a 30-minute version on his national television show in 1959, taking the role of Ko-Ko. (It's not quite as odd as it sounds; Ford studied classical voice at the Cincinnati Conservatory of Music before dropping out to take a radio announcer gig.)
Well-sung versions of the most popular songs alternated with a narration in Ford's best "pea-pickin' Ern" rural mode. The New York Times praised it as "a delightful sampling of Gilbert and Sullivan presented with taste and style worthy of a major production." The article concluded by saying, "The only complaint is that it didn't last twice as long."
Undoubtedly the most off-the-wall choice for Ko-Ko came a year later, when the normally staid Bell Telephone Hour staged a 50-minute Mikado with Groucho Marx as the tailor-turned-executioner. An excellent supporting cast included Wagnerian opera diva Helen Traubel as Katisha and Stanley Holloway as Pooh-Bah. Marx, a Gilbert and Sullivan zealot, said the project "fulfilled a lifelong ambition."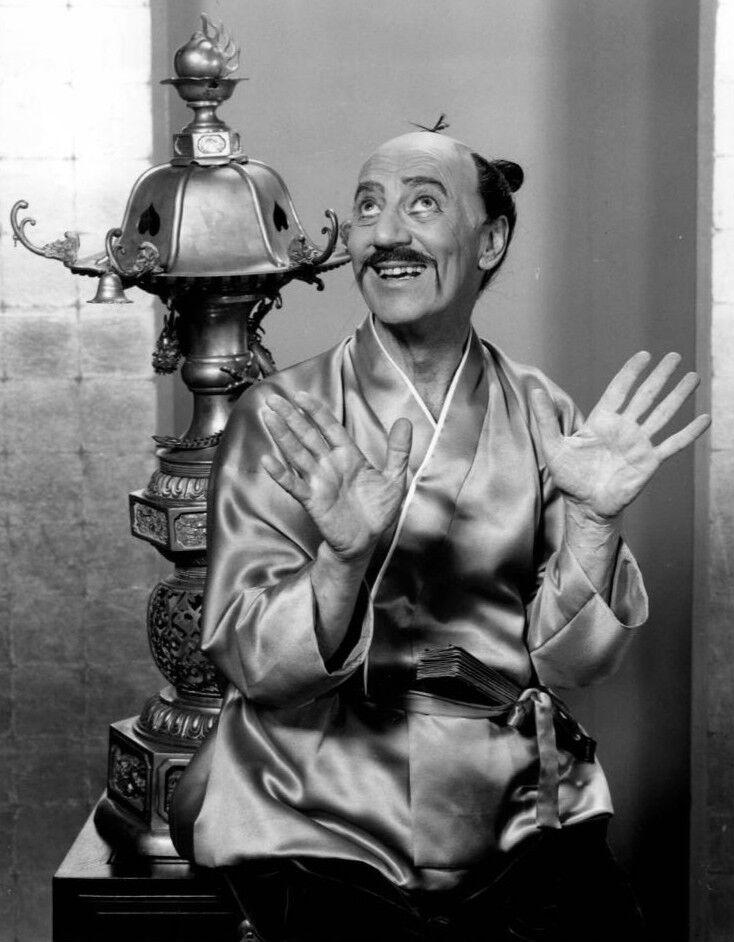 The Cool Mikado, a Swinging Sixties interpretation, falls into the "so bad it's great" category. The ultra-low-budget film from 1963, which starred British comedian Frankie Howerd and Broadway veteran Stubby Kaye, turned the plot into a gangster story set in contemporary Japan, and updated the music using then-popular styles, including the twist, cha-cha-cha, and Tijuana Brass-style arrangements. For reasons mysterious, "We Are Gentlemen of Japan" was accompanied by bagpipes.
The most compelling of all Mikado updates appeared at the English National Opera in 1986. Director Jonathan Miller jettisoned everything Japanese from traditional productions, set it in an English seaside resort in the Roaring Twenties, and staged it as an homage to the Marx Brothers, Noël Coward, and Busby Berkeley.
"It's not really about Japan," Miller told The New York Times about Gilbert and Sullivan's creation. "It's as English as Buckingham Palace garden parties and the Eton-Harrow cricket match." Miller's original cast included Monty Python's Eric Idle as Ko-Ko, a performance that was captured in an excellent video version in 1987. The producers filmed it as a movie musical, adding to its charm.
Mike Leigh's highly regarded 1999 film Topsy-Turvy examined the often-strained relationship between Gilbert and Sullivan through the prism of The Mikado's creation and ultimate success. Eight of its songs are featured in the film, performed in recreations of the original scenery and costumes. A year later, England's Carl Rosa Opera Company used the Topsy-Turvy production materials to film a complete Mikado at an Edwardian-era theater in London's East End.
References to The Mikado also abound in popular culture. The song "Three Little Maids" appeared prominently in The Chariots of Fire, as well as episodes of Cheers and The Simpsons. There's also a terrific version sung by the unlikely trio of jazz great Ella Fitzgerald, pop singer Dinah Shore, and opera diva Joan Sutherland.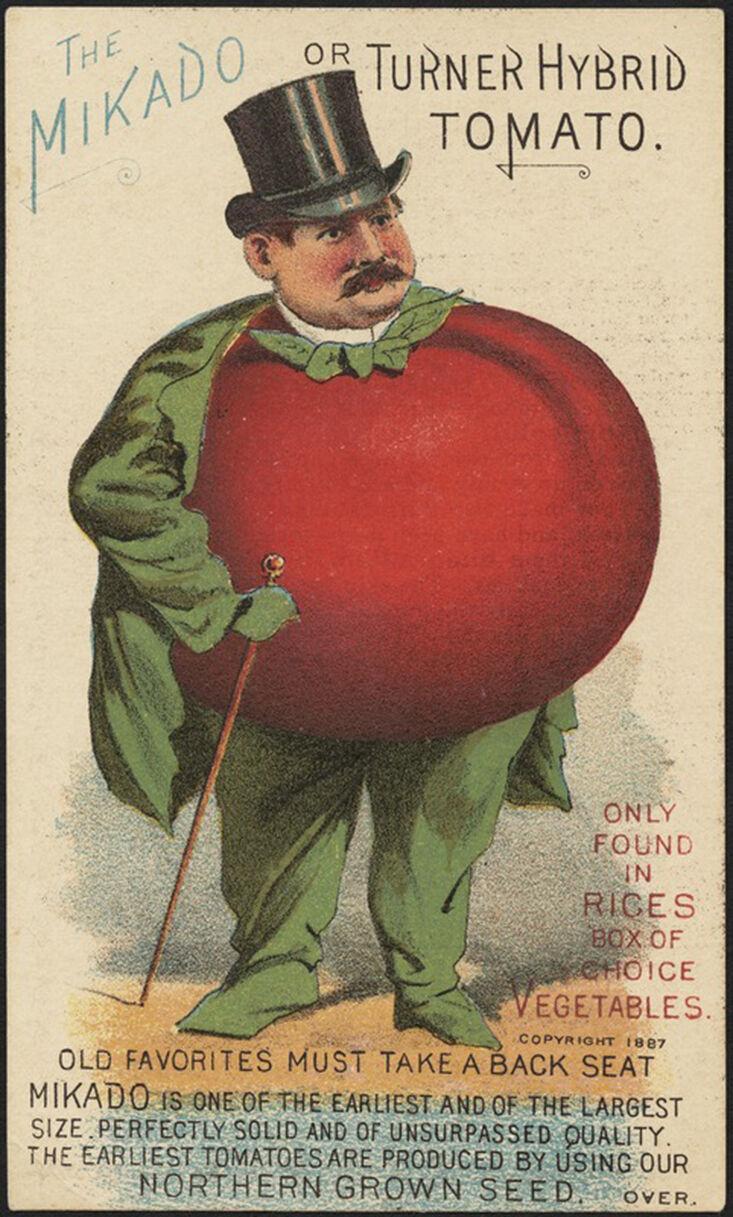 "On a Tree by a River" (better known as the "Tit-willow Song") was performed on The Muppet Show by Rowlf the Dog and Sam Eagle, and on The Dick Cavett Show by the host and Groucho Marx. (The latter stopped it midway through to ask whether anyone in the audience could help him understand what "obdurate" meant.) These are just a few such references; many more await the zealous internet searcher. ◀
Nanki-Poo and Yum-Yum are in love, but she is betrothed to her guardian Ko-Ko, the Lord High Executioner. The Mikado orders that someone, anyone, be executed forthwith. Since Nanki-Poo's case seems hopeless, he volunteers, on the condition that he be married to Yum-Yum for a month first. (Nanki-Poo is actually the Mikado's son, traveling in disguise to avoid an arranged marriage to Katisha.)
When Yum-Yum finds out that a beheaded man's wife must be buried alive, she understandably gets cold feet. Ko-Ko bribes Pooh-Bah, Lord High Everything Else, to claim that Nanki-Poo has been beheaded when the Mikado arrives. Unfortunately, the Mikado is in search of Nanki-Poo, and when he is told his son is dead, orders that Pooh-Bah and Ko-Ko also be put to death. Nanki-Poo convinces Ko-Ko that the only way to save himself is to marry Katisha, which will allow Nanki-Poo to return to the realm of the living. Ko-Ko eventually does so, and Nanki-Poo and Yum-Yum reappear to general rejoicing.