At the tail end of pianist David Geist's rendition of George Gershwin's "Rhapsody in Blue" comes another familiar refrain. A sly grin spreads across his face as he wraps the jazz standard with a snippet from Queen's "Bohemian Rhapsody," concluding the instrumental take on the classic rock song with a sustained flourish that elicits shouts of "bravo" from the audience.
Geist's take on Queen (by way of Gershwin) serves as a confluence between genres and generations. And that's what the tall, wavy-haired Broadway veteran is all about these days. His performances reflect the musical traditions of the baby boomers (who grew up with the music of the silent generation), as well as Generation X.
And after a long hiatus, Geist is back with the Cabaret Upstairs at Osteria, at Osteria D'Assisi.
Welcome to the cabaret
On a recent evening, the air is redolent with the aroma of lobster tails and capellini in a rich, buttery broth flavored with rosemary, and Geist holds forth like a consummate host. He greets every patron who walks in and roves from table to table, chatting with the visitors before the show.
The easygoing start to the night doesn't end when Geist, dressed casually in an open sport jacket and crisp white shirt, sits down at the snow-white baby grand piano amid the golden glow of yellow ochre walls. The rapport he's established with the audience continues through the night, only now with musical accompaniment.
"What are you drinking, Linda?" he asks, while his fingers gently tap at the keys.
Linda holds up her drink. "Wine spritzer."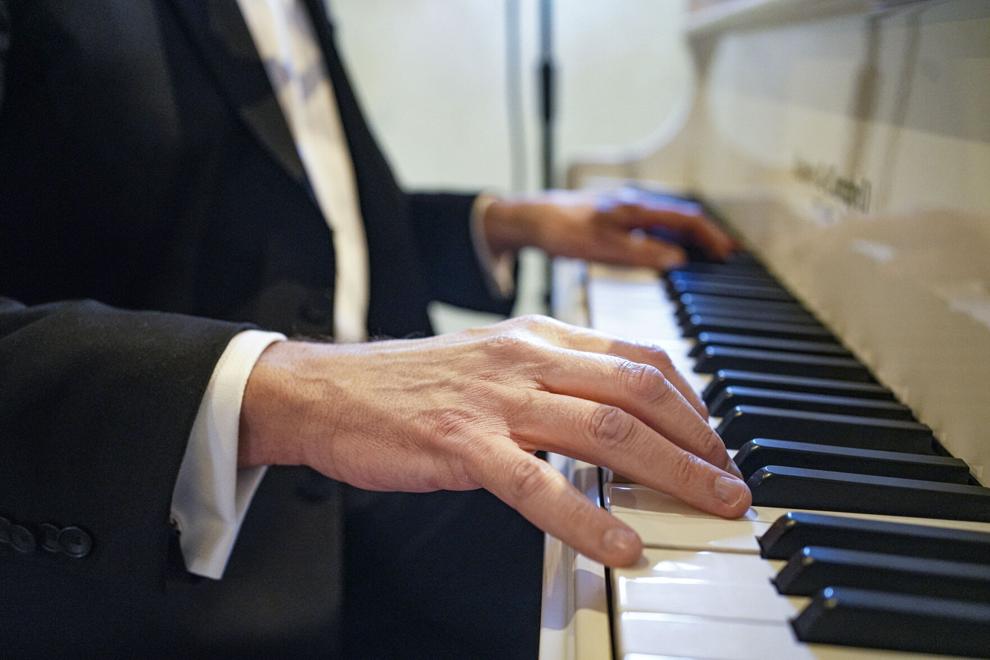 He plays Billy Joel's "Piano Man." It's not exactly a show tune or a jazz standard, but it fits with his eclectic take on cabaret music.
"I kind of think of myself as a preservationist, almost like a lineage holder," explains Geist, who says he's in his mid-50s. "I'm sort of the ambassador of the Great American Songbook here. But I feel like we're in a cultural shift now. We have new classics, so I find my program is becoming much more varied. So I also see myself as a cultural and generational bridge at this point."
Geist performed the Geist Cabaret at Pranzo for 12 years. That ended when the Sanbusco Market Center location closed for construction of the New Mexico School for the Arts. Since then, he's freelanced, performing at venues around the country, teaching master classes at colleges and universities, and working as a vocal coach.
Geist performs his solo show on the first and third Thursday of every month. His Aug. 19 performance draws a full house.
"He's got a variety of different songs, he's talented, and he's engaging with the crowd," says Lino Pertusini, owner of Osteria. "There's something for everybody. There's something for people of different ages. It's absolutely fun."
Before the evening's out, the rolling flourishes of his playing, which end with an emphatic raise of his hand in the air on more dramatic numbers, wring whoops and hollers from the crowd. He delves into a lineup that ranges from a stirring rendition of Andrew Lloyd Webber's Phantom of the Opera to a delicate, soulful take on "Memory" from Webber's Cats, a song he says he learned directly from original Broadway cast performer Betty Buckley.
"People think of Broadway show tunes, and they think of people sitting around piano bars with drunks, trying to do their best Ethel Merman impression," he says. "But there's a group of people that take it as seriously as anything else. They give their lives over to it. Harold Prince and Stephen Sondheim, these guys really had an integrity about what they were doing."
A natural showman, Geist takes it seriously, too, but he conveys that love and commitment best in front of an audience. And his playing is nothing if not impassioned.
Back in New York, long before Osteria, his playing was lost in the orchestra pits of the city's musical theaters.
"I feel very appreciated here," he once told the Huffington Post about being in New Mexico. "I felt removed in New York. Here I'm engaging with an audience."
Music is lineage
Geist's passion for the Great American Songbook is lifelong. His mother was a semi-professional stage actress, and his parents' record collection was mostly original cast albums from Broadway shows.
"For me, all music sounded like a Broadway musical," he says. "You've got your solos and duets, and you've got your overtures. If their record collection had been jazz, I might have become a jazz musician. I was so influenced by what they passed down to me. I think music really is a pass-down tradition. Music is lineage."
A graduate of Berklee College of Music, Geist pursued his career in New York City in the 1980s, playing in and conducting orchestras on and off Broadway and playing audition and rehearsal piano. "I was really in the thick of it. I was totally in the trenches of being a real Broadway theater musician."
He stuck with it until 2005 when, he says, he "hit the New York wall."
"When you're young, there's nothing like being in New York, like, when you're in your late 20s, early 30s. I just went there after college so it wasn't like I had roots there. But you outgrow the pace of it. It's too much to keep up with after a while."
Geist ended up in Santa Fe after touring with friends from Albuquerque. His aunt had a second home here.
"I thought, 'Let's try a smaller town.' It was a very targeted kind of decision. Santa Fe is still a very cultural center, with the opera and the chamber music. I had a pretty good feeling that my art would be well received here, and it has been. Santa Fe has a lot of second home owners and retirees. Maybe I sort of remind them of the lives they had back in those urban areas."
Early in the evening, Geist introduces his original instrumental work, "A Little Romance." It's from Inside the Flame (2015), the second studio album of his own songs. He seems almost nervous about rolling it out, unsure, perhaps, how the audience is going to react. But he musters a sweet, diaphanous jazz number that can hold its own against Glenn Miller's "Moonlight Serenade." And as the lilting tune progresses, one can easily imagine Audrey Hepburn being romanced on the balcony of a Manhattan high-rise, Champagne in hand.
Mostly, though, he sticks to a program of recognizable classics: "Send in The Clowns," "Summer Nights" from Grease, and Chicago's "All That Jazz."
He often plays to a local crowd. So, naturally, he changes up the lyrics to George and Ira Gershwin's "Let's Call the Whole Thing Off" to "give it a New Mexico twist."
"You say 'Cerrillos,'" he sings, pronouncing the L's as a Y, "and I say 'Cerrillos,'" pronouncing the L's as L's; "You say 'Madrid,'" he croons, stressing the first syllable, "and I say 'Madrid,'" stressing the second.
"Let's call the whole thing off."
Geist likens performing at the new venue as a sort of high school reunion. Fans from his Pranzo years are showing up, and he's grateful for that, especially at a time when people are still nervous about crowds in public places.
"There's a new variant out there. People are masking up again. I know people are a little skittish, and there's a trust issue. But once people get upstairs and they feel safe, they're loving it."