When celebrated jazz vocalist Carmen Bradford takes the stage at Dave's Jazz Bistro, she knows that she owes much of her success to thinking like a vegetable.
"I tell my students that they're like an onion," she says. "The real you is at the center, and on top of you are all these layers of musical ideas you've gotten from others. You keep what you need at the time, and as your musical ability advances you shed them and come up with your own. It's been hard work, but I really feel I've gotten down to the center of my own onion now."
For her Santa Fe gig at a bistro reincarnation in The Santa Fe School of Cooking, she'll be accompanied by the John Rangel Trio, with John Trentacosta on drums and Colin Deuble on bass, in addition to pianist Rangel.
"It's going to be a program the audience identifies with and that I love as well," says Bradford, who's 61. "There will be lots of standards and some blues tunes, too."
A midlife crisis led to the Santa Fe School of Cooking's creation 31 years ago, with the addition of a jazz bistro as a tribute to David Ballantyne Curtis.
Her big break came when she joined the Count Basie Band at age 23, although her first encounter with its legendary leader a year earlier didn't go quite as well as she hoped.
"I told Mr. Basie he would make a million dollars if he hired me and that there was nothing better than having a young lady onstage in a lovely dress," she says. "He just stared at me as if I was very, very strange. I didn't want [vocalist] Dennis Rowland to lose his job, I just wanted him to scoot over!"
Basie got back in touch with Bradford soon afterward, however, and she ended up touring with the group for nine years.
"It was me and 19 men on the tour bus, which was amazing and scary and strange," she says. "One or two were my age, and it went up from there to some who were as old as my great-grandfather. We had assigned seats, and I sat in front of Mr. Basie. He spoiled me rotten, especially that first year, giving me $100 every time we had a day off and telling me to go shopping."
Bradford is still a frequent guest vocalist with the Basie band, and she's a featured performer on All About That Basie, the group's 2019 Grammy Award-nominated album. (You can hear her sing a cut from the album, Fats Waller's "Honeysuckle Rose," at her website, carmenbradford.com.)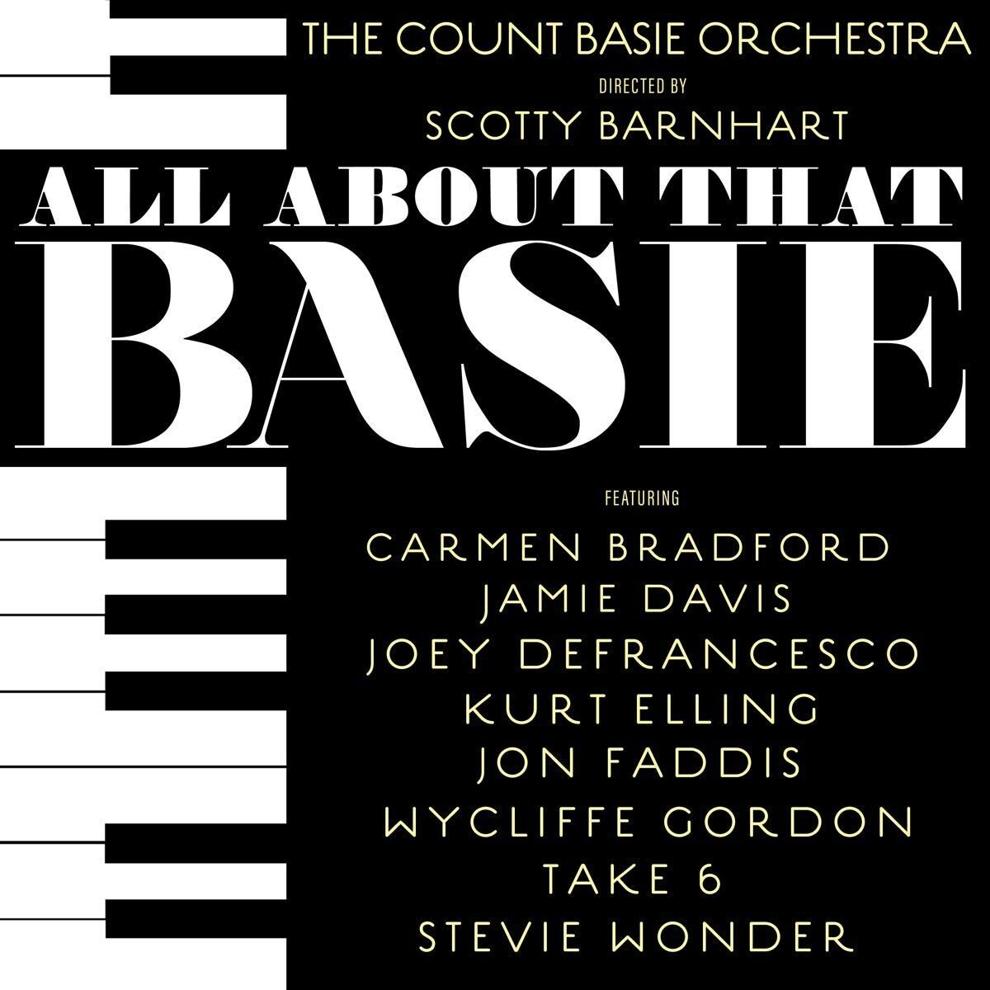 Her musical personality is defined by her powerful mezzo voice, an unusually wide vocal range, a radiant personality that even comes through during a video interview laden with technical glitches, and her emotionally charged interpretations.
"Anybody can sing most of these songs," she says. "You got to tell the story behind it so everybody can understand why you're singing it."
Bradford's jazz DNA comes from both sides of her family. Her grandfather sang with Lucky Millinder and his orchestra, the Dizzy Gillespie Band, and The Ink Spots vocal quintet; her father, Bobbie Lee Bradford, is a cornetist and composer best known for his work with Ornette Coleman's quartet and his own group, the Mo'tet.
Her mother, Melba Joyce, is a well-known jazz vocalist and the single most important influence on her daughter's singing. "She still has an awesome voice, and to this day I still steal from her," Bradford says. "When I was four years old I knew I wanted to grow up and be a singer like her, although it probably had as much to do with the beaded gowns and the hair and the shoes as it did with the music."
While the music takes center stage at Dave's Jazz Bistro, the food plays an important featured role. Don't be fooled by the bistro's connotation of simple meals offered in a modest setting or the cooking school's well-known classes on earthy New Mexican cuisine. The jazz evenings give the kitchen staff the chance to show off their chops with a "white tablecloth" menu. The three-course meal that accompanies Carmen Bradford's performance begins with a fall squash salad, followed by a choice of entrees (either lamb shank with polenta and asparagus, salmon with asparagus and potatoes, or a vegetarian risotto), and a New Mexican bread pudding dessert.
This will be Bradford's second performance at Dave's Jazz Bistro and, based on the meal from her first visit, she gives the food a rave review. "All I have to say is, 'Ooooh, baby, baby, it's decadent.' The food is just spectacular."