SANTA FE PRO MUSICA STRING SERIES
With Anne-Marie McDermott and the Dover Quartet
St. Francis Auditorium, Oct. 17
Santa Fe Pro Musica's hiring of pianist Anne-Marie McDermott as its artistic director has already yielded an unlikely local plum — the October world premiere of a major new work, Chris Rogerson's Dream Sequence for string quartet and piano at St. Francis Auditorium. It was commissioned by Colorado's Bravo! Vail Music Festival, where McDermott also serves as artistic director, and was planned for the group's 2020 summer season. The debut happened here instead, on a strongly played program alongside string quartets by William Grant Still and Felix Mendelssohn.
The 33-year-old Rogerson wrote Dream Sequence as a response to the pandemic and the extraordinarily vivid dreams (and nightmares) that it generated in so many of us. It grew over the writing process as the composer had more time available. The result: it was about 40 minutes long in its premiere performance. It's the kind of substantial new work that we don't often hear during the traditional concert season, so kudos to Pro Musica for programming it.
It was played with assured commitment by McDermott and the Dover Quartet, even though they received revisions to it just a few days before the concert. ("I'm that annoying composer," Rogerson confessed in a pre-performance talk.) I found Dream Sequence fascinating and compelling for most of its length, although the final movement ("Afterword") seemed to outlast its musical material. The composer himself may have identified the issue in his program note, which points out that "Afterword" is an "extended version" of an earlier work for two violins and piano.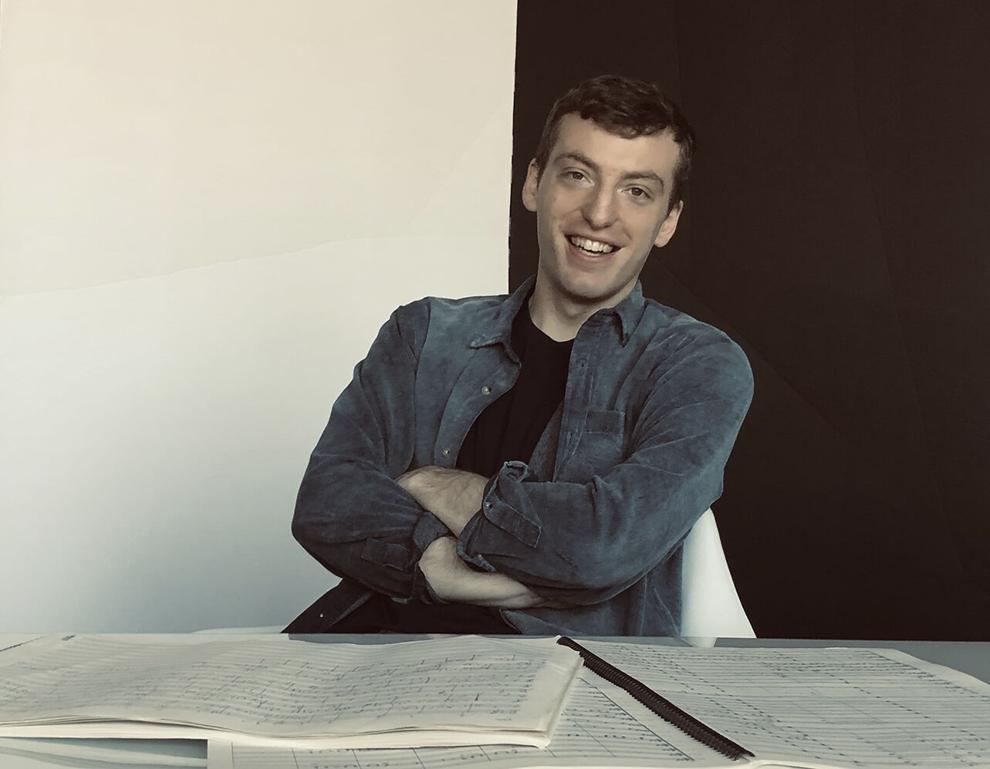 Rogerson works in a primarily tonal idiom, presenting melodies with frequent spiky harmonies and unusual tonalities, many derived from extended playing techniques. Dream Sequence began with "Introduction" in which the strings play loudly but with practice mutes, tamping the sound down, with each member playing different melodic material that recurs throughout the piece but not in rhythmic alignment with each other. ("It's like walking into the middle of someone else's dream," says McDermott.)
After several granitic chords from the piano, the players converge in presenting two lullabies — one of Rogerson's favorite forms, which here managed to be both soothing and dissonant — each followed by a nightmare, the first simmering and tense, the second more explosive and disturbing, with fiendishly fast scalar passages in the strings and some sick-sounding glissando harmonics from them as well. In sum, it was a completely convincing evocation of sleep in the pandemic era.
The friends that William Grant Still portrayed in his Musical Portrait of Three Friends, which opened the program, are "The Sentimental One," "The Quiet One," and "The Jovial One." While their exact identity isn't known, they're limned in well-crafted music that suggests Aaron Copland's Americana. The Dover Quartet dispatched the appealing 14-minute piece with conviction. Their playing was particularly notable for the ideal balance that let the second violin and viola be heard as voices equal to the first violin and cello.
Still was one of the 20th century's most important and successful Black composers, the first to have a symphony performed by a major American orchestra (Afro-American Symphony by the Rochester Philharmonic in 1931), first to have an opera staged by a major American company (Troubled Island by the New York City Opera in 1949), and first to have an opera broadcast on national television (A Bayou Legend on PBS in 1981).
Felix Mendelssohn was a skilled conductor as well as composer. His appointment as music director of the Leipzig Gewandhaus Orchestra, one of Europe's oldest and finest ensembles, started a working relationship with its concertmaster Ferdinand David, a violin virtuoso who also led a string quartet of players from the Leipzig orchestra.
Mendelssohn wrote his Opus 44, subtitled "Three Grand Quartets," during 1837 and 1838 for David's group, and its Quartet No. 1 in D Major closed the program. It's a jovial work, especially in its giddy opening and closing movements, marked "Very fast and lively" and "Very fast, with fire," respectively. The Dover Quartet leaned into the emotional content of each movement, emphasizing their contrasts, and taking the final one at a breathtaking, near-reckless pace that never faltered or fell apart.
The elegant second movement, marked "Minuet, somewhat fast," gave first violin Joel Link the opportunity to display his virtuosity above held chords from the other players. It was a touch that was clearly inspired by the skills of first violinist David, who later gave the world premiere of Mendelssohn's Violin Concerto.