On Dec. 8, 1596, Luis de Carvjal the Younger, his mother, Doña Francisca, and his sisters Leonor, Isabel, and Catalina, were burned at the stake in Mexico City after being tried in court by the Inquisition. Their crime was practicing Judaism in secret. This was no small matter. De Carvajal's uncle, who was known as "el Conquistador," was the governor of the New Kingdom of León, in northern Mexico. They were a family of Conversos, Jews who took great pains to hide their true heritage and religious convictions from the authorities, presenting themselves as practicing Catholics. But, in private, they remained faithful to Judaism.
In a new documentary feature, A Long Journey: The Hidden Jews of the Southwest, genealogist Dennis Maes says that a good 80 percent of the genealogies he's done for Hispanic families in New Mexico can be traced back to de Carvajal. Some of those who rediscover their Ashkenazi (Eastern European-Jewish) and Sephardic (Spanish-Jewish) heritage have returned to the faith of their ancestors, facing the condemnation of their Catholic communities and families. They do so as a matter of conviction. If their ancestors could endure the trials of the Inquisition, which included torture, and persist in their beliefs, they could honor that legacy by converting. This is their story.
"We always have very essentialist ways of looking at heritage," says Long Journey director Isaac Artenstein. "You're Mexican, you're Jewish, you're Catholic, you're American. But the fact is, we're all a product of hybrid cultures, hybrid ethnicities."
Artenstein's film premieres on New Mexico PBS (channel 5.1) at 7 p.m. on Thursday, Nov. 19, and repeats at 1 p.m. on Nov. 22. The Thursday premiere is a bi-national simulcast, which also airs in Mexico City on Canal 22.
A Long Journey is a fascinating look at a little-known but significant part of the history of Jewish heritage in North America and its legacy, which, for some, is only now coming to light. For the San Diego-based filmmaker, who grew up in Tijuana, Mexico, it's a story that's close to his heart.
"My father was born in Sonora, in northern Mexico," he says. "My grandparents on my father's side came from Poland. They couldn't get into the United States because of immigration quotas in the 1920s. On my mother's side, there are Sephardic Jews from Turkey. When they met, the border town of Tijuana was really booming. It was right after World War II. There was a lot of opportunity. It drew a lot of Jewish immigrants and immigrants from all over Mexico. My dad had a curio shop on the main drag in Tijuana. There was a small community that I grew up in, and we had our Jewish community center. So I have the Sephardic and the Ashkenazi but, at the same time, a very vivid Mexican culture that really influenced and defines me in many ways."
Tracing the story of the Conversos' spread throughout the Southwest was a massive undertaking that took Artenstein's production team to four states in Mexico and four U.S. states, including Texas and New Mexico. We meet Blanca Carrasco, a native of El Paso, Texas, who traced her genealogy back to Converso families who had settled the Mexican city of Monterrey. We meet her rabbi, Stephen Leon of B'Nai Zion congregation, and accompany him across the border to Ciudad Juarez, where he meets with Jewish families who have no synagogue. What struck him about these Mexican families, he says, is their passion for learning about the Jewish faith. In lieu of a formal gathering place, they meet at a congregant's home to observe their rites.
Closer to home, Artenstein interviews Tim Herrera, a formerly Catholic rancher who was moved to embrace Judaism after discovering his Sephardic ancestry. Once he and his family began openly practicing their newfound faith, they experienced pushback from their community. "That felt lonely in the midst of all these people I grew up with," he says. "But, now, this is who we are."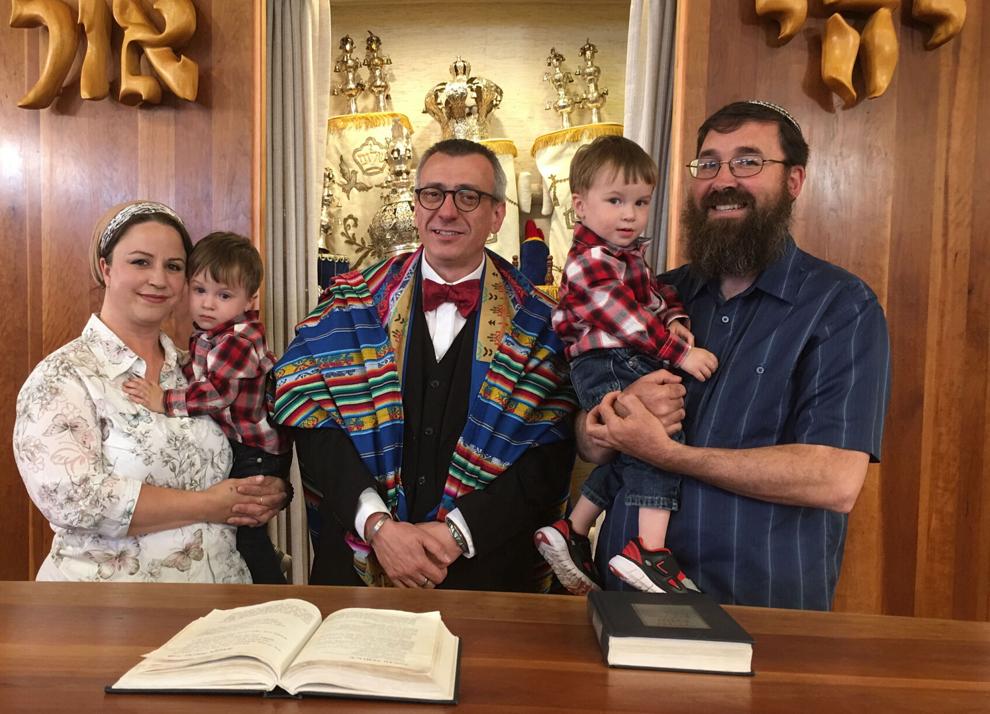 Not all Hispanics who find that bloodlines connect to the Conversos return to the Jewish faith, however. Charlie Carrillo, a prominent santero (saint maker) in Northern New Mexico, is content to remain a practicing Catholic and a Penitente. However, he honors his Converso heritage through his art.
"We drove up to his home and studio in Abiquiú," Artenstein says. "It was around Easter, and he was getting ready to prepare the morada for the Penitentes. At the same time, he was packaging a set of retablos with Jewish themes for a collector in New York."
Carrillo took the film crew to Santa Fe's Santa Maria de la Paz parish, where the chapel houses an altar screen, made by the artist. In the film, he describes the altar screen as one of the most important pieces he's ever done. Created in the Spanish Colonial style, it depicts moments in the lives of Jesus, Joseph, and Mary. One panel shows Joseph and Mary joining their hands in unity before a high priest, who wears a breastplate adorned with 12 stones representing the 12 tribes of Israel. "Once again, it's our ancestral connection to the Jewish people," Carrillo says.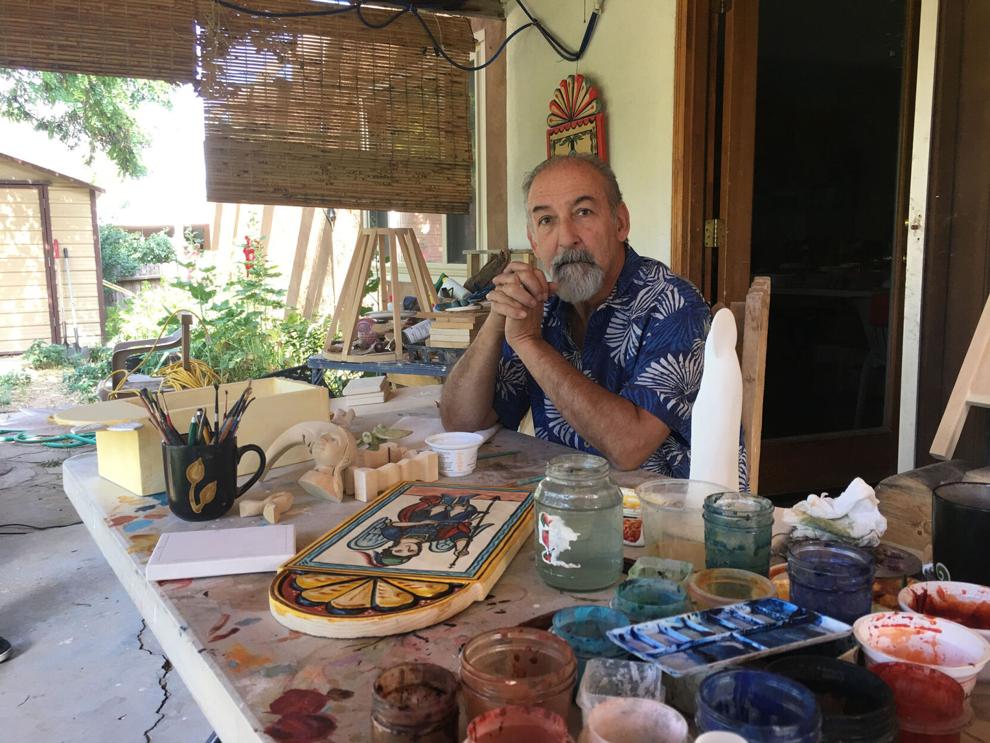 "He has such clarity about that hybridity," Artenstein says of Carrillo. "Even though he embraces his Sephardic background, he feels comfortable staying Catholic as a devotional artist in that santero tradition. He talks about la raza cósmica [the cosmic race], which is something that Chicano and Mexican American culture really embraces. As Latin Americans, we really are a product of practically every continent. There's the African, the European, the Indian, the Asian. Charlie is really focused on that background as an artist."
A recent piece by Carrillo, a retablo made specifically for the film, depicts Luis de Carvajal the Younger chained inside his prison cell, his head downcast, a quill and writing papers on the table beside him.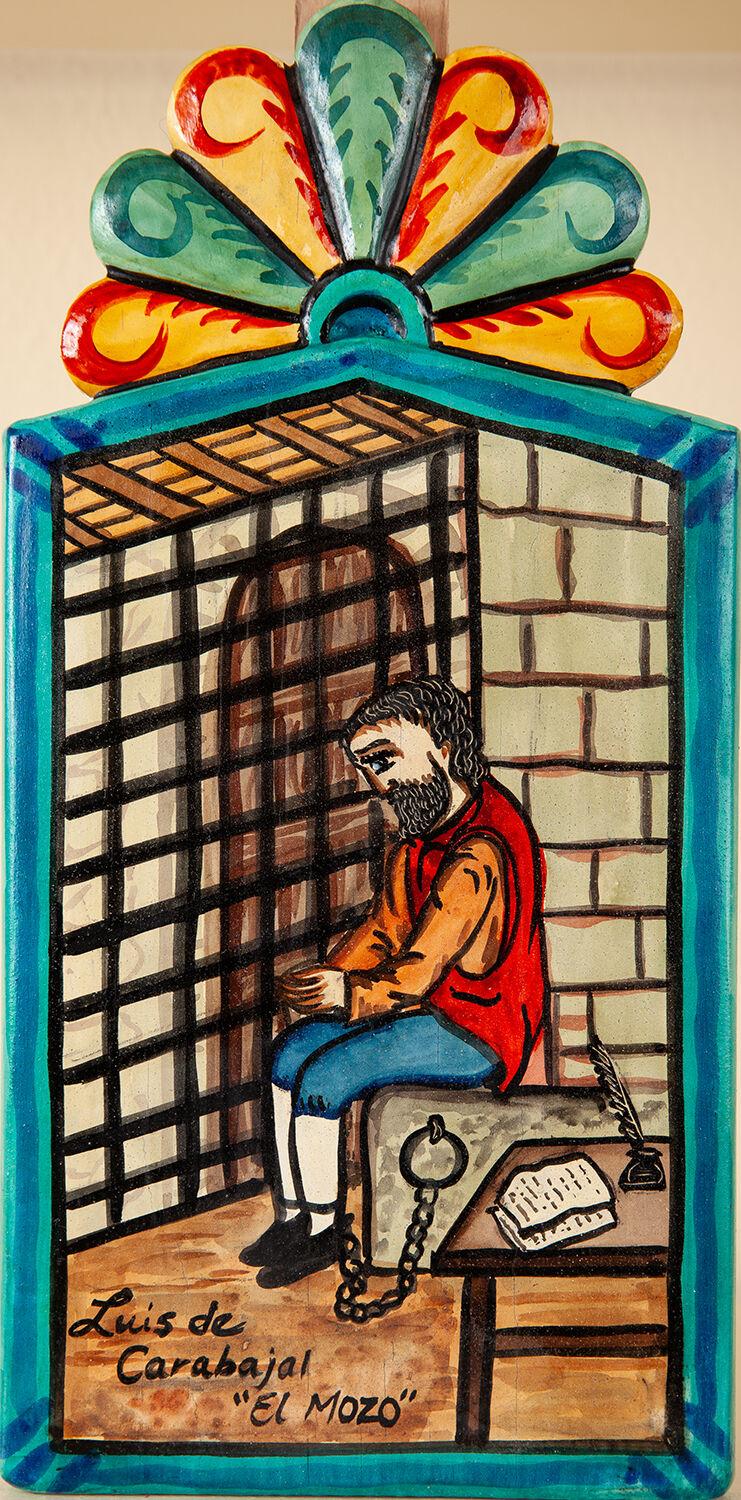 "Luis de Carvajal's experiences, and the tragedies he endured because of his faith and his religious beliefs and his conviction to Judaism as his religious identity, really resonate with me," says interview subject Bill Carvajal, president of the Anusim Center in El Paso and a descendent of Luis de Carvajal. "I think it makes my Judaism much stronger because it tells me that if someone was willing in our family to give up their lives and be burned at the stake, but they were willing to preserve that at all costs, then it's important to our family."
The fate of Luis de Carvajal was contemporaneous with another: that of the conquistador Juan de Oñate and his 1595 expedition into what was then unknown lands (present-day New Mexico), which were annexed into the New Kingdom of León. The route he followed was El Camino Real de Tierra Adentro (The Inland Royal Road) from Mexico City, which also passed through what is now El Paso. Accompanying Oñate were the Conversos.
"Oñate was calling for colonialists to go north and settle New Mexico," Artenstein says. "[Author and historian] Ron Hart's theory — and it makes sense when you look at the genealogies of Northern New Mexicans — is that a lot of Converso families in Mexico probably thought, if the governor's family can't be protected, what about us? I've interviewed a lot of Converso Jews that descended from families that came up with Oñate."
Hart, who's done extensive research into Converso Jews, as well as collaborative work with historian Sara Koplik, director of community outreach for Jewish Federation of New Mexico, wrote a companion book to the documentary: Crypto-Jews: The Long Journey (Gaon Web, 252 pages, $29.95).
Hart describes how the mountains of Northern New Mexico became a refuge for Conversos. But escaping the Inquisition wasn't really an option. Those Converso families who helped settle New Mexico were forced to keep their Jewish identity secret.
When we think of the Inquisition we do not think of Mexico or the United States. We think of Spain.
"In Mexico, the office of the Inquisition was a very powerful political entity," says ethnohistorian Frances Levine, president of the Missouri Historical Society and Museum in St. Louis and former director of the New Mexico History Museum. "It also extended north to New Mexico. The Inquisition was a lot about sustaining conformity in the colonies that were so distant from royal control. There had to be something that sustained authority in a place where lots of aspects of the monarchy were being questioned."
The Alhambra Decree, or Edict of Expulsion, signed by Catholic monarchs in 1492, extended beyond Spain's borders to the provinces and territories under Spanish control in the New World. "We learn this silly rhyme, 'In 1492, Columbus sailed the ocean blue,' " Levine says. "But we don't learn the rest of that story, and that's when Jews were expelled from Spain. When I read the Writ of Expulsion, I understood the terror of the Inquisition. That terror spread all over the world. It was not confined to Spain. That document really began a worldwide diaspora."
And on the heals of the diaspora, came the Inquisition.
"The pueblos had their own brush with the Inquisition," Levine says. "It was not just a search for Jews. It was a search for nonconformity. There were prohibitions of all kinds of things, including sexual practices."
Mexico City's Palace of the Inquisition still stands. And few who were sent to its jails ever returned. "When the Jews come to Mexico City, there are some attempts to practice secretly," Artenstein says. "They felt a little bit safer in the beginning. But Mexico City, being the capital of New Spain, the Inquisition came down in a big way. We did drone shots of the Palace. Ironically enough, it eventually became a medical school, then a museum of medicine, of healing. This use of drones that all of us filmmakers are doing now, it just gives you this opportunity to look at natural landscapes as a large canvas where all these individual stories take place."
Artenstein's drone shots of Mexico and the Southwest also indicate another kind of landscape: a cultural one that transcends national borders. "As a border filmmaker, which is what I call myself, it's deeply philosophical. We've had all these years of building the wall. I can probably say that this film, the work that I do, is about building bridges, not walls." ◀