In 1980, infamous serial killer Ted Bundy was sentenced to death by electrocution for the 1978 abduction and murder of 12-year-old Kimberly Leach. It was his third death sentence, following the two he received for the murders he committed at Florida State University's Chi Omega sorority house that same year. The execution would be carried out nine years later. In the interim, Bundy, who married while in prison, struck up an unlikely relationship with FBI profiler Bill Hagmaier, now retired, who recorded a series of death row conversations between Bundy and himself. The agent's influence proved beneficial to Bundy, even if it weighed heavy on Hagmaier's soul.
His assignment was to build a profile on Bundy that could be used in the capture of other serial killers. But he couldn't do that without some understanding of Bundy's motivations, without some knowledge of his demons. Bundy hid behind a facade of arrogance and, some might say, charisma. Hagmaier sought to look behind it and find the pain there. There was a person behind the mask, even if the brand "monster" would follow him to the grave.
In former Santa Fe resident Amber Sealey's compelling psychological drama No Man of God, the Los Angeles-based director delves into the relationship between Bundy (Luke Kirby) and Hagmaier (Elijah Wood), a family man and man of faith, whose complicated relationship with Bundy was eye-opening but controversial. It's a dialogue-driven character drama that delivers an intense, quietly menacing performance from Kirby and a sympathetic turn from Wood as the determined Hagmaier, who managed to break through Bundy's defenses.
The 46-year-old director's previous feature-length film was 2016's empathetic character study No Light and No Land Anywhere. "There's something quite beautiful and powerful about the human condition, but there's also often something quite lonely," Sealey told Pasatiempo when the film was shown at the 2016 Santa Fe Independent Film Festival. It's a statement that could apply equally well to No Man of God.
Sealey spoke to Pasatiempo about what attracted her to the project, what it was like working with executive producer Hagmaier, and what makes her film stand out from the glut of Bundy movies.
Pasatiempo: I've read interviews with actors who discuss how traumatic it can be to play a real-life killer or villain. Was this a challenge for you as a director? Ted Bundy's story involves some pretty disturbing stuff.
Amber Sealey: There was definitely a lot of research done and definitely, it was disturbing. The real Bill Hagmaier sent me a lot of stuff. I have photographs of Bundy, and there was a period where I was, like, "I just don't want this stuff in my office." I just wanted to put it away and not have to look at it. There was nothing grisly or gory, but I didn't want my kids looking at pictures of him. I don't know if it was traumatic for me because it wasn't new information. I knew how awful Bundy was. But there were things that Bill told me that were gross, like that almost all serial killers are necrophiliacs. That's a bit of information I'll certainly never forget. But what I didn't research a lot was the crimes. I didn't need to see photos of women's bodies mutilated.
Pasa: That reminds me of Elijah Wood's character in the movie. When he asks for the FBI file on Bundy, he specifically says "no crime scene photos."
A.S.: That was something that Bill really said. "I need to go in there and relate to this person with some empathy and have a sort of lack of judgement about him. And if I continue seeing what he did to all of these girls, I'm worried that I won't be able to keep that space judgment free." I was always very adamant about not recreating the crimes in the film.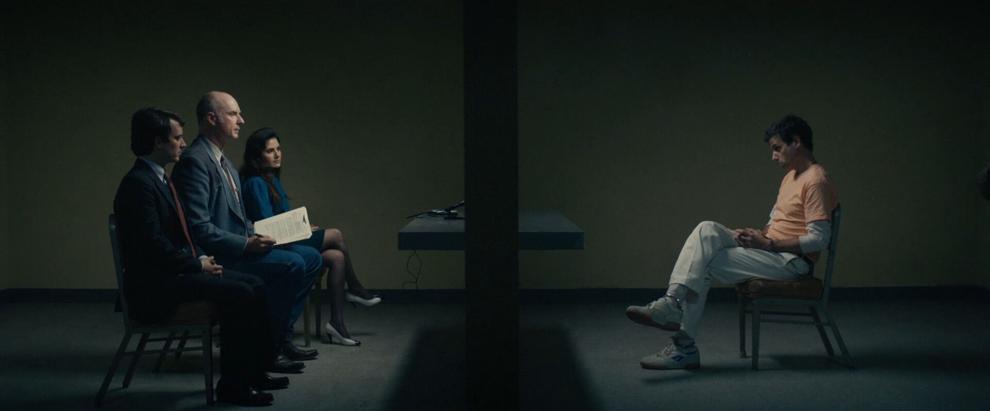 Pasa: But the characters do talk about these things. The film is rather old school in the way it leaves all that to the viewer's imagination.
A.S.: This story is about Bill and Ted's relationship, how it affects Bill. And it's about us in the audience and how we're complicit, because we're interested in that subject matter.
Pasa: It is interesting, and a little ironic, too, that Hagmaier's intention throughout is merely to understand Bundy. He's not looking to make a name for himself. But he does end up becoming one of the world's most prominent profilers.
A.S.: Bill is a very humble guy. I think that was part of why Bundy liked him. He knew that Bill did not have any ulterior motives. He was an honest person who was all about "I just want to do the job. I'm here to understand why you do what you do, and I want you to trust me enough to tell me, so I can stop other crimes from happening in the future." Having a very strong moral compass is important to him.
Pasa: It must have been difficult for him to find that place where he's close but not too close, where he can maintain a certain distance for the sake of his own sanity.
A.S.: I asked Bill, "Did it affect you, spending so many hours with, not only Bundy, but all of the serial killers you worked with?" His answer was really interesting to me. He said, "If I say 'no, it didn't affect me,' then I'm a monster. If I say 'yes, it did affect me,' then I'm bad at my job." So I think he was always having to walk that line. To be honest with you, I don't know how he walked the line. That's kind of what I'm imagining with making this film.
Pasa: Given all of that, how did you become interested in directing this project?
A.S.: It came to me through my manager. Anyone who knows my previous work would not have thought of me as the right fit for a Bundy movie. But that is exactly why I was interested. So I read it, and it was such a great script. It flowed really well, and I had a take. Sometimes you read stuff and think, "No, this doesn't connect with me." With this one, I thought, even though there have been so many movies about Bundy, and some might say too many movies about Bundy — and those people wouldn't be wrong — my thought was "I have something to add to the conversation." Daniel Noah, one of our producers used to say, "I hope that this Bundy movie will be the period at the end of a sentence."
Pasa: So, what was your take?
A.S.: It's basically, "Why are you so interested in Bundy?" He was not this crazily intelligent, charismatic, hot rock star. That's not who we saw. We see him as this deeply insecure, narcissistic, and, yes, psychopathic, really needy, incel sort of guy. I wanted to show that.
Pasa: You do show the victims, too. They exist like memories or imaginings, but they haunt the film with their presence.
A.S.: I researched the victims and their lives. We cast background actors to be dressed like them and have their hair done like them. Their presence in the film, even though it's not a part of the plot, is a really important part of the story, because they're essentially asking, "Why are you so interested in him? Why do you know his name and not my name?" ◀
NO MAN OF GOD, biography/crime/drama, not rated, 100 minutes, Amazon Prime, Vudu, Apple TV