The work of filmmakers Ken Jacobs and Les Blank is not conventional, so do not expect to see their films at your local multiplex. Jacobs is an experimental filmmaker whose work often incorporates found footage, and Blank (1935-2013) was known for his intimate documentaries on musicians on the periphery of American society. But No Name Cinema is committed to providing a venue for historic and contemporary experimental, silent, and avant-garde films rarely shown on the big screen.
"All of our film screenings are unique singular events," says No Name co-founder Justin Rhody. "We often have short films that play before the main feature and kind of contextualize the work. We show actual film prints and sometimes have the filmmakers in attendance to do Q&As."
Rhody, who's the cinema manager at the Center for Contemporary Arts, and his partner, Abigail Smith, the librarian and information specialist at the New Mexico Museum of Art, joined with local filmmaker Ben Kujawski to start the cinema early in 2020, but the coronavirus pandemic prevented them from opening an in-person arts operation until 2021.
Rhody, a filmmaker and photographer, and Smith, an artist, moved to Santa Fe in 2018. A mutual friend introduced them to Kujawski, who had recently arrived from Los Angeles. With similar interests in experimental film and the film medium as an art form, they envisioned a showcase for fringe cinema and film-related art projects that would fill a gap in Santa Fe's art scene.
"I was skeptical," Rhody says of his first meeting with Kujawski. "Next thing we knew, we had a theater."
Before moving here, Rhody and Smith visited New Mexico twice a year. They were both involved in building an artist residency in El Rito, and the trips were enough to convince them to make a change from city life.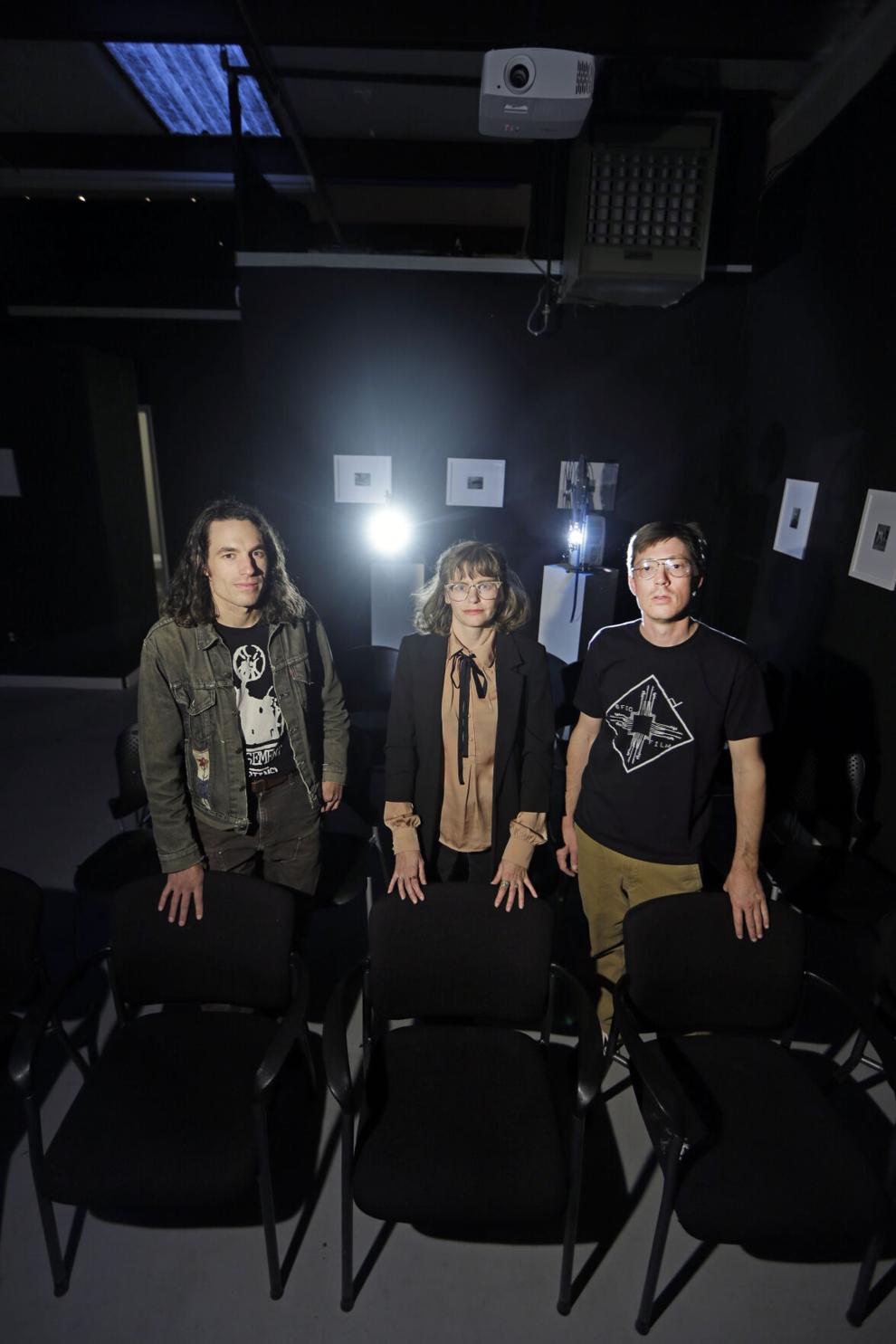 "I just don't say it, because people have said it for one-and-a-half centuries, but the light," says Rhody, referencing the classic reason people state for relocating here. "I'm originally from the Midwest. The whole West Coast radically transformed my outlook. I don't think I'll ever cross that Mississippi again."
The pandemic caused Rhody, Kujawski, and Smith to set aside their plans for awhile, but they were laying the groundwork.
"I started doing these monthly, curated livestream film events," Rhody says. "The idea evolved into maybe doing pop-up shows outdoors, because the prospect of finding some sort of real estate space seemed bleak. Miraculously, the clouds parted, and this beautiful warehouse space revealed itself. We moved in last November."
The three-person crew spent a couple of months fixing up the space, repairing holes in the walls and painting over what Rhody calls "curious stains." They built a wall in front of the rolling warehouse garage door and set up a screen and began hosting one screening a month to generate interest.
The cinema seats about 40 people. At the back of the theater is a narrow flight of wood stairs leading to a cramped projection booth with a low ceiling that's no more than five feet high. Crouching low, Rhody shows off a super 8 millimeter film projector and the laptop tied into the speakers for sound. The cinema also maintains 16 millimeter and digital projectors.
The films come from a variety of sources. In addition to their own collections, they show films on loan and accept donations.
"We had a two-day Les Bank festival with 16 millimeter prints on loan from Keif Henley. He runs The Guild in Albuquerque. He's got a pretty wild collection."
In partnership with Brooklyn's Millennium Film Workshop, No Name Cinema presents a retrospective of the short films by Jacobs, a pioneer of post-war experimental cinema. The cinema is screening Jacobs' early silent films and his 3D video work at 8 p.m. Friday, April 22.
"We're reducing the schedule through the summer, so we'll just do two film screenings a month," Rhody says. "We're booked through the end of August."
Upcoming events include a marathon screening of low-budget UFO documentaries on May 13; "Femme Fatalism," a selection of shorts on the female experience, and "Resonance," selections from the AgX Film Collective on June 10; and "Packard's Wild Weekend," a 20th-anniversary screening of underground filmmaker Damon Packard's 2002 film Reflections of Evil. Packard's feature-length film will be shown with a selection of his rarely seen shorts July 22-23.
"Cinema with a capital C, like art with a capital A," Rhody says. "We look for what could bring people out, especially at a time when you can stream a lot of films. We try to go the extra mile and make these singular events."
No Name is currently showing an exhibition of vintage photographs by siblings Paula and Irving Klaw (through June 12), merchants of fetish and sexploitation art who worked with pinup models like Bettie Page, June King, and Joan Rydell in the late 1940s. While renewed interest in Page in the 1980s brought the Klaws' work back into the spotlight, their mail-order fetish art business was shut down soon after Irving Klaw was branded a degenerate pornographer at a 1957 hearing of the Senate Subcommittee on Juvenile Delinquency.
Like the films and photography they show, No Name's objective is to provide a platform for marginalized voices whose work is risqué, transgressive, and non-conformist. About twice a year, No Name plans to host opens calls for submissions by local filmmakers and screen the films together.
"We're trying to foster a culture of engagement rather than passive entertainment," Rhody says. "We weren't sure if there would be an audience for some of the challenging underground and obscure films we've been showing, but there surprisingly has been."