Displayed inside the Center for Contemporary Arts' Spector Ripps Project Space, which is currently surrounded by Marietta Patricia Leis' exhibition Sense Memories, is a small show of around two-dozen photographic prints. Each one features either an interior or exterior shot of a Santa Fe home. But these houses are not the typical structures that you might find on the historic registry. For the most part, even if it contains adobe, it's new construction or old construction integrated with new. Any of the classic vigas and latillas traditionally associated with Santa Fe architecture merge with an overall contemporary, and often minimalist, aesthetic.
Santa Fe Modern: Contemporary Design in the High Desert, curated by Laura Carpenter in collaboration with author Helen Thompson, is a good fit with Leis' exhibit, because both work is, in part, a response to place and created with mindfulness to nature and the environment.
"All of the houses in Santa Fe Modern are pretty much built with some reference to the building styles of the ancestral Pueblo," says Thompson, whose new book of the same name (The Monacelli Press, 240 pages, $50) was published in November. "Some of those houses, as you go through the book, you'll see are built around an original, smaller adobe structure and have expanded in the way that pueblo architecture expands, as a response to domestic needs. Some of them are built into cliff sides just like the ancient cliff dwellings."
One such home belongs to former SITE Santa Fe Phillips Director Irene Hofmann. Designed by architect William R. Buckley in the 1970s and renovated in 2014 by Suby Bowden & Associates, it incorporates the rock face it was built against as one of its interior walls. It's a stunning, minimalist space in which the preexisting, natural rock face juts into the interior in a dramatic way.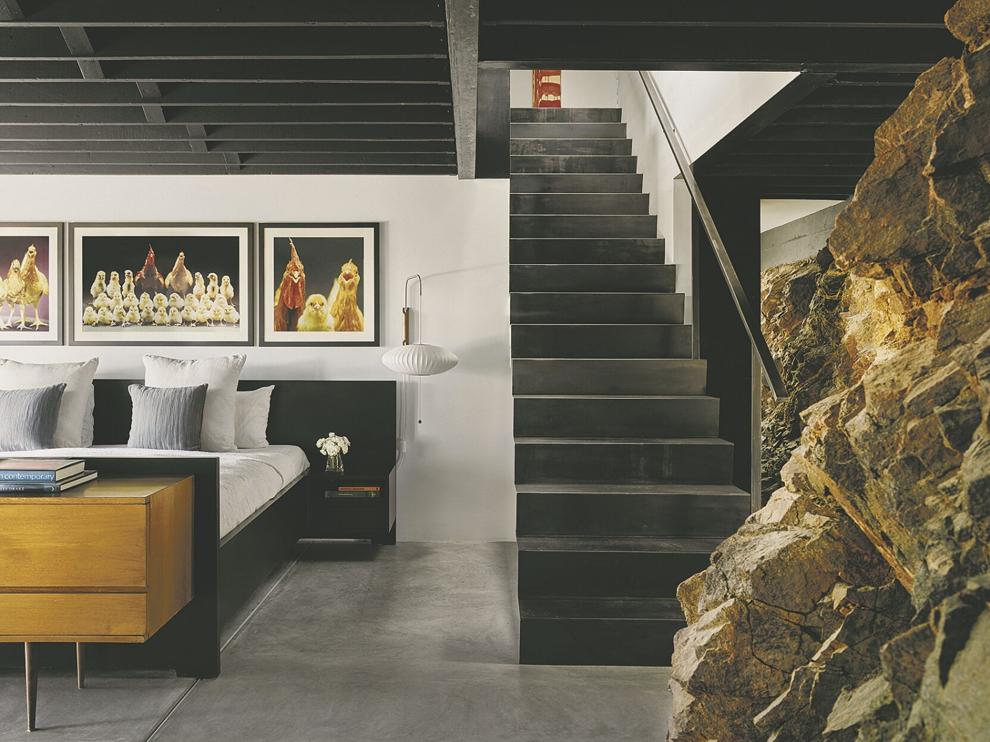 All the photographs in the exhibit, which were taken by Casey Dunn and appear in the book, ask us to reconsider what we think of when we think of Santa Fe architecture. This is not a book on the iconic Spanish Pueblo Revival style, which informs what we think of when we think of "Santa Fe style." The homes featured in Santa Fe Modern, such as the 2004 Mark Dubois-designed home of Jeanne and Mickey Klein, are structures of stone, concrete, and glass. In the case of the Klein residence, a wall of floor-to-ceiling windows offers stunning views of the surrounding hills.
But still, the architects whose designs are included in Thompson's book are cognizant of where they're building, a city with a cultural heritage extending back to pre-European contact. The structures of the Pueblo people inspired the Santa Fe style as surely as the Spanish missions that spread through the region in the Colonial era. These architects position their modern designs along that continuum.
"That, to me, was the big revelation when I started working on the book," Thompson says. "There is this ancient connection, which is the reason, I think, that modernism works so well in Santa Fe and feels like it belongs. It's been there all along."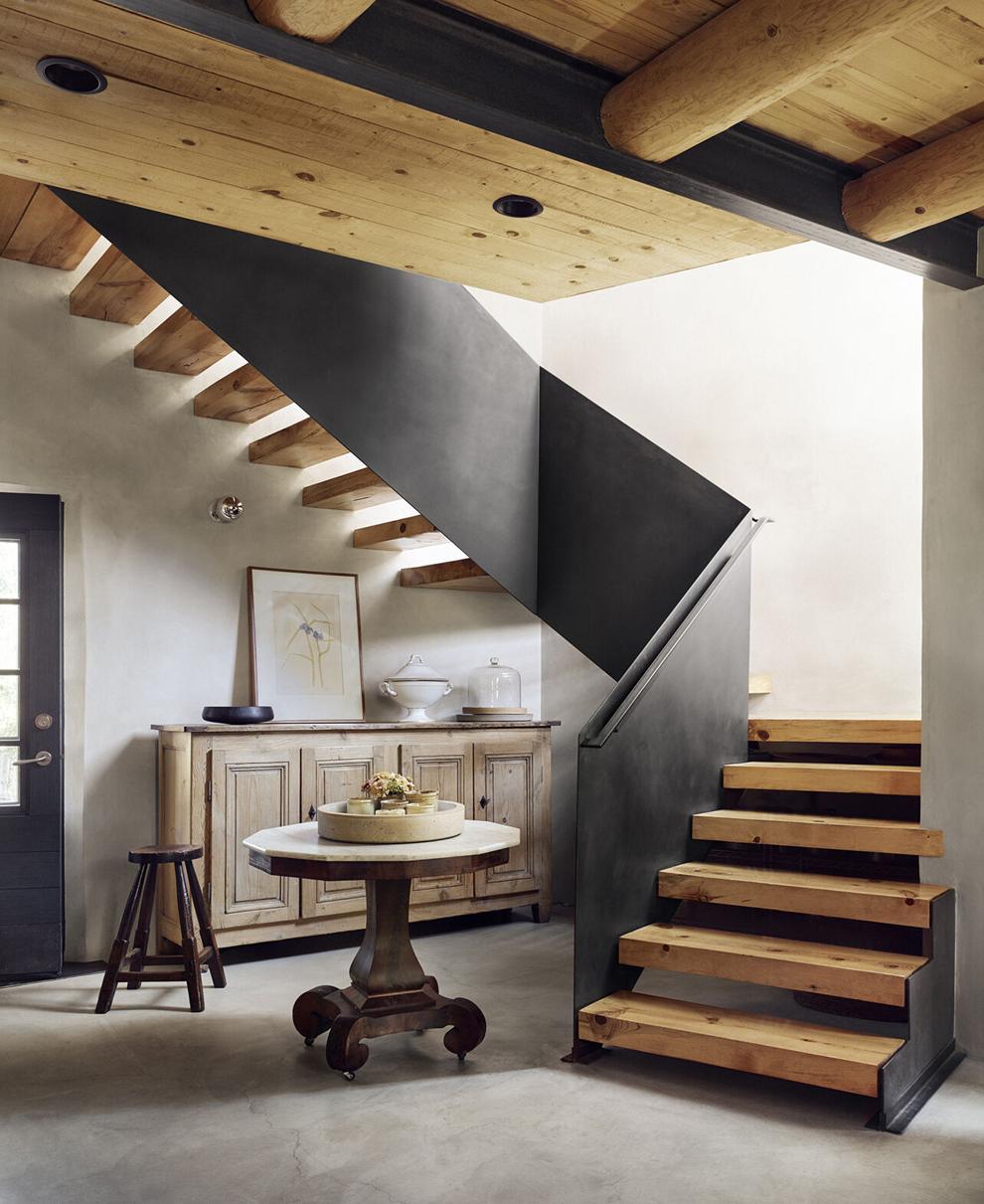 Santa Fe Modern is Thompson's last book in a trilogy on regional modern design. It follows Marfa Modern (2016) and Texas Made, Texas Modern (2018), which were also published by The Monacelli Press.
"There's a common thread that runs through all of those books and that is that all of the architecture I talk about is site specific," she says. "The buildings are sourced with local materials and built in local styles with techniques that have gone back, in those particular locations, for centuries. That's the connecting piece that ties these books together."
Not all of the homeowners whose houses are featured agreed to allow their names to be published, for reasons of privacy, and the associated photographs are identified solely by the individual architects or architecture firms that designed them.
Still, one wonders at the logistics involved in gaining access to so many external properties, as well as interiors. For that, Thompson had more than 30 years of experience writing about architecture and design to draw from.
"My first tip is, do not do it during a pandemic, because that made everything a lot harder," says the author, who's originally from Texas and now resides in Santa Fe. "We had to postpone the last five or six of the houses we were shooting until the quarantine was lifted, and then we could only enter some of the houses one at a time."
A former food writer and editor for Texas Monthly, Thompson's articles on architecture and interior design have appeared in Architectural Digest, House Beautiful, and Martha Stewart Living, among other publications. Along with that background came an extensive number of established contacts.
"I was based in Texas and, as you know, there's lots of Texans in Santa Fe. I just pulled that thread and followed it. I also checked in with Laura at the very beginning. She was very instrumental in making connections for me."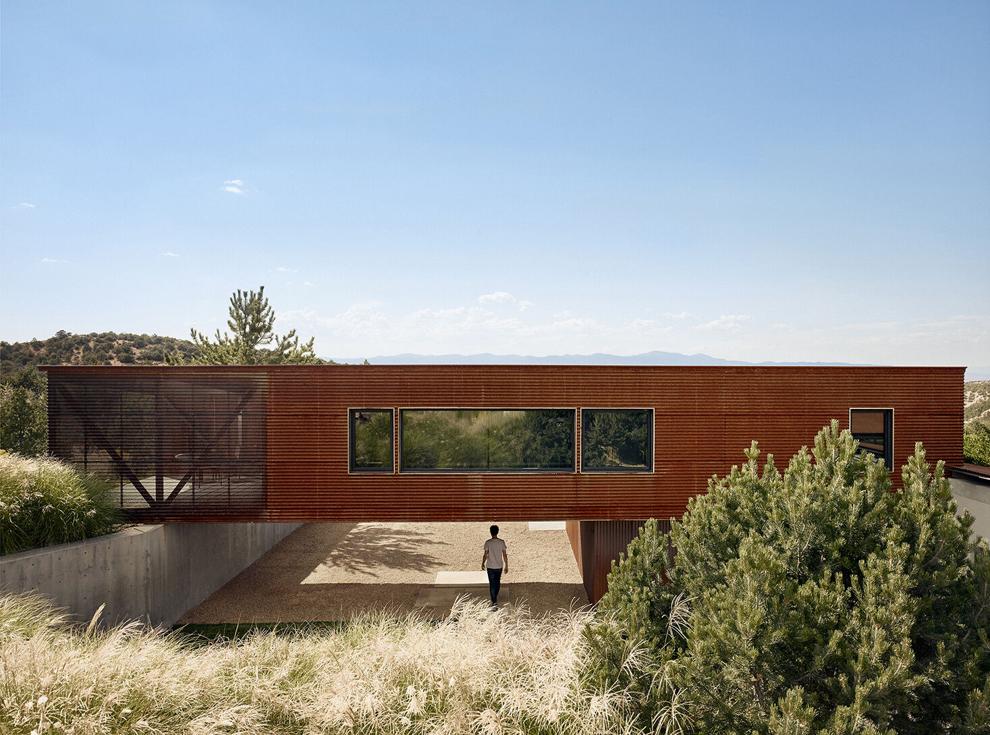 "Some of the architects are not from here," says Carpenter, who wrote the book's forward. "Lake/Flato are architects from Texas that have come out of a certain history of making architecture in a modernist style that's of a place."
The photographs on exhibit hang along three of the four gallery walls. A large video monitor occupies the last wall, on which every image reproduced in the book leisurely scrolls, eliminating the need for Carpenter to make the difficult choice of what to include in the exhibit and what to leave out. It's all there, either mounted as a print or scrolling on screen.
"One of the things I've heard people say as they come through is that it's nice to see the scale a little bit with the photographs blown up," says CCA Executive Director Danyelle Means. "It makes these houses become a little bit more alive."
Despite the emphasis on reductive geometry and the angular nature of many of the structures, the overall feeling of Santa Fe's modern architecture is organic. So many houses were developed in a way that maximizes experience of place, and not just because they have large plate glass windows that offer prime mountain views. They seem designed for minimal impact. The Klein house, for instance, with a glass exterior that forms at least one corner of the building, allows for a nearly uninterrupted view when you're standing outside because you're looking through the house.
"Santa Fe is sort of the quintessential example of the rightness of context," Thompson says. "What is surrounding the dwellings is the reason why they look the way they do, why they behave the way they do, and why they're sustainable, in a way."