Established: 1947, on the grounds of the Bruns Army Hospital
Bruns Army Hospital operated on the outskirts of Santa Fe during World War II. Legend has it that some of the long, gray barracks housed mentally ill German prisoners of war. And on one terrible night, some of these men murdered a nurse named Medina by cutting off her head and flushing it down a toilet. It's a farfetched story, to be sure, because how would a head fit through the plumbing? Nonetheless, it's one of the campus stories that was handed down through generations of students. Another version attributes the same murder to a tuberculosis patient gone mad.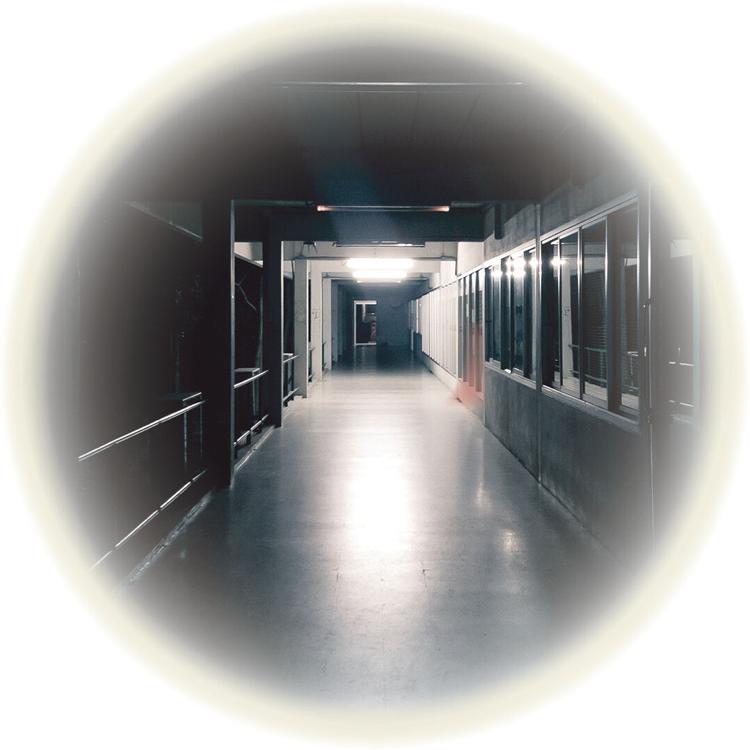 The College of Santa Fe (originally called St. Michael's College) opened in the old barracks, two years after the war had ended. For the next six decades, the college used the asbestos-filled structures as residences, classrooms, offices, and storage.
In 2003, I worked in the CSF public relations office, located in Barrack T-45, so named by the United States Army. (T stood for "temporary.") When I was alone in the building, I often heard a door open, and then footsteps would approach my office. It was something I got used to — but I'd never seen any apparitions. Most of my Nurse Medina stories came during reunions of 1960s and '70s alumni, who'd lived in the barracks when they housed fraternities. They told me that she wore a long, blood-covered cloak, and that bloody water sometimes burbled up through the drains in the bathroom floors, because of the way her killer had disposed of her head. I didn't believe much of what I had heard because fraternity reunions were notorious for the tall tales that accompany copious drinking.
When I finally ran into Nurse Medina, I initially assumed she was my administrative assistant.
I was unlocking my office around 8 a.m. when I happened to glance down the hall to see a woman enter the restroom and shut the door behind her. Nicole's wearing her red sweater today, I thought. And then, Is she bending over? Where is her head?
I started looking for who might be in the building. I first assumed that I'd mistaken the red watering can, which we kept on the counter next to the restroom, for a person. But I quickly confirmed that the watering can in question wasn't visible from my office. Thoroughly alarmed, I crept down the long hallway toward what I now suspected might be a haunted restroom. Nicole's office was on the way — and her door was closed because she wasn't at work yet.
I pushed open the restroom door. No one was inside. I shrieked when a man called my name from the lobby.
It was Brother Donald Mouton, a religion professor who'd served as college president in the 1980s. I told him what I'd seen, and he immediately said it was headless Nurse Medina. He was very excited, practically rubbing his hands together. He must've run out and told everyone he had seen because, over the course of the morning, a line of professors showed up to hear about the sighting. And then the media called.
Seasoned newsman Robert Nott alluded to my Medina sighting when he wrote about his overnight ghost hunt in the Santa Fe New Mexican on Oct. 31, 2003. For his article, he spent a night in the barracks with a photographer and a friend, an ex-Marine who considered himself a spirit hunter. They chose the cafeteria for their stakeout — which, contrary to longstanding local rumor, was never used as a morgue when the place was a hospital. Take it from someone who has spent more than a decade immersed in the finer points of CSF history: The cafeteria was always a cafeteria, which is not to say that it wasn't haunted.
Although Nott and his associates didn't encounter the headless nurse that night, they confessed to feeling several unsettling, chilly blasts of air. Ever the thorough researcher, Nott went to the college's archives, in the basement of Fogelson Library, in search of historical papers that referenced Nurse Medina. She wasn't listed on a 1944 duty roster, which could indicate she never worked at Bruns. But Nott pointed out that perhaps she was killed before 1944, or she could have arrived after that roster was compiled. Ultimately, however, there's no concrete proof that Nurse Medina ever existed.
But I know what I saw. I never spotted her again, but I heard those mysterious footsteps outside my office almost every time I was alone in the building. — Jennifer Levin