Some of the best poetry has been written under duress: in times of war and governmental repression; from inside the storm of bad marriages; or while in the throes of illness. As society comes together in an unprecedented wave of solidarity by staying inside our homes, Santa Fe's poets have gotten to work, making metaphor and meaning out of the state of the world. Santa Fe poet laureate Elizabeth Jacobson asked local scribes for some of their recent forays into the new subject matter of a worldwide pandemic.
"THE THIN LINE" by Kyce Bello
Stock trading halted by noon. Airplanes
grounded soon after. In an encampment in the forest,
a hunter knapping arrowheads
says, There is a hole where elders used to be.
The thin line of honking birds overhead could be geese,
but are Sandhill cranes. I now gauge
whom to trust by who can tell the difference.
My daughter hears it won't be children
who die. She grows quiet, then asks
So, kids will be the doctors?
Kids will be the teachers? and in the pause
between her question and No, no, of course not,
that future lifts its head to gaze at me.
At their compound in the woods, the hunters
sleep under bark and pine boughs.
They don't have guns or zippers. They say
that needing each other and being needed is better
even than a grocery store. They hold
hands and look at the stars and think
how once, each one was named,
and how now, or sometime soon enough,
when we've forgotten what to call them,
Kyce Bello's poetry collection, Refugia (University of Nevada Press, 2019), was the inaugural winner of the Test Site Poetry Series. She works as a progressive care nurse in Santa Fe.
---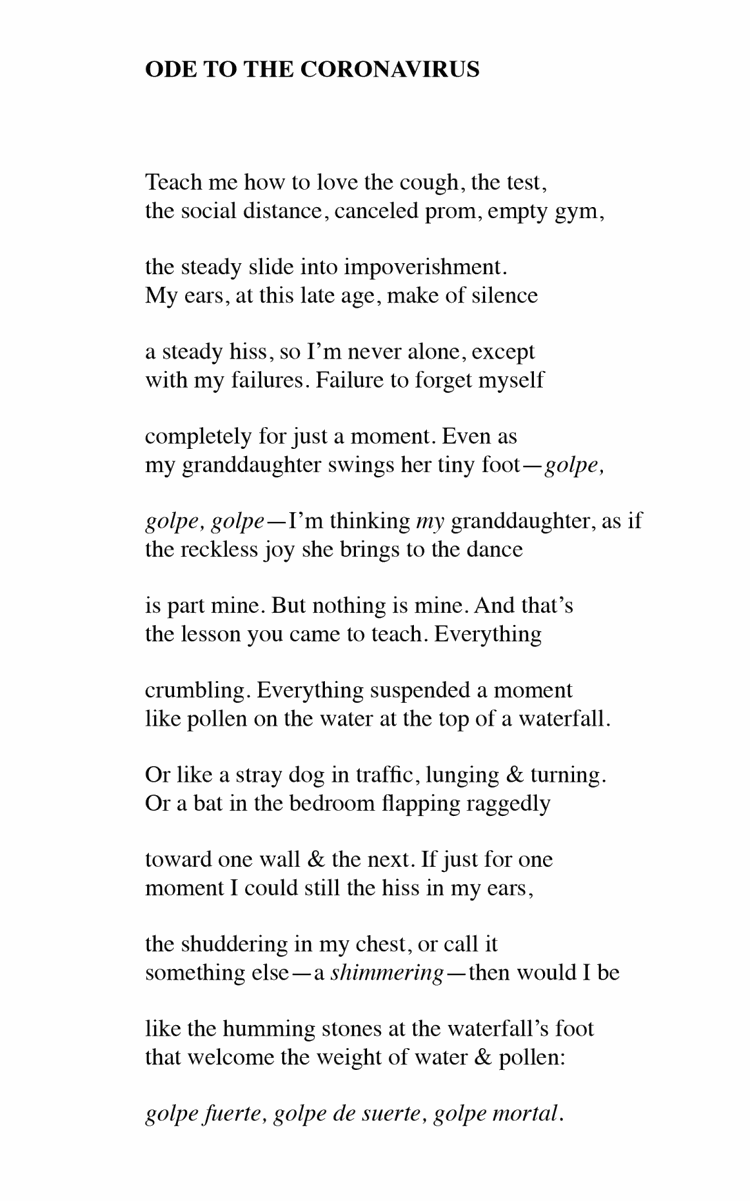 Jon Davis is the author of six full-length poetry collections, including An Amiable Reception for the Acrobat (Grid Books, 2019). He has received a Lannan Literary Award, the Lavan Prize from the Academy of American Poets, and two National Endowment for the Arts fellowships. He taught for 23 years at the Institute of American Indian Arts and then founded the IAIA low residency MFA program in Creative Writing in 2013, which he directed until his retirement in 2018. He served as Santa Fe poet laureate from 2012 to 2014. "Ode to the Coronavirus" originally appeared at terrain.org and is reprinted with permission. He lives in Santa Fe.
---
"POEM IN THE TIME OF VIRUS" by Veronica Golos
Let me be here, inside my ambered joy,
even with its hard-heart of Duende;
Remember — the sea-black whales
having found no resting place, returned; as did
the buffalo, dark rich clouds moving
upon rolling hills; let me remember
my shadow is the shadow of the sunflower;
Still as the horned lizard in heat,
camouflaged; We are in the world, aren't we?
Though every trace of us grows quiet now. Pity the air,
the world broken into time; shall we write
inked letters now? Shall we be moved
as red willows in wind? Shall we remember what we are
here for? Will our eyes become kind and deep, and
the bones of the nation, revive?
Veronica Golos is founding co-editor of the Taos Journal of International Poetry & Art, former poetry editor of the Journal of Feminist Studies in Religion, and core faculty at Tupelo Press' writers conferences. Golos is the author of four poetry books, including GIRL (3: A Taos Press, 2019), which was awarded the 2019 Naji Naaman Honor Prize for Poetry. She has read and lectured at Columbia University's Teacher's College, Hunter College, Julliard School of Music, and the University of New Mexico, among others. She lives in Taos.