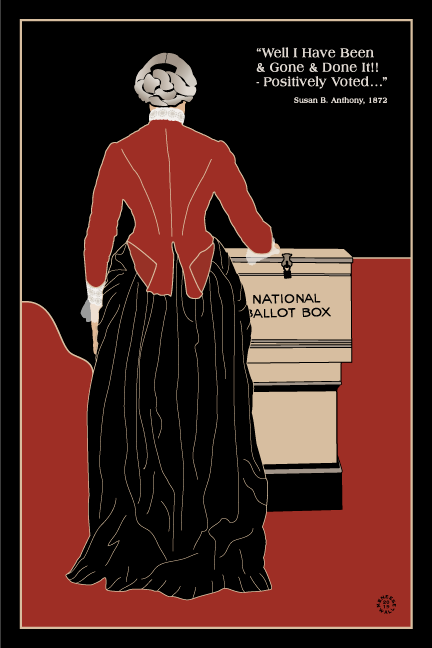 A few years ago, Meneese Wall's teenage daughter came home from school and complained about her history class.
"She said, 'Mom, what's the deal? Everything we study is a bunch of dead White guys,' " Wall recalls during a recent video interview. "It was the same when I was her age, and it never dawned on me to question it. That's why I love this younger generation. They question everything."
Wall, 60, embarked on a cursory internet search — "women in American history" — which revealed an intriguing trove of images of old-fashioned ladies dressed in white. She learned that they were suffragists, women advocating for their right to vote, which they did by marching in the streets, lobbying, posting fliers, and even flying planes overhead to drop informational leaflets on the populace.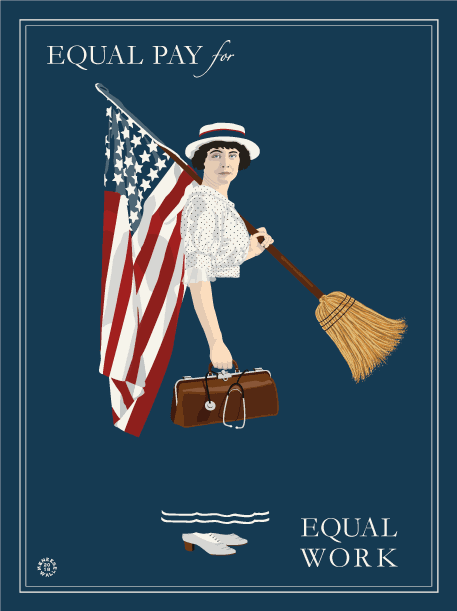 Suddenly, the Santa Fe-based graphic designer had a pet research topic. She read dozens of books and articles about the period, which began with the Seneca Falls Convention in 1848 and lasted until the 19th Amendment was passed in 1920, which prohibits state and federal governments from denying the right to vote to United States citizens on the basis of sex. She began creating notecards and fine-art prints featuring important women from the suffrage movement and sold them in museum gift shops. Each illustrated piece emulated the design style of the period it represented and included historical information about its subject. Eventually, Wall realized that she had a book on her hands.
"The thing that got me hot-to-trot is that this information isn't taught in schools, nor is it part of our social lexicon. People know more now," she allows, "especially since Trump got elected. It really galvanized women to say that we have to get women's history out there, and we have to inspire our young girls to see that others came before us, and we can do this."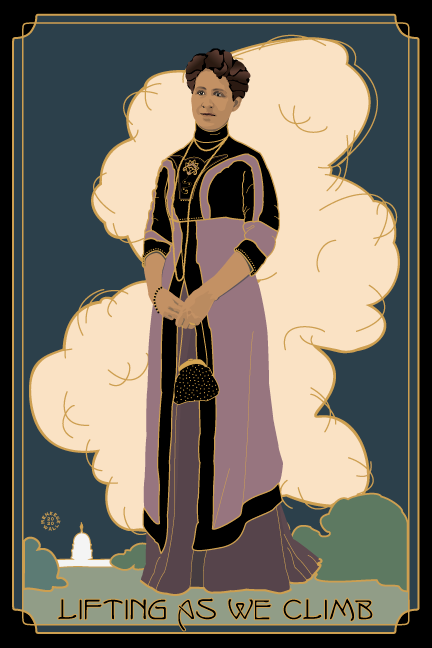 Wall isn't an academic, and she was a little trepidatious about being out of her depth, so she consulted with historians during the writing of We Demand the Right to Vote: The Journey to the 19th Amendment, which she self-published under her own imprint, Paxton Press, in 2020 (160 pages, $21.95, available at meneesewall.com; Wall says that a literary agent attempted to sell her book to publishers, and though there was some interest, their timing was off. The market was already saturated with books honoring the constitutional amendment's centennial year). The full-color, illustrated volume chronicles the history of the suffrage movement and is structured around biographies of individual women, benchmarks and milestones of the movement, quotes from suffragists, and other pieces of social history from the era, which is often referred to as the first wave of feminism.
"Meneese's book is really the most beautiful volume on women's suffrage that has come out this centennial year," says Carol Lasser, professor emerita of history at Oberlin College in Ohio. "We have other histories that are new this year, but Meneese combines text and visuals in a way that really enriches the story." The co-author of Elusive Utopia: The Struggle for Racial Equality in Oberlin, Ohio (2018) and Antebellum American Women (2010) provided fact-checking and general feedback on We Demand the Right to Vote.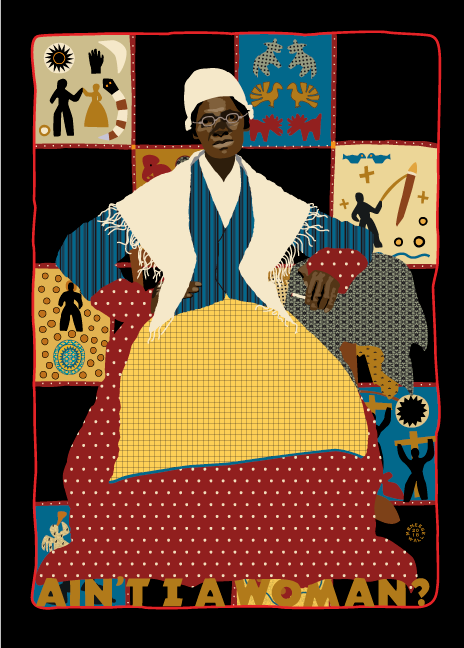 Wall had done significant research and was well-versed in much of the history by the time they met. One of the issues Wall and Lasser considered was the need to include more women of color in any new history of the suffrage movement. In We Demand the Right to Vote, Sojourner Truth, Harriet Tubman, and Mary Church Terrell take their proper place among more-often discussed personages, including Susan B. Anthony, Elizabeth Cady Stanton, and Carrie Chapman Catt.
Lasser explains that in the 20th century, the fight for women's suffrage took place at the same moment that people of color were losing most of the gains achieved during the Civil War. Black activists were fighting for voting rights as well. While the two groups supported each other in the early part of the suffrage movement, in the 1860s, the interests of Black activists and White women diverged over citizenship and voting rights amendments to the U.S. Constitution — and which group deserved its rights first.
"It's a complicated and difficult narrative," Lasser says. "Many scholarly historians are reluctant to recount the story of women's suffrage entirely as a racial struggle between White women and women of color. But by 1900, most people of color are fighting for women's suffrage and Black suffrage. On the other hand, you have many suffragists who are White women who … are less concerned with people of color."
Wall's chapter on the 1913 suffragist parade in Washington, D.C., demonstrates this friction. Led by Alice Paul, Lucy Burns, and Inez Milholland on the day before President Woodrow Wilson's first inauguration, "The procession included floats, marching bands, banners, and regiments of women in white advancing down Pennsylvania Avenue, organized in matching costumes by countries, states, and professions," Wall writes. "However, the event was not without controversy. Because Washington was segregated, Paul was concerned about alienating southern White suffragists. Her pragmatic solution, given the current political and social atmosphere, was to march Black suffragists at the back of the parade."
Pioneering investigating journalist and civil rights leader Ida B. Wells-Barnett refused to march at the back of the parade. Instead, she joined the delegation from her home state of Illinois. While Wall mentions Wells-Barnett's protest of Paul's so-called pragmatism, she doesn't indicate what Wells thought about the incident. According to some sources, Wells-Barnett was on the verge of tears when she announced to the marchers that "if they did not take a stand now in this great democratic parade then the colored women are lost." She's also reportedly said to the White suffragists, "Either I go with you or not at all. I am not taking this stand because I personally wish for recognition. I am doing it for the future benefit of my whole race."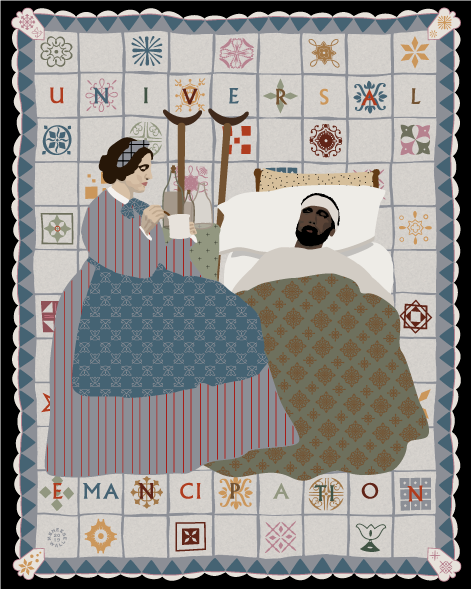 Lasser says that a complete accounting of the suffrage struggle would include the ways in which White women's failure to confront their prejudices at that moment perpetuated a racism that extended for two centuries. "I don't think they comprehended what their legacy would be," she says. "As we're trying to push forward the narrative, to have representation from empowered Black women who were involved in the struggle is a step forward. This is a fuller history than we've had."
What We Demand the Right to Vote conveys most clearly is the tireless dedication required to create social change and how long that change can take. The suffragists' fight for the vote extended over nearly three generations. In the 20th century, women became more outspoken: they lobbied elected officials; stood up to husbands and fathers who dismissed their concerns; and were even arrested for the cause. But it took time for the earliest among them to gather the courage to even speak publicly on their own behalf, Wall says.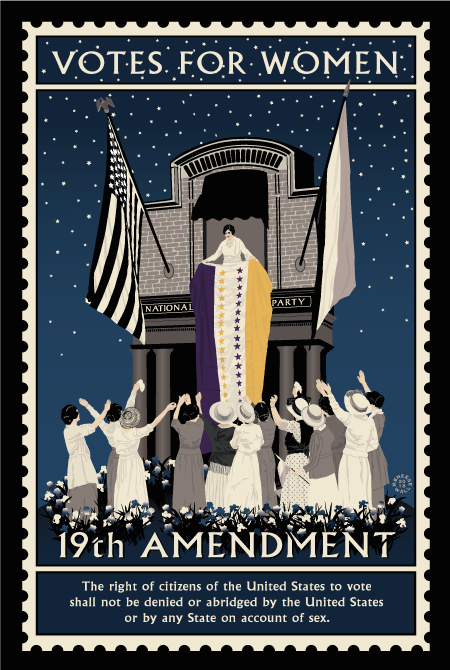 Elizabeth Cady Stanton, who wrote the Declaration of Sentiments for the 1848 Seneca Falls Convention, "was very hesitant to get up. She wanted a man to do the talking first," Walls says. "[Quaker social reformer] Lucretia Mott encouraged her to inspire the women, and [abolitionist and statesmen] Frederick Douglass was a huge supporter. At some point in time, though, [Douglass and the White suffragists] were at odds because was it time for rights for Blacks or for women? They deserved it equally.
"It's like today," she says. "I'm fascinated by how much things are repeating themselves, in a sense. We still have women saying we don't have as many rights as men, and we have the Black community, rightfully so, saying the same thing. Change is so slow that it's painful." ◀