Whether you're headed to a far-flung beach or a nearby couch, these books are worthy additions to your summer reading list.
NONFICTION
Ancestor Trouble: A Reckoning and a Reconciliation
By Maud Newton, Random House, 400 pages, $20.04
There's no shortage of books about shocking family revelations uncovered through research and DNA testing. But few writers can offer a tale as riveting and timely as Newton does here, detailing her discovery of racism, violence, and cruelty passed down through multiple generations of her family tree. At its best, Ancestor Trouble becomes a kind of personal reconciliation project, boosted by lyrical writing and wide-ranging scholarship.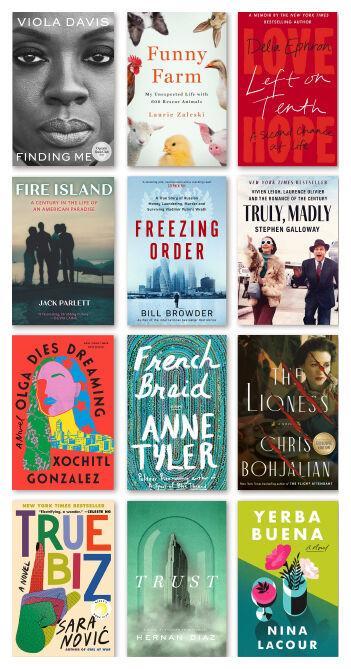 Finding Me
By Viola Davis, HarperOne, 304 pages, $18.53
One of the finest actors of her generation delivers a memoir that's no breezy Hollywood tell-all. Instead, the Oscar, Emmy, and Tony winner delves into growing up "po" ("That's a level lower than poor," she clarifies) in an abusive home, and ultimately channeling her pain and trauma into wrenching performances in Doubt, Fences, and other films.
Fire Island: A Century in the Life of an American Paradise
By Jack Parlett, Hanover Square Press, 272 pages, $27.99
Parlett offers a sweeping history of Fire Island, from its Native American settlers to its rise as a gay resort destination. Paying special attention to the literary luminaries who spent time there — Frank O'Hara, James Baldwin, and Patricia Highsmith among them — the book explores the area's cultural importance, as well as the tragedies that befell residents during the AIDS epidemic.
Freezing Order: A True Story of Money Laundering, Murder, and Surviving Vladimir Putin's Wrath
By Bill Browder, Simon & Schuster, 336 pages, $18.89
This sequel to Browder's Red Notice couldn't be more topical. It documents how Russian companies try to outmaneuver U.S. legislation designed to prevent powerful people from parking their ill-gotten assets in safe havens abroad. With prose that reads like a thriller, Browder walks us through legal strategies and developments that include enough high drama, plot twists, and colorful characters for a movie.
Funny Farm: My Unexpected Life with 600 Rescue Animals
By Laurie Zaleski, St. Martin's Press, 256 pages, $23.49
After a hardscrabble childhood that sparked her devotion to all creatures, Zaleski started a 25-acre animal sanctuary in New Jersey, where she cares for abandoned animals: dogs, cats, ducks, donkeys, even skunks. In a memoir that's both uplifting and heartbreaking, Zaleski recounts her father's violent outbursts, her mother's attempts to keep her children safe, and the adoption of the inaugural member of their furry brood: a German shepherd named Wolf.
The Last Resort: A Chronicle of Paradise, Profit, and Peril at the Beach
By Sarah Stodola, Ecco, 352 pages, $25.19
Here's a beach read that will make you think. Stodola explores the fascinating history of how beaches became our dream destinations. The 19th-century notion that saltwater and sea air were panaceas led inexorably toward the creation of decadent resorts in Monte Carlo and beyond. Since then, beach vacation mania has led to overdevelopment, erosion, and complications for communities where resorts spring up. Happy swimming!
Left on Tenth: A Second Chance at Life
By Delia Ephron, Little, Brown and Company, 304 pages, $24.99
After the deaths of her husband and beloved sister, Nora, Delia Ephron's life seemed to be turning around with a new romance. Then she was diagnosed with acute myeloid leukemia, the same illness that killed her sister. Ephron's memoir honors the depths of fear, sickness, and sorrow, but she also celebrates with humor and awe the great fortune of small thrills.
Rickey: The Life and Legend of an American Original
By Howard Bryant, Mariner, 448 pages, $26.99
Bryant, the author of the Hank Aaron biography The Last Hero, turns his attention to left-fielder Rickey Henderson, who stole more bases and scored more runs during his career than any other Major League Baseball player in history. More than just a portrait of the "Man of Steel," Bryant's book considers how Henderson's Oakland upbringing shaped him and how Henderson, in turn, transformed the culture.
Truly, Madly: Vivien Leigh, Laurence Olivier and the Romance of the Century
By Stephen Galloway, Grand Central Publishing, 416 pages, $24.99
Vivien Leigh and Laurence Olivier's pairing was a bad idea from the start, when each abandoned a spouse and child to strike up a turbulent romance. Galloway, the former executive editor of the Hollywood Reporter, lifts himself clear of previous chronicles by weaving in more details of Leigh's bipolar disorder, which manifested itself variously as violent mood swings, tumultuous affairs, and, on occasion, psychotic breaks.
Watergate: A New History
By Garrett Graff, Avid Reader Press/Simon & Schuster, 832 pages, $21.99
Nearly half a century has passed since five men were arrested inside the offices of the Democratic National Committee in the Watergate office building. During that time, scores of books have been published about the scandal and the resignation of President Richard Nixon. Do we need another? Yes. This one is a remarkably rich narrative with compelling characters, who range from criminal and flawed to tragic and heroic.
---
---
FICTION
French Braid
By Anne Tyler, Knopf, 256 pages, $18.03
Everything about Anne Tyler's 24th novel is immediately recognizable to her fans: the kind but flinty Baltimore family, the quirky occupations, the special foods. There are times when such familiarity might feel tiresome. But more than ever, we need Tyler's comforting tales, documenting the mingled strains of affection and exasperation that tie a family together, the love that persists somewhere between laughing and sighing.
Lessons in Chemistry: A Novel
By Bonnie Garmus, Doubleday, 400 pages, $18.48
Garmus, a venerable copywriter and creative director, released her debut novel just shy of her 65th birthday, and the 1960s-set comic novel arrived right on time for readers in need of a laugh. Its indelible protagonist is Elizabeth Zott, a gifted research chemist with a popular cooking show who refuses to bow to convention, even when it gets her in trouble — and it often does.
The Lioness
By Chris Bohjalian, Doubleday, 336 pages, $19.16
It's 1964, and Hollywood starlet Katie Barstow decides to take her closest friends along on her honeymoon safari in the Serengeti. On this luxury excursion, there's even a kerosene-powered ice machine to chill the gin and tonics. What could possibly go wrong? Just about everything, starting with a band of ruthless Russian mercenaries, who turn Bohjalian's 23rd book into a bloody sprint of a read.
Mecca
By Susan Straight, Farrar, Straus and Giroux, 384 pages, $22.14
A highway patrolman struggles to keep a deadly secret; a woman becomes a single mother overnight; and a traumatized migrant discovers an abandoned baby. The disparate experiences of characters living in Southern California — far from the glitz of Hollywood — gradually interweave to create a celebration of families made all the more poignant by the constant threat of separation, exile, or worse.
Nuclear Family
By Joseph Han, Counterpoint, 320 pages, $26
Han's inventive novel begins from the perspective of a ghost, desperate to cross the Korean demilitarized zone in search of his long-lost family. His only option is to possess the body of his grandson, Jacob, an American teaching English in Seoul. When video of Jacob's failed attempt to enter North Korea goes viral, things get complicated for his parents and sister back in Hawaii.
Olga Dies Dreaming
By Xochitl Gonzalez, Flatiron, 384 pages, $13.99
This smart debut about a celebrity wedding planner whose love life is in shambles stretches the seams of the rom-com genre. It lures us in with laughter and keeps us hooked with an engaging satire of consumer excess, an appraisal of business morality, and a study of international relations.
Ordinary Monsters
By J.M. Miro, Flatiron, 672 pages, $26.09
The first novel in a planned historical fantasy trilogy starts in Victorian England, where two castoff children with extraordinary powers are targeted by a man made of smoke. The ostensible pariahs realize they're part of a larger community — the Talents — when they end up at a special school alongside other exceptional misfits who are the world's only defense against an apocalyptic future.
Sea of Tranquility
By Emily St. John Mandel, Knopf, 272 pages, $16.25
St. John Mandel's latest is a curious thought experiment that borrows from the plague terror she spun in Station Eleven and the perception-bending tricks she played in The Glass Hotel. The interlocking stories stretch from 1912 to 2401, where a man learns that "moments from different centuries are bleeding into one another." This is science fiction about loneliness, grief, and finding purpose.
True Biz
By Sara Nović, Random House, 400 pages, $11.23
A boarding school for deaf students is the setting for a novel that presents a kaleidoscope of experiences, including a girl meeting a deaf person for the first time and a boy's struggle with the birth of his hearing sister. Nović is a thoughtful tour guide through her own deaf culture, providing mini history lessons and illustrations of vocabulary words in American Sign Language.
Trust
By Hernan Diaz, Riverhead, 416 pages, $25.20
Diaz, a Pulitzer Prize finalist, has created an irresistible puzzle of a novel. Each of the four parts offers a different perspective on the life of an enigmatic Wall Street tycoon who rose to fame and fortune in the early 20th century. Diaz is interested not only in the way wealthy men burnish their image, but also in the way such memorialization involves the diminishment, even the erasure of others.
Yerba Buena
By Nina LaCour, Flatiron, 304 pages, $18.89
Teenagers Sara and Emilie are immediately drawn to each other when they meet by chance at a Los Angeles restaurant. Their connection might have something to do with their shared histories: Both have weathered tragedies born of drug addiction. But circumstances keep driving them apart over the course of years as each narrates her own coming-of-age story. ◀
All hardcover book prices and page counts sourced from amazon.com.