In the winter of 1810, American ornithologist and painter John James Audubon (1785-1851), accompanied by American businessman Jean Ferdinand Rozier and a slave, set out on an expedition from Henderson, Kentucky, where Audubon lived with his wife, Lucy. They journeyed to the mouth of the Cache River, a tributary of the Ohio, and camped out near a band of Shawnee Indians. With gifts of ammunition and whiskey, Audubon convinced the Shawnee to guide him on a hunting trip to a nearby lake, where legions of trumpeter swans were known to flock. In his writings, Audubon recounted the ensuing slaughter of the birds. He would bring these dead specimens home to serve as models for his art, and the feathers would be sold to the European fashion industry, where they were highly valued.
For Santa Fe-based artist, photographer, and activist Krista Elrick, the episode was troubling.
"I call it a massacre," says Elrick, who spent 10 years on a project involving Audubon and the changing environments he documented while compiling his survey of American birds. "It happened on December 25th, and he was quite proud of himself."
After reading about it, Elrick wanted to go where the swan massacre took place, embarking on her first field expedition to a place so intimately connected to a controversial figure.
"I wanted to get my own teeth into it," she says. "I went to the place where Audubon frustrated me the most and where I was most confused about his actions and the history surrounding the whole scene. It was a history that I never learned in school, and I wanted to know why."
Elrick is the author of A Country No More: Rediscovering the Landscapes of John James Audubon (George F. Thompson Publishing, 256 pages, $55), which is the culmination of an ambitious venture that began in 2010. With a vintage Hasselblad camera in hand and a Eurovan camper serving as her home away from home, Elrick began retracing Audubon's routes through the East. Her intention was to find and photograph the many birds the 19th-century naturalist depicted in his monumental work, The Birds of America (1827–1838). What she found instead was a radically altered landscape, where the old-growth forests of Audubon's time gave way to urban sprawl and developments and where many of the birds he documented now exist in greatly reduced numbers or have become extinct.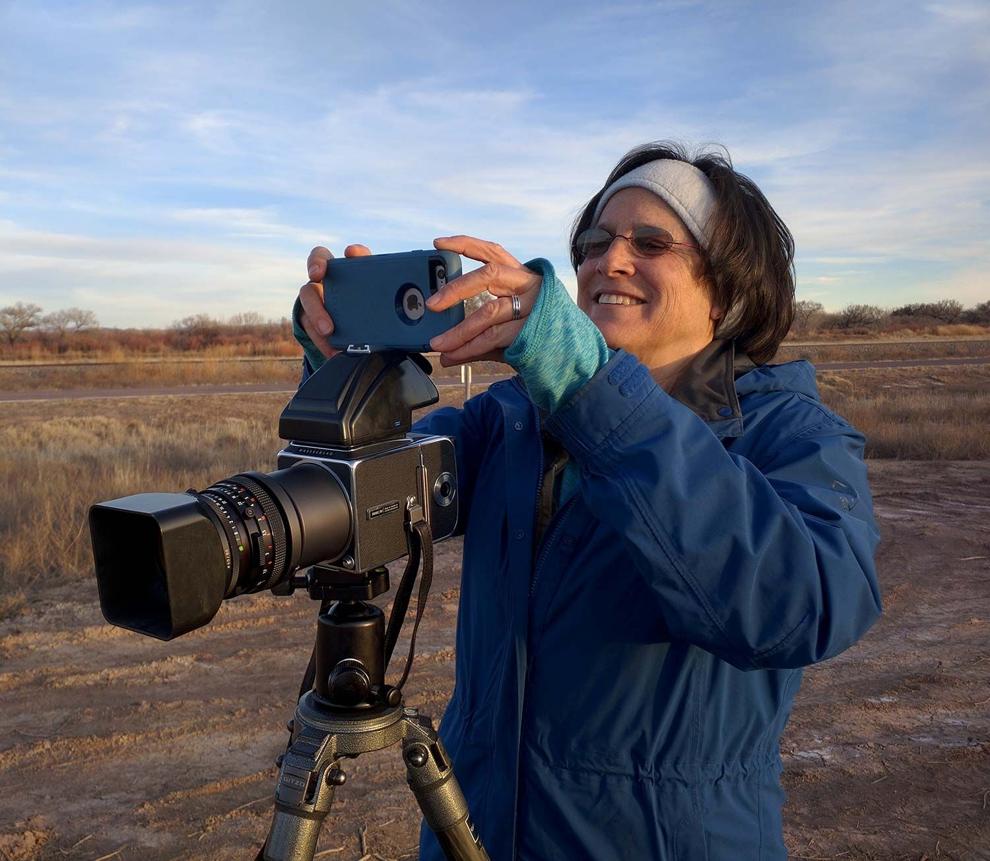 A Country No More includes contributions by James David Moran, vice president of programs and outreach at the American Antiquarian Society, as well as Gregory Nobles, professor emeritus of history at the Georgia Institute of Technology, Mary Anne Redding, former chair of the photography department at the Santa Fe University of Art and Design, and Joanna Hurley, agent and producer of fine art and photography books.
The book is not a takedown of Audubon, although it's eye opening for anyone who sees him in the same light in which we regard conservationists and ecologists working today.
"He remains controversial," Elrick says. "I think that's good because it helps us talk about difficult issues, about him and the times that he lived in. Ultimately, I think he's the epitome of the American character. In all of his personality, he's very American, and Americans love him. It is an amazing task that he accomplished. He didn't have any money, but he did finish because of his persistence, and we still admire him today for that."
For Elrick's part, he "got under my skin."
"It was just, 'I've got to figure out why I was not seeing the birds that he did, and I've got to better understand why he killed so many birds and traded in slaves and made boasts about his own life.' He was not the man I ever thought he was, and yet he's so revered."
A Country No More is a book to savor for its prose — Elrick's, her contributors' and Audubon's, whom we get to know through his journal entries — and for its imagery. Elrick's photographs, shot on film and developed in a darkroom, are juxtaposed in creative ways with vintage maps, Audubon's avian imagery, and other ephemera in collages that underscore the changes to the landscape over time.
In a piece called Visions of Recovery for the Twenty-first Century (2020), for instance, a map from 1806, partially obscured by a detail from a Havell plate of Audubon's watercolor of a trumpeter swan, shows the territory of the Louisiana Purchase. Her own black-and-white photo of the site of the swan massacre overlays the map and depicts the region as it appears today, with roads, promontories, and flat stretches of muddy land in a place Audubon described as an area of vast trees and "immense masses of foliage."
There's not a bird in sight.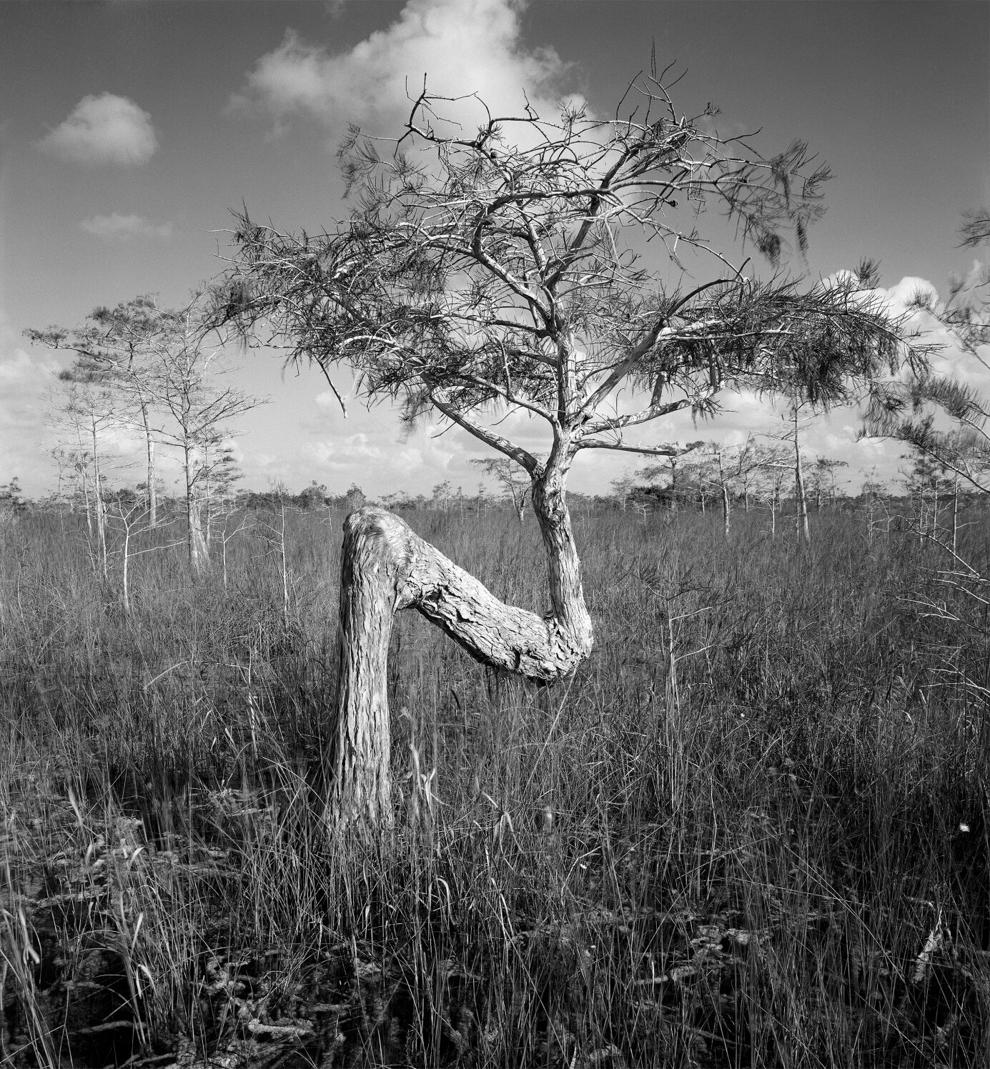 Elrick, who's in her mid-60s, began the project with a very different intention. She wanted to photograph birds. When she was around 40 (after recovering from a cancer diagnosis), she received a commission for a public art project through the Seattle, Washington-based organization Cancer Lifeline. It was a joint project between Elrick and Santa Fe-based historian and environmentalist Jack Loeffler.
"We were hired to make a film about cancer to give hope to patients and their families," she says. "We're sitting around the table, deciding on the script, and Jack's like, 'I think we should use birds as the metaphor for hope, vulnerability, flight, and death.' I said, 'Jack, I have never photographed a bird. I don't even have a camera for a bird. I think you should find another photographer.' He was, like, 'No, Krista. Go down to the Bosque del Apache. Just check it out and see what the birds are doing there.'"
Located in southern New Mexico, the Bosque del Apache National Wildlife Refuge is a favored spot for watching migrating birds, particularly Sandhill cranes. Elrick became fascinated by the idea of using migration as a metaphor in her artistic practice.
"At the time, I was teaching at the Santa Fe Community College, so I took students to Alaska and Texas to look at migrating birds there and, somewhere along the line, somebody said 'If you really want to know where birds are, you should read about John James Audubon.'"
As photographic subjects, birds weren't something Elrick could control. That excited her in the same way that the element of chance in the darkroom excited her.
"I couldn't tell them what to do," she says. "I just had to kind of learn from them. That began my journey with Audubon."
Elrick began reading Audubon's journals, and when her daughter went off to college, she bought the camper and headed east.
"It was his writings that excited me the most," she says of a figure who's known less for his writings than for his portraits of birds.
"That surprises me because he's really a good writer. Well, I must say, he's been edited very well. I've come to learn that whatever you read of his, you have to kind of know that he's been edited. Even in his own paintings. Yes, he did the birds, but, generally speaking, he did not do the backgrounds. He never really felt comfortable with backgrounds and was smart enough to hire an assistant to do that for him. When he went on his journeys, he had an assistant. He didn't always give them credit for their work, but he did have an assistant."

Despite what you may glean from the book's subtitle, A Country No More is not a monograph on Audubon's unknown landscape paintings. In fact, the book features only one: View of Natchez, an oil on canvas from 1823 depicting the town of Natchez, Mississippi. Its placement in the book is just below a panoramic spread of Elrick's own silver gelatin photograph of the town as it appeared in 2010, virtually showing the same view. Only a bridge now stands, spanning the Mississippi, and modern buildings replace the idyllic architecture of Audubon's rendering of the Southern town. But the church steeple, captured in Audubon's painting, still stands, off in the distance, a remnant of the town that was.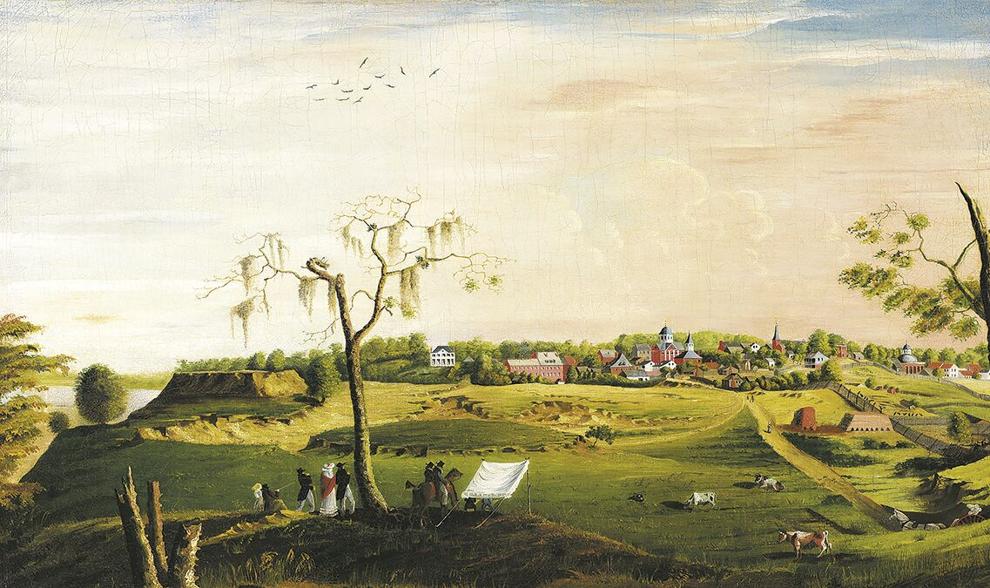 Audubon lamented the impact of encroaching civilization on the environment. Even in pre-industrial America, those changes came swiftly. In his contributed essay, "John James Audubon: Lessons in Looking," Nobles cites a moving summation of Audubon's troubling view of the destruction of the natural world, which was published in Ornithological Biography (1831-1839), Audubon's written companion to The Birds of America. In it, he grieves the loss of the elk herds, deer, and buffalo, and the disappearance of the Native populations in the wake of America's rapid expansion of roads, villages, farms, and towns "where the din of hammers and machinery is constantly heard" and "the woods are fast disappearing under the axe by day, and the fire by night."
Audubon writes, "I see the surplus population of Europe coming to assist in the destruction of the forest, and transplanting civilization into its darkest recesses; when I remember that these extraordinary changes have all taken place in the short period of twenty years, I pause — wonder — and, although I know it all to be fact, can scarcely believe its reality."
And so it's with some degree of consternation that we look on him today, a figure capable of poignant reflection on the imperiled state of the environment, yet one who could wantonly partake in the slaughter of hundreds of birds. And we wonder if his statement was more projection than reflection. The trumpeter swan was hunted so heavily in the 19th and early 20th centuries that its extinction seemed imminent until the concerted reintroduction efforts of wildlife agencies and the Trumpeter Swan Society led to a gradual rise in its population.
"I started out being fascinated with him and ran the full gamut to being fully disgusted and really despising the man. My position evolved. I was so angry with this man for so long and so angry with how things have come to be. But I think the way to really influence and change hearts and minds is to give people the information and to be honest and open, and build a story that makes people think about things differently. I hope that this book has done that."