In Indigenous communities across the Southwest, pottery is a historic tradition. But glassmaking, which has a history dating back over 6,000 years, was never a significant path for creative expression among Native artists until late in the 20th century. Two regions in the United States continue to impact the development of Indigenous glass art — the Southwest and the Pacific Northwest — and artists from those regions are at the forefront of a contemporary movement.
Integral to the history of this movement is a little-known episode that took place in the early years of the Institute of American Indian Arts. The year was 1974 and famed glass artist Dale Chihuly, a prominent figure in the American Studio Glass movement, came to IAIA to build a hot shop and teach glass art for a semester. The legacy can be seen today in the exemplary works on view in the Museum of Indian Arts and Culture's new exhibition, Clearly Indigenous: Native Visions Reimagined in Glass. The show explores the intersection of Indigenous themes and a medium that's not historically associated with Indian Country. Featuring works by nearly three dozen artists, Clearly Indigenous establishes glass as a notable medium for the expression of Indigenous culture. The exhibition is the first authoritative survey on Native glass artists and includes numerous examples of blown, kiln-formed, and cast glass sculptures.
"I think the fact that Chihuly is sort of the leading practitioner of glass art, and the fact that he started a teaching program here and a teaching program in Washington state made a big difference," says Letitia Chambers, guest curator for the exhibition.
In addition to the show, Chambers authored Clearly Indigenous: Native Visions Reimagined in Glass (2020, Museum of New Mexico Press, 192 pages, $45), which delves into the history of Native glass art from its auspicious beginnings to the present time. The book, which features 200 color photographs, has a slightly different purpose than the exhibition, Chambers says, although most of the work featured in it is included in the show.
"The thing that distinguishes the exhibit from the book is that the exhibit is organized by the content of the pieces themselves," she says. "It's organized by textile shapes, or by whether the work represents an animal or fish. The book's content is more about the artists and their processes."
Groundbreaking artists who were among the first generation of Natives to work in glass include Inupiaq artist Larry "Ulaaq" Ahvakana in the Pacific Northwest and Isleta Pueblo artist Tony Jojola in New Mexico. Jojola studied at IAIA in the mid-1970s under Osage artist Carl Ponca, who taught glass and sculpture courses and took advantage of the hot shop built by Chihuly.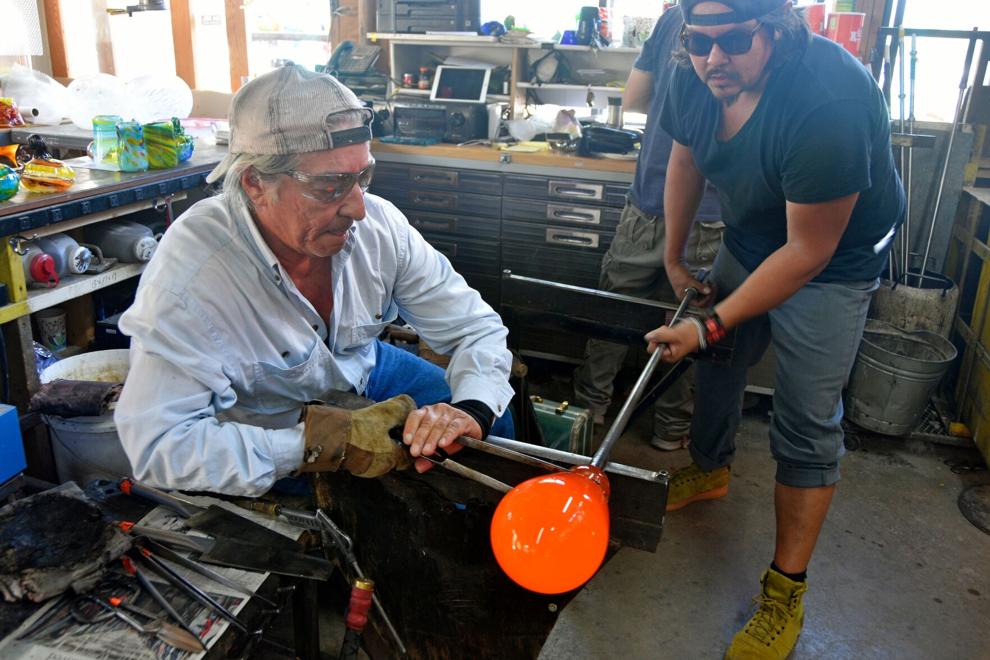 Chihuly's advocacy of Native glass artists continued in Taos. A program modeled on Chihuly and Kathy Kaperick's glass workshop, Hilltop Artists, in Tacoma, Washington, was started there by Kaperick and Jojola in the late 1990s.
"Tony taught and Chihuly financially supported the program to get it started," Chambers says. "Depending on who you talk to, it was there for 10 or 15 years. I usually just fudge it and say over a decade. Several of the artists from this local area first began there, like Robert 'Spooner' Marcus and Ira Lujan."
These teaching programs in Washington and New Mexico are partially responsible for the two regions' reputations as centers for glass art and helped lay the groundwork for continuing collaborations between the artists of both areas of the country, including artists who built their careers working in other mediums.
Three artists from New Mexico, whose work is featured in the exhibition — Tammy Garcia and Jodi Naranjo (Santa Clara Pueblo), and Harlan Reano (Kewa Pueblo) — are known primarily for their pottery. But each of them produced a series of stunning works in glass that reflect the influence of their innovative Pueblo pottery designs. The works were created in collaboration with renowned Tlingit artist Preston Singletary.
"I never thought my Pueblo pottery would turn into glass," says Naranjo, who's done three collaborations with Singletary over the last eight years. Her first collaboration was suggested by Singletary and Blue Rain Gallery owner Leroy Garcia. She was hesitant at first because glass was an unfamiliar medium.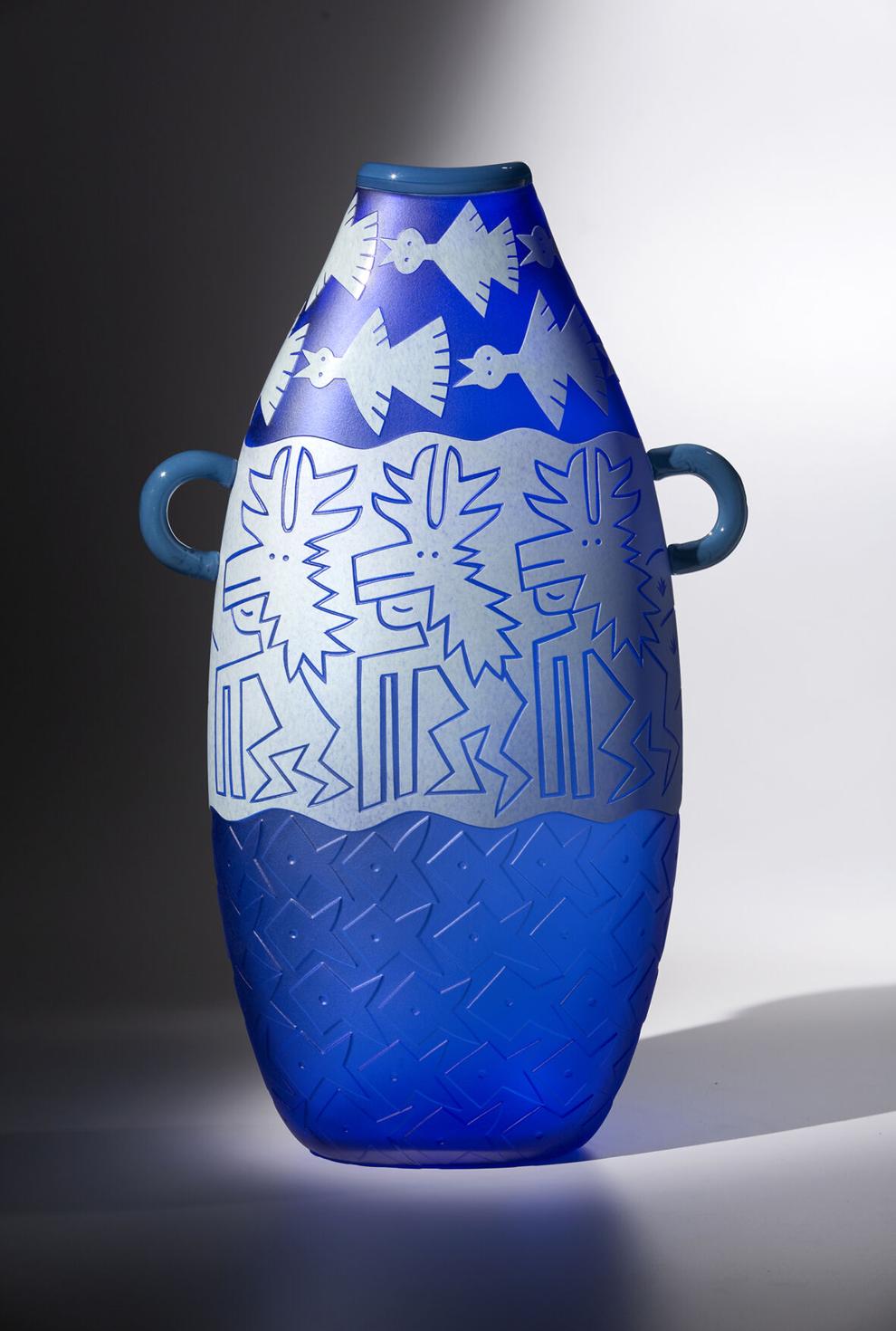 "It was kind of scary," Naranjo says. "Preston is such a big name in glass. It was kind of like throwing me into the deep end. I was like, I don't know if I can do that, but he was like, 'You got this.' When I went out to Seattle the first time, Preston was like, 'OK. What colors?' I was like, Well … brown? Before you know it, we were doing turquoise, purple, red, blue, green, and every color possible."
Naranjo, a fifth-generation potter is known for her incised pottery pieces, which reflect narrative themes and contain reductive or geometric figurative forms inspired by her Pueblo heritage. Her collaborations with Singletary show a successful translation of her distinctive style into works in blown glass.
Surprisingly, Naranjo expresses a love for the flexibility of the medium, although you might think of clay as a more forgiving material to work with than glass.
"Sculptural clay, commercial clay, is very malleable," she says. "Pueblo pottery is not. We're digging our own clay out the ground. It's not a sculptural kind of clay. It can't go in whatever way you want like a commercial clay can. That's why the shapes and colors are more conservative. We're using traditional clay, techniques, and materials."
The element of light, which often gives works in glass much of their visual impact, is another factor that's drawn her, more and more, to working with the medium.
"In pottery, you can't see the inside," she says. "You can't see the light through it. You can't see dimension like you can with glass. That brings it to a whole new level."
Like Singletary, Lummi artist Dan Friday, of Coastal Salish heritage, is among the second generation of Native glass artists who brought the medium to prominence among artists of the Pacific Northwest. The willingness of these artists to work collaboratively with artists not accustomed to working in glass shows a commitment to advancing the medium. Lillian Pitt (Wasco, Yakima, Warm Springs), for instance, is known for her works in clay and bronze. Clearly Indigenous features several collaborative works that Pitt made with Friday in 2018.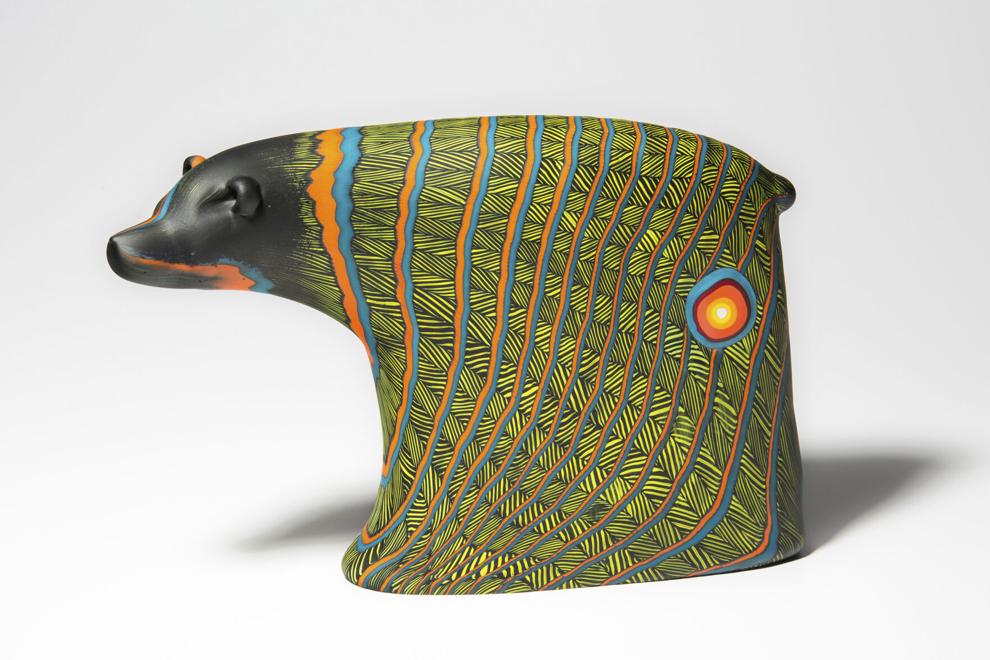 "This is all very contemporary," Chambers says of the work in the show. "Many of the pieces were made in the last two or three years. "All of the artists but two are living: Marvin Oliver, who died about two years ago, and Carl Ponca."
Although the museum isn't able to include an actual hot shop (due to safety reasons), a room inside the exhibit features a photographic mural along three walls that show Native glass artists working in hot shops and provides some background on the processes involved. These details are also included in the book. By contrast, the exhibition proper is focused on showcasing the works, which are presented in directed lighting that heightens their visual impact.
"I think this exhibit is significant enough that it's really going to bring about a great deal more interest in glass art in Santa Fe," Chambers says. "So many people don't realize that there are Indigenous artists doing glass. I think there'll be a lot of crossover between glass aficionados and collectors of Indian art who are not familiar with glass art. It will be interesting to see how people react." ◀