The girl's face fills the frame of the black-and-white photograph, but it's difficult to read her expression. Resigned, perhaps. Although she appears to be no older than 11 or 12, she's about to leave her childhood behind. The girl is a child bride in a province of Vietnam, and this is her wedding day.
"When I saw those eyes through the lens, I really could not tell who was on which side of the camera," says photographer Joseph Cosby, who shot the image. He never got a chance to speak with her. Despite that moment of empathy, when he felt that subject and photographer were one, he'll never really know what was going on inside of her and tries to avoid projecting a narrative of his own onto the girl.
"I would be scared — and this sounds corny — that I was trespassing on her soul," he says. "At the same time, I knew, I felt, that this needed to be shared."
Cosby's street photography takes him around the world. His photographs, published in a recent monograph called Searching for My Lost Tribe (One World Art, 192 pages, $125), are portraits of people and scenes of daily life among a cross section of international populations. His subjects are members of the human family, but for Cosby, who was abandoned as an infant, they could be members of his own.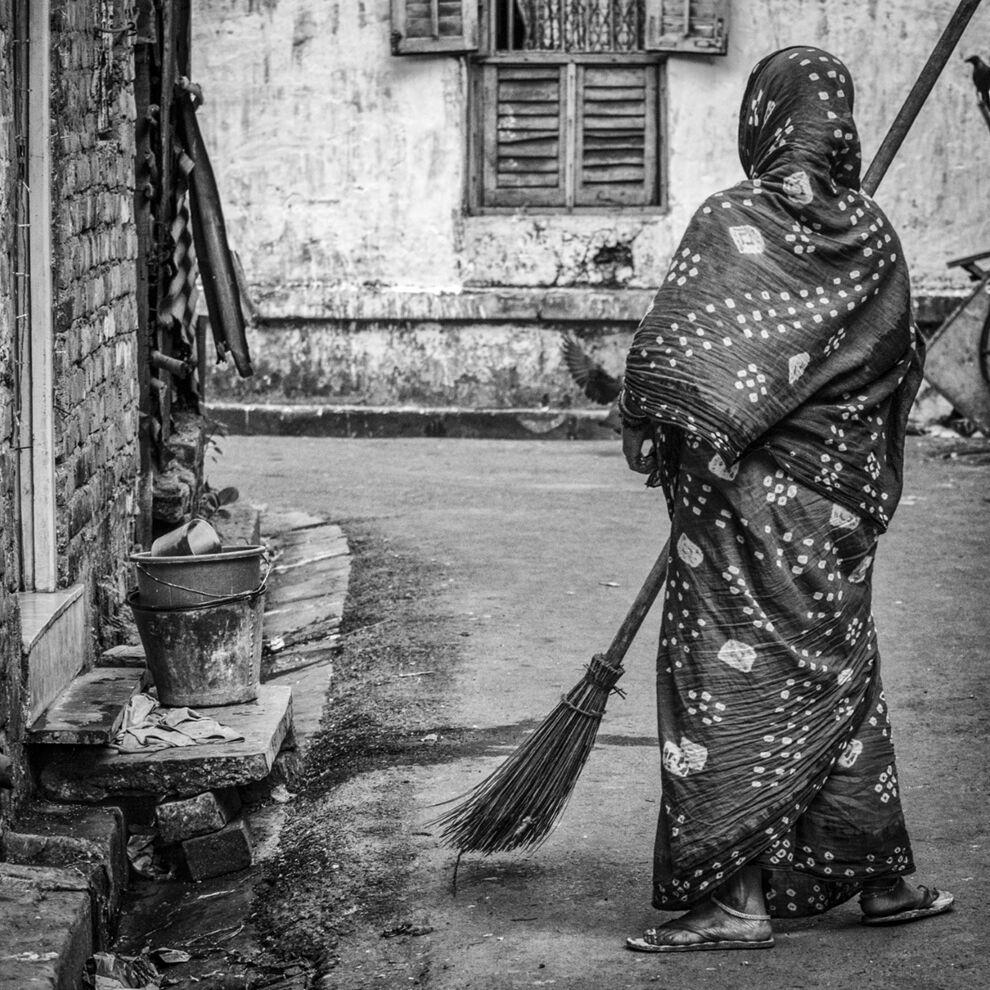 "These images bring me back to a state of humbleness and wonder, because of my own background," says the 80-year-old photographer. "This could be my mother. That could be my brother."
A subset of Searching for My Lost Tribe, a series called The Other Half, is on view at Houshang's Gallery on Canyon Road. All the images in The Other Half are of women and girls. He culled the series from a collection originally called The Ancients, in which he hoped to show how alike people were despite coming from diverse backgrounds and regions of the world.
But something nagged him. Something that was in his mind since adolescence.
"I'm a male. Growing up in the '50s and '60s, there was a different ethos, I think. When I was about 12, I realized that, if I ever found my birth mother, I was responsible for her, as well as for my adoptive mother. And when I found out that I had a younger sister, I said, 'I have to be responsible for her as well.' For a 12-year-old, that's pretty daunting. That really guided this whole thing, I think. You might think, 'Well, there was also a father.' But that didn't hit me. It was the women."
In his mid-70s, Cosby did manage to track down members of his biological family. He discovered that he was one of nearly a dozen children. He began pulling the threads together between his familial past and his work in photography.
"You know, we have bucket lists, and I didn't realize I had one until I did the search for my lost tribe," he says. "Then, there it was. I've been carrying this bucket around for 75 years. For me, the word is 'humbling.' The work that I've been doing isn't something I wanted to do. I was compelled to do it. It wasn't much different than finding my siblings because their stories were on a par with these. A lot of my siblings are suffering to this day. When I talk to them, there's something they'll bring up that has either guided them or hampered their joy in life."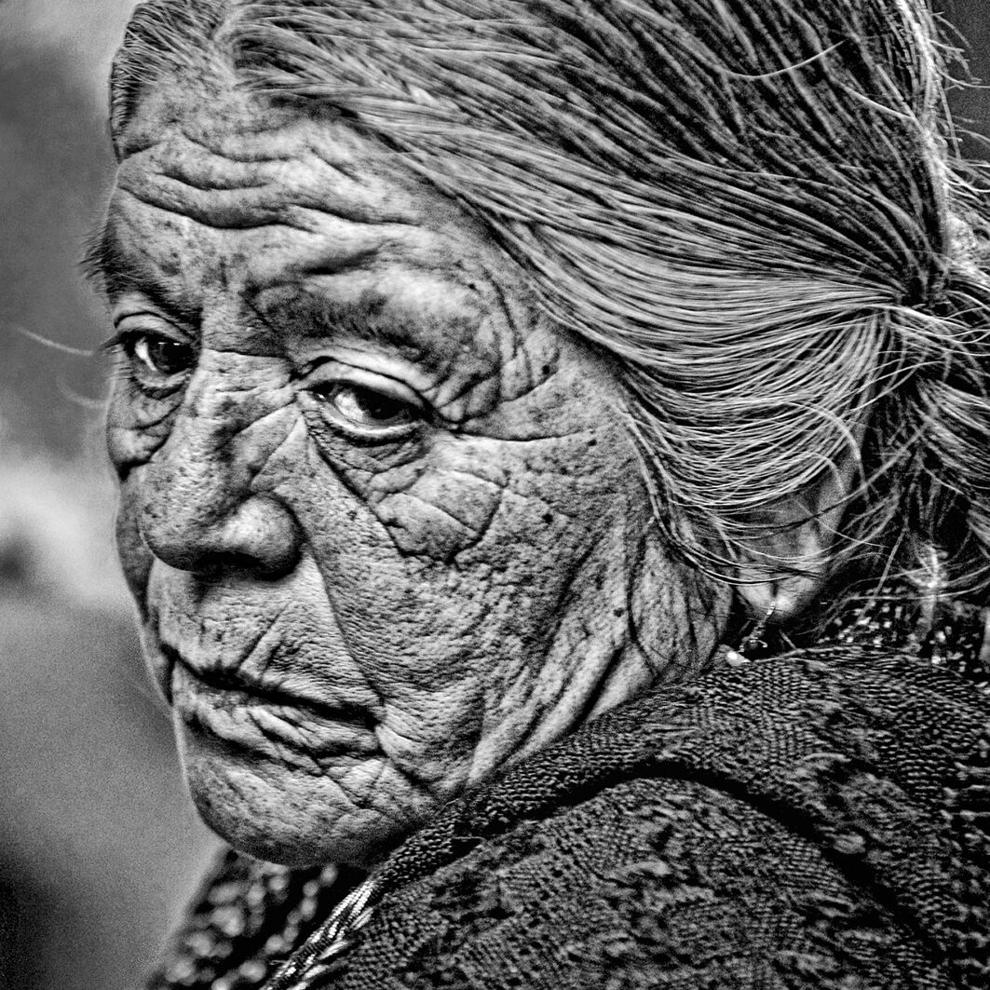 And that's something about Cosby's black-and-white photographs that grabs the viewer. Every portrait seems to tell a story, whether it's one of pain, loss, regret, hope, love, or compassion. Experience seems etched, if not carved, into the faces of many of his subjects. Worries, for example, is a close-up portrait of an old woman photographed near Oaxaca, Mexico. Her face is a map of deep wrinkles. She has a faraway look in her eyes and seems focused on some inner concern. It's a portrait tinged with sadness, but one can only guess at the things she's seen.
Cosby is a self-taught photographer. His interest began as a matter of chance. In the 1960s, he was working for an arts magazine in Princeton, New Jersey, and his editor wanted a picture of the owners of the company.
"I thought, 'I can do this.' I went and bought a camera and asked the guy in the store, 'How does this thing work?' Then, I just started shooting. I had, basically, an unlimited film budget. It was all black and white."
From the 1970s until 2017, however, Cosby shot most of his photographs in color. But he felt like the work was getting too comfortable. Black and white had more of an edge.
"People would look at a color photograph and say, 'Gee, this would look nice over the fireplace and blah, blah, blah.' But I got tired of being nice. That's not what I want to do. I want to strip away time. If you strip away color, you get rid of time. I don't want the viewer to be distracted. I want to get in so they can see it. And there's nothing else going on except the dialogue between that individual and what they're looking at. When it's color, it's too nice. I don't want to let people off the hook."
That's not to say that each black-and-white photo in The Other Half is a full-frame portrait. There are medium shots, as well, that place the subjects in a setting or context. Kiss Me at Midnight, for instance, shows a woman behind a metal gate, almost as though she's behind prison bars, gazing in apparent wonder at something above her, outside the frame. The title comes from a phrase on the woman's shirt. He took the shot in Trinidad, Cuba.
"There is some distraction here, but it feeds into what's going on," he says. "Here, the bars make it. Just her face wouldn't do it."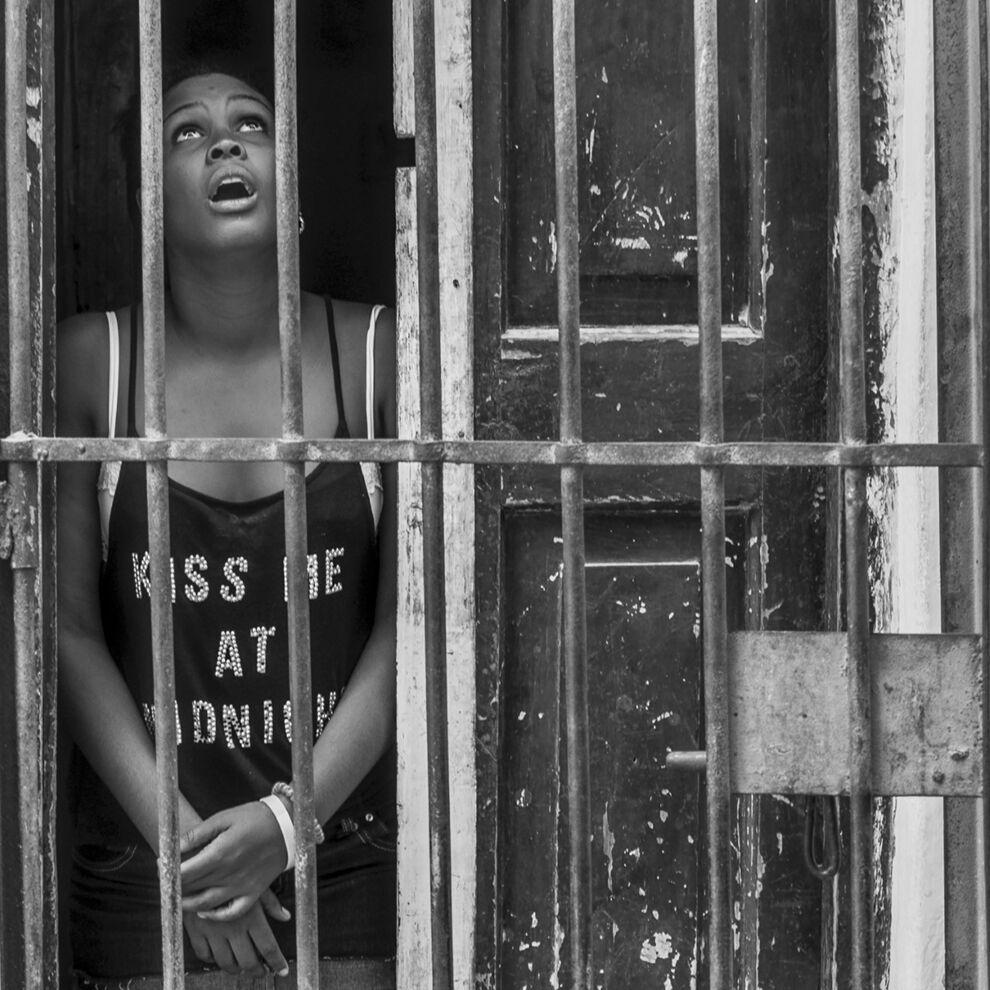 In 2007, Cosby was blinded in his left eye from a botched surgery for a detached retina. He thought, at first, that it would mean the end of his career as a photographer. It turned out to be a new beginning.
"I don't recommend it," he says. "You don't want to be with me in a car when I have to try and park. But the quality of my work really improved within a year."
Like his interest in black and white, it's at least partly because there's less to distract him.
"The lens is the way that I see best, and that has nothing to do with vision. It forces you to point the camera in the right direction. Now I really see what's going to go on paper. The other niceties are just not there."
COVID conditions around the world impacted his decision to hold off working until the time was right to pick up the camera again. For now, he's focused on getting the work seen.
"This is the first time that this collection has ever been shown anywhere," he says. "I've done the work, I think. Now is the time to make it available."