One thing that set Zapotec artist Rufino Tamayo (1899-1991) apart from his contemporaries was his steadfast refusal to make his art political. While Diego Rivera (1886-1957), José Clemente Orozco (1883-1949), and David Alfaro Siqueiros (1896-1974) all became known for their murals on themes of social justice, human suffering, and revolution, Tamayo took another tack.
No one can deny that Rivera, Orozco, and Siqueiros ushered in a renaissance in Mexican mural painting or the influence of their political ideologies on Mexican modernism. But Tamayo's concerns were much more idiosyncratic. And it got him into some trouble. He never joined his compatriots in the Mexican Communist Party, of which Rivera and Siqueiros were prominent members, and headed instead to New York City.
There, he began to forge an artistic path that influenced generations of artists in America and his native Mexico.
An exhibition of Tamayo's works on paper opens at Hecho a Mano on Friday, Dec. 31. The 10 figurative works on view reflect Tamayo's exploration of European painting styles and Mexico's folk traditions. But these folk traditions of Mexico are not often overt elements in his work, at least not in terms of the works on display at Hecho a Mano. These works are more ambiguous. The figure exists as more of an ephemeral expression of form, present but unbound by a context that could place it into a distinct narrative.
"To me, a lot of them feel almost like cave paintings," says Hecho a Mano gallery owner Frank Rose. "They're just very reductive in terms of the figurative aspects. I love that he reduces the figures to the point where they become archetypal. They're not anybody specific. I think it conjures up something more symbolic than literal."
Some of the prints on view, which are all originals editioned by the artist and not restrikes, clearly show human faces, such as Femme Souriante, a 1969 color lithograph, and Cabeza Roja (1975), also a color lithograph. In the latter, the male figure's round white eyes pop out so emphatically from the surrounding color — blood red — that you're drawn to them. The figure itself is rendered using the most basic of shapes. The head, for instance, is perfectly round, like the eyes.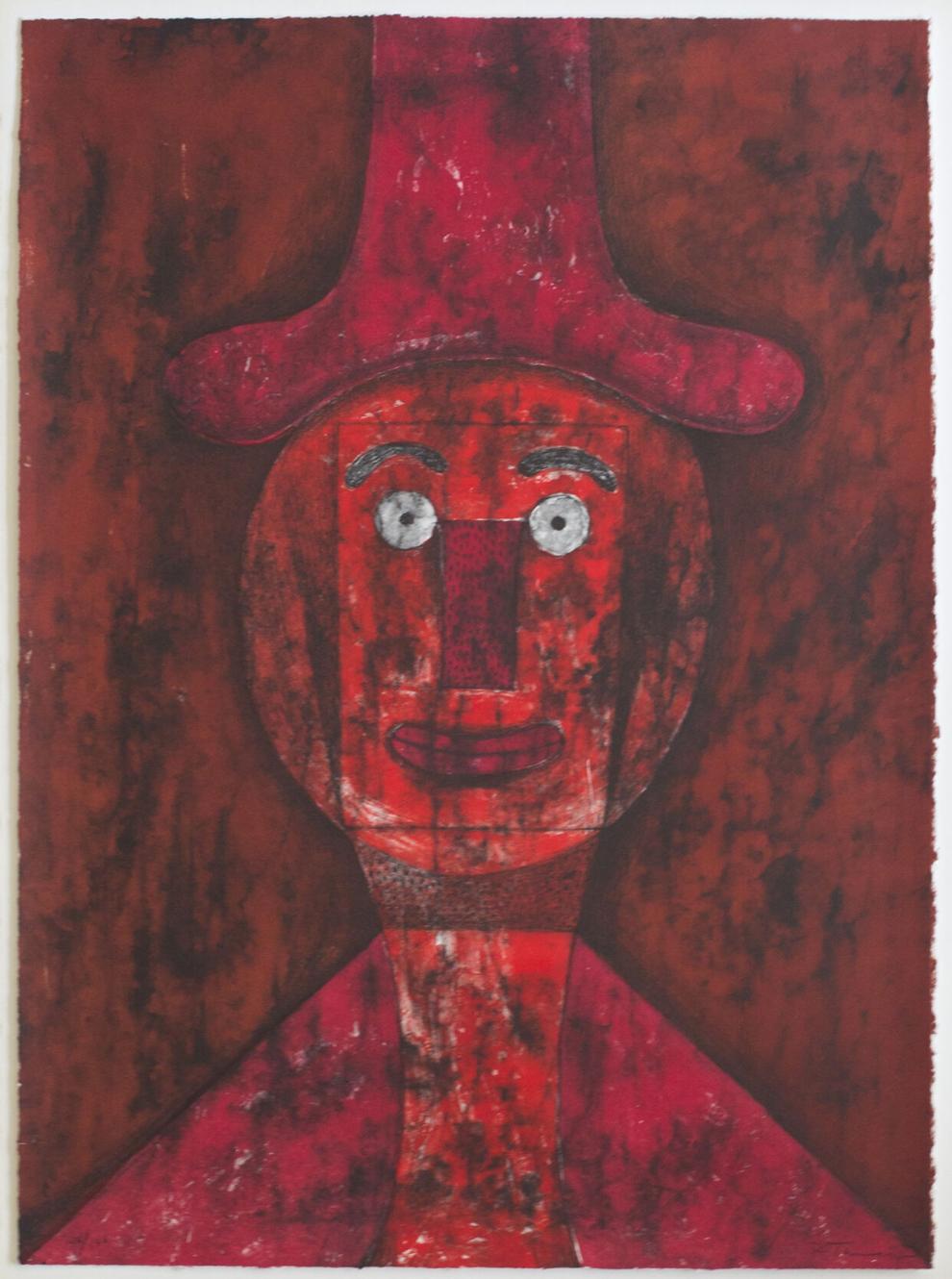 By contrast, Mujer (1980), an etching made with muted color tones of ochre and grey, shows a figure with no face at all, although she's clearly a female figure with long dark hair, breasts, hands, and legs.
Another work, Hombre Rojo (1976), a color Mixografia, is poised somewhere in-between the former works in terms of figuration. A casual glance may convince you that the red figure, which is surrounded by green, has no face. But a closer look reveals the trace of a triangle-shaped nose and a thin smile that stretches nearly all the way across the figure's narrow, oval head.
"He was very much interested in bringing a different kind of style into Mexican art that was very much influenced by surrealists and cubists," Rose says. "He spent a lot of time in the U.S. and ended up co-founding the Mixografia workshop. Later, artists like Ed Ruscha would use it for their thicker, more textured pieces."
But among Tamayo's early influences was pre-Columbian art. In 1921, he was named head designer of the ethnographic drawings department of Mexico City's National Museum of Archeology.
"It opened my eyes, putting me in touch with both pre-Columbian and popular arts," his New York Times obituary reports ("Rufino Tamayo, a Leader in Mexican Art, Dies at 91," New York Times, June 25, 1991). "I immediately discovered the sources of my work — our tradition."
Decades later, he would open his own museum in his birthplace of Oaxaca, the Rufino Tamayo Museum of Pre-Hispanic Art. But his interests as a contemporary artist remained tied to an expression that was not specifically pre-Columbian or pre-Hispanic but more universal in theme.
All of the works in the Hecho a Mano exhibit were made in the last few decades of the artist's life, the oldest being Femme Souriante and Femme au Collant Noire, a lithograph from 1969.
Tamayo excelled in a plethora of printmaking mediums, including lithography, color woodcuts, and etching. But among his most notable accomplishments was the development of Mixografia, a process that allowed for printing in relief.
In 1973, printmaker Luis Remba, who founded Mexico City's Taller de Gráfica Mexicana, invited Tamayo to work on a series of prints. Tamayo was interested in adding more texture and dimensionality to his work, and Remba responded by developing a technique using non-commercial paper, developed on site, that would register the texture in Tamayo's finished prints. Remba and his wife, Lea, eventually changed the name of the print workshop to Mixografia.
In the late 1970s, the Rembas distributed Tamayo's prints to an American audience through a small gallery in Los Angeles. They moved the entire Mixografia operation to downtown L.A. in 1990. A number of prominent artists made use of the workshop, including John Baldessari, Helen Frankenthaler, Carlos Mérida, and Frank Stella, essentially learning a printmaking technique developed by Remba and Tamayo.
"Of the three Mexican artists that most people could name, he's probably the third," Rose says, adding that Rivera and Frida Kahlo would be first and second. "And he's one of the few Mexican artists who's made it into popular Western art history."