Regardless of the form a painting takes — whether it's abstract expressionism, cubism, or color-field painting — artists are presented by one persistent problem, and American painter Ronald Davis explains it in the most basic terms: "what color and where to put it."
When Davis, 84, started attending classes at the San Francisco Art Institute in 1960, he didn't know much about painting.
"I made it my life's work to define 'What is a painting?'" he says. "You define painting by saying, first of all, it's a flat picture plane. That's a rule that maybe I've violated. But that's the starting place."
Whether he's violating rules or departing from the norm by painting on shaped canvases instead of the traditional rectangular canvas, his trajectory as an artist is part of a continuum that extends back to painting on the walls of caves. Perhaps there are no radical departures in style from any period of art history that didn't have a norm to work against.
Davis, who's retrospective exhibition Seven Decades opens at 203 Fine Art in Taos on Saturday, Sept. 25, started from a place of immersion in those norms before making his departure.
It was the 1960s, and Davis was preoccupied by formalist painting, which emphasized compositional elements such as color, line, and shape instead of content or social and historical contexts. It started, he says, when he encountered art critic Clement Greenberg's writings on post-painterly abstraction.
"He suggested that serious painting should follow in the footsteps of Clyfford Still, Mark Rothko, Jackson Pollock, and Barnett Newman, and that influence could be seen in painters like Kenneth Noland and Morris Louis," Davis says. "That kind of set the table for what I did for the next few years."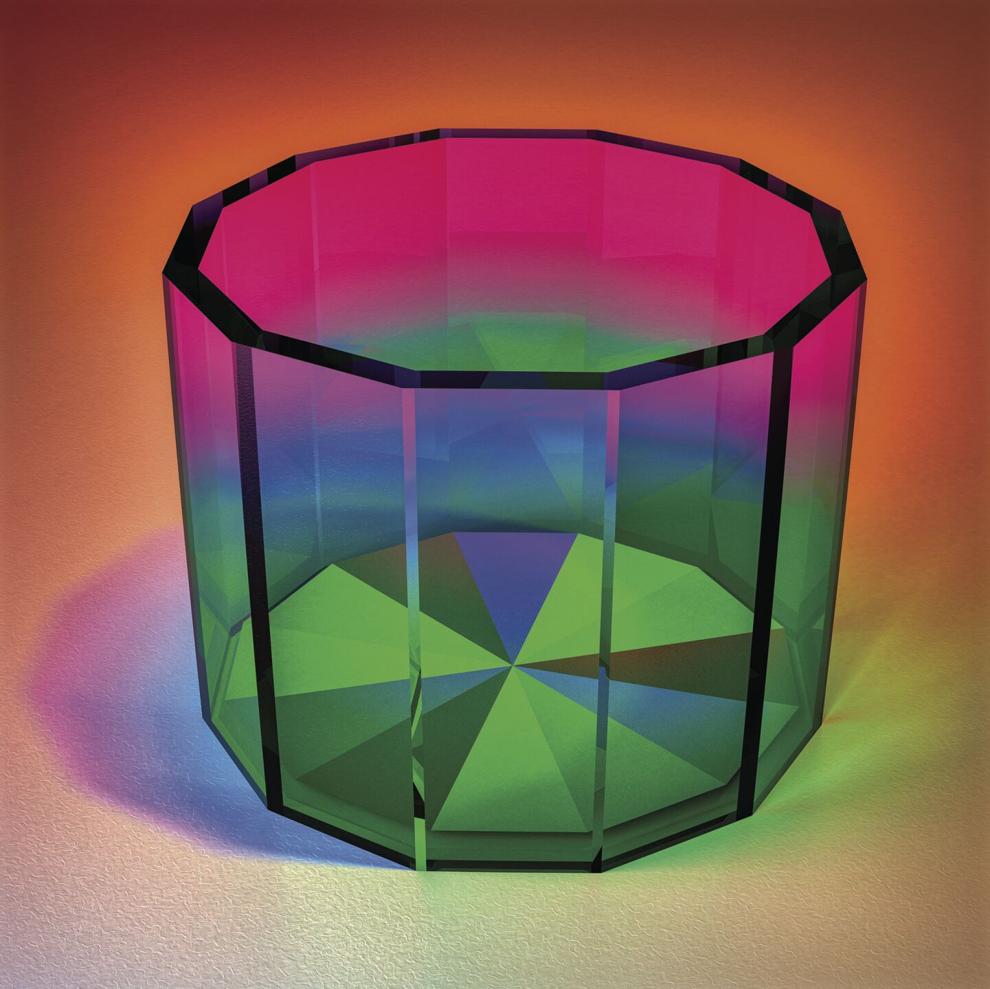 Seven Decades is a comprehensive survey that features about 30 works (12 to 15 on view at the gallery and the rest in Davis' studio) that date from 1966 to the present; some artworks have never before been exhibited. It may be an exhibition of paintings, but don't expect traditional paintings on canvas.
Rather, Davis' paintings are more loosely defined. For instance, the exhibition includes a painting from his 1960s-era Dodecagon Series called Lemon Yellow (1969). It's made of moulded polyester resin and fiberglass. Why is it a painting and not a sculpture? Because, he says, it's two-dimensional, although it gives the appearance of depth — or the illusion of a 12-sided polygon seen in perspective. It was created using colored pigments mixed into a resin and applied in layers to the underside of the clear fiberglass.
"The device I've always used — it's a tiny thing, my contribution to art history — is to introduce the illusion of classical perspective from Renaissance painting into abstract painting," he says.
Davis, who lives on a 10-acre lot north of Taos, was raised in Cheyenne, Wyoming. As a youth, he had no intention of becoming an artist.
"Growing up in Cheyenne, I never really thought much about painting or art," he says. "I was into cars and regular high school things. I had kind of a tough time emotionally through my early 20s."
He didn't become interested in painting until seeing Vincente Minnelli's Lust for Life (1956). The biopic on Dutch post-impressionist Vincent van Gogh fed his youthful idealism.
"My idea was to go to Mexico, live on the beach, and paint. I was romantic. When I got to San Francisco, I was 23 years old. There I was, confronted by the art institute, which was an incredible place. It's over 140 years old now. Of course, I ended up studying with this first generation of Clyfford Still students, who've had a great influence. Abstract expressionism was the idea. That's what was being taught. That's what was going on, especially in New York and in San Francisco, the Bay Area 'ab ex' movement. I was very eclectic. I tried this and that in terms of style. But I had a pretty open mind."
Then came Greenberg and his 20th-century take on formalism. In some ways, the concepts behind it are still present in Davis' work, which remains focused on "what color and where to put it?" But the mediums have changed.
"I ran into this feeling, like 'Where do you go from this?'" says Davis about his break from the Greenberg ideal. "'Everything that needs to be done has already been done.'
"At the same time, a friend of mine had gone to New York and said, 'Everybody's painting with acrylic paint now.' And I said, 'Oh yeah, let's go get some of that.' We got a 5-gallon bucket of acrylic and mixed it with dry pigment. A sculptor — who's the guy? I can't remember — he suggested that Barnett Newman was a good tape man, and that gave me a way to paint, not what to paint, but a different way of painting. I can drip paint as well as anybody, I think, but I can also use a ruler. Basically, what I want to say is that I remained in that formalist area of endeavor but turned it upside down."
Since the 1980s, Davis worked with computer graphics to make art, using a medium he calls pixel dust. An example, included in the exhibit, is his Glorious Glass Dodecagon (2019), a 12-sided spherical form that appears to cast a multihued light — green, magenta, orange, lavender, and blue — on the surface surrounding it. It has all the appearance of being a three-dimensional object on a surface, like a drinking glass on a table. But that's just the illusion. The rendering was made using pixel dust on aluminum.
"Pixel dust is anything that is digital. It's made up of photons and electrons, just like the universe. What's important is the image, the illusion. It can be realized as an inkjet print or as a photographic print. That's a hard copy." Pixel dust on an aluminum substrate, however, serves the same purpose as paint on canvas. To Davis, these two mediums are not really so different, particularly once the digital image is printed.
"Paint on canvas is pigment," he says. "It's small particles of dust. That's where I get the word pixel dust. It's some kind of dust made up of matter or photons converted to matter."
Narrative art as well as non-objective abstraction share a characteristic that has everything to do with the nature of perception, and that is the ability to transport the viewer and open the door to transcendental experience. In terms of pixel dust, the vacillation from light energy into matter is an expression of that movement. In the transition from virtual to physical space, he sees a parallel with the nature of reality. He expresses it in the most fundamental of ways, using a Jackson Pollock painting as an example.
"You can look at a Jackson Pollock and say, 'Those are just poured lines on canvas.' It has a lot of energy, expression, and intensity, and everything that Pollock could bring to it. But you can also see it as just a flat canvas. But if you look at it for a while and let it flow around you, if you enter into that space that he's created, then you're out there in the galaxy. You're in a space that's magic. Then it switches back again. It's a wonderful oscillation."