Majestic views of Yosemite Valley, the shimmering lake before Yosemite's Cathedral Peak, the luminous leaves of a young aspen in a stand leading to a dark New Mexico mountain forest — these are among the iconic images of the Western United States set down in rich and contrasting tones by photographer Ansel Adams (1902-1984).
Lesser known are his close-up studies of nature. But in Ansel Adams: Pure Photography, works narrow in vision and small in scale offer another view of a photographer associated for much of his career with stately landscapes.
On exhibit in the New Mexico Museum of Art's Beauregard Gallery (through May 22), Pure Photography takes its name from the manifesto of an influential group of modernist photographers called Group f/64. A Bay Area movement founded by Adams and filmmaker and photographer Willard Van Dyke, the group included such luminaries in photography as Imogen Cunningham, Sonya Noskowiak, and Edward Weston. Their aim was to move photography out of the pictorialist style, which involved a hands-on approach to manipulating an image to achieve an effect, to something more along the lines of straight photography, which emphasized detail and sharp focus.
They derived their name from the f-stop 64 aperture setting on a large-format camera.
"That setting allows you to get depth of field and an even sharpness," says New Mexico Museum of Art Curator of Photography Kate Ware. "That's what they were aiming for. And that's a real component of what we think of as modernist photography."
The exhibition includes 16 prints from the museum's collection, as well as two promised gifts.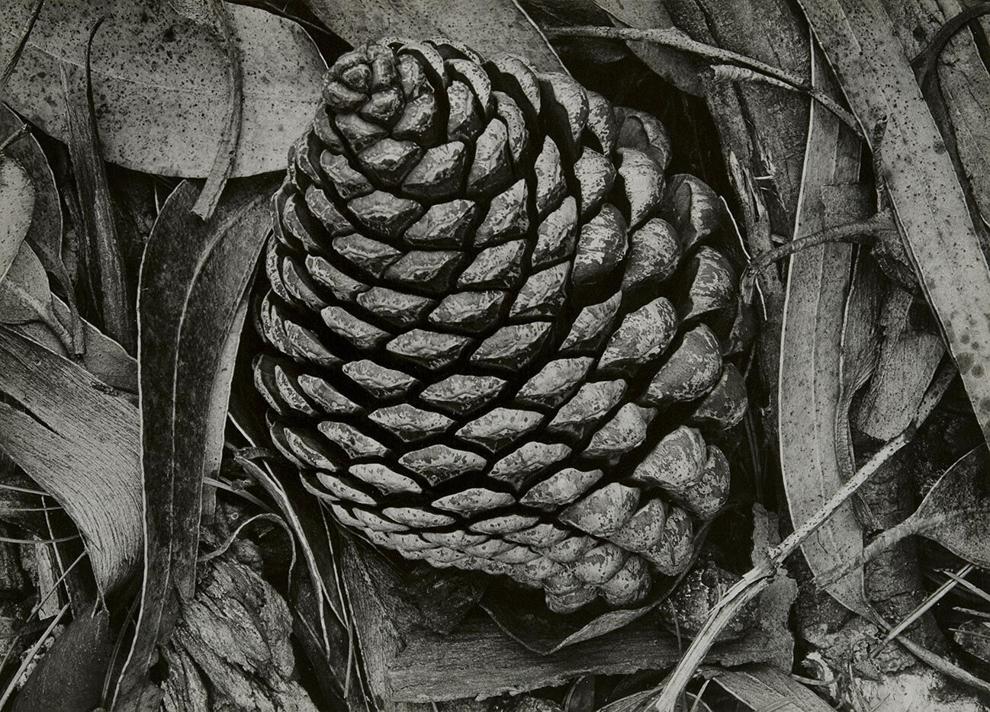 "We have, altogether, about 50 prints of his," Ware says. "I'm just deeply partial to Adams' work from the 1930s, especially the nature studies. This exhibition was really meant to show that period of his work and the museum's holdings as well."
These photographs, most of which date to the 1930s, were made at a time when Adams had yet to achieve an international reputation as a leading U.S. photographer.
"This time was important to the development of his artistic vision," Ware says. "That changed over time, but these prints, I feel, provide an opportunity to see him finding his voice. They're no less completed works of art. They certainly are. They were exhibited at the time and stand up over time. But they're less familiar."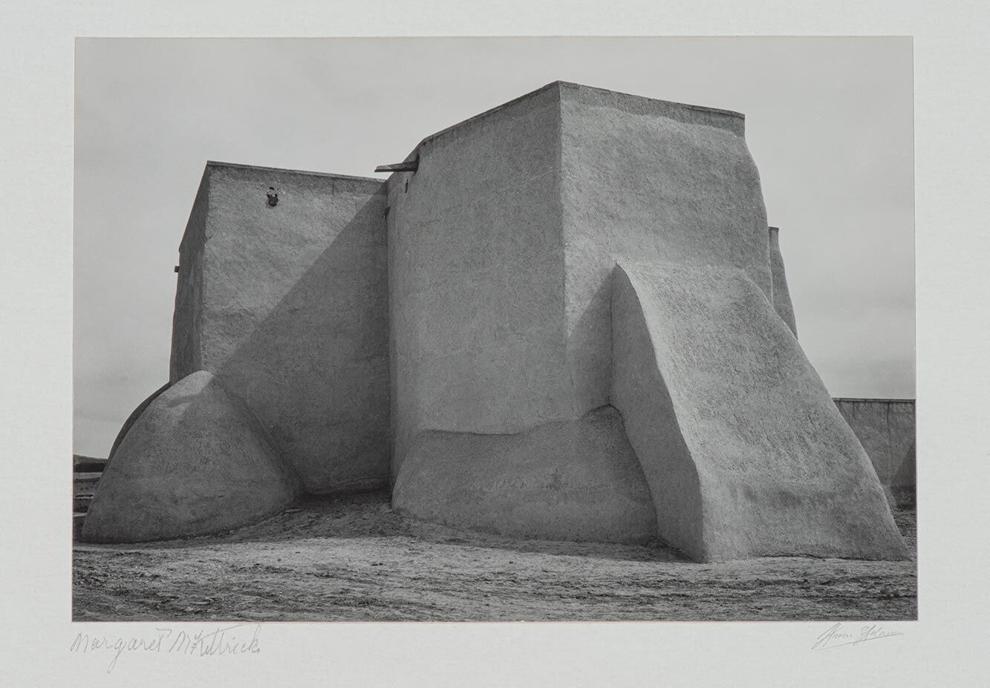 The exhibition includes nature studies, such as Pine Cone and Eucalyptus Leaves, San Francisco, California (1932), images of architecture, such as his Church at Ranchos de Taos (circa 1929-1930), and portraits, including two photographs of the poet Witter Bynner, who Adams met on one of his visits to New Mexico, which began in the late 1920s. Accompanied by arts patron Albert Bender, Adams visited Taos, where he befriended photographer Paul Strand, poet Robinson Jeffers, and painters John Marin and Georgia O'Keeffe. But perhaps it was meeting Strand that compelled the young photographer to devote himself fully to his craft.
"It was really catalytic for him," Ware says. "He tells a story that that's when he decided to become a photographer. Deeper research shows that it wasn't quite that cut and dried. But if you think of him as guy in his late 20s with all these heavy hitters — his idols — of course it was a very influential moment. He did come back over the years. Pretty early on, he was working on the book with Mary Austin, Taos Pueblo. New Mexico became a really important place for him, and he did some of his masterworks here."
Two of those masterworks, Moonrise Hernandez, New Mexico (1941) and Aspens, New Mexico (1958) are also on view, in part to show how his aesthetics changed in his transition from his f/64 days.
"It's partly for that contrast, just to show the difference in style from the 30s to the 40s," Ware says of her decision to include later works. "But also because they're such favorites, and we didn't want to disappoint his fans."
Adams' photography changed from the 1930s to the 1940s in several ways.
"He was very serious about a career as a pianist as a young man," Ware says. "I might borrow from that and say that his 1930s work is more like chamber music, while his 1940s work is more symphonic. The early work sprang from that purist impulse to work within the parameters of the view camera, without a lot of darkroom manipulation. He did talk later about the photographic negative as a musical score and the final print as the performance of that score, which would be interpreted differently each time."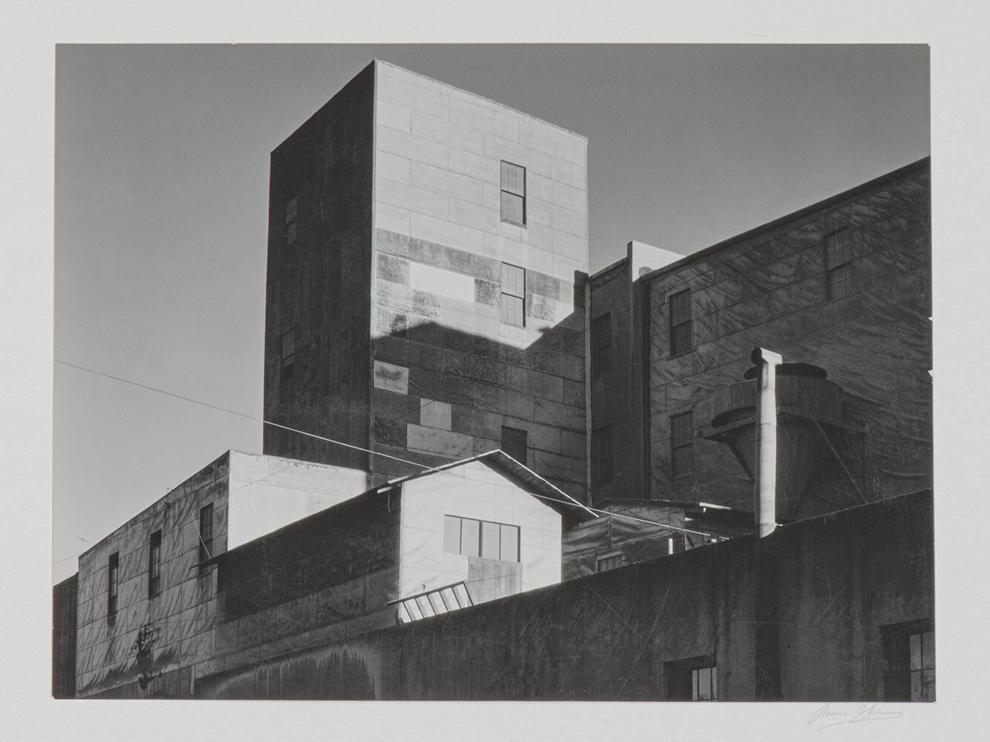 To make this point explicit to the viewer, the museum is showing two prints that Adams made of Moonrise, Hernandez, New Mexico.
"Those people who have seen a number of prints of Moonrise can often see very clearly that he printed it differently."
But there is also a difference in the scale of the subject matter. His photographs of buildings, such as 1932's Factory Building, San Francisco, show a focus on architectural details. So, too, Leaves, Stump, Frost, Yosemite National Park, California (circa 1931) is a landscape on a smaller scale than those for which he would become known. It emphasizes the varied textures and patterns of the disparate natural elements it depicts, which are arranged, perhaps haphazardly or by design, in a compelling relationship. The leaves rest on top of a clear-cut stump, ringed by a light frost and viewed from above.
"The later work is quite a bit larger," Ware says. "It tends to be more dramatic. He tends to pull back and show a broader view. Those are all differences that I hope people will notice in a small-focus show like this."