Nothing inherently personal would convey itself to the viewer if local photographer Alex Traube's Letters to My Father-6 (1976) was a mere black-and-white photo of an old, torn, but still inviting sofa. But it isn't. Part of the photograph is the writing, added directly to the print as part of the work.
Traube has a story to tell.
"On Sunday, after lunch, you, Uncle Milton, and I returned home to watch the ballgame on television," wrote Traube in the white space below the image of the sofa. "I must have dozed; for it was with some surprise that I awakened to the game, several innings along, and found the two of you still in your places, fast asleep!"
Did this episode, a memory of Traube's, take place on that particular couch? It doesn't matter. The addition of personal narrative lends the work another dimension, giving the image, which speaks of absence, weight, and poignancy. "I did three, four, or five series with handwritten text," says Traube, 76, who created the series Letters to My Father in the mid-1970s. The series was developed around the photographer's own memories of his father.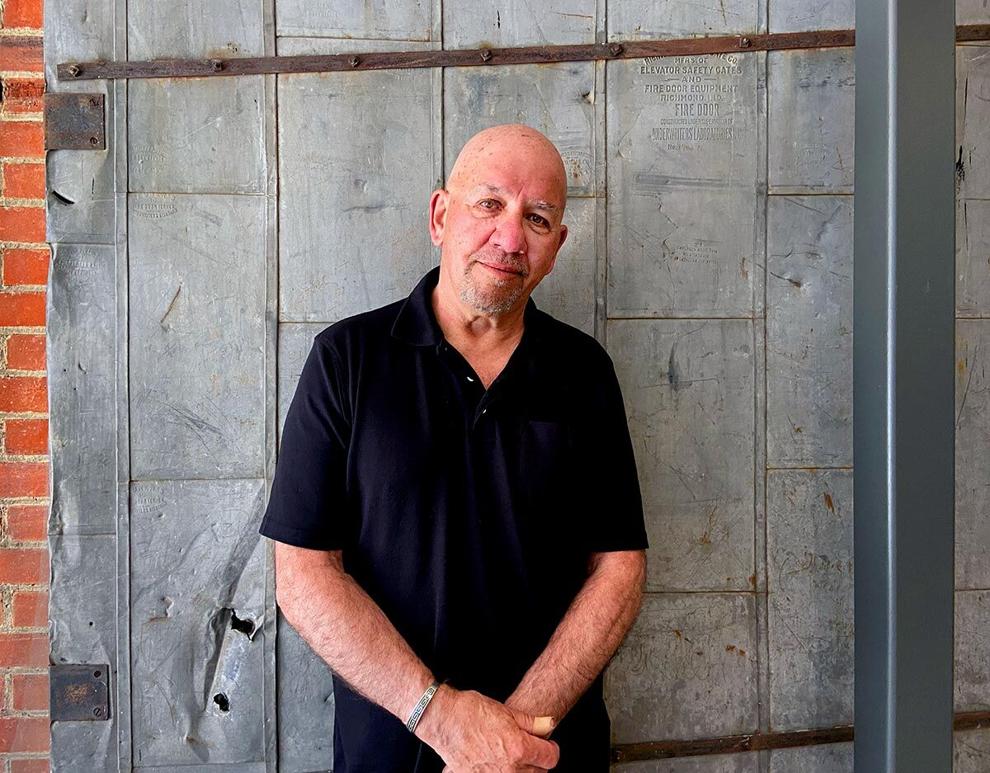 "Shortly after I completed that series, which earned me some positive attention, a friend of mine says, 'Did you know that Duane Michals is writing on photographs? And did you know that he did one piece called A Letter from My Father?'"
Traube's career spans more than 50 years, during which he's done a number of varied series, including portraits of friends, portraits of New Mexico poets, abstract nature-based photography, and a series of documentary views of Las Vegas, New Mexico. The latter was the subject of Traube's now-closed solo exhibition Las Vegas, New Mexico: A Portrait at Highlands University.
But there is a refrain that makes its presence felt in all of these bodies of work: autobiography.
"I don't know if I've ever seen that work up on the wall before," Traube says of the Las Vegas photographs, which were taken in 1982. "It was a treat to revive that stuff and, in a way, look at it for the first time."
In recent years, Traube's work has grown more abstract, the result of what he says is a more inward focus but also a kind of experimental play. On daily hikes with Remi, his black Labrador retriever, he takes shots of the surrounding terrain — flora, lichen-covered rock — and works on them in Photoshop, transforming them into pattern-rich color abstracts.
Traube's work from the 1970s is included in the New Mexico Museum of Art's (107 W. Palace Ave., 505-476-5072, nmartmuseum.org) upcoming exhibition Transgressions and Amplifications: Mixed-Media Photography of the 1960s and 1970s (July 23 through Jan. 8). The exhibition examines a period of creative innovation in photography, when artists were challenging the sanctity of the black-and-white print.
"In his case, the mixed media is writing on the actual print, which was very transgressive at the time," says New Mexico Museum of Art's Curator of Photography Kate Ware. "This show is photographers asking, 'What more can I add to a picture to give it greater resonance?' He was a pioneer in that."
Traube worked on Letters to My Father for more than two years. It was a very directed project, he says, whereas the more recent photography involves an element of chance.
Looking back
Traube was born in New York City. After graduating at age 18 from Peekskill Military Academy, he attended college at American University in Washington, D.C.
Photography wasn't a passion. But, in his final semester, he took a course offered through the journalism department as an elective and was hooked. In 1970, Traube went on to earn a master's degree in photography from Ohio University. During his graduate studies, he came under the private instruction of famed photographer Minor White (1908-1976).
"I was very lucky," Traube says. "I was in graduate school, and I was wondering what it would be like to study under these great people I'd been learning about. So I wrote Minor White, and he wrote me back a gracious letter. I happened to be in the Boston area that Christmas, and he invited me over to chat with him. He accepted me as a private student. He was exceedingly generous. He let me use his darkroom. He lent me his 4x5 Sinar [large format camera] for three months."
Another influence on Traube was photographer Emmet Gowin, who was teaching at the Dayton Art Institute in Ohio while Traube was at Ohio University working on his master's.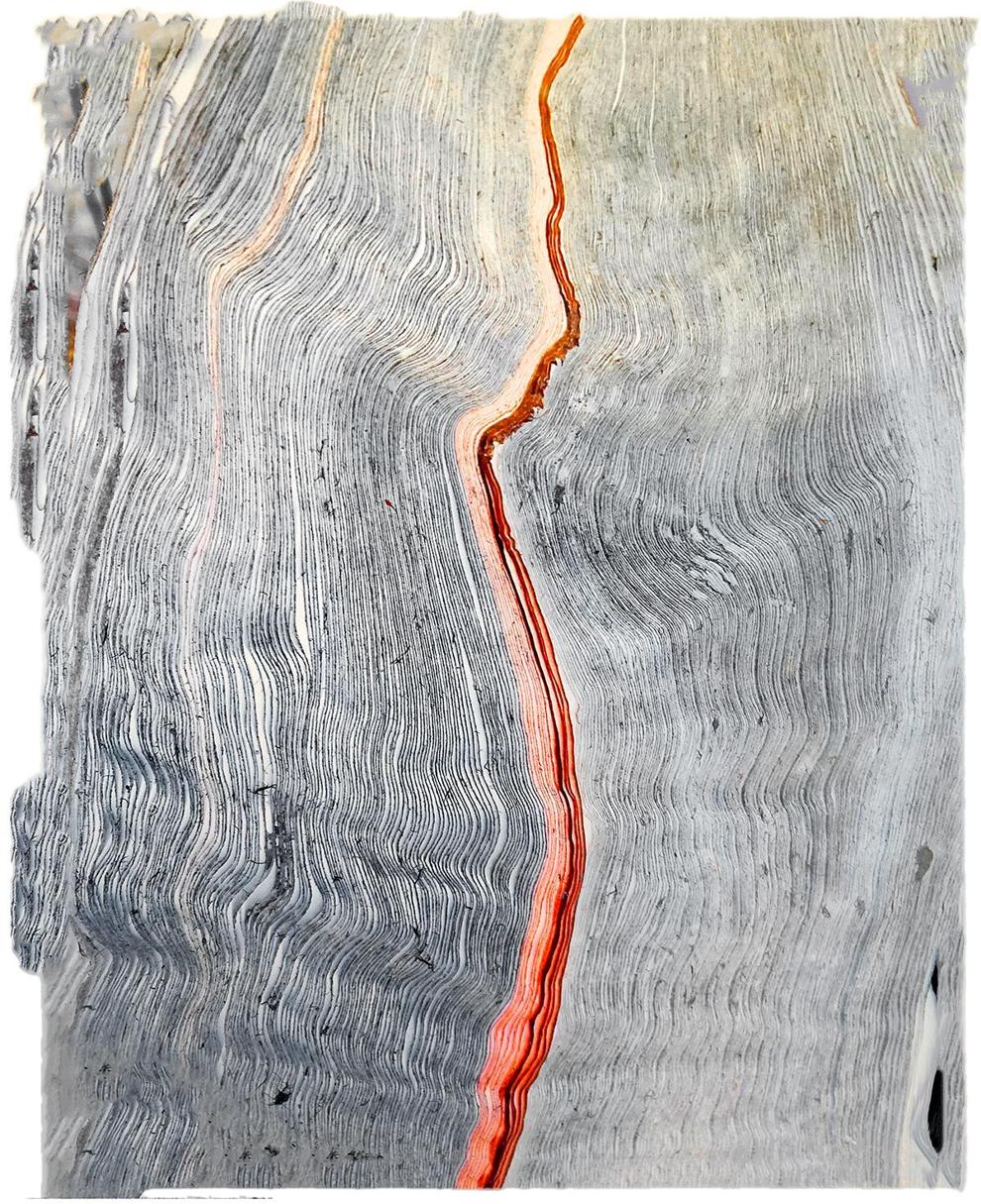 "Emmet was making photographs in the early 1970s of his wife, Edith, and her family," he says. "They grew up a mile apart from each other in rural Virginia. When I learned that Emmet was living an hour away, I contacted him, and he said, 'Come on out.' I spread the word — don't know that I should have — and three car-loads of graduate students descended on him and his wife."
In 1974, Traube moved to Santa Fe from Louisville, Kentucky, where he was teaching at the Center for Photographic Studies. The workload left him with little time to pursue his craft.
"I loved my students. I was able to start a number of programs: publishing portfolios of original work by well-known Mid-Western photographers, lecture series. But I was looking for a place where I could concentrate on making my own images. I'd been to Santa Fe. It stuck in my mind and heart. A friend of mine also wanted to move out here, and I said, 'Why don't we go together? At least we'll start off with a friend."
Traube and his friend ended up sharing a house in Tesuque with an appellate court judge.
"It was not well thought out," he says. "But it was inspired."
It was the same year he began Letters to My Father. "He was really dedicating himself to his photography," Ware says. "It was his real first contact with the culture of New Mexico. And the work is diaristic because he writes on them. So we see what he's thinking about and what it's like to uproot yourself and go to a new place."

Traube founded the educational and informational nonprofit New Mexico CultureNet in 1997. Although the organization didn't survive the 2008 recession, it did launch a long-running program, Poets-in-the-Schools, which led to a collaborative project between Traube, the Santa Fe Community College, and several New Mexico poets in 2012, including Jasmine Sena Cuffee, Joan Logghe, and Damien Flores.
"We did videos of 14 different poets reading or performing their work. While they were being videotaped, I was sitting there quietly, with my little Canon G11 camera, photographing them."
In recent years, Traube works more spontaneously, taking what's given to him visually. The last optical chemical series that he completed in the darkroom was in the late 1980s. Today, his studio is a 27-inch iMac. Although he isn't working on a photographic project right now, he still takes pictures every day, hitting the rocks and trails with Remi, the latest in a long line of black lab companions, and taking the images back to his computer.
For Traube, being in the moment, shooting out in nature, is a means of self-abnegation. "I couldn't help but photograph that rock," he says of no rock in particular, "and start doing things with it and become enchanted. I surrender to that enchantment."