EL Castillo, or the Temple of Kukulcán, the iconic step pyramid at the Maya archeological site of Chichén Itzá, rises almost 100 feet above the surrounding landscape in the Mexican state of Yucatán. In a historic photograph of the structure, German photographer and explorer Teobert Maler (1842-1917) is in the foreground, dwarfed by the immense pyramid, which is overrun with vegetation. Contemporary photographer William Frej (pronounced FRAY), first saw the image on a visit to Chichén Itzá in 1971. To Frey, who spent more than 40 years in Mexico and Guatemala — much of it spent documenting Maya ruins — there was something intriguing about the solitary figure.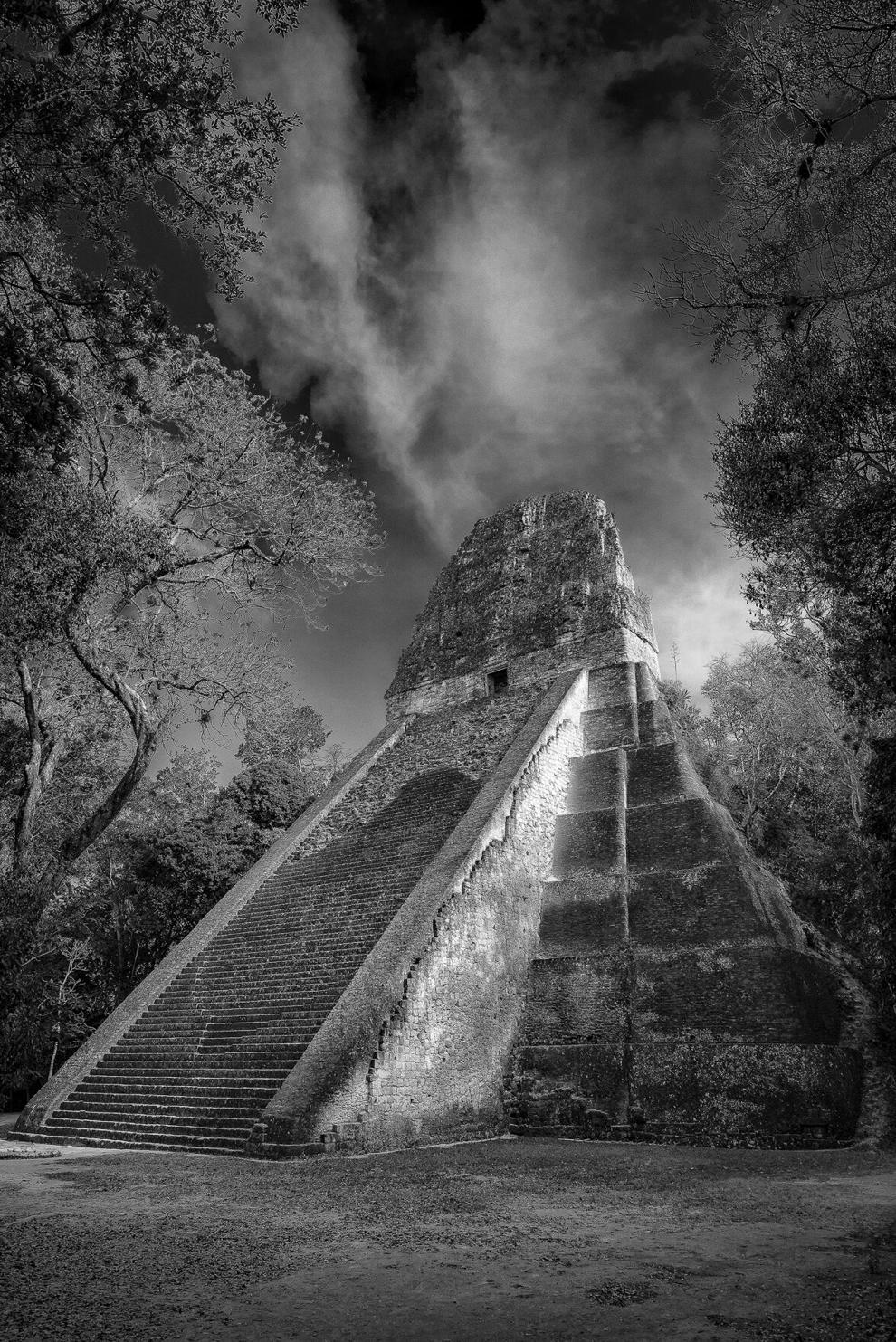 "Over the years, I read about Maler — what I could — and had articles translated. He was always in the back of my mind because of that photograph," says 72-year-old Frej, who lives in Santa Fe. "This guy Maler is very little known in the English-speaking world. What he found at over 100 sites in Mexico and Guatemala is extraordinary. He died in Mérida, and, basically, for the last hundred years, no one has been out to these sites again."
That's not as true of well-known sites that Maler photographed in Yucatán, such as Chichén Itzá and Uxmal. But others, like Nocuchich in Campeche, Mexico, which is over a thousand years old, are difficult to reach. Maler was likely the first Westerner to photograph Nocuchich, which he did in 1889. While retracing Maler's travels through Mesoamerica, Frej, at 70, failed to find the site despite two attempts. The heavy monsoon seasons left the trailhead impassable. On his third attempt, after an eight-month wait for a drier season, he got through. Frej's own black-and-white photograph, taken in 2018, shows the northern façade of a rare Maya tower, rising like a stone chimney stack out of the dense foliage.
In 2013, nearing the end of a 30-year career in the Foreign Service, Frej began retracing Maler's route and photographing many of the same sites. The project culminated in a stunning monograph published by Peyton Wright Gallery Press and distributed by the University of Oklahoma Press called Maya Ruins Revisited: In the Footsteps of Teobert Maler (240 pages, $60).
In conjunction with the book launch, Peyton Wright Gallery (237 E. Palace Ave., 505-989-9888, peytonwright.com) presents an exhibition of Frej's photography that runs Friday, Oct. 2 through OCt. 31.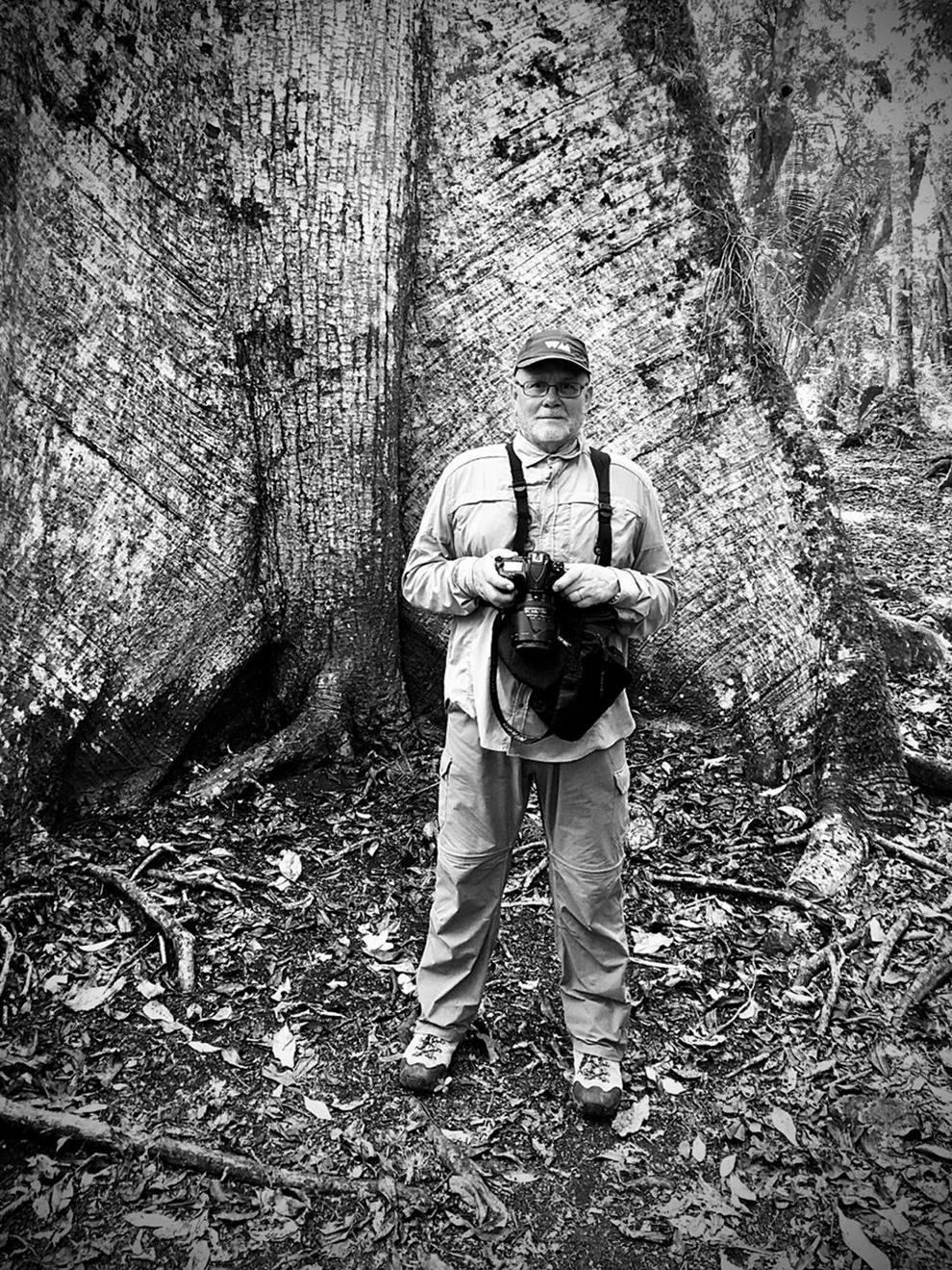 Maya Ruins Revisited pairs Frej's work with archival photographs by Maler, and together they amount to 160 duotone and tritone illustrations of varying sizes. Also included is a chronology of the principal periods of Maya culture, a listing of all the sites featured, and two maps. Accompanying the book are illuminating essays by Jeremy A. Sabloff, Santa Fe Institute external professor emeritus and past president, Museum of International Folk Art director and pre-Columbian art historian Khristaan Villela, and archaeologist Tomás Gallareta Negrón.
Out on his patio, in a historic Santa Fe home built by artist and architect William Lumpkins, Frej looks over a photograph in the book that shows the Mexican site of Baño de la Reina (Bath of the Queen). "We were just there, like the week before we fled back to Santa Fe because of CoViD," he says. "It's an amazing structure. It's in Sayil. Jerry Sabloff did his Ph.D. dissertation on ceramics from this site in the '60s. It's literally in the middle of a very dense jungle."
Many of the ruins exist in places few visitors to Mexico and Guatemala, outside of archaeologists, ever see. To reach them, Frej, his wife Anne, and their accompanying party followed the trails of indigenous beekeepers, who are among the few people who know how to get reach them. "We used the trails of the beekeepers extensively," he says. "That was in Yucatán and Campeche. To reach the Maler sites in Guatemala, apart from Tikal and Yaxha, you have to go by boat up rivers."
Frej's haunting photographs have a greater tonality than Maler's, which exhibit starker contrasts. Although he's a documentary photographer, Frej brings an aesthetic quality to his work. Rather than being mere visual records, his black-and-white photos have a haunting, atmospheric quality.
"In the business of photography of ruins, a blurry line separates documentary and fine art," Villela writes in his essay "Picturing the Ancient Maya: Photography of William Frej." "Some expeditionary photographers like [Alfred] Maudslay, who never considered themselves artists, are now included in gallery and museum exhibitions and their work is part of a broader conversation on the history of representing other cultures, whether living or dead."
Villela notes that Maler, who spent more than a decade photographing Maya ruins for the Peabody Museum at Harvard University, intended to capture as much visual information in his photographs as possible. But, like Frej, he had a knack for composition. "Frej has said that his choice of black-and-white photography was intended to evoke historical images taken by Maler and others," Villela writes.
Evoke, perhaps, but not copy. He rarely shot the sites that Maler documented from the same vantage points, going instead for oblique angles and more intimate perspectives. In his view of the labyrinth at Yaxchilán in Chiapas, for example, the structure's ancient stonework is glimpsed through the surrounding foliage that dominates the image.
But Frej does give Maler's background its due. The book includes an essay on Maler by scholars Stephan Merk and Alma Durán-Merk.
"Maler was a great photographer," Frej says. "He came over as a soldier in Maximilian's army." Maximilian I was an Austrian archduke who reigned as emperor of the Second Mexican Empire from 1864 until his execution in 1867. "They were defeated by the Mexicans, and Maler somehow escaped execution. I think it was because he learned how to speak fluent Spanish and a couple of the other Native dialects. He was more embraced by Mexicans than most of the crew of that ill-fated war. He stayed in Mexico and worked his way from Mexico City to Oaxaca and Chiapas, then into the Yucatán. He went back to Germany when his father died to settle the will, but apart from that short period of time, he was in Mexico for the rest of his life and died at age 72 in Mérida, buried in an unmarked grave."
Maya Ruins Revisited stands as a testament to Maler as much as it is a showcase for Frej's own photography. "He gets very little play here in the United States, and he's someone who really should be recognized," he says. When Frej began his research into Maler, all he had to go on was a German language book called Peninsula Yucatán that featured photographs in the archives of the Ibero-American Institute in Berlin. "In the last five or six years, we've been spending the winter months down in the Yucatán," Frej says. "We bought and renovated an old Spanish Colonial house. Mérida's been our base. Maler has photographs in the permanent collection of the Biblioteca there. I became friends with an American archaeologist, Dan Griffin, who lives in Mérida, and we decided to start exploring and see what we could find. It was five years of really intense work on Maler, from a scholastic perspective, as well as a photographic perspective."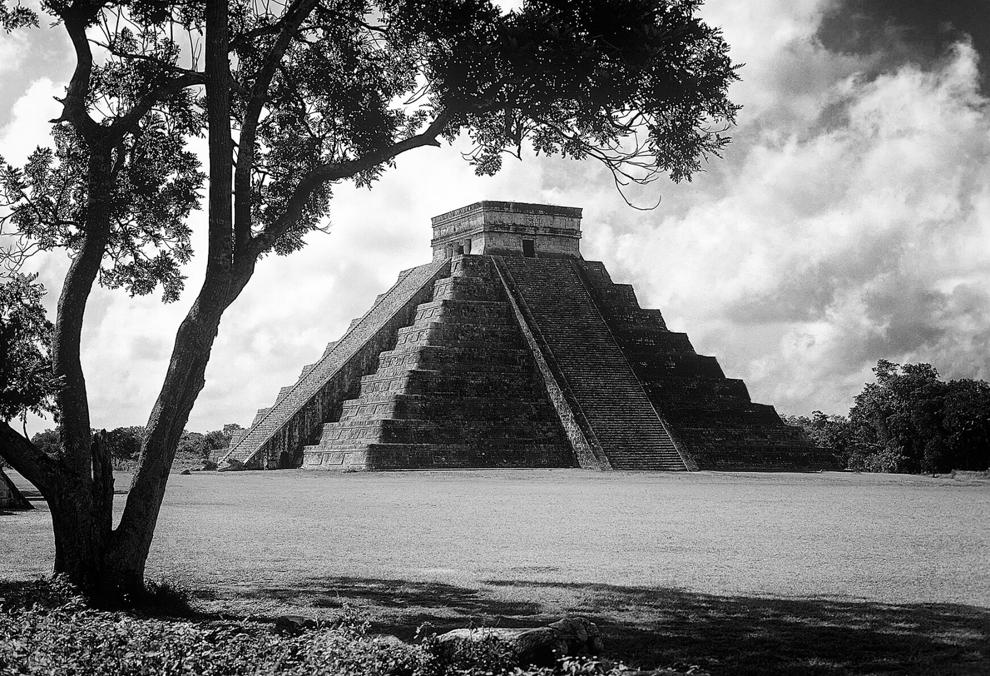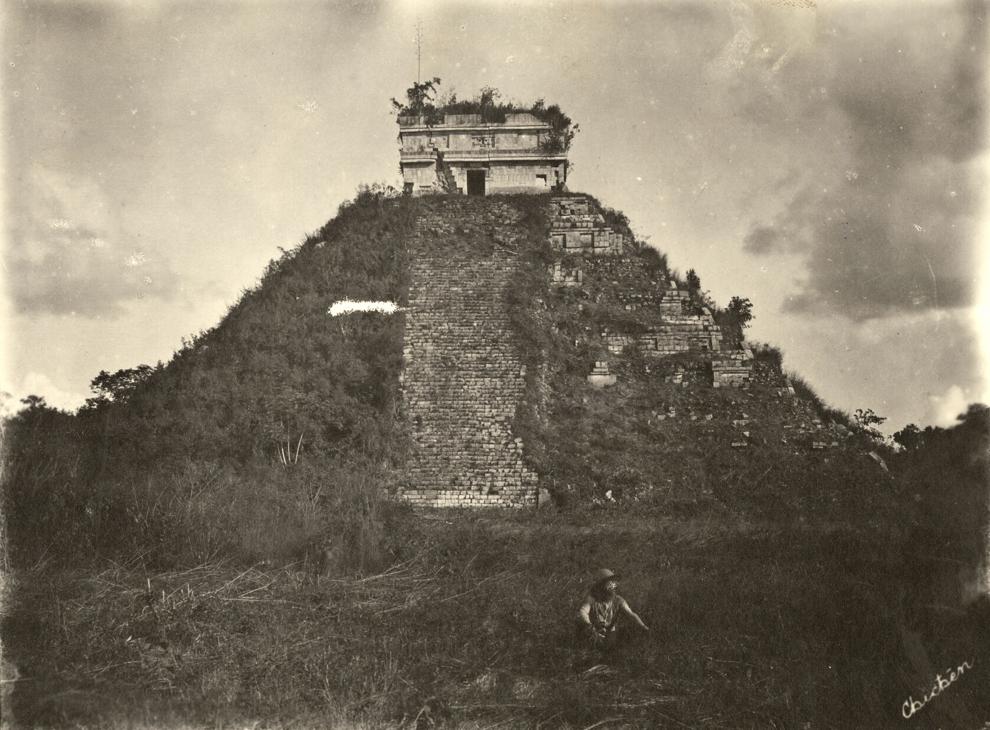 But Frej's interest in Mayan ruins extends beyond photography. He first became interested in the subject as a student of architecture, which he studied at the University of Notre Dame and University of Arizona in the 1960s. "In some of these very remote sites, there are structures that are 12 [hundred] to 1,400 years old. I always wonder what our cities are going to look like a thousand years from now. Even steel is supposed to deteriorate in that period of time. But the stonework of the Maya is still standing, and it's absolutely extraordinary." ◀