Traditionally, it was Salish women who performed the task of soaking, scraping, and smoking animal hides for tanning. One of artist Jaune Quick-to-See Smith's early pieces, done when she was in graduate school at the University of New Mexico, honors this aspect of her Salish heritage while simultaneously elevating women's craft to a fine art form and serving as a unique example of a shaped canvas.
The piece, Ronan Robe #4 (1977), looks like a painted buffalo hide, even in terms of its 66-by-59-inch size. But this is a work that combines old and new techniques, and it invites us to reflect on what we think of as traditional in the 21st century. Ronan Robe #4 is not a buffalo hide, but a work on canvas.
Quick-to-See Smith soaked, scraped, and smoked it before painting it with circular and crescent designs and linear diamond patterns, all rendered in shades of turquoise and coral. It hangs unframed on the wall.
Quick-to-See Smith, who's 81, is one of three artists in the New Mexico Museum of Art's exhibition Poetic Justice: Judith F. Baca, Mildred Howard, and Jaune Quick-to-See Smith. All the artists share a passion for justice in political, social, and cultural spheres that relate to their own racial or ethnic backgrounds or heritage, which are Chicana, Black, and Indigenous, respectively.
The title of the exhibition is two-fold. It references the social justice themes present in the artists' works, as well as the artistry (or poetry, if you will) of the works themselves. It also alludes to the fact these three artists overcame adversity to become prominent, respected artists, educators, and activists.
"All of them have always worked in a very public way, inspired by the times that they were in school," says Merry Scully, head of curatorial affairs and curator of contemporary art at the museum. "They are also very content driven in their work and went to school at a time when that wasn't the focus."
The exhibition is composed of 40 works divided into three sections (one for each artist) in the museum's New Wing.
In addition to the artist's works, the museum commissioned poems that explore the intersection of poetry and visual art by three regional poets: Hakim Bellamy, Levi Romero, and Edie Tsong. Stanzas from their poems — "How I Became Miss America" (Tsong), "Carlos, Prieto, and Ramiro Come to Hoe the Milpa" (Romero), and "Build Your Own Bouquet" (Bellamy) — are installed on the walls of the exhibit along with QR codes visitors can scan to open videos of the poets reading the works. The stanzas are also on billboards the outside of SITE Santa Fe (1606 Paseo de Peralta) during the run of the show as part of a series of collaborative poetry projects between the two institutions.
JAUNE QUICK-TO-SEE-SMITH
Bio: Quick-to-See Smith, who lives and works in New Mexico, is an enrolled member of the Confederated Salish and Kootenai Nation of Montana. She's a multimedia artist who often incorporates collage into her paintings.
The work: Quick-to-See Smith's work in Poetic Justice spans her career from the 1970s until 2000, when she made Browning of America (map), an oil and mixed-media work on canvas.
Browning of America (map) depicts the United States, which is heavily outlined in black, with a brown wash running and dripping across its surface. On the right side, a list of European groups and cultures under the heading "Invaders from the East" — Visigoths, Druids, and Normans are included — is half hidden by the running paint. Wide swaths of the brown wash cross the canvas horizontally, recalling the stripes of the American flag.
"Browning of America is talking about shifting demographics but also ecological issues," says Scully, who points out that the dominant brown color also suggests a physical browning of the land.
The museum is also showing examples from Quick-to-See Smith's I See Red series and the entire 13-page portfolio of her xerographic print series, Paper Dolls for a Post Columbian World.

JUDITH F. BACA
Bio: After completing graduate school at California State University-Northridge in 1979, Baca, who's 75, traveled to Mexico to study at Mexican muralist David Alfaro Siqueiros' workshop, Taller Siqueiros (now called La Tallera). There, she studied directly under former students of the famed modernist. Siqueiros (1896-1974), like his contemporaries, Diego Rivera and José Clemente Orozco, was known for works of social realism, and his murals often reflected themes of social justice. And so do Baca's.
The work: Her murals, painted in Los Angeles, are among her best-known works. The Great Wall of Los Angeles, which was completed in 1983, is a monumental mural that depicts the multiethnic history of Los Angeles, stretching for nearly half a mile on the cement walls of a flood control channel in the San Fernando Valley.
The museum is showing three photographic reproductions on canvas of sections of the mural, including 442nd Infantry (Japanese Americans), which shows a detail of a section that covers the 1940s.
The 442nd Infantry was among the most decorated regiment in U.S. military history. The mural depicts members of the infantry flying out of a U.S. flag, their hands raised in a military salute. The mural honors a unit that fought for our country, even while some of their own relatives were living in prison camps on U.S. soil.
The Great Wall of Los Angeles was created using acrylic paint on concrete. Baca made the digital reproductions on display in the museum in 2018.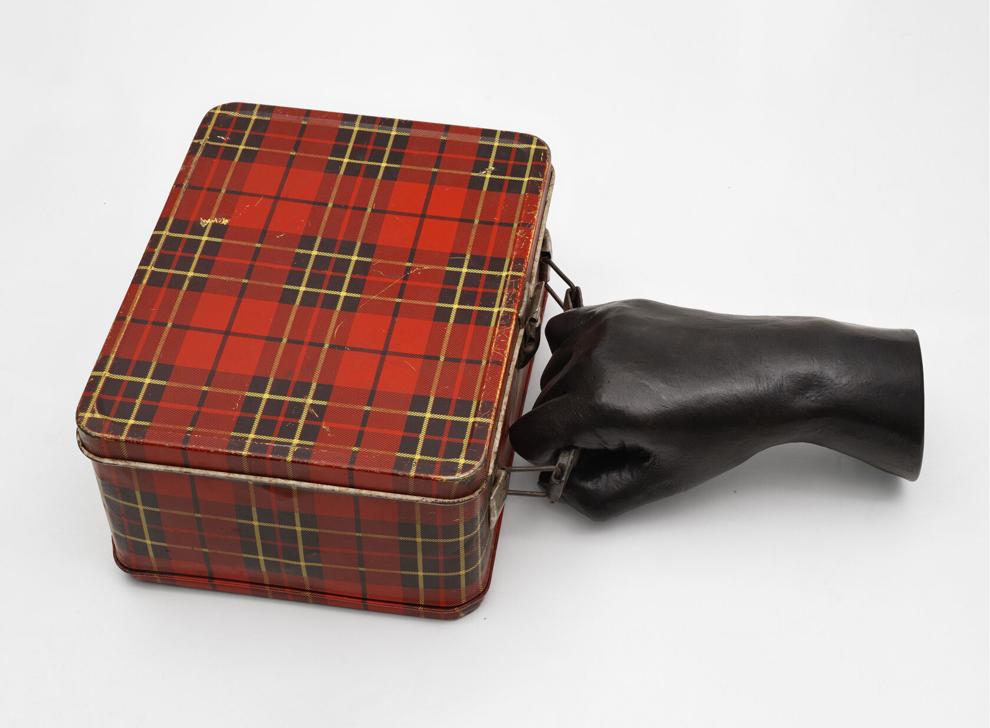 MILDRED HOWARD
Bio: Howard is a former executive director of chef and restaurateur Alice Water's Edible Schoolyard program at Martin Luther King Middle School in Berkeley. She's taught at Stanford and Brown Universities as well as the San Francisco Art Institute and the California College of the Arts.
The work: Howard frequently incorporates found objects into her work, like she did with Tha Dogg Express (2021), a working model train whose boxcars are made from repurposed and customized safety deposit boxes. It's simultaneously an homage to the rapper, songwriter, and actor Snoop Dogg and a work rife with references to layered history. The engine is emblazoned with "Tha Dogg" in big white letters. Each boxcar bears the name of a historically Black neighborhood on its side.
Tha Dogg Express, which is being exhibited for the first time, is a commentary on the gentrification of urban neighborhoods, and how new rail systems, roads, and other infrastructure projects marginalize underrepresented communities. But the safety deposit boxcars represent something more optimistic.
"It's about the displacement of communities but, at the same time, it's about the treasures within those communities," says the 76-year-old Howard, whose family history includes protests against the Bay Area Rapid Transit's plan for an above ground rail system that would have divided her South Berkeley community. Her mother, Mabel Howard, was a political activist who ran a successful campaign against the plan in the 1960s.
The museum is showing examples of Howard's monoprint series Millennials & XYZ (2014), and two other new works being exhibited for the first time: Square Meal (2021) and the multimedia installation The Time and Space of Now (2021).