Long before there were famous Pueblo potters like Maria Martinez (San Ildefonso) and Lucy Lewis (Acoma), there was Pueblo pottery. Pieces were functional — made to carry water, store seeds, cook in, and eat from. Forms were dictated by need, as well as by the materials available. Tewa clay from the northern part of the state, like that used at San Ildefonso, is thick and soft. Whereas the micaceous clay from central New Mexico, like that found at Acoma, is thinner, and clumps like cookie dough.
"The Acoma have always been renowned for their water jars. Everyone wanted to use them because they are thin-walled and very light. They are incredibly waterproof after you fire them. You don't even need to polish them again," says Tony Chavarria (Santa Clara), curator of ethnology at the Museum of Indian Arts & Culture.
Lewis (1895–1992) is one of the Southwest's most renowned potters. She began shaping clay when she was 8 years old, under the tutelage of her great-aunt and other women at Acoma Pueblo. She became known in the 1950s for painting fine-lined geometric designs on a white slip surface, inspired by ancient Anasazi and Mimbres pottery. Her colorful freehand patterns included stars, flowers, parrots, rainbows, and lightning.
Acoma potters use the coil-and-scrape method to build their pots, and they traditionally paint with clay slips that sit on the surface, creating a slight texture when dry. Clay must be tempered to prevent the pots from cracking as they dry or during the firing process. Some Pueblo potters use volcanic ash. At Acoma, they usually temper with ground-up pot shards.
"Their pottery is literally made up of their past," Chavarria says.
Tewa clay is much denser, resulting in vessels that can appear to be carved from stone. But the pots are shaped using the same coil-and-scrape method. The artist rolls clay coils and builds the pot incrementally, smoothing the coils out with slip and eventually with polishing tools. To the untrained eye, the finished pots don't look substantially different to those thrown on a wheel. Chavarria says the difference is in the pace of creation.
"When I tried it on a wheel, I just couldn't do it. They're able to create the whole form right there. With coil-and-scrape, you can't. You have to find that perfect balance between damp and wet. As you're building it, as you get higher or start coming in, it can't be too wet, or it will collapse on itself. It can't be too dry, or the coils will start separating. There has to be that perfect balance that you're working with. Otherwise, it falls apart.
"That goes through the entire [Pueblo] worldview as well, that pursuit of balance," he continues. "Things have to even out. That's why you make pottery. That's why dances are performed. It's seeking balance and maintaining that connection to the earth and everything around it."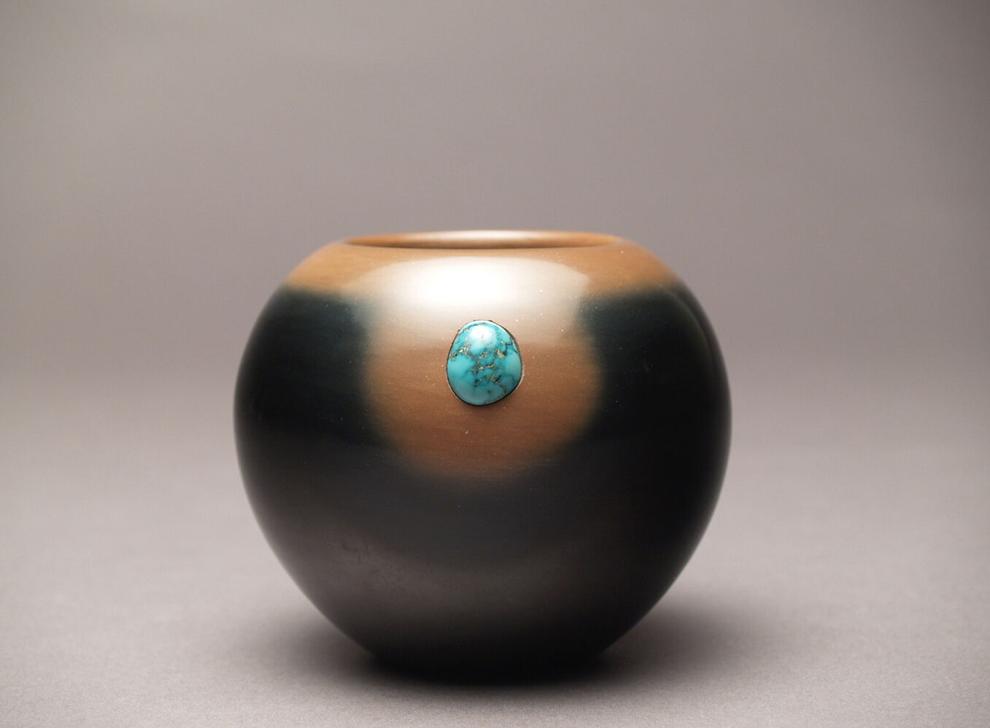 Innovation happens through experimentation. Many contemporary potters try clays and slips from different geographical areas to expand their color palates, and some create classic shapes using non-traditional materials, like metal or glass. And techniques now seen as traditional were considered breakthroughs at the time, as when Maria (1887–1980) and Julian (1879–1943) Martinez created their famous blackware in the 1920s. Martinez polished her dried surfaces with a small stone, and then Julian painted designs with black slip made from Rocky Mountain beeweed. During the firing process, horse manure packed around the clay cut off oxygen and turned the pots black — a process that was used for hundreds of years before the artist couple thought to create a contrast between areas of matte and shine.
Sometimes, stylistic advances occur almost by accident. One of the first potters to inlay heishi beads into clay was Popovi Da, Maria Martinez's son. A piece developed a small chip during firing, and to save the pot, he set a stone into the damaged area, making it appear intentional. But, Chavarria says, working in a museum, he has found that there's "nothing new under the sun." Repairs can also be seen in pre-contact pottery, cracks that were fixed by tying rawhide tightly around the rim, so that it contracted as it dried, and held the cracks together. In this way, he says, people are like pottery, fixed by eye glasses or a new hip.
"Pottery has become one of the defining arts for the Southwest, particularly among the pueblos. But it's not just an art. It's part of the Pueblo culture. We're each born of the earth and shaped by the earth. Pottery is taken from the earth, it's mixed with its temper, and it's shaped into its form, just as we are. It has its life, just as we have our life."
Potters showing in Santa Fe this weekend include Diane Lewis-Garcia (Acoma) and Judy Tafoya (Santa Clara) at Free Indian Market; Jacob Frye (Tesuque Pueblo) and Diego Romero (Cochiti Pueblo) at Pathways Native Arts Festival; and Rebecca Lucario (Acoma) and Madeline Naranjo (Santa Clara) at SWAIA Santa Fe Indian Market. ◀