Animal carving is one of the most popular art forms at Zuni Pueblo. Most of these objects — commonly referred to as fetishes — are stone, but they can be carved from wood or antlers, or made from glass or shells. Some are tiny, no bigger than an inch, and some are nearly the size of a baseball. But most fetishes are just the right size to hold in your palm.
"They fit right in your hand, like they were designed for that," says Mark Bahti, owner of Bahti Indian Arts, on Palace Avenue, and author of Spirit in the Stone: A Handbook of Southwest Indian Animal Carvings and Beliefs, first published in 1999, with a second edition in 2016. He's considered an authority on Native American animal carvings by the staff at the Wheelwright Museum of the American Indian. His father, Tom Bahti, began selling and trading Indian arts in 1949, and Mark took over the business in the 1970s.
In a display case at his gallery, there are carvings by Zuni artists, as well as by carvers from other pueblos. The menagerie includes frogs, bears, snakes, dolphins, orcas, badgers, cats, and parrots made from stones found near and far — turquoise, blue Angelite, red and yellow jasper, gold and gray Picasso marble, rainbow-hued Peacock ore, and creamy-colored Zuni stone, found east of the Pueblo.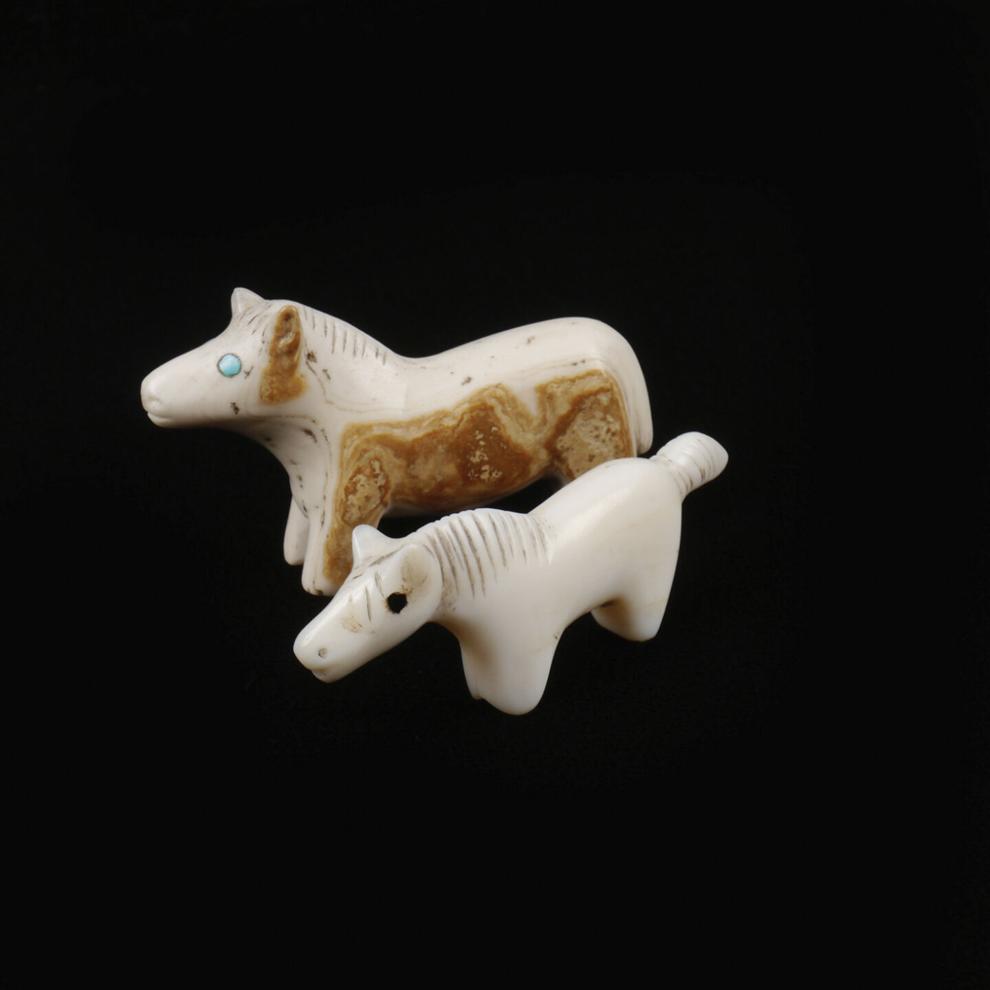 Carvings can be highly detailed, with almost lifelike features, and embellished with delicate stone inlay. At the opposite end of the spectrum is the oldest fetish style, in which a rock is selected for its resemblance to an animal, and carving is minimal, just enough to make it identifiable. Wilson and Salvador Romero, carvers from Cochiti Pueblo, practice this style, Bahti says. "Wilson and his wife — when they go for walks in the evening along the river — he keeps his eye out for rocks. When the bag gets too heavy, it's time to go home."
Holly Coonsis grew up at Zuni and manages Bahti Indian Arts. Though not a carver herself, she comes from a carving family. "My father carves. My cousin, my uncle, and my step-father and his family. A lot of the carvers that we represent, I went to school with or grew up around."
She says that there are two kinds of carvers: Those who can carve any animal you ask them for and those who prefer to let the stone tell them what it wants to be. "My cousin only does owls and bears. A woman asked him to do a swan, but after two or three months, he told her it wasn't going to happen. Other guys are really great at it. Cody Nastacio, you give him any request and he can bring it. We gave him a photo of the Obamas' Portuguese Water Dog, and a few weeks later he brought in a carving."
Bahti and Coonsis say they spend a lot of time educating customers about cultural issues around the carvings they sell. First of all, they don't usually refer to them as fetishes.
"'Fetish' is an English corruption of a Portuguese word that they used to describe objects of power they encountered in West Africa, when they were colonizing," Bahti explains. "So, it's not really a useful word for describing them, but it's the one in common use. People tend to think of them as being Zuni, and while the Zuni have the greatest number, other tribes have them as well."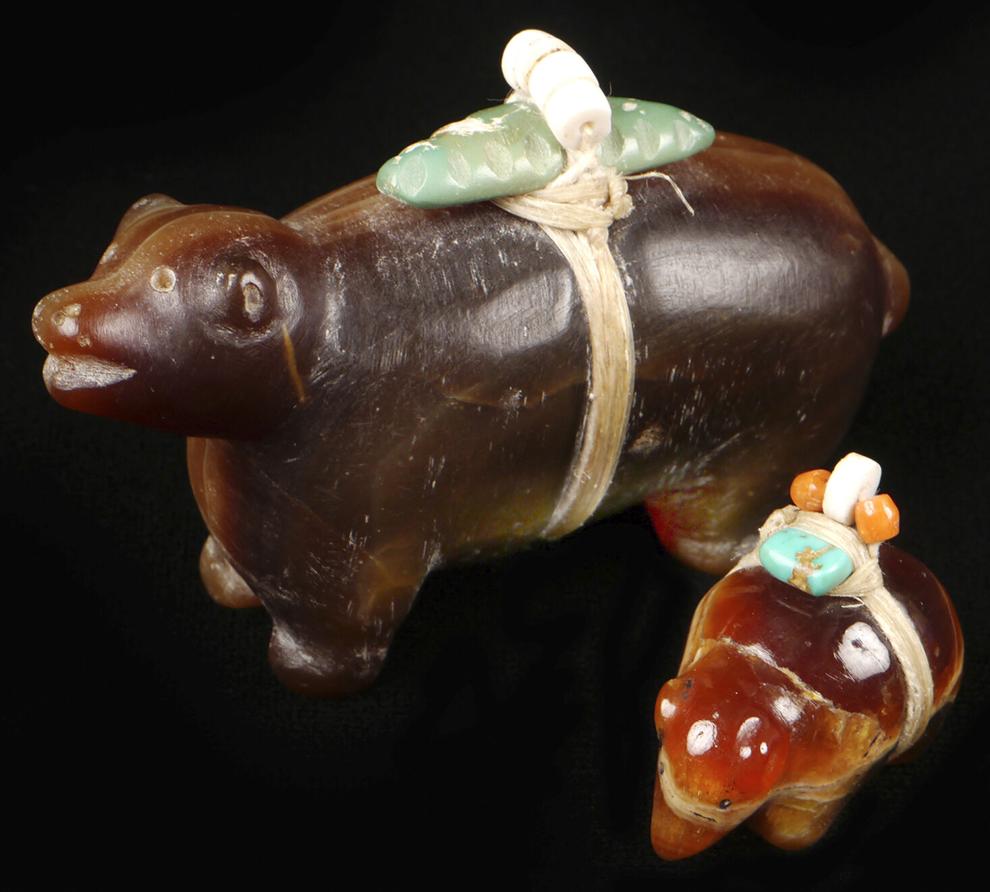 Carved with small electric tools, as well as hand files, there are hunting fetishes and healing fetishes. Traditional Zuni carvings often recognize the animals of the six cardinal directions: Mountain lion for the north, bear for the west, badger for the south, wolf for the east, eagle for zenith (upper), and shrew for nadir (lower). While a Zuni hunter might carry a mountain lion in his pocket to focus his energy, the average buyer doesn't need to be a hunter to appreciate the same carving. Or, they might connect to a pueblo maiden made from mother of pearl, an alabaster bobcat, or a dancing dolomite bear with turquoise eyes.
"We tell people that it's interesting to know what attributes different tribes ascribe to them, but they should get it because something about that animal appeals to them. From their lives, and their context, and their culture," Bahti says. "I look at them as sculpture. Each one reflects that artist's ability, skill, vision, and intent."
Non-Native buyers often want to know what each animal represents and about the spiritual significance of the carvings. "I don't feel comfortable sharing that," Coonsis says. "What's out here for commercial sale isn't for that purpose. Anything that would be considered a true fetish would never be sold or traded. If it was considered a true fetish, [its meaning] would only be known between two people — the receiver and the giver. You don't ever show those things to anyone."
Animal carvers showing in Santa Fe this weekend include: Lena Boone (Zuni) and Sheldon Westika (Zuni) at Free Indian Market; Lionel Sanchez (San Felipe Pueblo) and Wilson Romero Sr. (Cochiti Pueblo) at Pathways Native Arts Festival; and Gabe Sice (Zuni) at SWAIA Santa Fe Indian Market. ◀