Minimalist art is often talked about in terms of its materiality and observable attributes such as color, shape, and surface treatment. But to tease deeper meanings or make allusions to things that lie outside of the work itself — to suggest, without the need for explicit references — is a hallmark of the work in Sense Memories.
That title captures the essence of the Center for Contemporary Art exhibition, which marks the reopening of its gallery program. That's not to say the work can't be talked about in terms of materiality, form, and spatial relationships, but it reaches for something more.
Ostensibly, that "something more" stems from the experience of the works' creator, Marietta Patricia Leis, whose art is inspired by her experiences in the world, whether that's through her travels or her numerous international artist residencies. But the indeterminate nature of that experience, from the viewer's point of view, is less autobiographical than it is an invitation to step inside the work.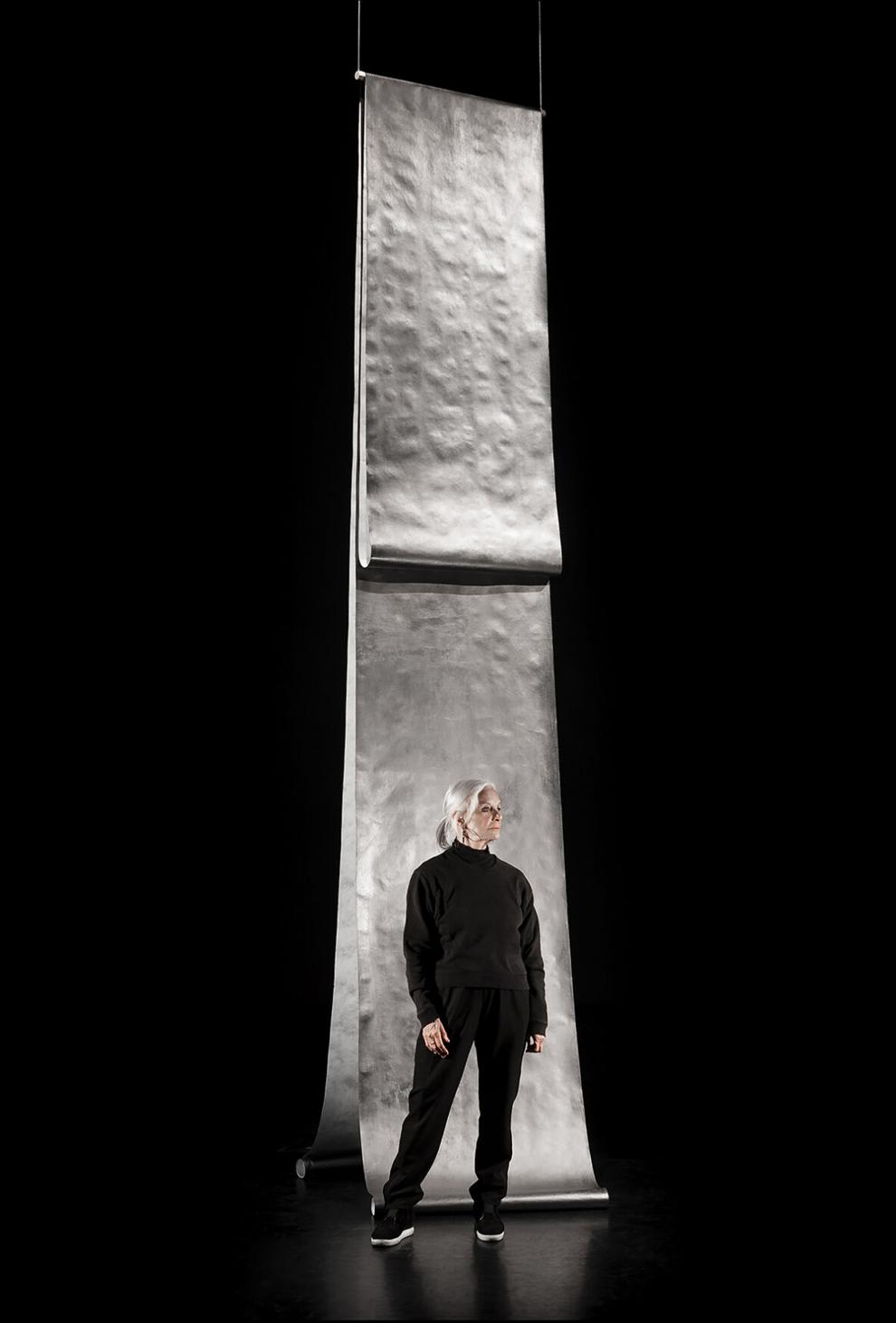 The arrangement of objects has a way of focusing one's attention. Phoenix Rising #1 and #2 (2020), for example, occupy an entire 25-foot white wall, just inside the entrance to the exhibit. These two wall-mounted cross sections of tree trunks are surrounded by white space. One almost feels the need to approach them with reverence. The blackened bark and copper-leafed cross sections, where the wood was cut, do more than offer a dynamic contrast (the copper is reflective and the black is not). They offer the viewer a contradiction to contemplate. The black is not paint. The mimosa wood was charred in the manner of the ancient Japanese shou sugi ban technique.
Shou sugi ban is a practice, used more and more in contemporary art practices, that was originally intended as a wood preservation technique. But charred wood, when presented as a found object with little other artistic intervention, calls to mind other associations, such as forest fires, many of which can be attributed to the current climate crisis. That's the contradiction: Shou sugi ban is a technique used with creative intent while burning is a destructive force.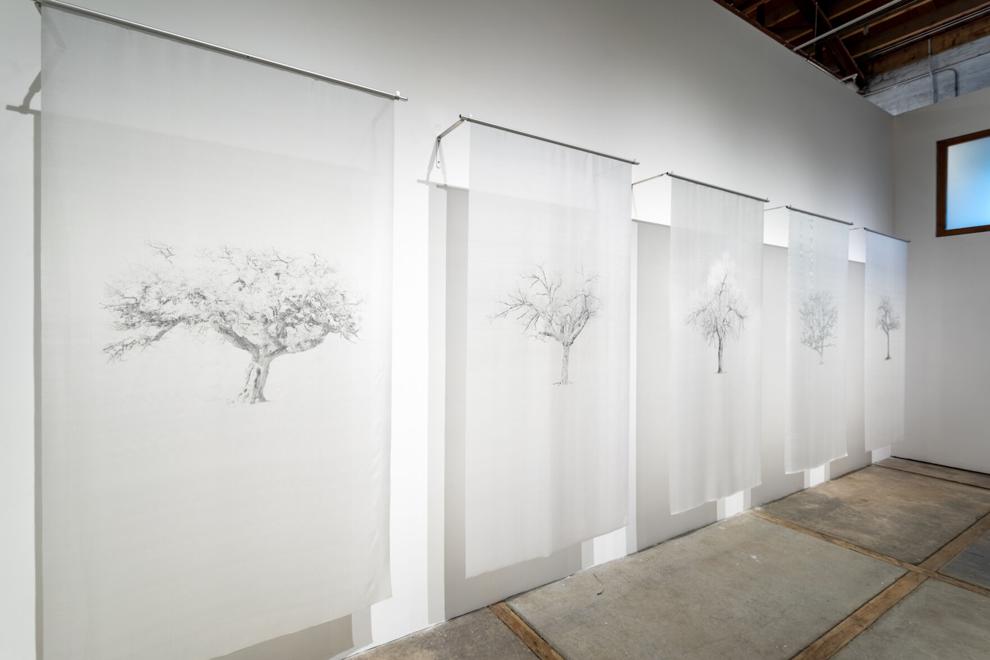 There's a wholeness to Leis' exhibition, which begins and ends with trees. Or, at least, there's a statement in the way it opens up, from these conceptual considerations at its start to a more emphatic statement in its final section. In between are a number of works in which reduction plays a major role, in terms of both materiality and its effects in the way Leis uses it, as well as in terms of reductions of memory and impressions of place.
Vacuities #1-4 (2018), for instance, hint at landscape through the artist's use of a white horizon line that intersects the midsection of each aluminum-mounted archival print. Arranged side-by-side in a horizontal configuration, each of the 20-by-24-inch works from the series are near-photographic representations of light breaking (or disappearing) on the horizon. But in this instance, "near-photographic" doesn't mean crystal clear, like a focused image of a landscape. The Vacuities, whose titles reference empty space, are ambiguous, nocturnal images of white on black (or perhaps white in black). What we are calling a horizon line isn't presented as a geographic feature but something undefinable, nebulous.
Leis' installation features a number of works in series, several of which are arranged in a grid format, which invites consideration of individual pieces in relation to a larger whole. Her Air (2019) installation, for example, is a series of 18 aluminum-mounted archival inkjet prints of variable dimensions, and each is dominated by a single hue, although the tones fluctuate within each piece. On the whole, they give a sense of moments in time and the dramatic changes in light over the course of a day. Unlike other grid installations on view, these 18 works hang in a loose salon style with ample space between them, like loosely connected molecules floating in space. One senses that, if memories or impressions could manifest visually in the space round us, they might look something like this. Self-contained but part of a larger picture.
The works in Sense Memories are spare and simple on the surface, often rendered with monochromatic or near-monochromatic color schemes. The forms are simple, too: rectangles, diamond shapes, and circles. But even the wall-mounted pieces should be regarded more as sculpture than as two-dimensional works. For one thing, each one extends slightly from the wall, which allows for minimal but evident shadow play that gives them a 3-D effect. Some works, such as several of the pieces in her Eclipse series, are solid black but the edges are gilded in copper, which reflects off the wall and surrounds them with a halo of ethereal light. There's a kind of visual poetry in this, and it stands to reason because Leis also is a poet, one whose words convey with simple, koan-like elegance an impression or the kernel of an idea.
Air is accompanied by a poem by the same name printed on the wall beside the installation, and so too is Evanescents #1-5 (2018), which occupies the last section of the exhibition. This is a series of bands of silk chiffon that hang loose, side-by-side, a few inches from the wall. Each band of silk bears a single impression of a tree. Once again, each tree is isolated, occupying only a small area of the white, translucent fabric. But arranged together, they form a small stand.
The renderings of the trees are austere. One can't escape the notion that nature, such as that represented by the presence of trees, becomes fetishized and artificial when placed in a gallery or museum setting. It's the art that's being experienced and not the trees. But one suspects that Leis is keenly aware of this because the series seems to amount to a kind of lament, particularly when regarded in light of her accompanying poem.
If a clear cut forest is a Greek chorus, then it's one that speaks of tragedy. Even the bands of silk bearing the images of trees recall the flowing mantles worn in ancient Greece, at least in the ancient Greece of one's imagination. The works in Evanescents #1-5 are the most explicitly representational in Sense Memories. But one comes away from this exhibit with the feeling that, despite its abstractions, the exhibit is more representational than a facile reading would suggest.
In its austerity is a complex distillation of experience and a subtle but profound sense of beauty and concern. — Michael Abatemarco/The New Mexican