At 6.9 feet in height and 6.2 feet in diameter, Ainu artist Kohei Fujito's iron sculpture, The Singing of the Needle (2021), is an imposing size, with an iron screen bristling with rough spirals barbed with spikes. A painted deer skull is mounted on a pole at its center, surrounded on all sides by the iron screen like it's being shielded, from some external threat.
In 2011, in the wake of the Fukushima Daiichi nuclear disaster in Japan, Fujito was concerned about the effect of radioactive winds on his Ainu family and community on Hokkaido, Japan's northernmost prefecture.
"The spiral pattern throughout the work is based on a traditional Ainu symbol for wind," says Manuela Well-Off-Man, chief curator at the Institute of American Indian Arts' Museum of Contemporary Native Arts. "The spikes are for protection. The deer skull is about how this disaster also affected the wildlife."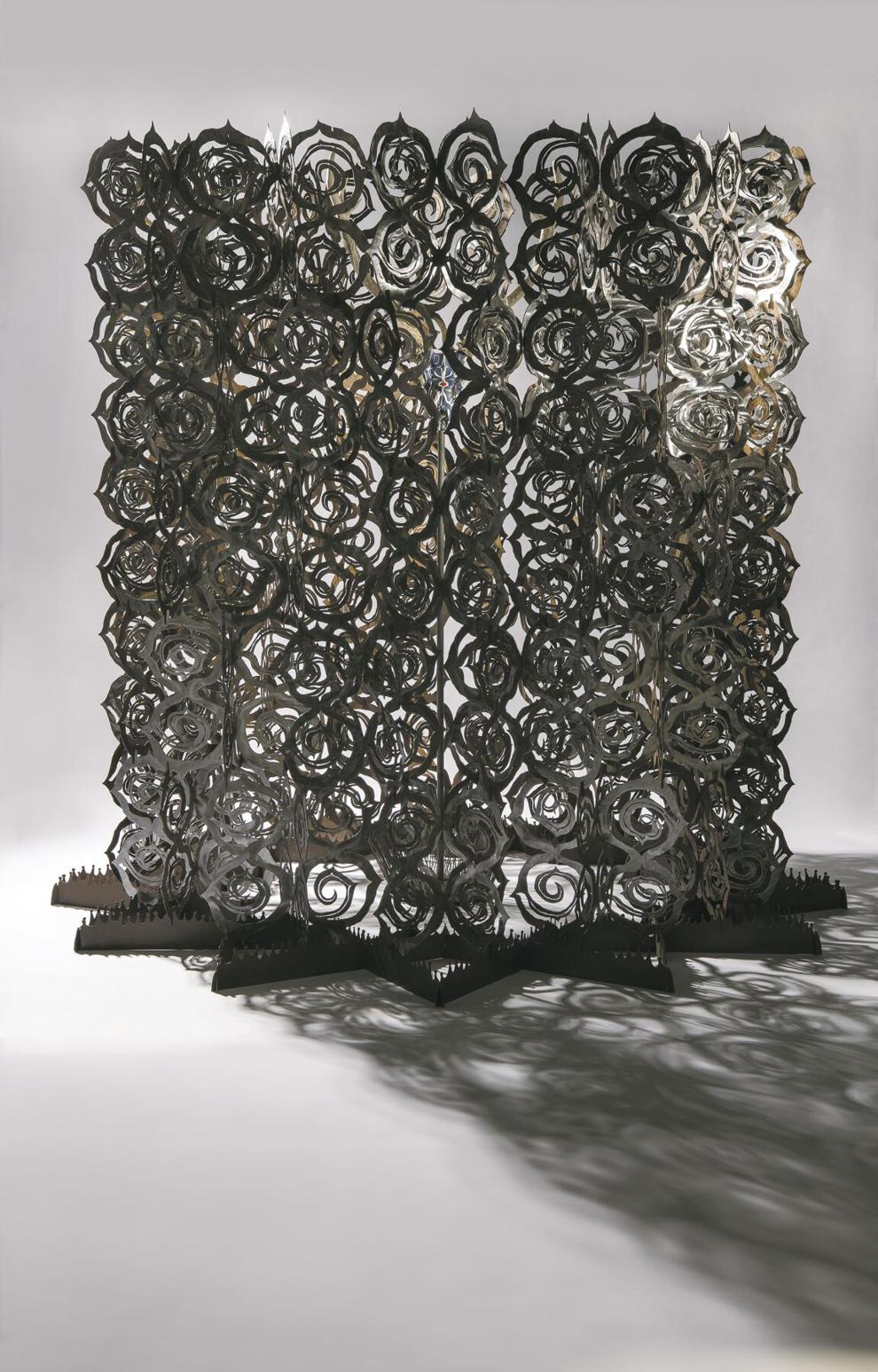 Exposure: Native Art and Political Ecology is the first large-scale international exhibition of Indigenous artists responses to nuclear disaster and proliferation. It includes about 45 works by more than 30 Indigenous artists from the United States, Canada, Greenland, Japan, Australia, and the Pacific Islands.
The regions represented in the exhibition, which opens at IAIA MoCNA on Friday, Aug. 20, are united by similar narratives. Perhaps no toll visited on Earth by the deleterious effects of radiation is greater than that on its Indigenous communities.
Much of the nuclear testing and related disasters happened decades ago, often without public knowledge, and impacted communities who had insufficient understanding of the long-term effects. In the United States, the ramifications of widespread uranium extraction on tribal lands continues to this day. According to the Environmental Protection Agency, 75 percent of the nation's 15,000 abandoned uranium mines are on Federal tribal land, including more than 1,000 on the Navajo Nation.
Diné photographer Will Wilson addresses the subject in his drone-based photographic triptych Mexican Hat Disposal Cell, Navajo Nation (2020-2021), which shows aerial views of contaminated uranium mines and mills, and in two images on display from his Autoimmune Response (AIR) series (circa 2005). The latter is an Indigenous futurist look at a post-apocalyptic world that situates its subject (Wilson donning a gas mask) in the majestic but toxic landscape of the Navajo Nation, which has a history of devastation caused by uranium, oil, and gas extraction.
Destruction I (2002) is located at the entrance of the Anne and Loren Kieve Gallery, where the main part of the exhibition is housed. It's a 4-foot by 3-foot painting by Aboriginal artists Kunmanara Queama and Hilda Moodoo (both Pitjantjatjara people) that depicts a multicolored atomic mushroom cloud, rendered as a traditional Aboriginal dot painting.
"What we're doing with this exhibition is giving international Indigenous artists a voice to comment on the impact of nuclear exposure, like here in New Mexico, from the first atomic bomb development and tests but also from uranium mines," Well-Off-Man says. "Similarly, in Australia, there were atomic bomb tests throughout the 1950s and '60s. Like here, with our uranium mines, these tests were conducted on Aboriginal land, without consulting with tribal governments and tribal elders. The government tried to move entire communities, but they didn't really explain what would happen, and some of the Aboriginal tribal members stayed on the land. They never got the message, and they got severely sick or died of cancer."
Exposure is spread throughout several galleries on the museum's main floor, including the North Gallery, the Helen Hardin Media Gallery, and the Honors Gallery.
A visual motif in the form of biohazard and radiation symbols runs through the exhibition. Samoan artist Dan Taulapapa McMullin's Radiation Mats (2021) are intended as markers, alerting the viewer that the separate spaces are part of the same show. They also reflect the exhibition's theme. The symbols are superimposed over photographic imagery of landscapes and people of the Bikini Atoll, whose inhabitants were forcibly removed in 1946 in advance of a series of nuclear tests conducted by the United States the following decade. When the inhabitants were allowed to return, more than two decades later, they were poisoned by high concentrations of the radioactive isotope Caesium-137 and high levels of Strontium-90 in the well water, prompting mass evacuations in 1980.
Other works by McMullin include Clouds (2021), a video installation that places the history of nuclear testing in American Micronesia and French Polynesia into a contemporary context, and Te Mau Ata: Clouds (2021), a photo-collage depicting Bikini's displaced people and French Polynesia's anti-nuclear and independence activists amid the eponymous mushroom clouds created by nuclear blasts.
It's significant that Exposure, which travels next year, launches in New Mexico, where the first atomic bomb test was conducted. That event was a precursor to the first deliberate use of a nuclear weapon (on the Japanese cities of Hiroshima and Nagasaki on Aug. 6 and 9, 1945) mere weeks after the historic test at Trinity Site, New Mexico, on July 16. Fujito's The Singing of the Needle obliquely references a legacy that began in a country thousands of miles away and that continues to make its presence felt throughout the world. The Fukushima disaster, after all, was just 10 years ago. It's second only to Chernobyl as the most severe nuclear accident in world history. What happened at Hiroshima and Nagasaki, which was worse in many respects, was no accident but a deliberate act of war.
It's also significant that the show premieres in Santa Fe.
"What I learned after I moved here is that [state road] 599, the road I use to come to work, was actually built for the uranium trucks so that they don't go directly through Santa Fe but bypass the town," Well-Off-Man says. "Urianium is still being shipped from Canada to Southern New Mexico."
Well-Off-Man organized the exhibition in collaboration with guest curators from around the world, including iBiennale Director Kóan Jeff Baysa, Hokkaido Museum of Modern Art Chief Curator and Vice Director Satomi Igarashi, and independent curator Tania Willard (Secwepemc Nation).
Smaller exhibitions have been mounted on the effects of man-made disasters on Indigenous peoples, such as Hope + Trauma in a Poisoned Land, which was organized by the Flagstaff Arts Council and opened in Flagstaff, Arizona, in 2017, and Australia's Burrinja Cultural Centre's touring exhibit, Black Mist Burnt Country (2016). But those exhibits were focused on regional issues. The global Indigenous perspective of Exposure positions it as a landmark exhibition.
"From the moment I came here to MoCNA, I wanted to do an international Indigenous show," Well-Off-Man says. "My co-curator, Dr. Baysa, who is also a medical doctor, talked with me about the nuclear effects on tribes. As a doctor, he had an interest in that subject from the medical perspective. I knew there were issues here, especially on Navajo land and in many pueblo communities."
Tentative venues for the exhibition, which closes in January, include the Roswell Museum & Art Center in Roswell, New Mexico, the Fred Jones Jr. Museum of Art at the University of Oklahoma, and the Armory Center for the Arts in Pasadena, California.
No matter the region, the artists in Exposure mine local and tribal knowledge, as well as contemporary and Indigenous art forms to explore these thought-provoking works. Their voices are clear. And now they can be heard. ◀