Its facade a fading ochre, with crumbling plaster revealing the brickwork beneath, the abandoned pavilion at Santa Maria della Pietà in Rome is not a welcoming structure.
But artist Monica Lundy's rendering of the pavilion, made with mixed media and liquid porcelain which cracks as it dries, captures a sense of its ruination. The structure in her 2021 painting, Padiglione IV (Santa Maria della Pietà, Rome), is rendered from an oblique angle. The pavilion looms, filling the composition, seemingly haunted and abandoned.
Closed since 1978, the former psychiatric hospital, which is now the site of a museum, was home to atrocities committed in the name of medicine and science. Many of the subjects were unwilling patients, some of whom would not, by today's standards, be considered mentally ill. These are people whose portraits Lundy painted. They were psychiatric patients from the late 19th and early 20th centuries, committed to the hospital at Santa Maria della Pietà and other institutions. And were it not for Lundy, they would be forgotten.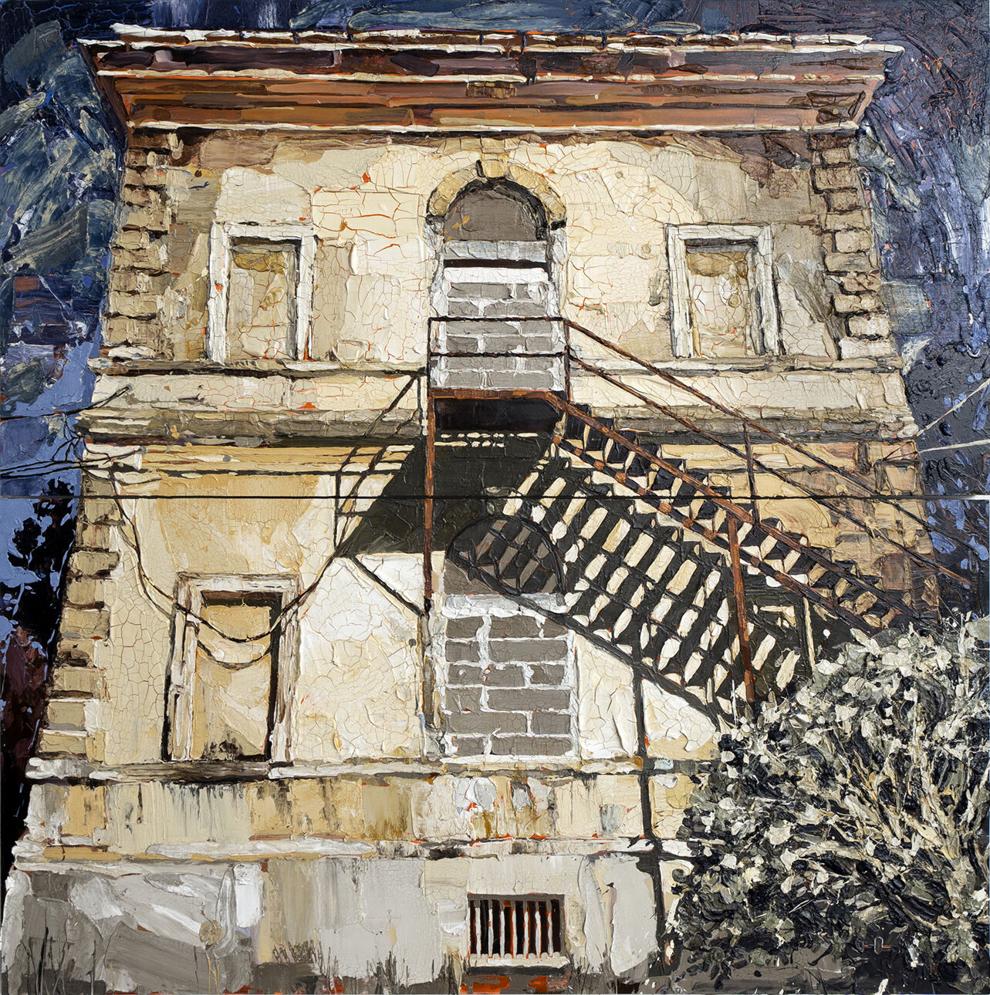 In Physiognomy of the Abandoned, Lundy's solo exhibition at Turner Carroll Gallery, they're tangible presences, identified by first names only. Like Elizabeth, a woman committed to the former West Riding Lunatic Asylum in the U.K., some look wild, perhaps even mad. Others, like Natalina, a patient at Santa Maria della Pietà, look beaten, tired, and resigned.
Despite assumptions based only on her subjects' appearances, these women were not suffering from mental disorders.
"At the Santa Maria della Pietà in Rome, I went through the patient case files," say Lundy, who's 47. "I tried not to work with patients that were genuinely mentally ill. The portraits that I did from Santa Maria della Pietà were women and girls who were placed there by their families, by their husbands, and by society for being unacceptable as women in society."
Lundy says the case files described the symptoms and behaviors of the patients and the reasons for their admittance.
"If I had some doubt as to if the patient was truly mentally ill, I chose not to use them."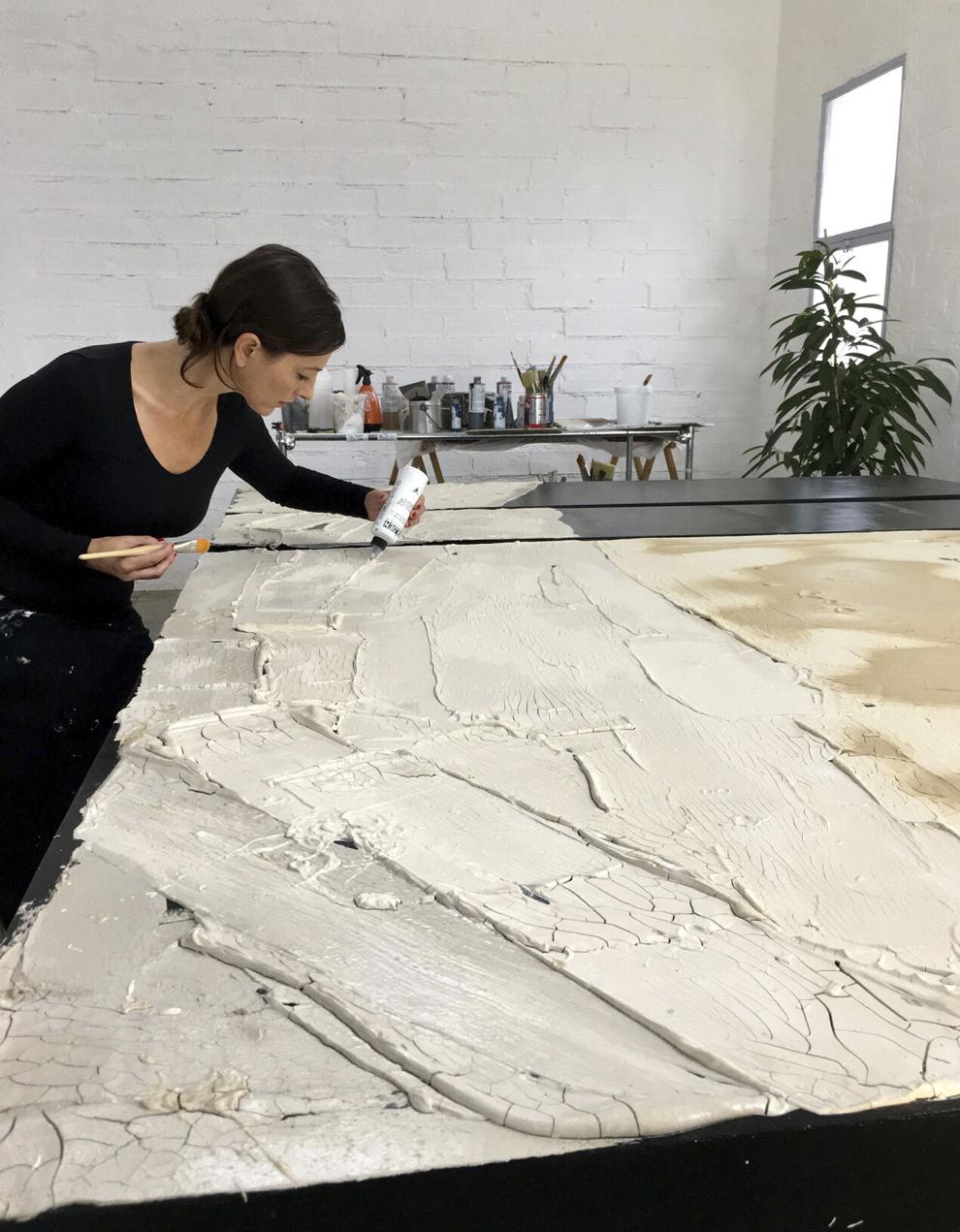 Lundy is known for works that commemorate the disenfranchised, including mental hospital patients, sex workers, and prisoners. Driven by compassion for marginalized souls, she spent six years in intensive research to create the portraits in Physiognomy of the Abandoned, rendering each one with a degree of abstraction.
It was an exercise in empathy, one connected to experiences that Lundy witnessed in her own life.
"When I was 8 years old, I moved from the United States to Saudi Arabia with my family," Lundy says. "Going from the United States to Saudi Arabia as a girl, I was confronted with two shockingly different cultures that treated girls and women completely differently. From that age, I started being hyperaware of cultural perceptions and how tenuous our perception is about reality."
When she was older, Lundy spent two weeks in a Saudi hospital for medical issues.
"It was a really shocking experience," says Lundy, who was placed in a children's ward under the care of what she says was an unprofessional staff. "I remember that a couple of the children died while I was there, so not only was I in a strange, foreign hospital setting which I desperately wanted to escape, but I was also confronted with the stark reality of life and death on a daily basis there. I felt very helpless. I think that also informed my curiosity about who has ended up in hospitals and why."
In several instances, Lundy's portraits are of people whose only known photos are in the patient files of hospital archives. One exception is a portrait of French sculptor Camille Claudel (1864-1943). Claudel is known for her figurative works in marble and bronze, one of which — L'Implorante (grand modèle) from 1905 — is on view at the Turner Carroll Gallery, near Lundy's portrait of the artist.
Claudel died in near-obscurity, having lived the last 30 years of her life at the Montdevergues Asylum at Montfavet, near Avignon in France. She was committed by her family, who refused repeated attempts by hospital staff to convince them to approve her release.
At 87 by 59 inches, Lundy's Camille (2021) is the largest portrait in the exhibition, rendered in charcoal and gouache on a hanging scroll. Charcoal and gouache are not uncommon materials for an artist to work with. But Lundy often challenges herself by using atypical mediums, including the stains made from wet coffee grounds.
"I find inspiration in using unusual materials and figuring out how to paint with things that aren't paint," she says. "Everything I do I think of as a painting, even if I'm working with pulverized charcoal or coffee or burnt paper. I've also done some rust paintings and ephemeral terra-cotta clay paintings."
Lundy's clay paintings were the precursors to working with liquid porcelain, which she layers in a thick impasto, using palette knives and her hands, mixing the white material with acrylic pigments.
"I started doing these large-scale painting installations of smeared terra-cotta clay across the wall in the form of an image. I really enjoyed the process of the fast 'sculpting' of the work, even if it was physically exhausting. I marveled at watching the work transform on a daily basis: drying, cracking, and chunks of terra-cotta falling to the floor. The piece was constantly evolving.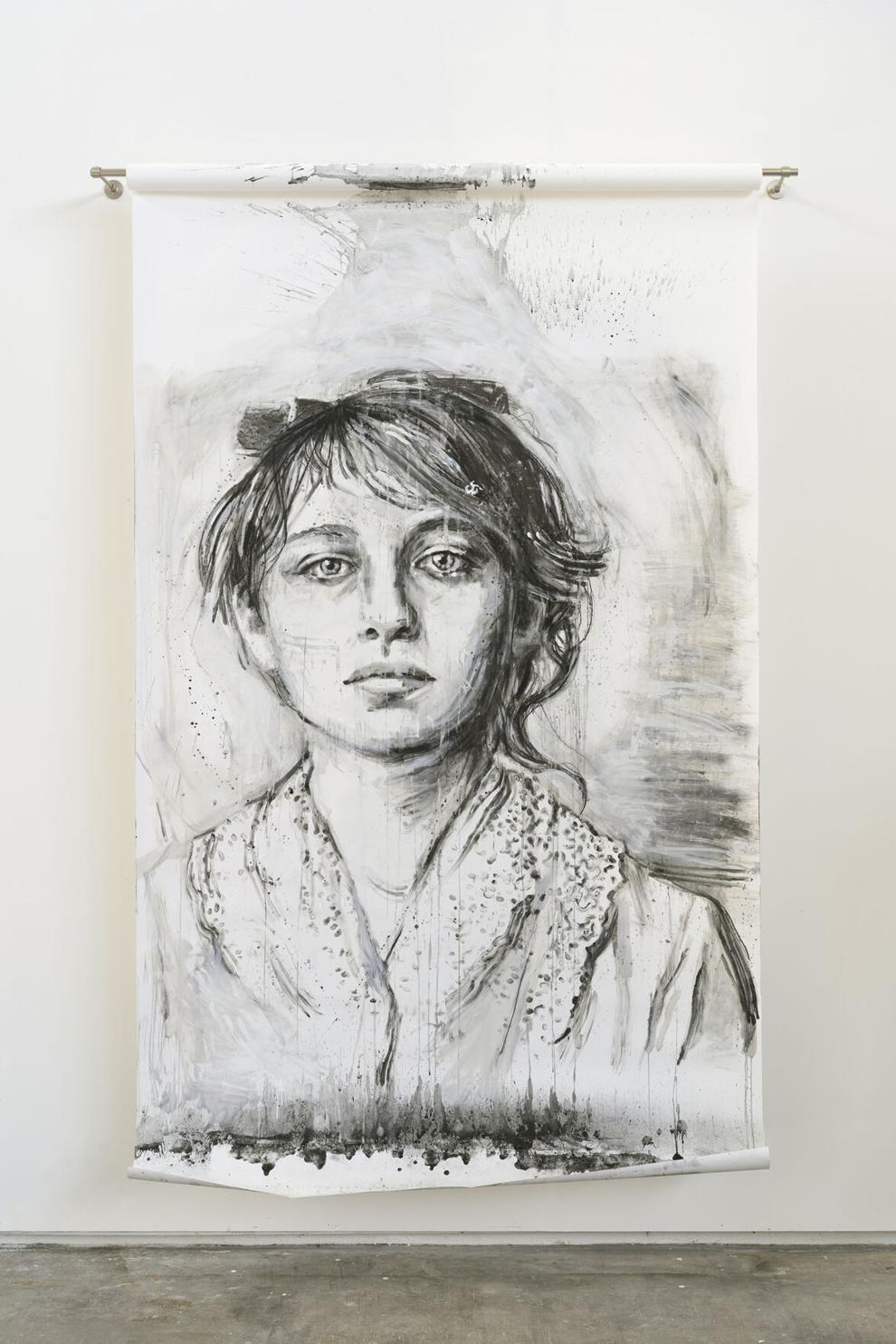 "It was a beautiful and powerful medium because it had the component of time built into it. The piece itself had a lifespan. It had a beginning, a middle, and an end. To me that was poetic, and I appreciated the time I spent with the work much more because I knew that it wouldn't last.
"At the end of each exhibition I would have to basically destroy the rest of the work. The wall would be repainted and the terra-cotta would be swept up off the floor like nothing ever happened. "
Liquid porcelain could take on some of the same characteristics of the clay, such as its tendency to crack as it dries, but is more stable over time. However, she says, the medium is temperamental. "It's such a finicky material because it's very sensitive to moisture in the air. It's very sensitive to hot and cold weather, so the process is constantly changing."
Lundy created the process, in part, as a way of limiting herself from a tendency to over render her portraits.
"I thought I could become more abstract by using this liquid porcelain material. But I find myself working it so much because I so want to capture the image at the same time. It becomes this highly textured abstracted material while also becoming very representational."
The result is a composition in which the medium dovetails with the subject matter, enhancing the viewer's perception through its fractured imagery. Her paintings are partly the result of studio work and partly long hours spent in the confines of dusty archives, searching through old ledgers and historic photographs.
For Lundy, the research is an integral part of her practice. She favors a more direct experience, working in archives and libraries, to merely doing research online. That aspect of her practice led her to Santa Maria della Pietà and a man named Pompeo Martelli. He was a former psychiatrist in the mental hospital and is now the director of the Mind's Museum (Museo Laboratorio della Mente), a psychiatric museum located on the same site that serves as a repository for more than 250,000 patient case histories. It is the largest historical psychiatric archive in Italy.
"He really helped with the direction of my research there," Lundy says. "He taught me a lot about the history of, not only that hospital, but the history of different experimental therapies. But he emphasized to me that it was not therapy. It was experimentation."
The museum contains artifacts from the former hospital, including chemical compounds in a historical display of the hospital pharmacy. What they contain might give one pause: mercury cyanide, mercury chloride, fluid extract of bitter orange, and tincture of Belladonna (a deadly nightshade).
The exhibition at Turner Carroll includes renderings of the glass medicine bottles that Lundy made by burning the images onto paper with a soldering iron.
"The history of mental institutions is really horrifying. A lot of times, the methods they used to control or subdue patients were really just physical and psychological abuse."
Many people are aware of electroshock therapy and lobotomy procedures, but Martelli also told Lundy about insulin shock therapy, which, she says, they eventually stopped using because so many patients died. And he told her about a fever-inducing malaria therapy, which some patients also didn't survive.
"They would infect them with malaria because they realized that when the patients had dangerously high fevers, they were more tranquil. Lobotomies were actually touted as a solution for women in unhappy marriages."
Lundy's portraits are of people who represented a threat to the status quo. They are the victims of an unjust and antiquated system that targeted women for reform. She recalls a case file about a woman who was institutionalized for slapping her husband after discovering that he was having an affair. The husband deemed her a physical threat to his person and had her committed.
"That's an example of a common scenario," Lundy says. "A lot of women were put in hospitals because they were inconvenient in their personal relationships or in their families, because of being defiant, because of expressing themselves, being independently minded, not wanting to have children, not wanting to be married — all of the things that, historically, women were not supposed to be."