Shipping delays are on the horizon for the holiday season, so "shop local" may just be the gift-giving mantra for 2021. The Southwestern Association for Indian Arts (SWAIA) brings back its in-person Winter Indian Market in time to select some fine art and handmade goods by award-winning Native American artists. Held Saturday, Nov. 20, and Sunday, Nov. 21, at La Fonda on the Plaza, the market features 150 of SWAIA's juried Indigenous artists from the 2021 Santa Fe Indian Market in August. The event also includes an online auction.
Close to Hopi
Hopi katsina carver Randall J. Brokeshoulder says even traditional artists are experiencing supply chain problems. During the pandemic, it hasn't been easy to get cottonwood roots to carve. Usually, he trades some of his artwork for the thick twists of wood that are cut from riverbanks. But in the last couple years, many carvers who gather cottonwood have retired or health restrictions have prevented them from getting together with others. It's been feast or famine, and Brokeshoulder has sometimes gone months without making anything. He was able to restock supplies in October, in time to complete a few back-ordered commissions and get an array of goods ready for Winter Indian Market.
There are several interpretations of katsinas, Brokeshoulder says. "Symbols, deities, animals, people. They are more or less teachers." He explains that most Hopi ceremonies are about rain and connecting with year-round agricultural cycles. "Feeling alive again," he posted on Instagram a few weeks ago, with a photo of works in progress: four small dolls standing against a wall, in different states of completion. His katsinas are brightly colored and often appear to have a sense of flexibility, as if they are actually dancing.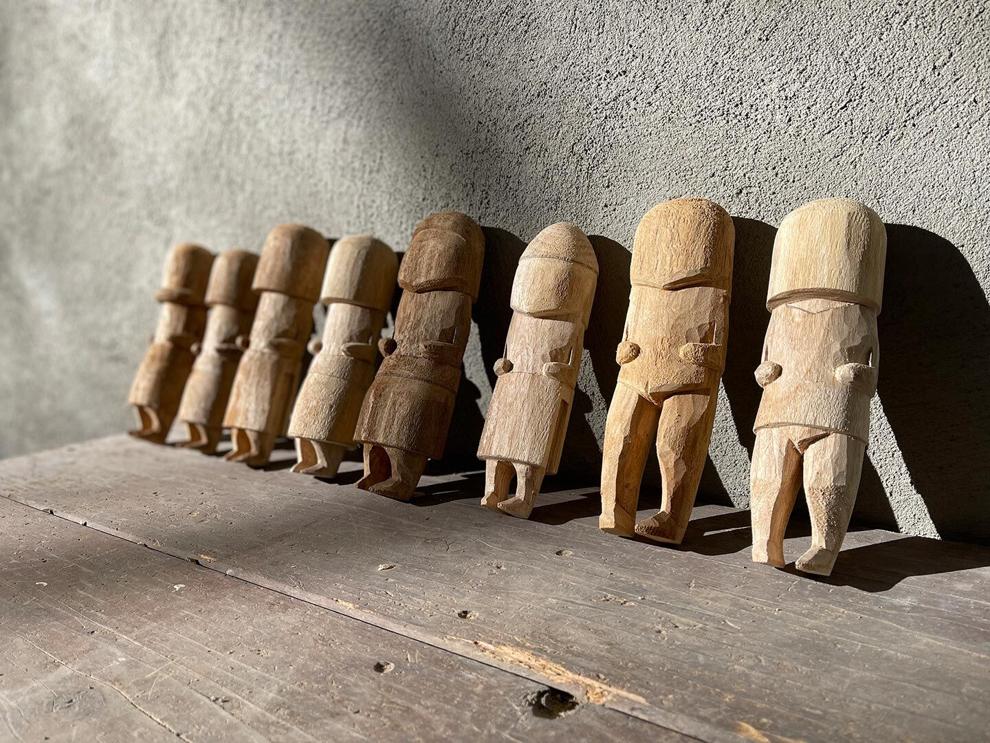 "I was getting back into it again," he says. "I got more cottonwood. I went to Alamosa, Colorado, and gathered what I needed from a friend. I had some really good pieces, so I was able to get everything started again. That post was just about catching up and having more future inventory."
Although he has gathered his own wood before, it's a lot of work, and Brokeshoulder, 38, is a full-time personal banker and financial planner in Santa Fe, so he prefers to trade for that material. "You have to have a canoe, a few hacksaws. There's a lot that goes into it. You have to know the tree lines. You have to know what you're looking for."
To understand how katsina carvers look at a riverbank, Brokeshoulder says to hike next to a river where there are cottonwoods and look for where big piles of sticks have collected along the sides. That indicates a root system underneath. Carvers harvest the roots in large pieces, which then require several months of drying time before they can be carved. "If you get them in the beginning of the summer, they're good by the fall. Some guys just throw them up on the roof and let them sit in the sun all that time."
Brokeshoulder starts with roots that are four to five feet long and carves dolls that range from a few inches high, up to about two feet tall. He paints them with natural mineral pigments that he gathers by hand in "dry, higher-elevation areas." He keeps his specific digging locations to himself. "In Utah, you find greens mixed with clay, almost like a sand. Yellow is a sandstone. That Cochiti red, you get that on the side of the road."
His katsinas are carved entirely by hand, using pocketknives, horseshoeing files, and precision cutting tools. They are adorned with hand-tied feathers from ducks, macaws, grouse, and partridges.
"I use an array of all-natural techniques, including hand-spun cotton. Everything is all-natural," he says.
Brokeshoulder's family is from the village of Hotevilla, on the Hopi Reservation's Third Mesa (in Arizona). He grew up in a military family and learned the basics of carving from his father, who always made time for his artwork. Brokeshoulder says he got serious about making katsinas when he was 20, and he has now participated in 18 SWAIA Indian Markets.
"This artwork has kept me close to Hopi, even though I don't live there," he says. "I can take my artwork anywhere, and it always makes me feel a part of what's going on out there. There's only a certain number of artists who are gifted to make katsinas. Sharing what I know helps everybody understand what Hopi is, about part of our culture."
Made in America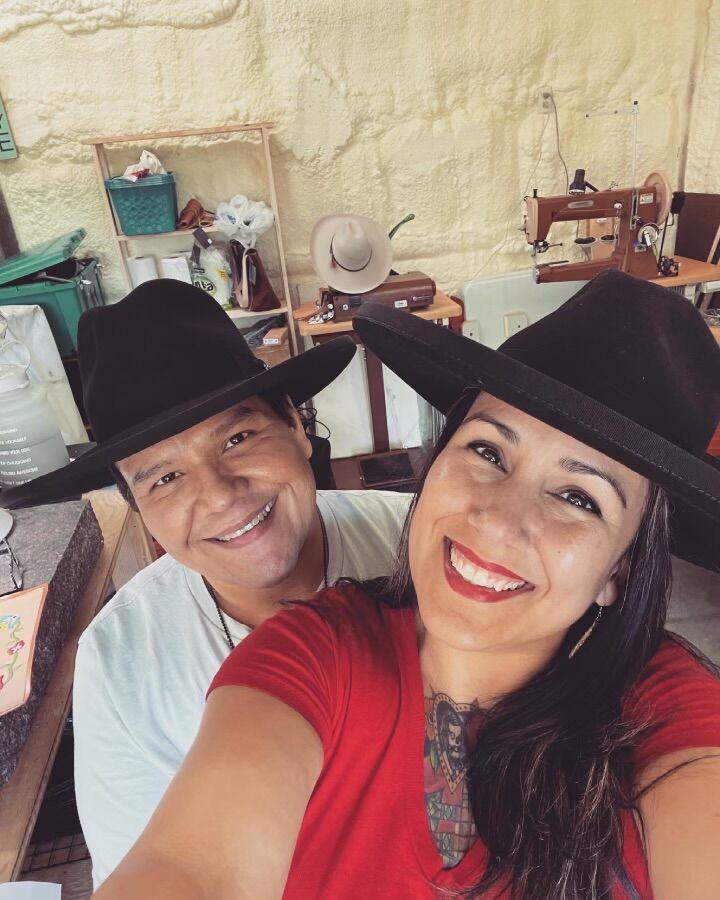 Osceola and Genevieve Red Shirt own and operate Two Guns Leather Company (twogunsleather.com), an online business, out of Tahlequah, Oklahoma. They make belts, wallets, holsters, and a variety of purses and bags, which have become their best-selling items. Most of the products feature original designs carved into the leather and then painted, including flowers, animals, dragonflies, and what they call their "fighter," which is a woman wearing a ribbon skirt with her hands planted firmly on her hips. Two Guns Leather Company favors bright colors — red, turquoise, yellow, and green — that are reminiscent of those used in ledger art.
Originally from North Dakota, the couple started their company in 2017, when Genevieve (Sicangu Sioux, Taino), 43, convinced Osceola (Ogalala Sioux), 45, that the leather carving he'd been doing most of his life was more than simple craftsmanship. "I think of artists as painters and potters, who make work to be displayed," he says. "You wear a belt, so I never thought about it as art. My wife said I was an artist and that I needed to start putting my stuff out there as artwork."
In 2021, Red Shirt participated in SWAIA Indian Market for the first time, in the Diverse Arts category. "Leatherwork is a little bit of everything. You have to be able to paint and carve. We don't have stamps that make the designs. It's all carved out by hand," he says. "You draw the design onto the leather first, and then you carve it in with what's called a swivel knife. And then you use other types of tools to give it a raised look, and then you paint that using a special acrylic paint for leather. You build that up in layers to reach opacity, which takes about three or four coats. It's nice and flexible, not the same kind of paint you'd use on canvas."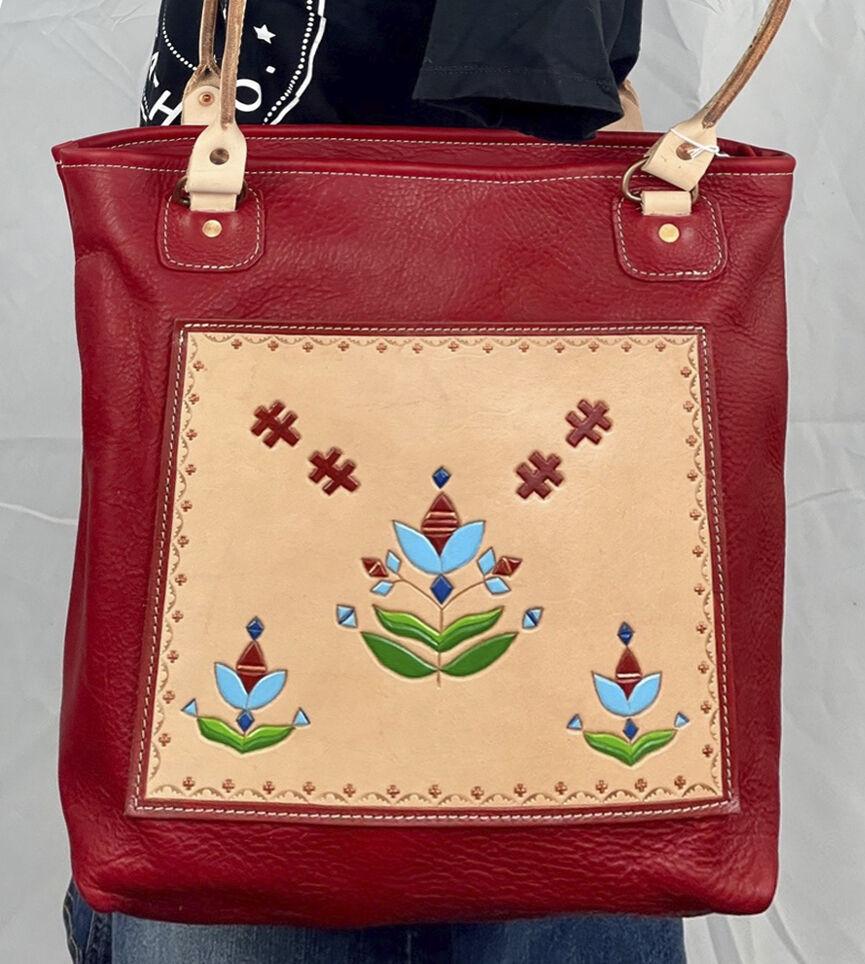 Red Shirt has been tooling leather for 30 years, and he taught his wife the art form about five years ago. Genevieve has gotten into designing fighters and floral designs, he says, while his favorite thing to make is holsters, owing to his background in federal law enforcement. He retired from the Bureau of Indian Affairs in 2020, which he says has been a great move for him. He's seeing reduced stress and other health benefits, and now he's able to focus on his family and his art, as well as continuing a long career of competitive powwow dancing. In 2021, he came in third place in the Men's Senior Adult category traditional dance at the 45th Annual Eastern Band Cherokee Pow Wow.
He learned to work with leather from his uncle, who made their family's powwow outfits when Red Shirt was young. "We didn't always have the money to make beadwork for our outfits. My uncle would make some of our outfits out of leather and say from a distance that it looked like beadwork. And it does. That's what I grew up with, so that way of thinking continued on. Everything I do, I like the bright colors. I like it to stand out."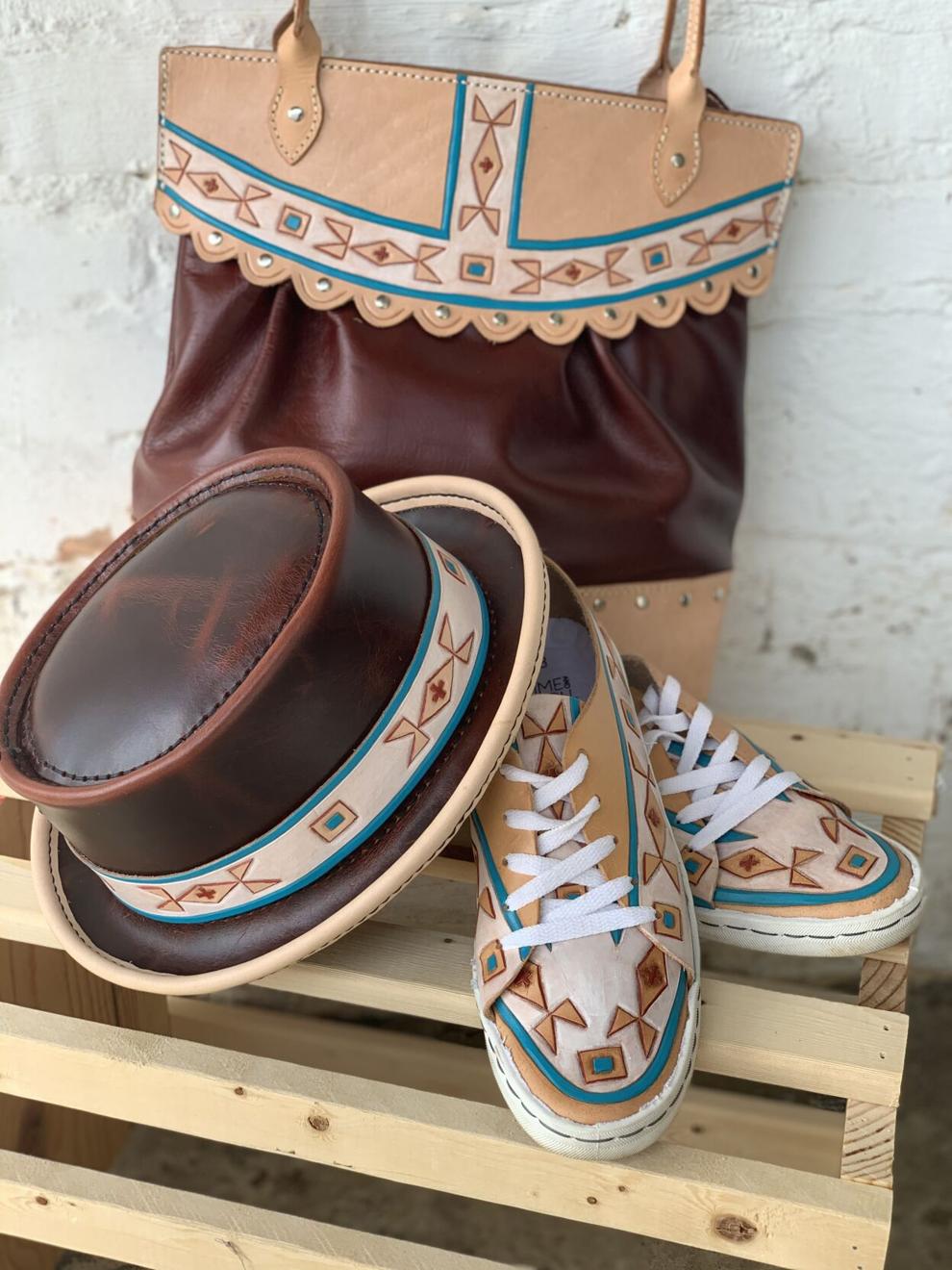 They get most of their leather from commercial tanneries, although Red Shirt is currently learning to tan buffalo hides, from which he plans to make vests and other clothing. He also has some alligator hide from which he will create something special for Winter Indian Market, although he's not yet sure what it will be. Something high-end and very original, he says.
"Everything we make is limited edition. I really appreciate that people are willing to spend their hard-earned money on something I make, so I guarantee the leatherwork, as well as the painting that's on there. With all the goods that are sitting on cargo ships waiting to be delivered, you don't have to worry about it if you come to Winter Indian Market, which I've heard is geared towards holiday shopping. If it's made in America, then you don't have to wait for it."