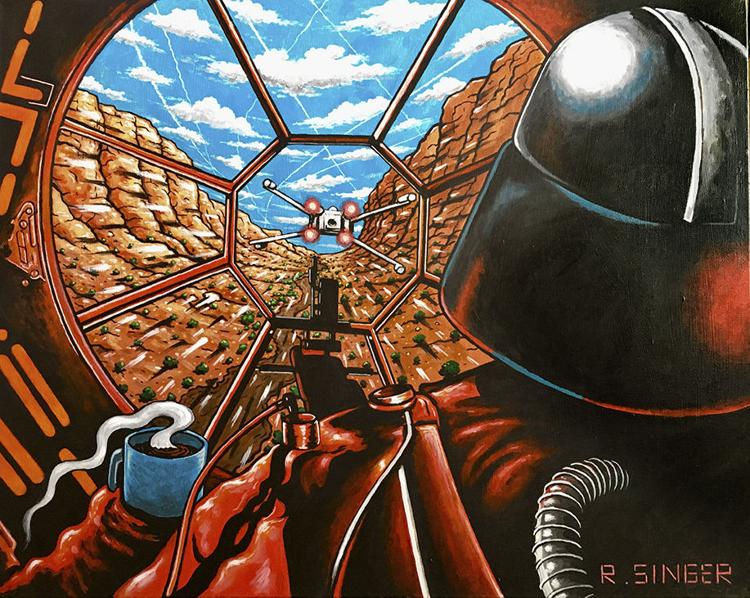 On July 7, 1863, during the American Civil War, Colonel Kit Carson, acting under orders from Major General James Henry Carleton — a man purported to have a psychopathic hatred for Native Americans — began a scorched-earth campaign against the Navajo people. Carson's men shot adult males on sight, rounded up women and children, and burned their crops and hogans. Those who didn't surrender sought refuge in Canyon de Chelly, where Carson and his men hunted them down.
Looking at Ryan Singer's painting Scorched Earth Policy, in which Star Wars archvillain Darth Vader is in hot pursuit of an X-wing fighter through a high-walled canyon, it's easy to see how a young Navajo man, familiar with his tribal history, could relate to a movie story about a fight for freedom from tyranny. The painting is on exhibit in Childhood Mythologies at Form and Concept through May 25.
"Just being Native, there's all these issues that I deal with: racism, self-identity, land use, environmental problems, historical contexts," the 45-year-old artist told Pasatiempo. "I've been drawing all those [Star Wars] TIE fighters, stormtroopers, Darth Vader, and the Death Star since I was a kid."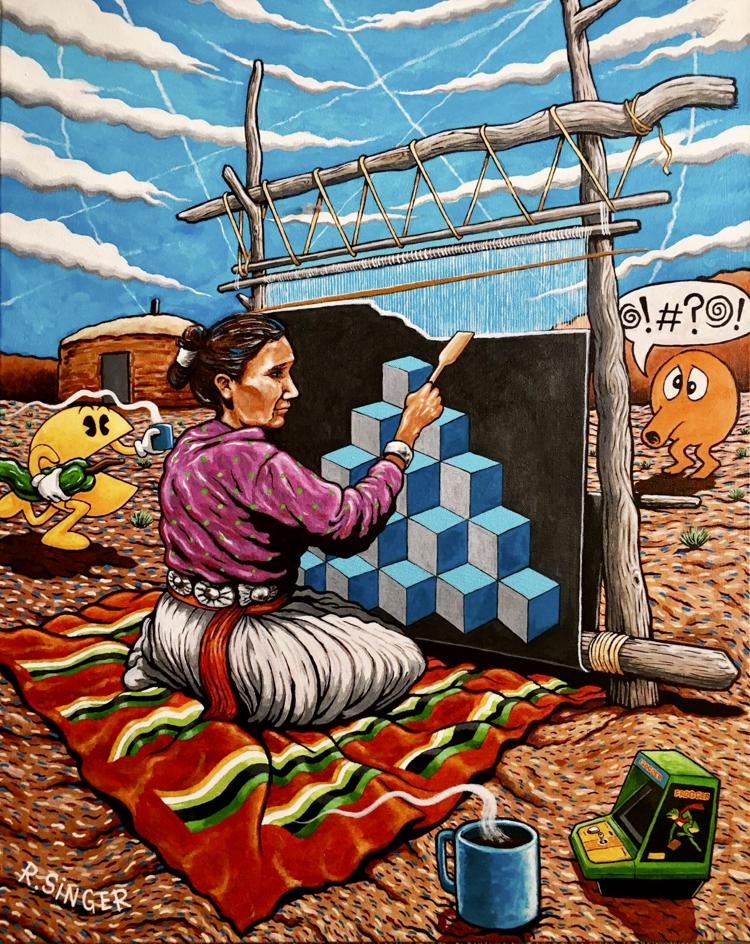 Characters from the Star Wars franchise are recurring figures in Singer's paintings, as are dinosaurs, arcade games like Atari's Centipede, and other games and puzzles that were popular pastimes for kids in the 1970s and '80s, such as Simon and the Rubik's Cube.
But he juxtaposes these pop-culture motifs with figures of Navajos in traditional dress, engaged in traditional activities — such as weaving or sand painting — and situated among the mesas and canyon-lands of the Navajo Nation. You don't need to be familiar with the iconography of the Star Wars series to appreciate the contrast between them and the Native American motifs with which he pairs them. Although Star Wars imagery is a prominent part of his paintings, UFOs, blasting lasers, and other elements of sci-fi also make for incongruous features.
On the one hand, transposing figures like Star Wars' Gamorreans, Ewoks, and Tusken Raiders to the deserts of Arizona is a totally natural thing to do, especially when you're a kid. Who doesn't imagine themselves in the roles of their big screen heroes? On the other hand, Singer uses these icons of pop culture as a commentary on the social and political issues facing Native peoples.
"There's a deeper meaning behind the imagery," he said. "When I was a kid, I could escape and pretend I was in another world, like most kids do. As I got older, that didn't really go away. But I grew up, and I've become aware of all these different issues."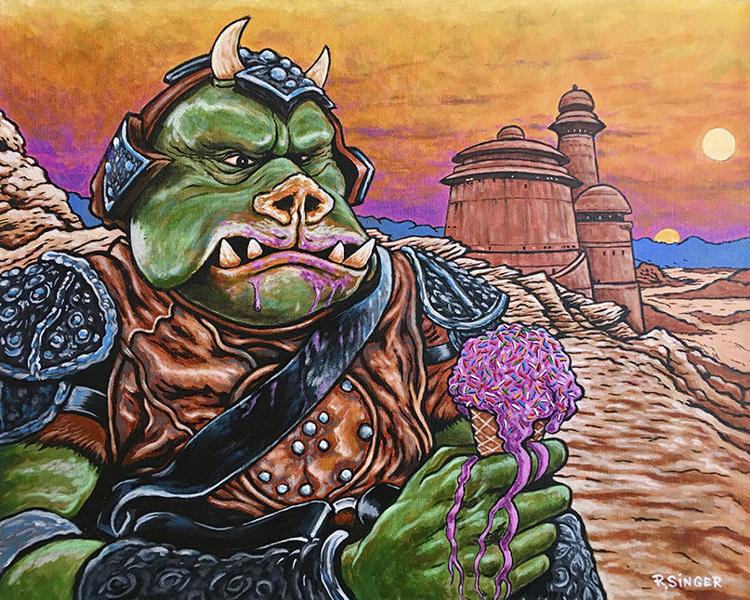 Ryan grew up on the Navajo Nation in Tuba City, Arizona, but he now lives in Albuquerque. He supported himself as a full-time artist for about eight years but found it increasingly difficult to make a living off of his art after the economic downturn began in 2008. In 2014, in need of a job, he found employment at A Center for Function and Creativity in Albuquerque, where he still works, teaching art to adults with developmental disabilities. "We do art projects with them, art shows, outings to movies, museums, and parks. We try to do stuff that has to do with art. I have a lot of friends that are artists, and sometimes they let us bring them for studio visits. It can be rewarding. Sometimes I feel like I just hung out with my friends all day doing art projects. Then I come home and start working in my studio."
In Childhood Mythologies, Ryan uses familiar imagery to draw viewers in, but his objective is to get viewers to think. For instance, his painting (De)Colonized Ewok is a double portrait of an Ewok in his natural environment and wearing his native dress next to an Ewok in the uniform of the Imperialists, with the emblem of the Galactic Empire on his sleeve.
You can draw a comparison to the history of forced assimilation of Native Americans, a campaign that began in the 18th century and lasted into the 20th. Children were separated from their families and raised in harsh boarding schools far from home; they were taught to negate their own culture and punished for speaking their own language. Singer's imagery gives you an anchor, a hook to the real-life tragedy.
"I think it's important for people to realize that this land is really essential for indigenous people of this area," he said. "A lot of people don't understand indigenous cultures. They see Natives as something from the past. It's an educational issue. People are not taught about it in school."
For Singer, an avowed Star Wars series fan who created a painting of a fearsome-looking Gamorrean Guard eating an ice cream cone — one of his most lighthearted compositions — part of his intention is also to capture the joy and spirit of childhood memories.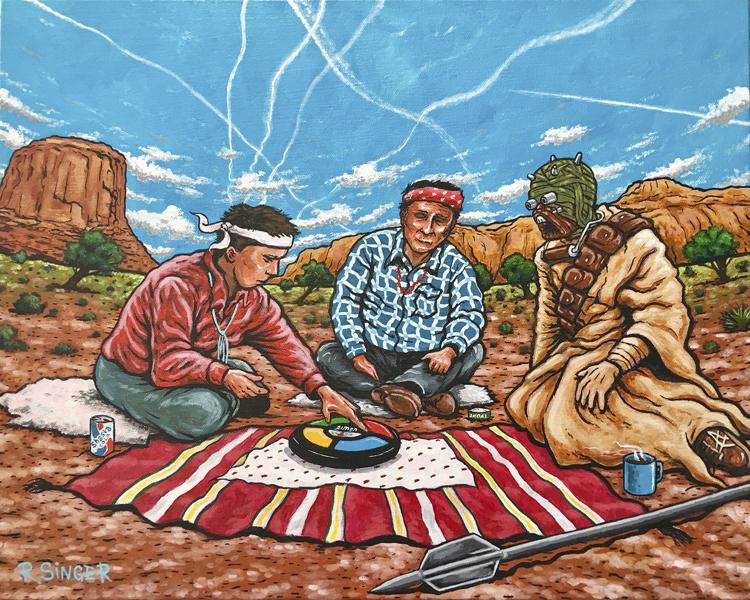 "I kind of feel nostalgic for a time when things were a little bit simpler, the air seemed cleaner, the water seemed cleaner. I try to get that feeling in the paintings where the colors are really vibrant and bounce off each other."
In 2013, Star Wars: Episode IV — A New Hope (originally released in 1977) became the first major motion picture translated into Navajo or any Native American language. It must have seemed like a miracle for a longtime devotee of the mythos like Singer, who as a boy looked out at the desert world of the Navajo Reservation and saw, instead, Tatooine.
The translation of the film into Navajo was the culmination of years of negotiations between Navajo Nation Museum director Manuelito Wheeler and Lucasfilm Ltd. The project was done with the intention of calling attention to — and preserving — the Navajo language. Singer, who introduced the film on May 11 for a special screening at Form and Concept, also attended its 2013 premiere in Window Rock, Arizona.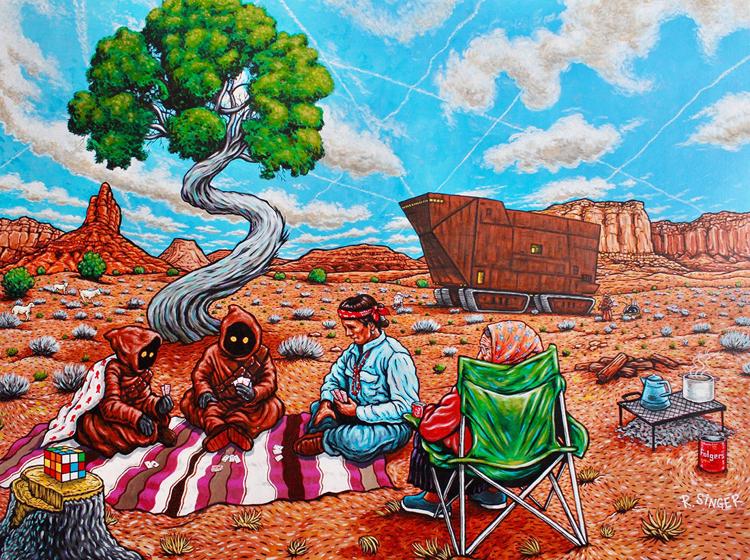 "When I started watching it and heard the dialogue in Navajo, man, I was balling my eyes out," he said. "I felt like I was watching it for the very first time." ◀
▼ Ryan Singer: Childhood Mythologies
▼ Closing reception 5 p.m. Friday, May 24; through May 25.
▼ Form and Concept, 435 S. Guadalupe St., 505-216-1256, formandconcept.center